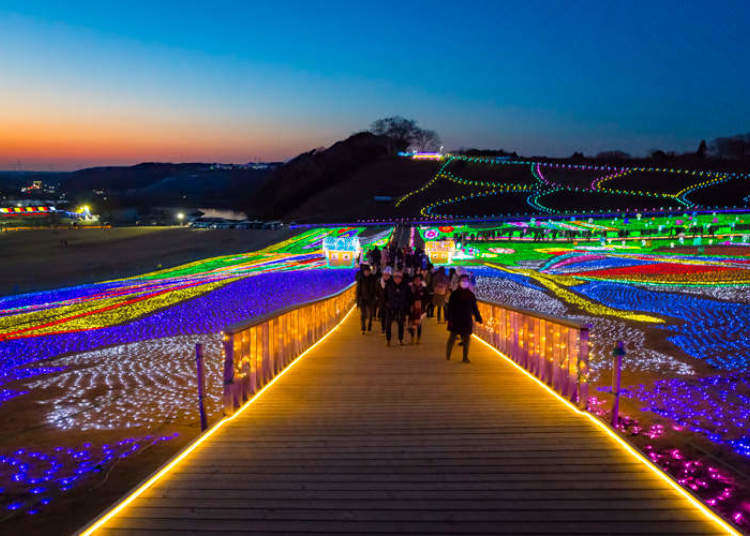 If you are looking for things to do in Chiba prefecture, then Country Farm Tokyo German Village should definitely be towards the top of your list. Written as 東京ドイツ村 in Japanese, Tokyo German Village is located right next to Tokyo in Chiba prefecture's Sodegaura city across the Tokyo Bay. This Chiba theme park is nestled deep in the countryside, surrounded by beautiful nature and great views. Along with a variety of attractions for adults and children to enjoy, there are many events occurring throughout the year and many memories to be made!
A Brief History about Country Farm Tokyo German Village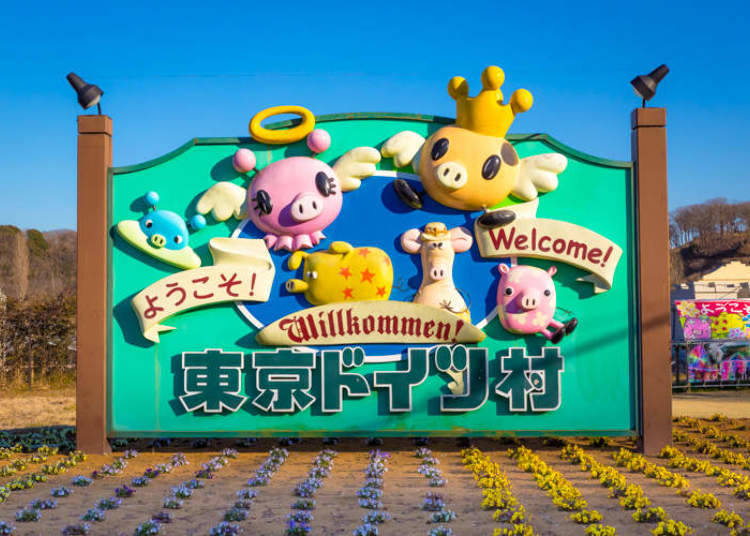 One of the most often asked questions about Tokyo German Village is: "Why is 'Tokyo' in the name, if it is located in Chiba prefecture?" In order to find the answer to this question, we have to go back to the opening of the Tokyo Bay Aqua Line in 1997, which connected Kawasaki city in Kanagawa prefecture to Kisarazu city in Chiba prefecture. Until then, visitors to the southern end of Chiba had to drive or take a train several hours all the way around the bay.

Thanks to the Tokyo Bay Aqua Line, residents and tourists now had direct access to Chiba prefecture. When Country Farm Tokyo German Village began development in 1999 under the concept of "coexistence of humans and nature together" with a vision of a German countryside farm appearance, it was decided to use "Tokyo" in the name in order to compliment the opening of the Tokyo Bay Aqua Line and draw more visitors from Tokyo and Kanagawa prefectures. After construction was completed, Country Farm Tokyo German Village opened its doors in March, 2001.
Attractions You can Find at Tokyo German Village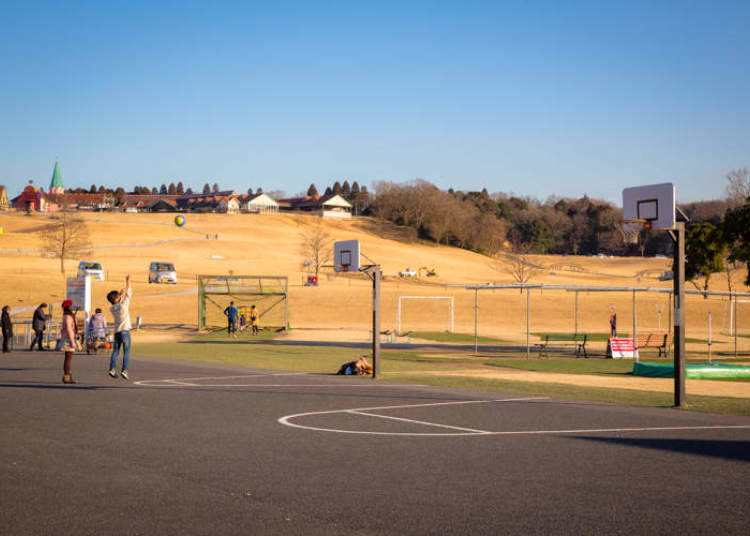 Altogether, Tokyo German Village covers an area of 270,000 square meters, which is about 19 times larger than Tokyo Dome! Within this expansive landscape, you can find a variety of attractions and things to do, such as: several courses of putting golf, a pond where you can ride swan boats and try a rowing boat, an archery range, a playground for families, a rollercoaster and ferris wheel, and more!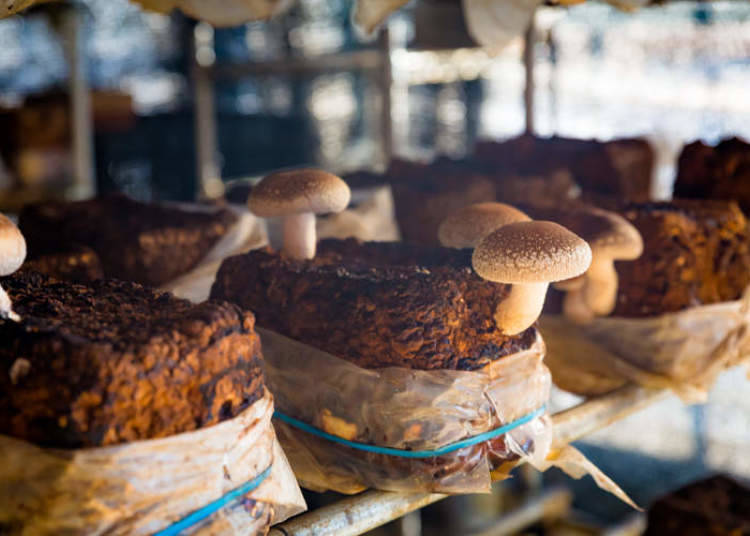 Depending on the time of year you visit, there are also plenty of things to see. During the spring season, you can walk through a field of beautiful pink moss phlox and take stunning pictures. In summer and fall, you can cool off by visiting the waterslide park and try your hand at harvesting tangerines, while you can harvest Shiitake mushrooms all throughout the year. However, the best time to visit is winter and there is a very special reason as to why.
A Winter Wonderland Neon Fantasy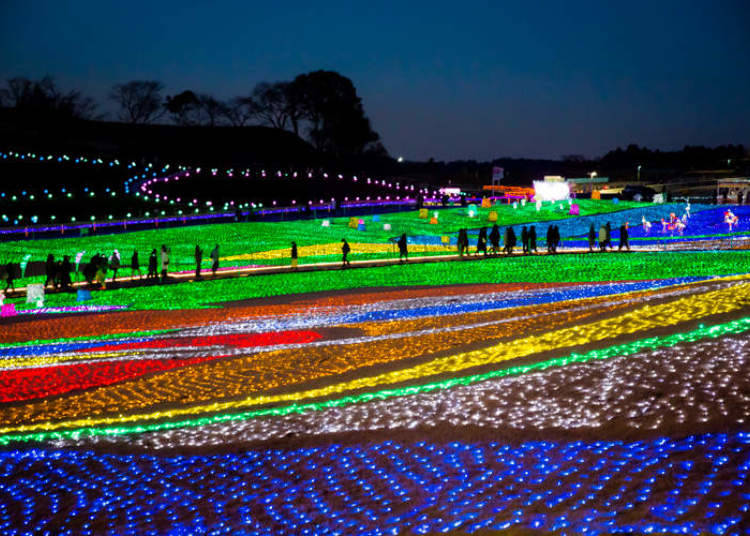 Certified as one of the Three Great Illuminations in the Kanto area (which includes the prefectures of Tokyo, Chiba, Kanagawa, Saitama, Tochigi, Gunma, Saitama, and Ibaraki), Country Farm Tokyo German Village boasts an amazing display of over 250,000 colorful LED lights throughout the theme park's grounds!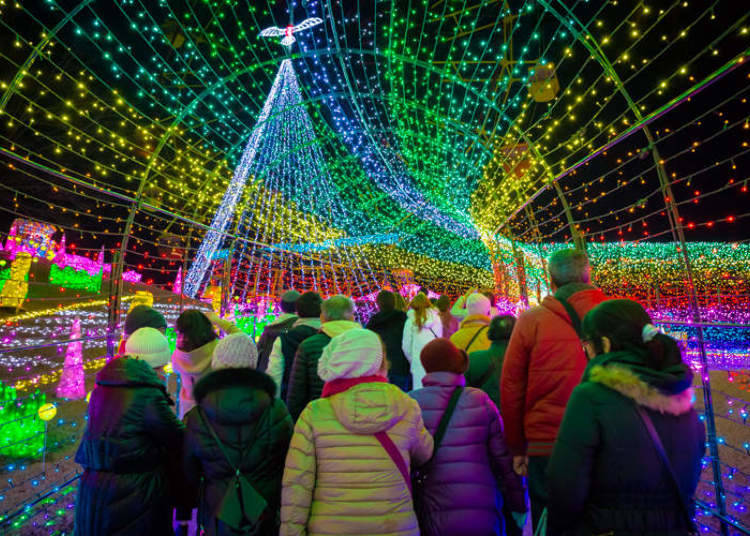 Every year has a different theme, with "Great Adventure~Doki★Doki★Smile~" being the theme of 2017. A wooden pathway from the Marktplatz (Marketplace area) to the Kids' Square allows you to be transported into this neon-lit fantasy, starting with a tunnel of lights that is simply magical. While you walk from one end to another, you can enjoy the many displays, such as a collection of geese swimming in a blue LED pond, a flying zeppelin, giant mushrooms, treasure chests, and more!
The Best View of Tokyo German Village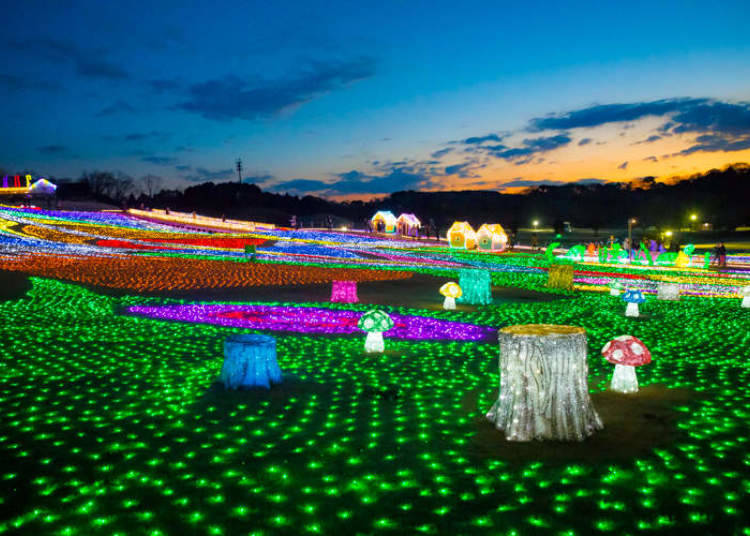 Walking through the paths offers a great experience, however if you want to get the best view of the neon lights, it is highly recommended to ride the Ferris wheel for only 500 yen. The ride lasts 9 minutes, giving you a perfect opportunity to snap the perfect shot to remember your experience by.
German Souvenirs and Beer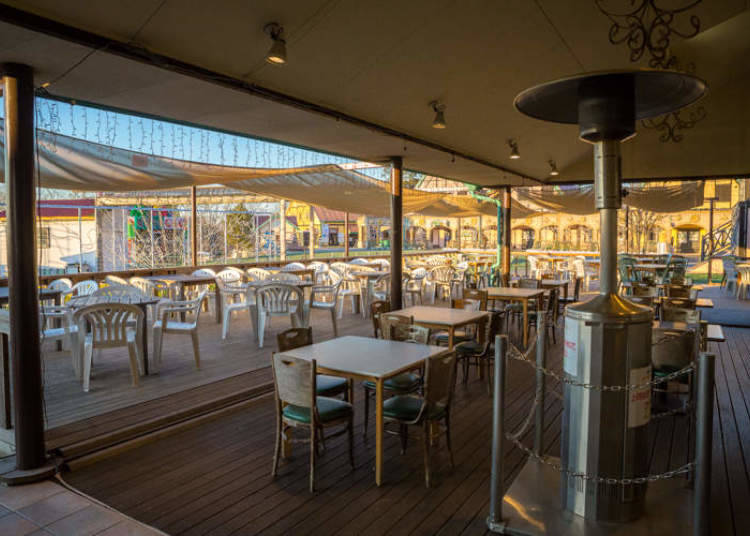 As the name Country Farm Tokyo German Village suggests, there are a variety of German souvenirs to be found at the Marktplatz. A bakery on premises provides freshly baked bread, pretzels, and more, while the restaurant next door offers a good selection of German beer with an area to barbecue. Japanese dishes such as katsu curry and more are also available, giving visitors a decent selection to choose from.
Catch a Colorful Show and Enjoy a Musical Performance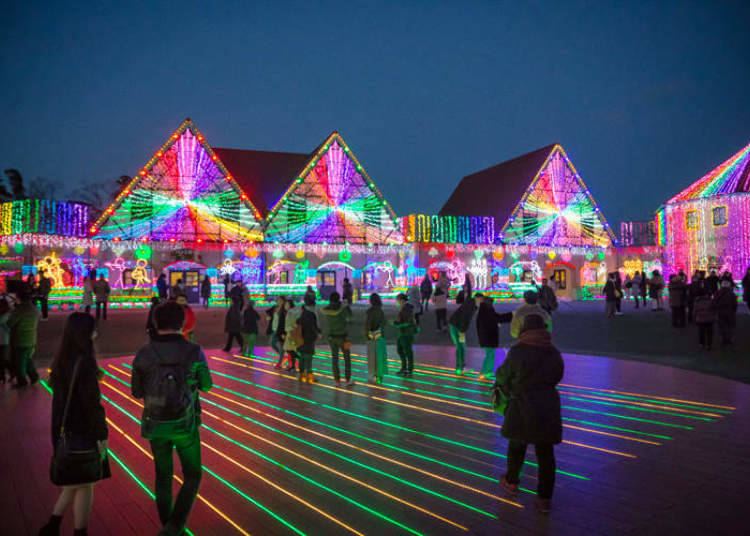 After the lights come on in the winter season, be ready for a special treat! Every fifteen minutes or so, the illuminations come alive in the Marktplatz area in a musical show. The LED lights are perfectly choreographed to move and dance about, as bubbles fill the air, making it a dreamlike experience that shouldn't be missed.
How to Get to Tokyo German Village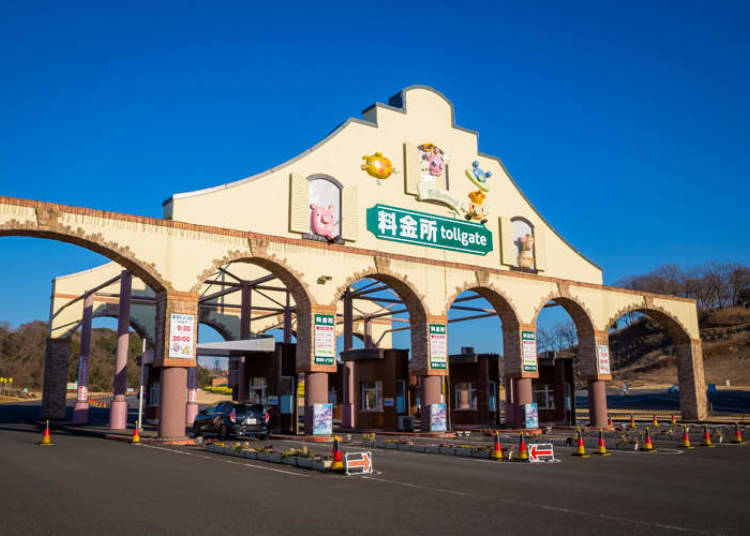 The best method to get to Country Farm Tokyo German Village is via car by heading to the Anegasaki-Sodenoura Interchange of the Tateyama Expressway, followed by taking the local road. If you do not have access to a vehicle, it is suggested to take the High-speed Bus "Kapina" from JR Chiba Station (Terminal 21) which has departure times of: 9:05 a.m., 10:40 a.m., 12:15 p.m., and 1:30 p.m. It takes about 40 minutes via bus, so please plan accordingly.

During the winter season, you can take the train to the JR Uchibo Line Sodegaura Station where you can take a taxi to Country Farm Tokyo German Village. It takes about 20 minutes if you follow this route.
Country Farm Tokyo German Village Hours and Fees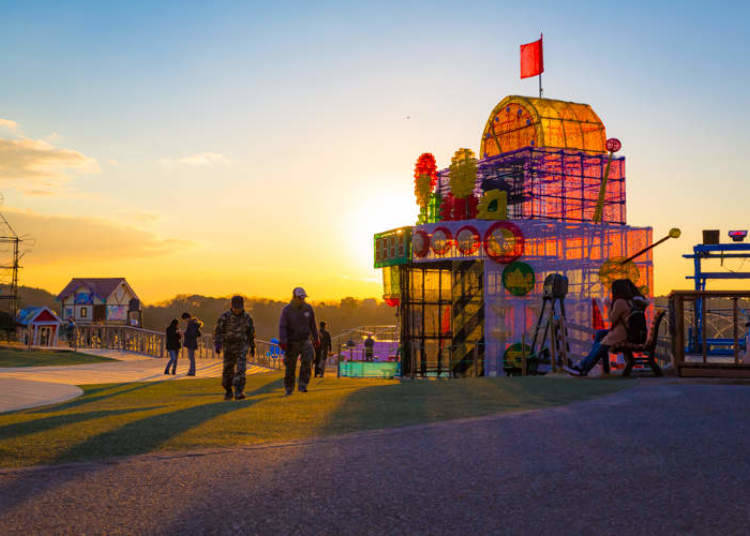 Opening Hours are from 9:30 a.m. to 8:00 p.m. with last admission at 7:30 p.m. Opening hours change to 9:30 a.m. to 5:00 p.m. from April 1st to October 31st. All hours are subject to the season and weather, so make sure to plan your trip accordingly.

Car Parking fees start at 2,000 yen, with an admission fee of 500 yen per each person over the age of 4 years.

The illuminations at Country Farm Tokyo German Village begin around November 1st and in 2017, they will last until March 31st. The Illuminations light up around sunset until 8:00 p.m.

We here at Live Japan hope you have a great visit to Country Farm German Village and are able to enjoy a fantastic illumination experience in the countryside of Chiba prefecture. If you take any pictures there, make sure to tag them with #LiveJapan and share them with us on Instagram [@LiveJapan_Official] and Twitter [@LiveJapanGuide]!
Country Farm Tokyo German Village

東京ドイツ村

Address

419 Nagayoshi, Sodegaura, Chiba Prefecture 299-0204

Phone Number

04-3860-5511
Area

Category

Articles Genre
*This information is from the time of this article's publication.