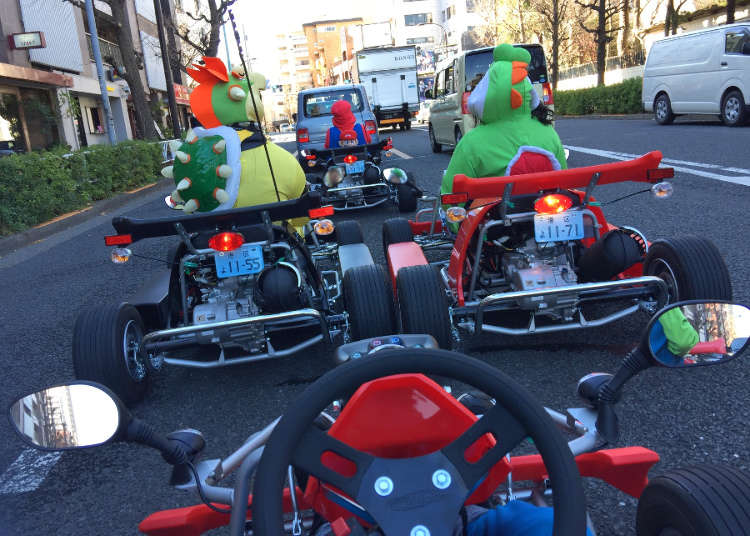 Every so often in Tokyo, you might run into a group of drivers riding go karts on the streets, dressed as our favorite video game plumbers and friends. They always get people turning their heads on the streets, and I've always wondered what service allows you to ride around town simulating the most popular kart racing video game out there. Today we find out and learn what that dream experience is like.
Go Kart Tours is Actually a Thing?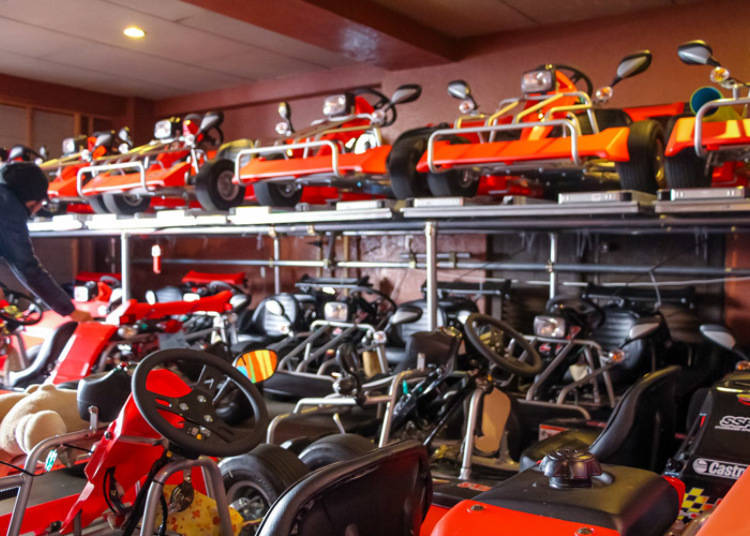 Rmaricar Garage opened in the end of 2016, and is one of these dress up kart tour type services. In a small building in Higashi-Azabu, was a garage filled with a good number of go-karts and a wall of famous and popular character costumes from movies and video games. I was in for an intense ride, choosing a costume that'll I'll be wearing for the citizens of Tokyo to see as we drive our little karts among the cars commuting in the metropolis.

You might think "is it actually legal to ride go-karts on public streets like that?" The karts provided all meet the requirements for a vehicle to be on the road, with a license plate and safety features like mirrors, signals, and gears. They are easy to ride like any ordinary go-kart, and all that is required is a license, either one from Japan, or one with a translation if you have a license from Switzerland, Germany, France, Taiwan, Belgium, Slovenia, or Monaco. People with licenses from other countries need an international driving permit based on 1949 Geneva Convention, or a SOFA Driving License if you happen to be in the US forces of Japan.
Preparing for the Journey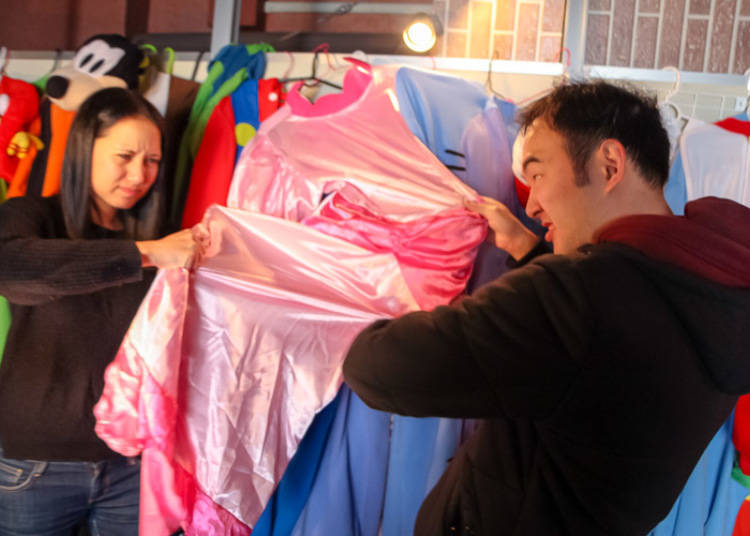 It was tough to choose out of the different character costumes, but I first tried on Mario, the most iconic of them all. Then I fought with another editor over wearing the Princess Peach costume but she came out triumphant. In the end I went with the green little brother, Luigi. The other participants took on the look of Bowser and Yoshi, with our guide leading the pack as Mario.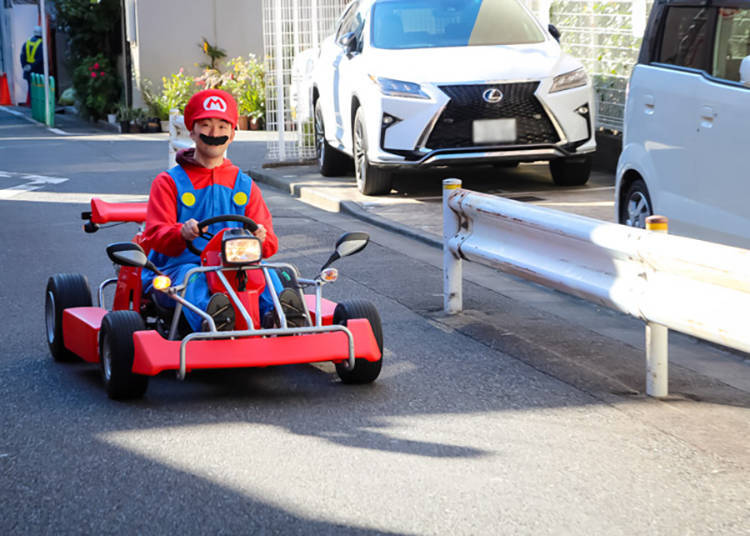 I was allowed to practice going around the block a little bit. I was a bit nervous because I hadn't driven in a while despite having a license. The most I've gotten around on the road besides public transportation was by a scooter type motorcycle, so driving a car on Tokyo's narrow streets was rare for me. This however was a kart and was easy to handle and a ton of fun to ride.
A Very Unique Tour of the City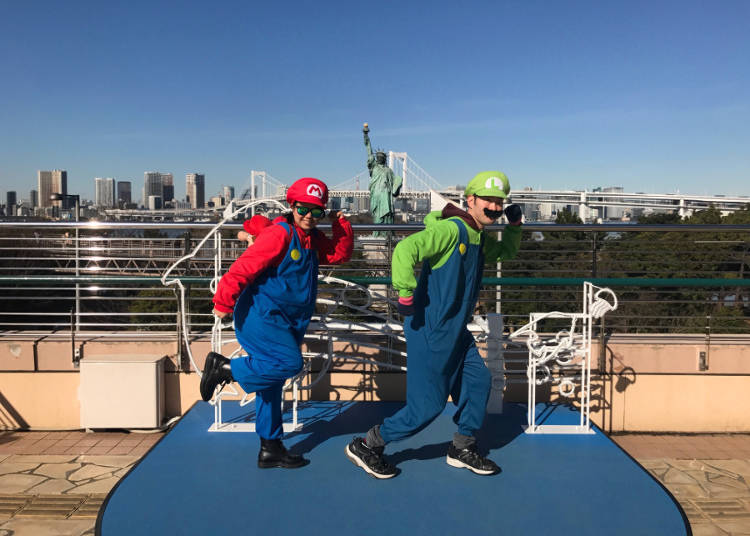 Once we were all dressed and ready, we immediately took off. We drove to a surprisingly good amount of popular places including Odaiba, Tokyo Tower, Harajuku, Shibuya, and more. Periodically we would stop at famous landmarks to take some pictures, not only among ourselves but also with a lot of passerbys that wanted a photo with their favorite Mario characters.

We were driving around early noon time, the roads weren't crowded, and the weather was fantastic. Maybe it was a tad bit cold blazing by on a kart in January but that was forgotten amidst all the fun I was having.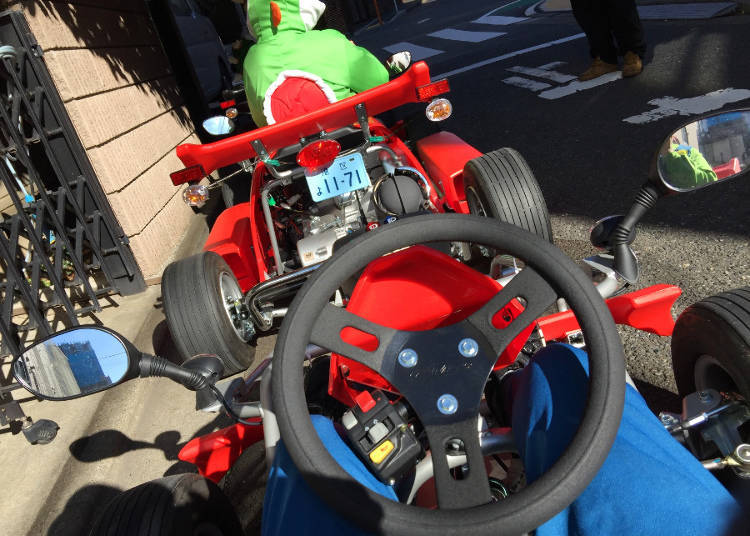 Despite being the tourists ourselves, this activity allows you to really draw attention to yourself. On the initial instructions for riding the karts, the top thing noted was to smile and wave to the people you drive by. Even to people in Tokyo this activity is a rare sighting and a fun one to spot. Constantly spotting people looking at us in surprise and having them wave back to us when we waved really gave a sense of interaction with people in public you normally never experience. Hearing little children on the street scream "MARIO!!!" was the best of all, I can only imagine what it's like as a kid to see your videogame hero right on your local roads. We even had a van next to us during a red light roll their window down and start taking pictures of us. Needless to say, this experience is one definitely for people who like to bathe in attention.
Same City, Different Perspective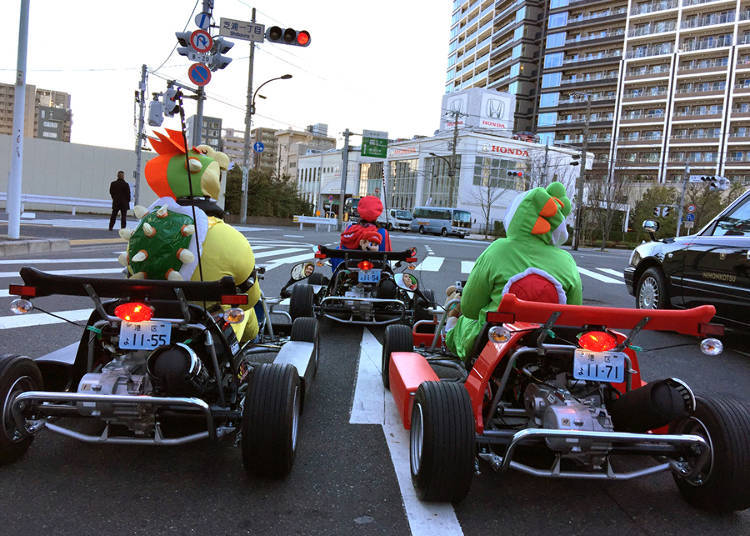 Once we got back to the garage, I had to realize, everything that happened in the last 2 hours. There was really no other way to describe this Tokyo go-kart tour with other than "fun." I was absolutely glad I took up the challenge, it was inspiring to see so much of the city from a different perspective. The scenes I saw were all direct, with no glass window between my eyes and the background. This fuzzy connection I had with people as we waved to each other knowing we enjoy them same thing. This activity was nothing short of fascinating. I really do recommend all who have the chance to jump on a kart and experience Tokyo in a completely different way.
Address

2-4-11, Higashiazabu, Minato-ku, Tokyo, 106-0044
View Map

Nearest Station

Akabanebashi Station (Toei Oedo Line)
3 minutes on foot


Phone Number

03-6441-3396
Written by:
Area

Category

Articles Genre
*This information is from the time of this article's publication.