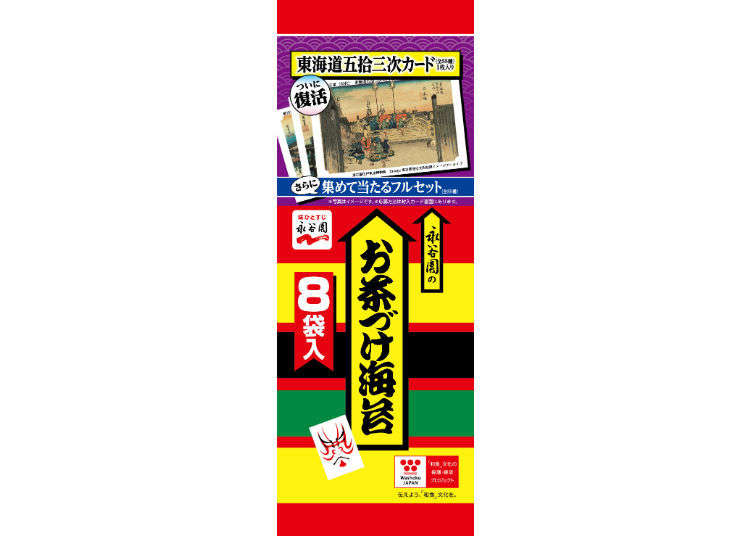 Nagatanien is a famous Japanese company that particularly specializes in instant foods, well known by every gourmet in Japan. Now, the company brought back a tradition that fuses modern eating with traditional art. Over 20 years ago, Nagatanien first included postcards from The Fifty-Three Stations of the Tokaido, a famous ukiyo-e wood print series by Utagawa Hiroshige, depicting, as the name suggests, 53 stops on the old major road from Edo to Kyoto. From now on, these very postcards can once more be found in Nagatanien's ochazuke, seasoned rice that is doused with tea.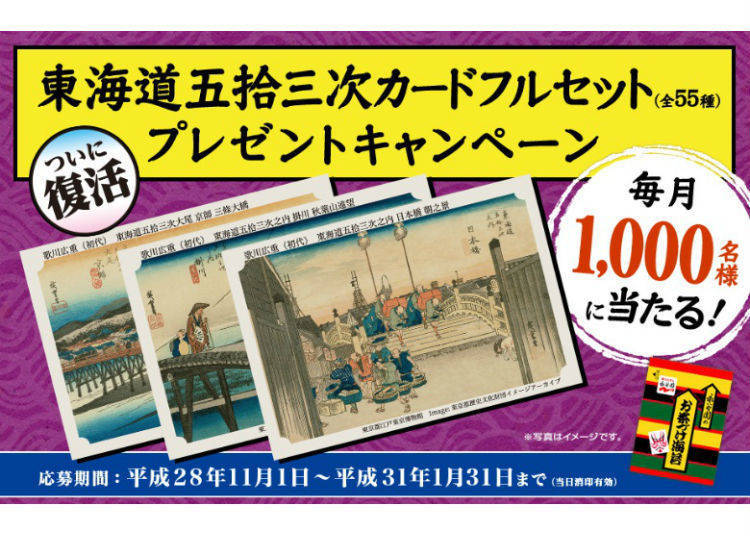 The original ukiyo-e card campaign ran around 30 years, from 1965 until 1997. It all started with the aforementioned Fifty-Three Stations of the Tokaido and the campaign turned out to be so popular, other series followed afterwards. Works by Kitagawa Utamaro, Toshusai Sharaku, Hokusai's Thirty-six Views of Mount Fuji, works by Renoir, Gogh, and Gauguin, a series on Impressionists including Manet, Cezanne, Degas, and Seurat, a series focusing on China's Silk Road, works by Yumeji Takehisa, and a series on Japanese festivals – a total of 10 different series could be collected over the years, enjoying massive popularity.

The decision to bring this tradition back to life is connected to the recent spotlight on Japan and its culture, such as the elevation of Japanese cuisine to an UNESCO intangible cultural heritage, the Cool Japan phenomenon, and the Tokyo Olympic and Paralympic Games that will be held in Tokyo in 2020. In the wake of the recent ukiyo-e boom, Nagatanien's The Fifty-Three Stations of the Tokaido series represents a symbol of Japanese culture.

The ukiyo-e cards care included in all five varieties of Nagatanien's chazuke products, such as nori and salmon flavors. Additionally, a monthly gift campaign will be held, giving the chance to 1,000 people each month to win the entire set of 55 cards – just collect three entry stamps from the chazuke packages and enter the lottery! Best of luck!
*This information is from the time of this article's publication.