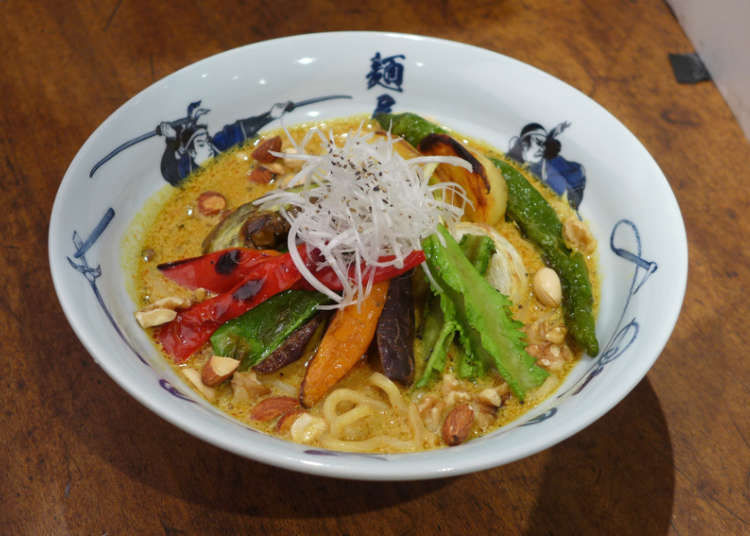 For the entire month of October, ramen shop Menya Musashi is offering a special vegan noodle bowl to customers at its Shinjuku location. These limited time noodle bowls will be offered as part of a collaboration with soy bean promotion company Mame Plus, whose aim is to promote the inclusion of soybeans as a 'delicious, fun, healthy' eating habit, by introducing enjoyable ways to include soy milk to various restaurants.

Veggie Paitan Curry Men is a vegan ramen dish featuring a blend of 17 spices complementing soy milk and an abundance of flavorful grilled vegetables such as red pepper and eggplant. The dish is based upon a Chicken Paitan Ramen that was highly popular a few years earlier, however, Veggie Paitan Curry Men is completely free of animal products. The robust 'umami' flavor is sure to satisfy the appetites of vegetarians and meat-eaters alike.

Veggie Paitan Curry Men will be available from October 1 – October 31, 2016, for the price of 1,100 yen per bowl at Menya Musashi's Shinjuku shop, open daily between the hours of 11:00 a.m and 10:30 p.m. Don't miss out on this tasty and healthy limited-time ramen!
麺屋武蔵 新宿本店

Address

K-1 Building 1F, 7-2-6 Nishi-Shinjuku, Shinjuku, Tokyo
Area

Category

Articles Genre
*This information is from the time of this article's publication.