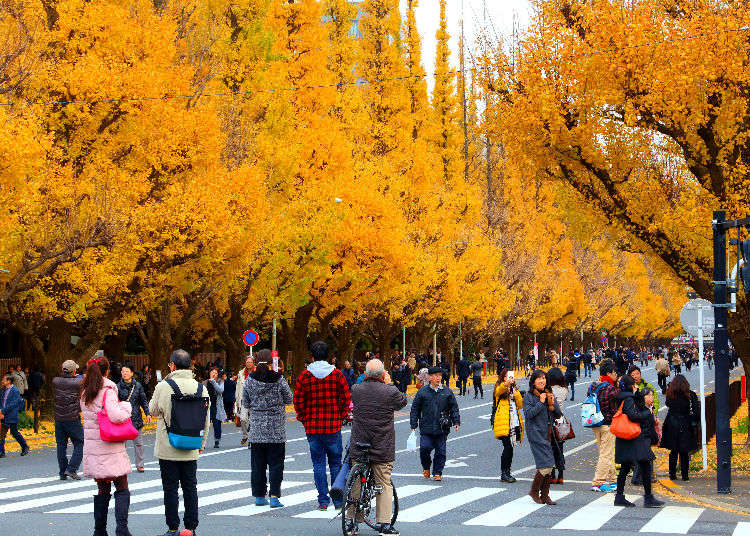 Update: 11 October 2016
Let's Go See Momiji: the Seven Best Autumn Leaf Spots in and around Tokyo
The Japanese autumn and its many different colors is a magnificent sight to behold. Also called 'momiji' or 'koyo' in Japanese, autumn leaf viewing is done since ancient times. These colorful sceneries cannot only be seen in Tokyo's surrounding areas, but also in the urban jungle of the Japanese capital itself. We will introduce the best viewing spots in and outside of the city, to make sure your autumn will be a vivid one!
Three-hundred Meters of Golden Ginkgo Trees
From the Aoyama Nichome intersection to the outer gardens of the Meiji Shrine, there's a three-hundred meter long avenue lined with tall ginkgo trees that is one of Tokyo's most popular autumn viewing spots for golden leaves. The entire road features a total of 146 trees making for a stunning tunnel of gold all towards the shrine gardens.

With the majestic Meiji Memorial Picture Gallery in the background, the scenery of golden leaves and blue autumn skies looks like a painting. The ginkgo trees turn gold every year from mid-November to early December and from the 18th of November to the 5th of December, the 20th Meiji-jingu Outer Gardens Ginkgo Festival will be taking place, to commemorate the 90th anniversary of the gardens. Why not stroll through the golden tunnel while enjoying a snack from gourmet food stalls or browse arts and crafts on sale during this festival?
Address

1-1, Kasumigaokamachi, Shinjuku-ku, Tokyo, 160-0013

Nearest Station

Shinanomachi Station
・ JR Chuo Main Line
5 minutes on foot

Phone Number
An Exceptional and Traditional Autumn Scenery
Photo courtesy of the Tokyo Metropolitan Park Association.
One of Tokyo's oldest gardens, Korakuen, was built by the Tokugawa lord of the Mito domain in the early Edo period as a circular-style garden, featuring both a pond and a hill. Japanese maple, wax trees, Japanese zelkova, and the many ginkgo trees are dyed beautifully from late November to early December, creating a particularly traditional Japanese scenery. There are two viewing spots inside the garden that we'd like to recommend. One is along the Oigawa River that was created to resemble Kyoto's Arashiyama. The other one is the bridge called Togetsukyo behind the Kantoku pavilion, from which the view on the vivid maple trees is especially beautiful.

Entry: 300 yen
Hours: 9:00 a.m. - 5:00 p.m.
Holidays: none
Koishikawa Korakuen Gardens
小石川後楽園
Address

1, Kouraku, Bunkyo-ku, Tokyo, 112-0004

Nearest Station

Iidabashi Station
・ JR Chuo Main Line
・ Tokyo Metro Tozai Line
・ Tokyo Metro Yurakucho Line
・ Tokyo Metro Namboku Line
・ Toei Oedo Line
3 minutes on foot

Phone Number
A Beautifully Lit Up Feudal Lord Garden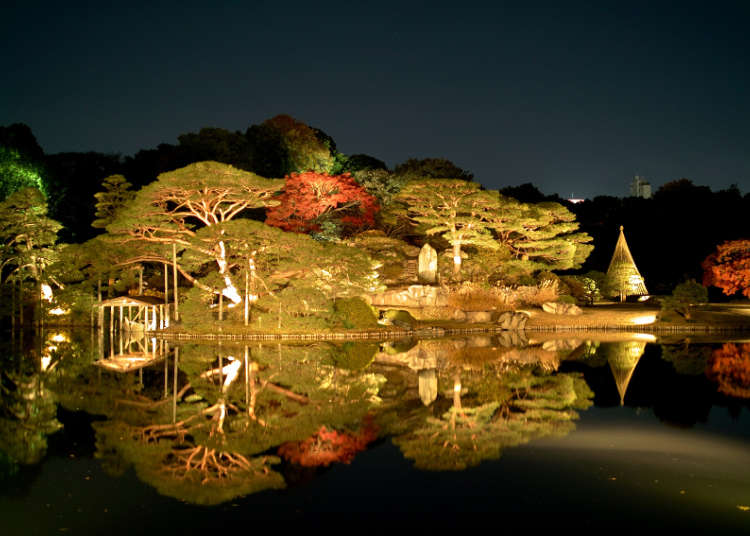 Photo courtesy of the Tokyo Metropolitan Park Association.
It took seven years to complete this breathtakingly beautiful Japanese garden that was built for the 5th shogun of the Tokugawa clan. Rikugien is home to over four-hundred individual maple trees, along with many ginkgos and zelkovas. From the 19th of November to the 7th of December, the vivid park will be lit up in the evening, creating an enigamtic, dreamlike scenery. Around this time, the park is open until 9:00 p.m. (last admission is 8:30 p.m.), making it the perfect spot to enjoy a magical autumn evening.

Entry: 300 yen
Hours: 9:00 a.m. - 5:00 p.m.
Holidays: December 29th to January 1st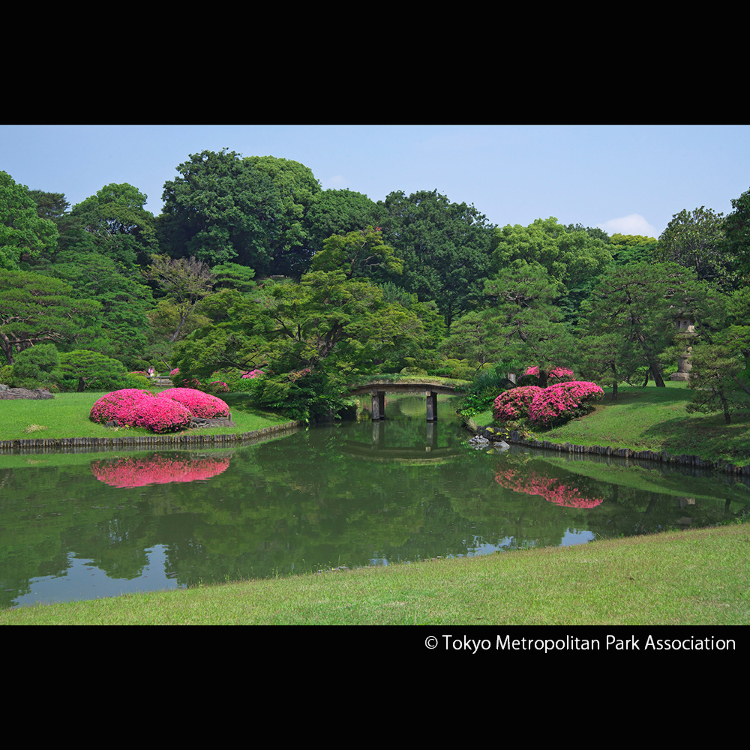 Address

6, Honkomagome, Bunkyo-ku, Tokyo, 113-0021

Nearest Station

Komagome Station
・ JR Yamanote Line
・ Tokyo Metro Namboku Line
7 minutes on foot

Phone Number
The Rare Colors of the Dawn Redwood
Photo courtesy of the Tokyo Metropolitan Park Association.
Mizumoto Park is the biggest riverside park in the entire metropolitan area of Tokyo. During autumn, its highlight is the many dawn redwood trees, also called Metasequoia, and their beautiful autumn foliage. Next to the central square of the park is the "Metasequoia Forest" which is home to over 1,800 redwood trees, most of them larger than twenty meters! The contrast between the clear blue sky and the reddish leaves is an enchanting scenery. The large, colorful trees are also reflected on the surface of the nearby pond, making a stroll through Mizumoto Park one of many different sights. We recommend visiting between late November and early December.

Entry: free
Hours: all day long
Holidays: none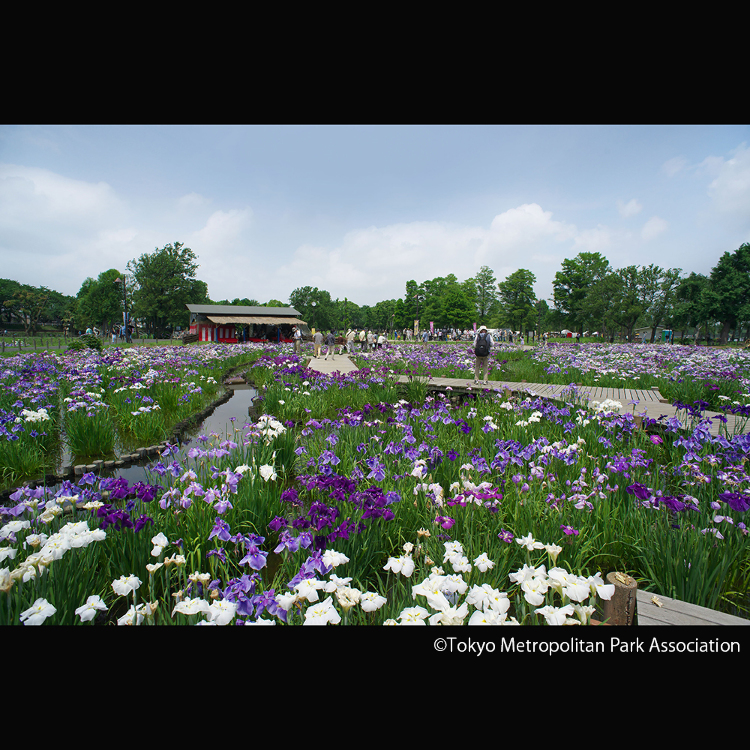 Address

3-2, Mizumotokouen, Katsushika-ku, Tokyo, 125-0034

Nearest Station

Kanamachi Station
・ JR Joban Line

Phone Number
A Golden Carpet of Ginkgo Leaves
The two-hundred meter long "Canal Area" of the Showa Kinen Park is one of the most famous autumn leaf spots in Tokyo. One-hundred ginkgo trees lining this two-hundred meter long canal, their vivid leaves reflecting beautifully on the water surface. The main attraction of this park, however, is the ginkgo alley that stretches on for about three-hundred meters, lined with one hundred trees that are over twenty meters high! When autumn comes, the vivid leaves fall to the ground and create a stunning golden carpet of foliage. After strolling along the golden avenue, why not pay a visit to the Japanese garden and its many maple trees? The best time to see the ginkgo alley is throughout November, while the Japanese garden is the most beautiful from late October to mid-November.

Entry: 410 yen
Hours: 9:30 a.m. - 5:00 p.m.
Holidays: New Year's
Showa Kinen Park
国営昭和記念公園
Address

3173, Midoricho, Tachikawa-shi, Tokyo, 190-0014

Nearest Station

Nishi-Tachikawa Station
・ JR Ome Line
2 minutes on foot

Phone Number
Taking an Autumn Stroll along a Clear Stream
The next spot is about one hour and forty-five minutes away from Shinjuku Station and lies in the northwest of the Tokyo area: the city of Okutama. The Tama River flows through the center of this town surrounded by numerous autumn color viewing spots, such as Okutama Lake and one of Japan's one-hundred most famous mountains, Mount Kumotori. Starting from Okutama Station, there is a beautiful promenade of four kilometers circling the Tama and Nipparagawa Rivers, as well as Mount Atago. Stroll along this path while breathing the clear autumn air and taking in the many colorful sceneries of a mountain village. Especially the area where the Tama and Nipparagawa Rivers meet is well worth the visit: maple trees, Japanese Judas trees, and ginkgo hang their vividly colored branches over the clear streams, making for an excellent viewing spot.
Address

Hikawa, Okutama-machi, Nishitama-gun, Tokyo-to 198-0212
An Autumnal Ancient Temple Tour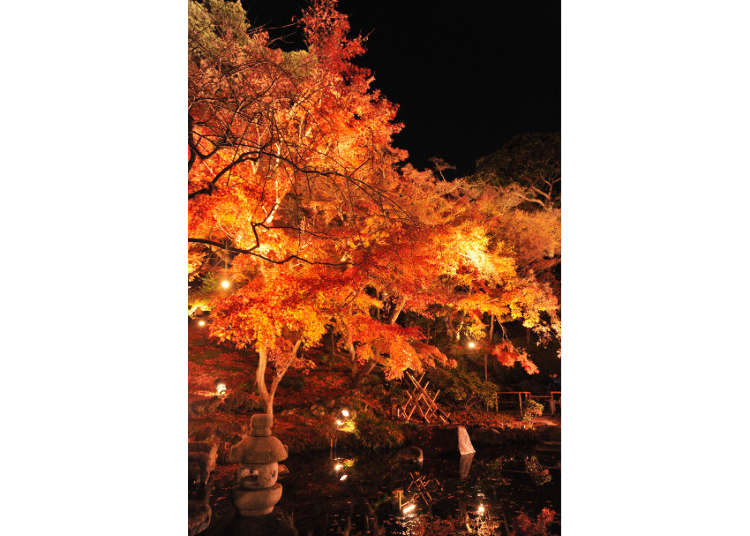 提供=鎌倉市観光協会
The combination of old temples and vivid autumn leaves is an image that is usually linked to Kyoto but stunning sceneries like that can also be found in Kamakura. Examples of these religious viewing sites include Enkaku-ji, Jochi-ji, the Tsurugaoka Hachimangu, Kencho-ji, Meigestu-in, as well as Hase-dera, which is the most popular. Hase-dera is an ancient building, dating back to the year of 736, and is home to one of Japan's largest wooden sculptures: the eleven-headed Kannon statue. Ginkgo and Japanese maple color the temple ground beautifully around the end of November. Once the sun has set, the entire temple is lit up by numerous illuminations, shining colorfully against the night sky.

Entry: 300 yen
Hours: 8:00 a.m. - 4:30 p.m. (until 5:00 p.m. between March and September)
Holidays: none
Address

3-11-2, Hase, Kamakura-shi, Kanagawa, 248-0016

Nearest Station

Hase Station
・ Enoshima Electric Railway Line
5 minutes on foot

Phone Number
*This information is from the time of this article's publication.
---