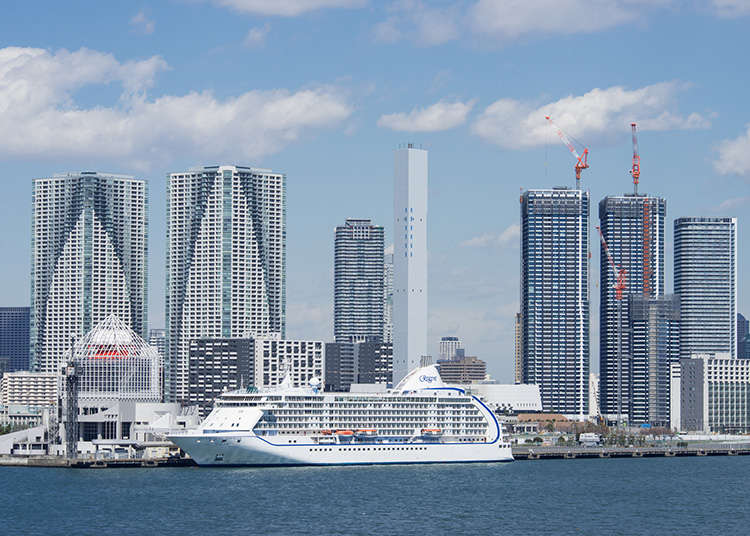 Harumi passenger ship terminal
A passenger ferry terminal built to celebrate the 50th anniversary of the opening of the Port of Tokyo. It's a gateway to the sea in Tokyo which welcomes both domestic and foreign luxury cruise ships. It has 6 floors, with the immigration and resting area on the 2nd floor and an observation deck on the 3rd. The restaurants and cafes at the back of the entrance on the 1st floor are currently closed.
Takeshiba passenger ship terminal
This passenger ship terminal was used as a dock for ships headed to Ogasawara Island. It has a variety of facilities such as hotels, wedding halls, offices, Japanese, Western and Chinese restaurants, cafes, local product shops, convenience stores, clinics, dentists, ATMs, post offices and parks.
Aomi passenger ship terminal
First started operating in April 1996. The terminal is usually closed, and opens only for ships to dock with a reservation. The Museum of Maritime Science is located next to it, and the Oedo Onsen Monogatari and National Museum of Emerging Science and Innovation are also located near it.
Tokyo Port ferry terminal
This terminal is the base of the routes taken by the car ferry. It's acts as a dock for car ferries headed to the Tokyo metropolitan district and Kyushu and Shikoku areas. It has 4 floors with the entrance on the 1st floor and the ticket lobby on the 2nd floor. The a waiting room and gangway are on the 3rd floor.
Osanbashi Yokohama International Passeger Terminal
A terminal where large international cruise ships can make a port call. Opened in 2002. It has 2 floors with a roof terrace. There is a car park on the ground floor, while the 2nd floor acts as the main floor. There are many ramps available, and it is aiming to be a barrier-free facility. You can also have a tour of the terminal.
*This information is from the time of this article's publication.
---