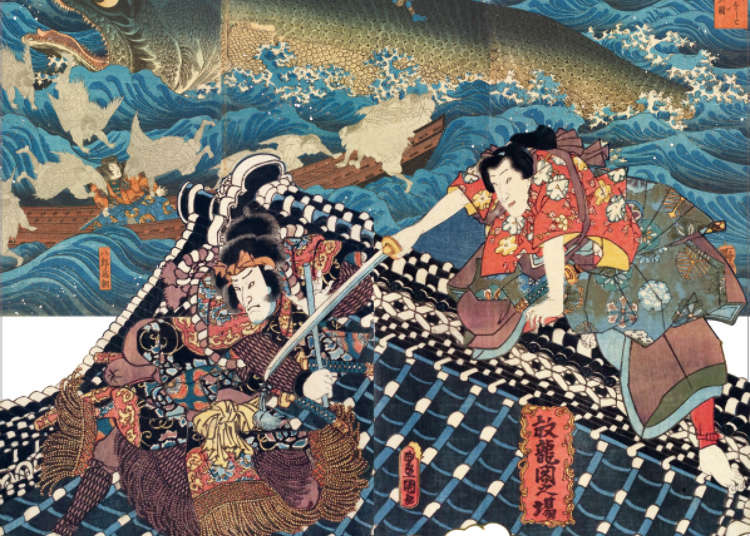 Tokyo has a large number of art galleries and museums, all with their own unique exhibitions. Learn about the exciting exhibits going on during the months of June and July!
<April 12th (Tue) to June 19th (Sun)>
As the ancient crossroad of flourishing civilizations, Afghanistan brought about a diverse range of cultures. A special exhibition called "Golden Afghanistan - The Protected Treasures of the Silk Road" focuses on displays of cultural treasures dating back to 2100 BC to 3 AD, excavated from four historic ruins.
This exhibition is traveling internationally and has been displayed in 10 museums around the world including the Metropolitan Museum of Art and the British Museum, visited by over 1.7 million people.
Ornament for the neck of a robe 
Second quarter of the 1st century A.D. , Tillya Tepe, Gold, turquoise, garnet, pyrites
National Museum of Afghnistan
©NMA / Thierry Ollivier
Hyokeikan,Tokyo National Museum

東京国立博物館 表慶館

Address

13-9 Ueno Park, Taito-ku, Tokyo-to, 110-8712
Kitaoji Rosanjin: A Revolutionary in the Art of Japanese Cuisine
<April 12th (Tue) to June 26th (Sun)>
Kitaoji Rosanjin had great achievements in various fields of fine arts from writing, engraving, painting, and lacquer works between 1883 and 1959. Also being a cook, Rosanjin followed the idea of "vessels being the kimono of dishes," and he sought out his ideal ceramic dishware and crafted them himself. At this exhibit, 120 specially selected vessels by Rosanjin are on display, all of which have been carefully stored by restaurants that once had a connection to Rosanjin.
Basket-styl Oribe Vase c.1950, Adachi Museum of Art
Address

Mitsui Main Building the seventh floor, 2-1-1, Nihonbashimuromachi, Chuo-ku, Tokyo, 103-0022
View Map

Nearest Station

Mitsukoshimae Station (Tokyo Metro Ginza Line / Tokyo Metro Hanzomon Line)
1 minute on foot


Phone Number

03-5777-8600
Utagawa Hiroshige: Landscapes along the Tōkaidō Road
<Initial Period: April 29th (Fri and holiday) to May 26th (Thu)>
<Later Period: June 1st (Wed) to June 26th (Sun)>
Utagawa Hiroshige was a well known ukiyo-e master during the Edo period. At this exhibition, Hiroshige's representative works "Fifty-three Stations of the Tōkaidō Road" and the "Thirty-six Views of Mount Fuji" are displayed together. In addition, works like "Gyosho Tokaido" (53 Stations on the Tokaido) and the "One Hundred Famous Views of Edo" are also presented. This museum specializes in ukiyo-e and boasts a collection of 14,000 works of art from the Edo to the Meiji period.
Utagawa Hiroshige "Fifty-three Stations of the Tōkaidō Road: A Sudden Shower at Shōno" (Exhibited in the 2nd Term)
Address

1-10-10, Jinguumae, Shibuya-ku, Tokyo, 150-0001
View Map

Nearest Station

Meiji-Jingumae (Harajuku) Station (Tokyo Metro Chiyoda Line / Tokyo Metro Fukutoshin Line)
3 minutes on foot


Phone Number

03-5777-8600
<March 26th (Sat) to July 10th (Sun)>
Roppongi Crossing is a special exhibit overseeing the art scene of Japan, held at Mori Art Museum once every three years. This exhibit is holding its fifth show, titled "My Body, Your Voice," with curators from Japan, Korea, and Taiwan choosing the works of 20 groups of artists to be on display.
Hasegawa Ai
(Im)possible Baby: The Annunciation 2015
2015
Digital print
150 x 225 cm
Address

6-10-1, Roppongi Roppongi Hills forest tower 53F, Minato-ku, Tokyo, 106-6153
View Map

Nearest Station

Roppongi Station (Tokyo Metro Hibiya Line / Toei Oedo Line)


Phone Number

03-5777-8600
Ryan McGinley: Body Loud!
<April 16th (Sat) to July 10th (Sun)>
At a museum representative of the contemporary art of America, the Whitney Museum of American Art, young 25 year old Ryan McGinley has opened up a one man exhibition. Taking the record for the youngest artist to display their exhibit in the museum's history, he is being assessed as one of the most important photographers in the country. The first independent exhibit of its kind in Japan, a total of about 50 works chosen by McGinley himself will be displayed, from his works when he started to his newest works.
《Taylor (Black & Blue)》
c-print 2012
Courtesy of the artist and Tomio Koyama Gallery
Tokyo Opera City Art Gallery

東京オペラシティアートギャラリー

Address

3-20-2 Nishi-shinjuku, Shinjuku-ku, Tokyo-to, 163-1403, Japan
Area

Category

Articles Genre
*This information is from the time of this article's publication.