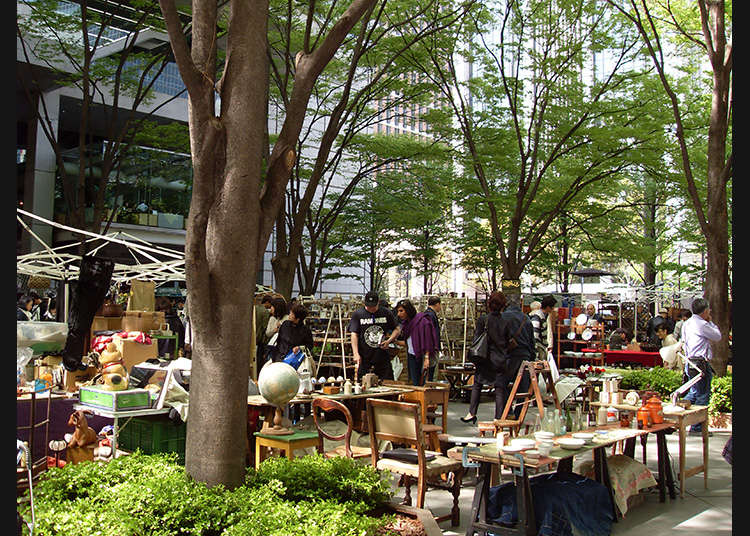 Despite being a city filled with skyscrapers, Tokyo offers a ton of events to experience the changing seasons. With plenty of festivities to enjoy Japanese traditional entertainment and culture, Japan has many a unique thing to share with the world.
<June 3rd (Fri) to June 5th (Sun)>
The Japanese Wine Festival is an event that began in 2015 to get more people to learn about Japanese wine. At this year's event, 51 wineries from 18 areas from up north in Hokkaido to down south in Kyushu are participating, with 250 types and a total of 10,000 bottles of wine available. Enjoy the fantastic local wine from various areas under a clear blue sky. There will be also booths selling the Japanese wine and introduction booths for people who want to learn more.
Toyosu Park

豊洲公園

Address

2-1, Toyosu, Koto-ku, Tokyo-to, 135-0061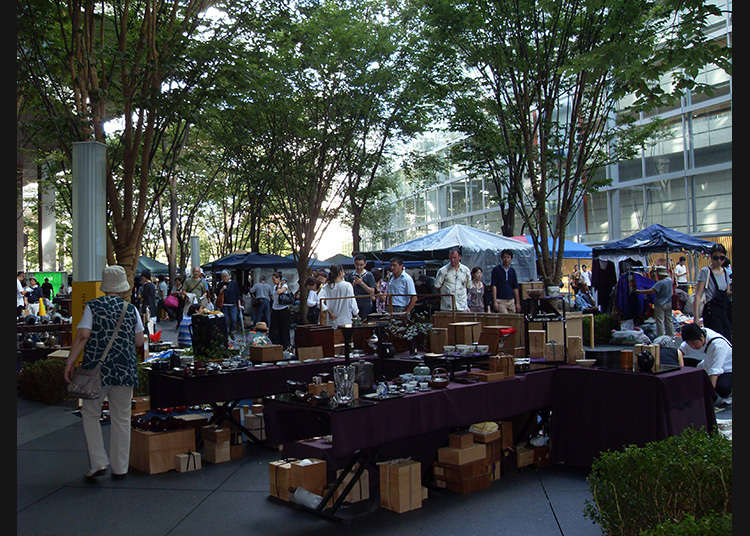 <June 5th (Sun), 19th (Sun)>
This antique market that began in 2003, happening every first and third Sunday of the month, and its purpose is to "take another look at fine aged objects and rediscover the culture of Japan while providing a place to interact and exchange the cultural arts." With around 250 booths participating, it boasts a reputation as Japan's largest scale market of its kind. You will not only find Japanese ceramics, kimono, and woodblock prints, but antiques from Western countries as well. This event will also take place on June 26th (Sun) at Yoyogi Park's Keyaki-Namiki (Zelkova tree) street.
Address

3-5-1, Marunouchi, Chiyoda-ku, Tokyo, 100-0005
View Map

Nearest Station

Yurakucho Station (JR Keihin-Tohoku Line / JR Yamanote Line / Tokyo Metro Yurakucho Line)
1 minute on foot


Phone Number

03-5221-9000
<June 11th (Sat), 12th (Sun)>
This event takes place at the Akihabara UDX, a giant facility which houses restaurants, shops, and event spaces. MOTTAINAI Festa wants to deliver the concept of "MOTTAINAI" (regret concerning waste) from Akihabara to the world. Many activities can be enjoyed here from a Kid's Flea Market run by elementary school kids to educational events teaching about eco-friendliness in a fun way.
Akihabara UDX, Akiba Hiroba, etc.

秋葉原UDX アキバ広場、ほか

Address

4-14-1, Sotokanda, Chiyoda-ku, Tokyo-to, 101-0021
"Hotaru no Yūbe" Firefly Night 2016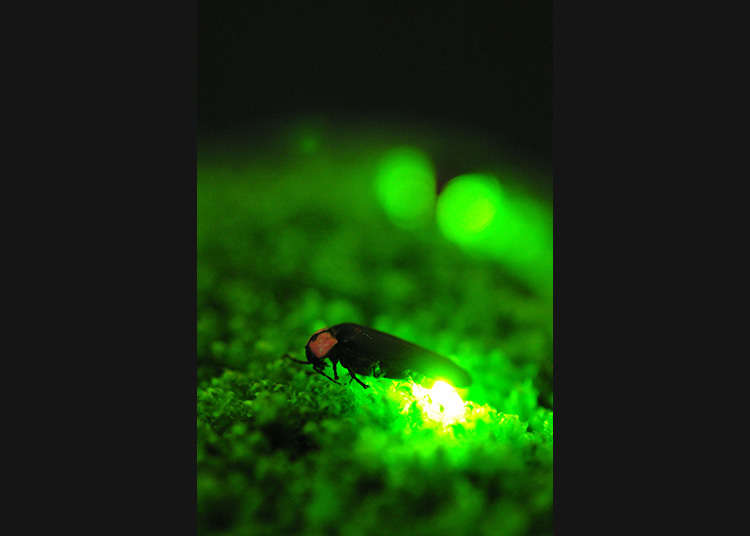 <June 17th (Fri) to 21st(Tue), 5:30 p.m. - 9:00 p.m. (last entry 8:15 p.m.)>
The Shibuya Fureai Botanical Centre is a garden that uses electrical power generated from the Shibuya incineration plant. With small creeks that flow throughout the facility, the garden grows 200 types of tropical plants, succulent plants, insectivorous plants, and more in this "Green Garden" greenhouse with two kinds of Japanese fireflies dancing about, the Heikebotaru (Luciola lateralis) and Genjibotaru (Luciola cruciata).
Photo: Tomoichi Tomatsu
Shibuya City Botanical Garden FUREAI

渋谷区ふれあい植物センター

Address

2-25-37,Higashi, Shibuya-ku, Tokyo, 150-0011
The 23rd Gujō Odori in Aoyama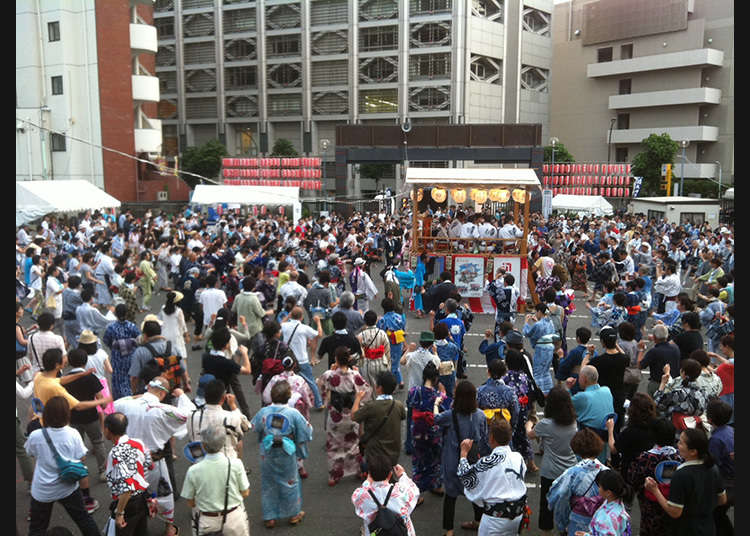 <June 24th (Fri), 25th (Sat)>
Gujō Odori, a dance handed down as a tradition of Gujyoshi Hachimancho in the central area of the Gifu prefecture, can be experienced at this event happening in Tokyo's Aoyama area. The Gujō Dance has a history of about 420 years. There are 10 types of dances, each of them are registered as an important intangible cultural property of Japan. The Gujō Odori begins from 5 p.m. on both days, on the 24th it ends at 8:30 p.m. and at 8:00 p.m. on the 25th. From 1 p.m. there will be an exhibition of local specialty products of the Gujō District.
Chichibunomiya Rugby Stadium Parking Lot

秩父宮ラグビー場 駐車場

Address

2-8-35 Kita-Aoyama, Minato-ku, Tokyo-to, 107-0061
The 8th Kagurazaka Rakugo Matsuri
Rakugo, a traditional form of Japanese comedic story telling, uses gestures and hand movements, along with a single storyteller playing various roles and characters to tell a variety of stories.
●June 25th (Sat) - Bishamonyose (Reservation required)
A performance held since 1792 at the Bishamonten Zenkoku Temple. From 2:00 p.m. and from 6:00 p.m. Twice a day.
Bishamonten Zenkoku-ji Shoin

毘沙門天善國寺 書院

Address

5-36, Kagurazaka, Shinjuku-ku, Tokyo, 162-0825
●July 2nd(Sat) "Nininkai"
Held at the Shinjuku City Ushigome Tansu Citizens' Hall. From 2:00 p.m. and from 6:00 p.m. Twice a day.
Shinjukukuritsu Ushigometansu Hall

新宿区立牛込箪笥区民ホール

Address

15, Tansumachi, Shinjuku-ku, Tokyo, 162-0833
The Tanabata Kigan-sai (Prayer Festival)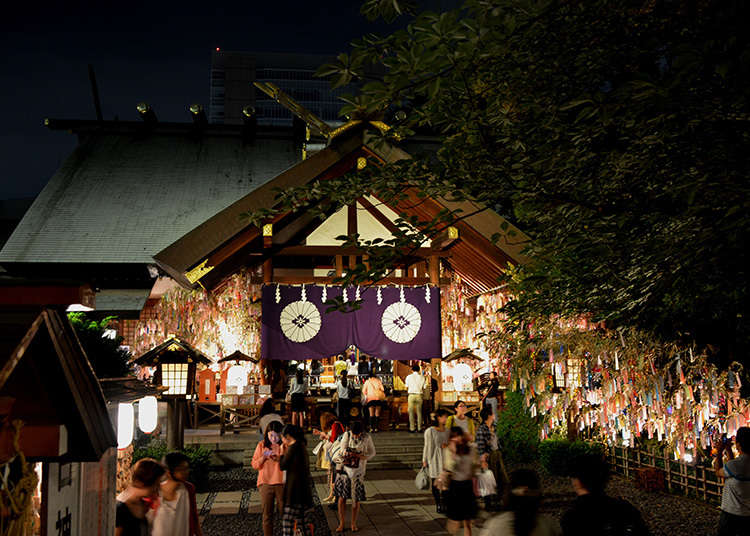 <July 7th (Thu)>
This festival is held at the Tokyo Daijingu, the Grand Shrine known for providing divine blessings for ties of love and marriage. On July 7th, Japan celebrates a day called Tanabata (the Star Festival), where once a year, it is believed that the deities Hikoboshi (Altair) and Orihime (Vega) are able to meet. One Tanabata custom is where people write their wishes on tanzaku (Japanese paper strips for poetry) and hang them on bamboo. In order for the wishes to come true, a prayer festival is held at the Grand Shrine. The tanzaku are prepared between June 1st and July 7th. The tanzaku with wishes written on them are tied to bamboo trees, and the tree of wishes are put by the front shrine by the 7th, and are lit up everyday until 9 p.m.
Tokyo Daijingu

東京大神宮

Address

2-4-1, Fujimi, Chiyoda-ku, Tokyo-to, 102-0071
Area

Category

Articles Genre
*This information is from the time of this article's publication.