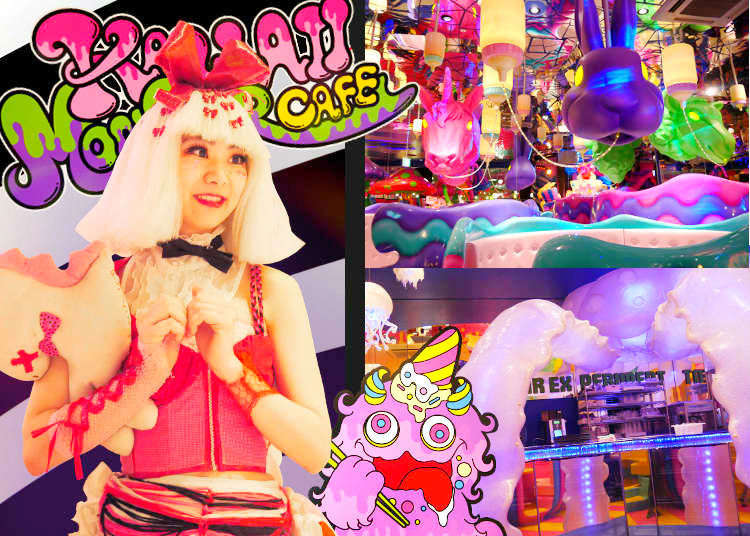 The hot new KAWAII MONSTER CAFE was produced by the Japanese artist Sebastian Masuda. It's a spot in Harajuku where you can enjoy a colorful, weird world! Let's take a look at this unique cafe!
Entering a Bizarre but Pretty Cafe
The weirdness starts even before you enter the cafe, the entrance is strange but cute at the same time. The long red carpet on the floor is supposed to be the tongue of the cafe's mascot, Choppy. Guided by this tongue, we enter the body. What a start, we came here to eat, but now we're the ones getting eaten! This cafe consists of 4 zones: MUSHROOM DISCO, MILK STAND, Bar Experiment, and Mel-Tea ROOM, and you can choose your preferred zone at the entrance. The Bar Experiment zone is an interesting and comfortable choice for those visiting by themselves. There aren't any restrictions on admission based on gender or group size, so you can freely choose your favorite zone whether you're alone or with a group.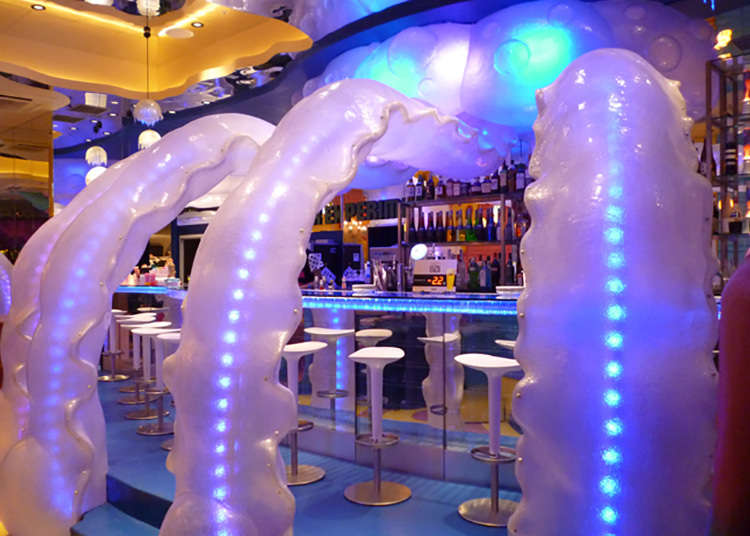 In the cafe is a giant jellyfish engulfing the bar area. This eerie atmosphere is strangely intriguing. The creepy background music being played in the cafe creates a sense of uneasiness, but somehow it's enjoyable at the same time.
This cafe area is decorated with a lot of fun, experimental tools. The menu is also a touch screen, making it fun to browse the unique items. Everything is so unique and fun, you'll never get bored of this place! Let's order some food now.
At first glance, this shake looks like a cute little flower, but looking closely, it also can look like a one-eyed monster. Putting that aside, it's a great tasting strawberry milkshake.
Next, the pepperoncino style pasta. Its vibrant colors make it look almost poisonous, but it actually only uses natural food coloring. The dish is shaped like a paint palette, with five colorful sauces to the side that look like fresh paint. Red is chili tomato, yellow is garlic mayo, green is pesto cream, orange is cheddar cheese cream, and blue is butter. Our favorite out of them is the pesto cream.
Time to be a Food Taster for this Parfait
The "Colorful Poison Parfait Extreme!" sure lives up to its name. It's got several layers of ice cream scoops, combined with a slice of roll cake sticking out of it. A rainbow wall of colorful whipped cream covers the outside the parfait glass.

Thanks to the red lips made out of chocolate in the center, this bizarre parfait begins to look like a person. The ice cream flavors are strawberry, vanilla, mint chocolate, and orange sorbet. The whipped cream flavors vary by color.

The inside of the glass is filled with strawberry and kiwi pulp. The strawberry sauce at the base is mixed with corn flakes, almost looking like it's drenched in blood. The white section is made of milk mousse which isn't as sweet. Since the strawberry sauce at the bottom is on the sweet side, mixing it with the milk mousse makes a good combination.

While many people often say parfaits are too sweet to eat, this parfait is just right and easy to eat in one sitting. For hungry customers, we recommend the pasta and a parfait.
The other zones are also very unique. Let's take a quick peek!
As you enter each zone, you can get a stamp on your point card. When you collect them from all the zones, you will receive a special gift! Also, your point card status will be upgraded as well, with 4 different status levels to attain as you visit again.
KAWAII MONSTER CAFE is a cafe that can be enjoyed by everyone. It really fits its description of "being filled with many colorful and kawaii things." According to the staff at the cafe, while popular with female customers, many male customers visit the cafe as well. The Bar Experiment zone might make a nice place to drop by and relax after work.
The anxious feeling of not knowing what may happen, a thrill even, is what makes visiting this place an exciting and alluring experience. While visiting with friends is fun, this may be a mysterious thrill you can only feel when adventuring alone into this cafe, the KAWAII MONSTER CAFE.
Address

YM square building 4F,4-31-10, Jinguumae, Shibuya-ku, Tokyo, 150-0001
View Map

Nearest Station

Meiji-Jingumae (Harajuku) Station (Tokyo Metro Chiyoda Line / Tokyo Metro Fukutoshin Line)


Phone Number

03-4530-3328
Area

Category

Articles Genre
*This information is from the time of this article's publication.