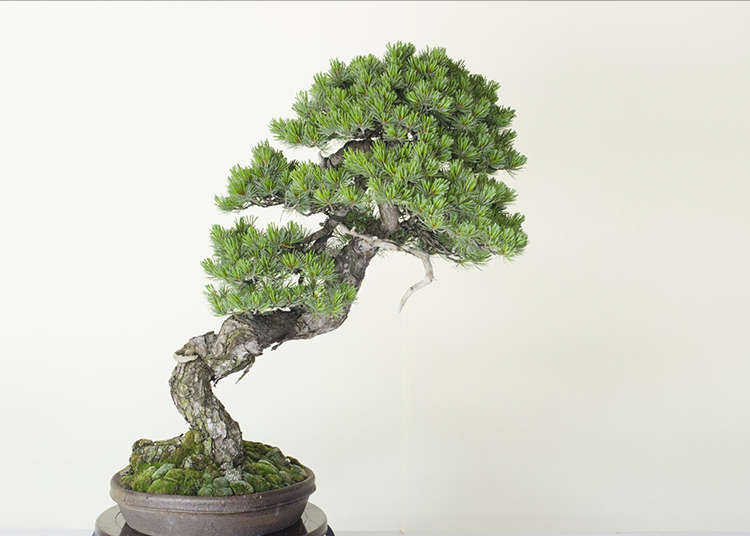 Bonsai displaying beauty of plants in daily life draws attention also in foreign countries. Gardening culture has taken root in the U.S and Europe. Because of this, many foreign people get interested in Japanese Bonsai. Bonsai is an art work that you can also enjoy growing plants by yourself. Let's take a look at its lure.
In Bonsai art, you need to represent plants which usually grow in natural environment in a flower pot whose space has limitation. If you choose relatively big plant such as a pine tree and an azalea, you can grow it small and reproduce magnificent natural perspective. To make the most of presence of plant, you may need to frequently clip it, sometimes to fix its branches with wire and to put moss and stones for decoration. This process is exactly an art growing plants. The charm of Bonsai is to create your own unique piece of art work.
Bonkei (a tray landscape) started in China is considered as the origin of Bonsai. It was imported to Japan in the Heian era. At the time, privileged people such as aristocracies enjoyed Bonkei as a sophisticated hobby. And it became called Bonsai hundreds of years ago. Then, Bonsai has evolved to be Japanese unique culture. Today there are many Bonsai lovers all around the world and the word, BONSAI becomes a universal term.
Shunkaen BONSAI Museum to appreciate Bonsai works
This Bonsai museum is located in Tokyo. The curator, Kunio Kobayashi is a famous Bonsai artist. You can experience amazing world of Bonsai here. More than 1000 Bonsais works are displayed in the museum including award-winning works in exhibitions. An advantage of this museum is that you can take a close look at Bonsai artists taking care of Bonsai works. It's also nice to appreciate the works while having tea with Japanese sweets.
Atmospheric Japanese-style house
There are traditional Japanese-style houses in the premises of museum. There is an alcove called Tokonoma in the front side of Japanese-style room. The bottom of Tokonoma is slightly higher than the tatami floor to display seasonal Bonsai art. You can admire beauty of Bonsai cherished in daily life. Appreciate features of traditional Japanese-style room such as Tatami mats, sliding doors made with paper and hanging scrolls, too.
Bonsai looks difficult to make but anybody can make it once they master its ropes. The museum offers a day course of Bonsai class. Considering your request and skills, they give a private lesson. Their kind and detailed instruction also attracts foreign visitors. You can borrow tools. So if you are interested in, why not have a try. To inquire or make a reservation, it is better to e-mail to the museum.
Address

1-29-16, Niihori, Edogawa-ku, Tokyo, 132-0001
View Map

Nearest Station

Mizue Station (Toei Shinjuku Line)
15 minutes by bus


Phone Number

03-3670-8622
Area

Category

Articles Genre
*This information is from the time of this article's publication.