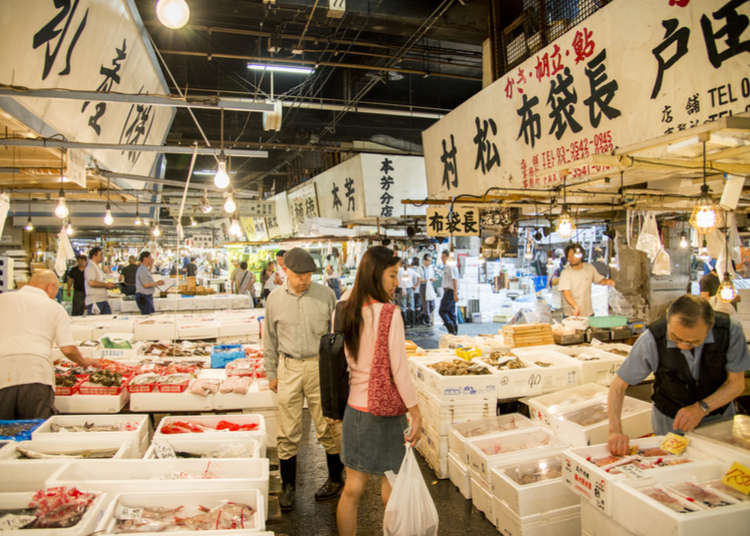 Tsukiji Outer Market for biddings will move to Toyosu. But shopping street will continue the business in Tsukiji as usual. Let me introduce you about how to enjoy Tsukiji Market from now on.
Outer Market with more than 400 stores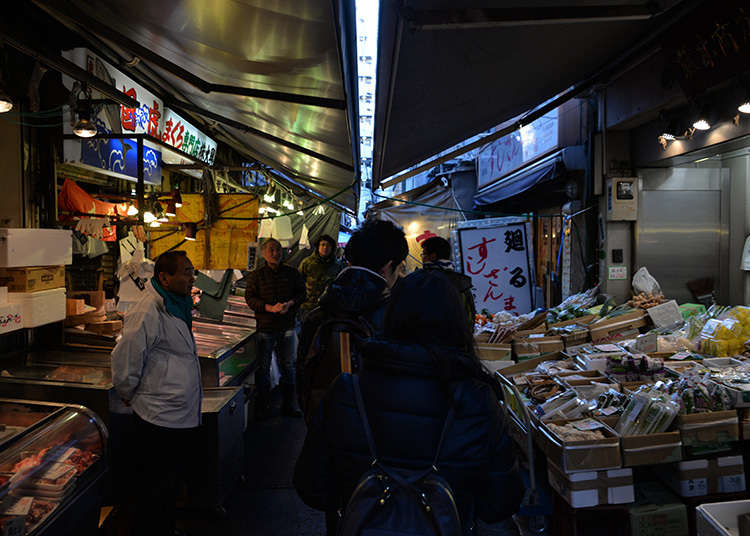 Tsukiji Outer Market is the total shopping district where more than 400 stores such as fishmongers, groceries, sushi bars, vegetable and fruit stores, butchers, pickle stores and knife stores are lined up. It has the long history of several hundred years, everything relating to Japanese food such as ingredients, tableware and cooking tools are available here. The open hours are from 5:00 a.m. to 1:00 p.m.. It's busy at anytime, but it is recommended to visit around 7:00 a.m. in the morning is recommended. Please get up a bit early and try some sushi and sashimi for breakfast.
Indulge in kaisen don (seafood rice bowl)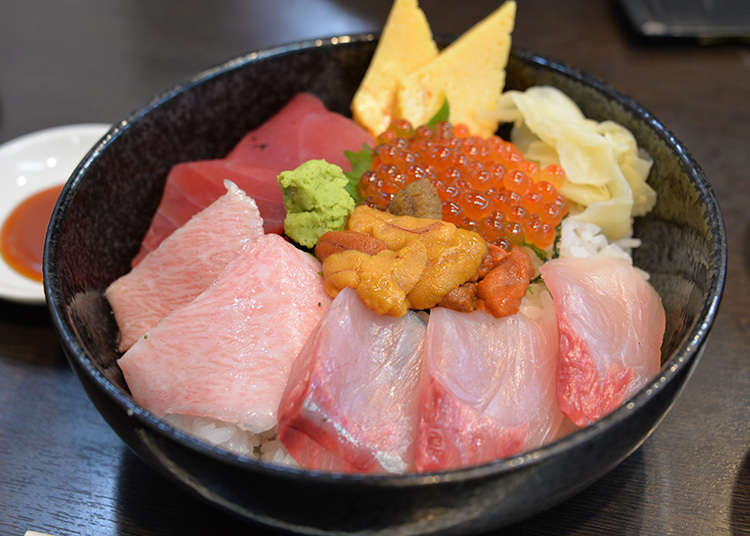 Never miss kaisen don when you visit Outer Market. Many stores in Tsukiji serve kaisen don. You can eat delicious seafood caught on the day such as fresh urchins, salmon roes and tuna at a reasonable price. The price is usually from 1,000 JPY to 2,000 JPY and this quality of seafood is only available in Tsukiji.
Knowing Japanese food culture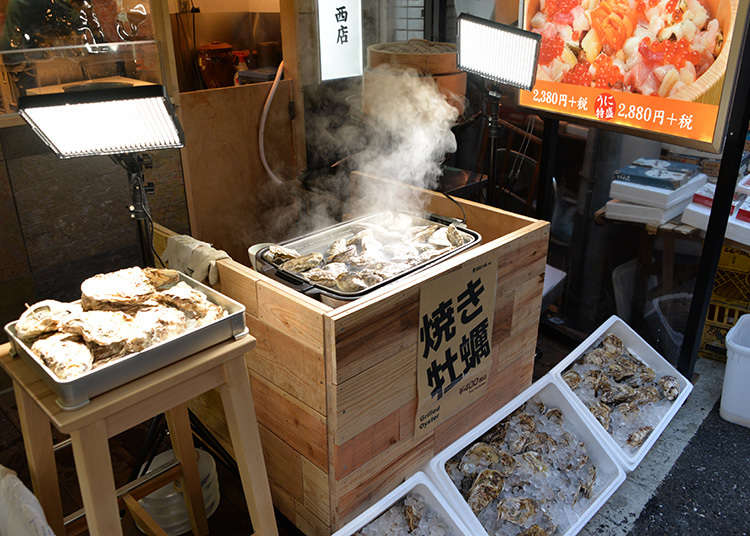 When you become full, please enjoy the atmosphere of the market to the full extent. 70% to 80% of the stores are fishmongers, and they serve food such as a large whole prawn on a plate, an incredibly huge shellfish and/or freshly boiled delicious crabs. There are vegetable and fruit stores and many processed foods called "nerimono", that are made from ground fish meat, are also sold there. Just by walking around Tsukiji Market, you can guess what kind of food Japanese people eat.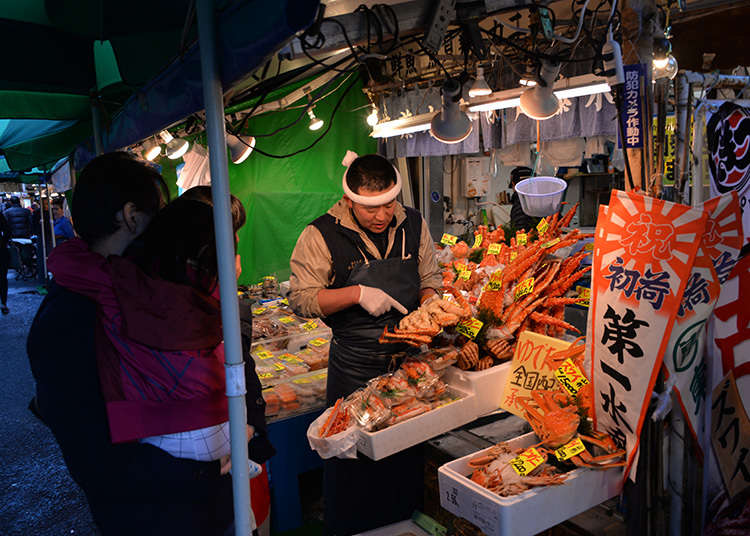 Please communicate with store staff when you walk around off-board market. You should assume many staff don't speak English fluently. However, they are used to dealing with foreign tourists. For example, if you ask them, "how should I cook these prawns?" then they will answer you in broken English with gestures. Many of the items can be tried before you buy, so you can purchase what you really liked after tasting and bring back to your hotel to enjoy.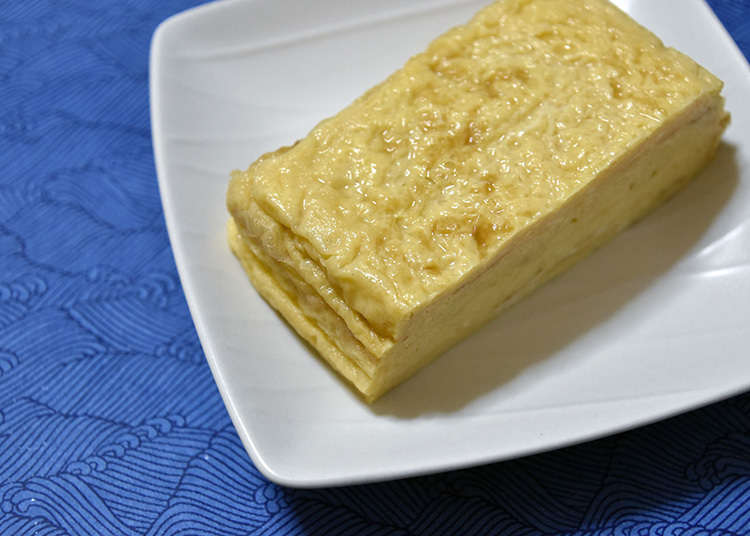 Outer Market is full of delicious foods. "Tamagoyaki" (egg omelet) is a must have food in Tsukiji. There are many stores selling tamagoyaki that is supplied to sushi bars. Other foods such as big raw oysters, grilled seafood and fried seafood are served either skewered or in a cup so that people can easily take out. You can buy these at the reasonable prices so it might be a good idea to come here without having any meal, and to enjoy walking around while eating fried takeout seafood.
Don't forget to buy souvenirs in Tsukiji
You would like to bring home something very Tsukiji since you are already here. T-shirts and caps with "kanji" of fish names such as tuna or salmon is written on are popular cool souvenirs from Japan. Another popular product is a towel with a picture of sushi is drawn on. Freeze-dried miso soup may also be a good souvenir because you can bring home a taste of Japanese.
Address

Amount of 1,000 ridge 1F, 4-16-2, Tsukiji, Chuo-ku, Tokyo, 104-0045
View Map

Nearest Station

Tsukijishijo Station (Toei Oedo Line)
1 minute on foot


Phone Number

03-3541-9444
Area

Category

Articles Genre
*This information is from the time of this article's publication.