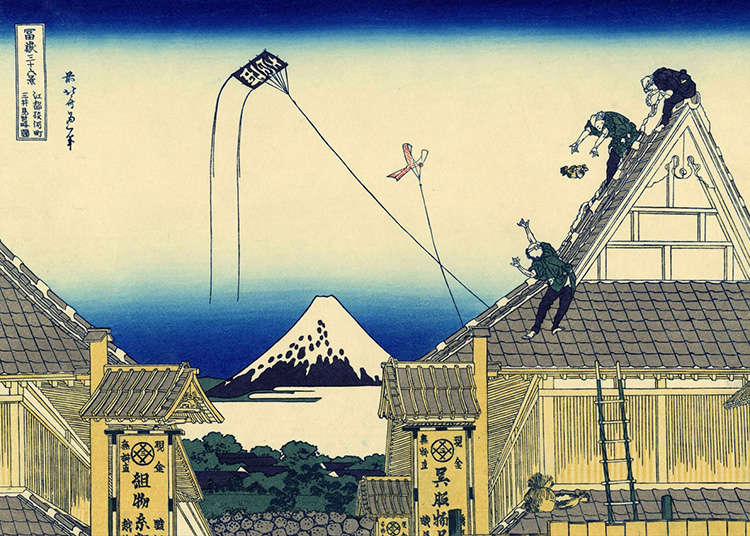 Ukiyo-e has captured people all over the world with its bold compositions and vivid colors. Here we generously introduce the appeal of ukiyo-e which influenced the impressionist painters.
The "ukiyo" in ukiyo-e means "reality". It was after the 18th century that ukiyo-e was known among people as pop culture. It exploded when popular theater actors and beautiful women begun to be drawn as models. The advancement in woodblock printing technology was another large reason. Mass produced books became trendy, and book illustrators begun to draw ukiyo-e.
Ukiyo-e adopts the theme of the entertainment of ordinary people, and many portraits of kabuki actors of the day were drawn. It is something like the portrait posters of today. Ukiyo-e where women are printed are called bijin-ga which is the drawings of the beautiful women who were popular in Edo. The women drawn in ukiyo-e are said to have drawn-in many spectators who came to see their faces.
Ukiyo-e which became a souvenir
Landscapes began to be drawn in ukiyo-e only after ordinary people came to be able to afford to take trips in their lives. It became a picture postcard of great scenery and famous buildings of various places which was used as a reminder of the trip or a souvenir. The drawings of the cityscape of Edo and Mt. Fuji were a particularly popular theme.
Ukiyo-e produces the trends
The most famous ukiyo-e painters are Katsushika Hokusai, Utagawa Hiroshige, Kitagawa Utamaro and Toshusai Sharaku. They might as well have been the advertising designers of the popular places or popular actors. At that time, the cutting edge fashion was made by the oiran (courtesans of Japan) prostitutes. The makeup methods of popular oiran had a major impact on Japanese women of the day through ukiyo-e.
Ukiyo-e's drawing method gives a strong impression
After the renaissance in the west, modern art developed by pursuing realistic paintings. Ukiyo-e surprised the artists in such an age with its non-perspective drawings. Since ukiyo-e are woodblock printings which could be mass produced, it was considered to take up a role to capture and reflect the feature of its subject. That is said to be the beginning of the bold compositions, the emphasized lines, and the vivid color schemes.
Ukiyo-e appreciation at museums
While ukiyo-e is a proud art of Japan, it was only after vast collections of the work went abroad that its wonderful value was recognized. Collectors who lamented about that situation have made strenuous efforts over a long period of time on their collections. Here are the introductions to the museums where you can appreciate fine works of ukiyo-e which have come back to Japan once again.
The Ukiyo-e Ota Memorial Museum of Art
An art museum specialized to ukiyo-e which covers the representative work of ukiyo-e from its early stage to its final stage. They own 14,000 works of ukiyo-e, and change its exhibits of well-kept ukiyo-e with vivid colors monthly.
Address

1-10-10, Jinguumae, Shibuya-ku, Tokyo, 150-0001
View Map

Nearest Station

Meiji-Jingumae (Harajuku) Station (Tokyo Metro Chiyoda Line / Tokyo Metro Fukutoshin Line)
3 minutes on foot


Phone Number

03-5777-8600
The Tokyo National Museum
This is the largest museum in Japan that owns many fine art, paintings and sculptures. They change the displays of the national treasures including ukiyo-e monthly. In their 10 permanent exhibit rooms in the main building are the fine works of ukiyo-e lined up and grouped by seasons and themes, which ukiyo-e enthusiasts inside and outside of the country come to see.
Address

13-9, Uenokouen, Taitou-ku, Tokyo, 110-8712
View Map

Nearest Station

Ueno Station (Hokkaido Shinkansen Line / Tohoku Shinkansen Line / Akita Shinkansen Line / Yamagata Shinkansen Line / Joetsu Shinkansen Line / Hokuriku Shinkansen Line / JR Keihin-Tohoku Line / JR Yamanote Line / JR Tohoku Main Line / JR Utsunomiya Line / JR Takasaki Line / JR Joban Line / Tokyo Metro Ginza Line / Tokyo Metro Hibiya Line)
10 minutes on foot


Phone Number

03-5405-8686
The Tobacco & Salt Museum
A museum that has the themes of global tobacco culture and the history of making salt. They also own a wide range of ukiyo-e collations, including the fine article of Toji Zensei Nigao-soroe Ogiya-nai Hanaogi Yoshino Tatsuta (Portraits of Today's Beauties of the Time: Hanaogi from the Ogiya, Yoshino Tatsuta) by Kitagawa Utamaro. Please check the exhibition information for the painting at the website beforehand since it is not on permanent display.
Address

1-16-3, Yokokawa, Sumida-ku, Tokyo, 130-0003
View Map

Nearest Station

Tokyo Skytree Station (Tobu Isesaki Line (Tobu Sky Tree Line))
8 minutes on foot


Phone Number

03-3622-8801
Area

Category

Articles Genre
*This information is from the time of this article's publication.