Update: 20 October 2016
The 10 steps to becoming a Roppongi expert
Roppongi is a place with a large number of clubs and bars. Many foreigners are seen here, and there are a bunch of restaurants where you can enjoy international gourmet cuisine. Also, there are many classy, brand name shops, so, while the nightlife is great, the shopping opportunities also serve as a reason to come around.
A place where you can enjoy a spectacular view of Tokyo by day or night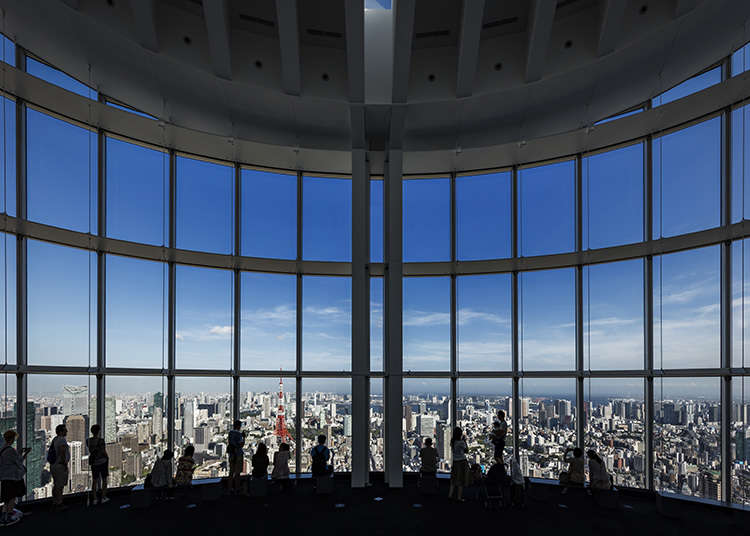 Tokyo City View observation deck is located on the 52nd floor and rooftop of Roppongi Hills. On a nice sunny day, you can view the highest mountain in Japan: the 3,776-meter Mount Fuji. Why don't you refresh yourself with a visit to this observation deck with its incredible views? Adult admission is 1,800 JPY, and you may get some discounts at restaurants in Roppongi Hills when you present your ticket stub.
TOKYO CITY VIEW & SKY DECK
東京シティビュー
Address

Roppongi Hills, Mori building 52F, 6-10-1 Roppongi, Minato-ku, Tokyo 106-6108, Japan
Get swept away by the cutting-edge DJ at the club
Located near Roppongi intersection, Cat's Tokyo is a club known for its exciting and luxurious atmosphere. Its cutting-edge DJ excites the club space with music from all genres. You can view the nighttime scenery from the 9th floor, as you enjoy the gorgeous evening atmosphere of Roppongi.
Address

Roppongi Plaza Building 8F, 3-12-6 Roppongi, Minato-ku, Tokyo 106-0032, Japan
Dining at UPSTAIRS
UPSTAIRS is a restaurant on the 2nd floor of Mercedes-Benz Connection. You can enjoy reasonably priced pastas, pizzas, and meat dishes from the menu, as you watch the latest models of Mercedes-Benz on a large screen. Our recommendation is a Mercedes Burger Lunch with buns made of Kiryu natural yeast and 100% Japanese ground beef. This meal can only be served 10 times per day.
Mercedes-Benz Connection UPSTAIRS
Mercedes-Benz Connection UPSTAIRS
Address

7-3-10 Roppongi, Minato-ku, Tokyo 106-0032, Japan
Going to Robo-Robo Park
Located in the central area of Roppongi, Sakura-zaka Park has 10 slides including gently sloping ones and long ones. It is also known as Robo-Robo Park because of robot-shaped playground equipment and art monuments found there. Take your kids to this park when you want them to have some playtime during a shopping break.
Address

6-16-46 Roppongi, Minato-ku, Tokyo 106-0032, Japan
Enjoy the nightlife of Roppongi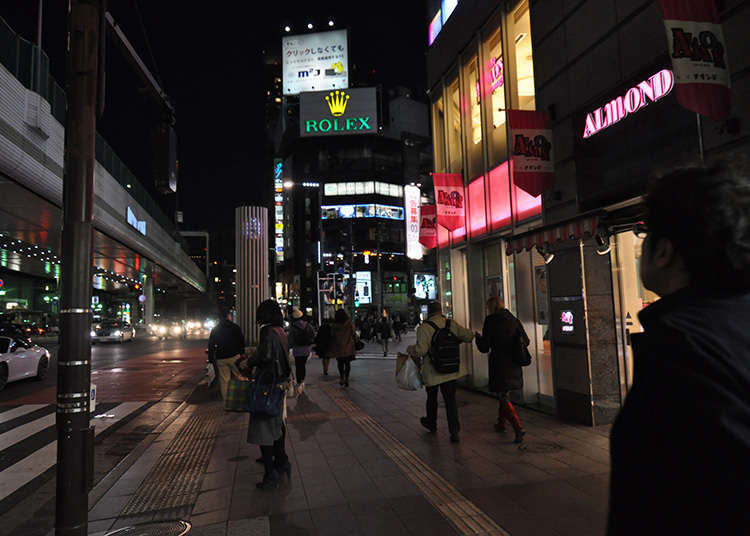 Do head down to Roppingi on Friday and Saturday nights. Roppongi during the evening is quite different from Roppongi during the day, with hostesses wearing kimono and young people out to have a good time. Roppongi is the area where you see the most foreigners in the Tokyo area, so there are many shops with clerks who speak English, which makes it easier for tourists to enjoy their visit. Don't forget to take a look at Tokyo Tower as it lights up at night.
Take a peak at Japanese food culture at Lincos
There is a supermarket located in Roppongi Hills called Lincos Roppongi Hills. They carry side dishes, breads, and fresh ingredients. Apart from typical Japanese foods like tofu (bean curd) and natto (fermented soybeans), imported foods are also available because of the many foreigners in Roppongi. Try looking for some side dishes here when you are a little hungry.
Address

6-10-1, Roppongi, Minato-ku, Tokyo, 106-6108

Nearest Station

Roppongi Station
・ Tokyo Metro Hibiya Line
・ Toei Oedo Line
0 minute on foot

Phone Number
Choose an art book, while holding a coffee cup
Located in Keyaki-zaka, a bookstore called TSUTAYA TOKYO ROPPONGI carries not only Japanese books and magazines, but also many art books and magazines from across the world. There is also a Starbucks inside, so you can relax on a sofa and choose an art book to peruse. CDs and DVDs are available on the 2nd floor. The great thing about this store is that it is open until 4:00 a.m.
Tsutaya Tokyo Roppongi
TSUTAYA TOKYO ROPPONGI
Address

Roppongi Hills Roppongi Keyakizaka Street, 6-11-1, Roppongi, Minato-ku, Tokyo, 106-0032

Nearest Station

Azabu-Juban Station
・ Tokyo Metro Namboku Line
・ Toei Oedo Line
6 minutes on foot

Phone Number
Enjoy Japanese cuisine prepared by true professionals
Hinokizaka is a Japanese restaurant at The Ritz-Carlton, Tokyo in Tokyo Midtown. You can enjoy Japanese cuisine with seasonal ingredients prepared perfectly by skilled chefs. The restaurant is divided into four areas: kaiseki, sushi, teppanyaki, and tempura. Enjoy the traditional Japanese flavors as you watch the nighttime view.
Address

The Ritz-Carlton Tokyo, 9-7-1 Akasaka, Minato-ku, Tokyo 107-6245, Japan
Time for a photo shoot on the set of a TV program!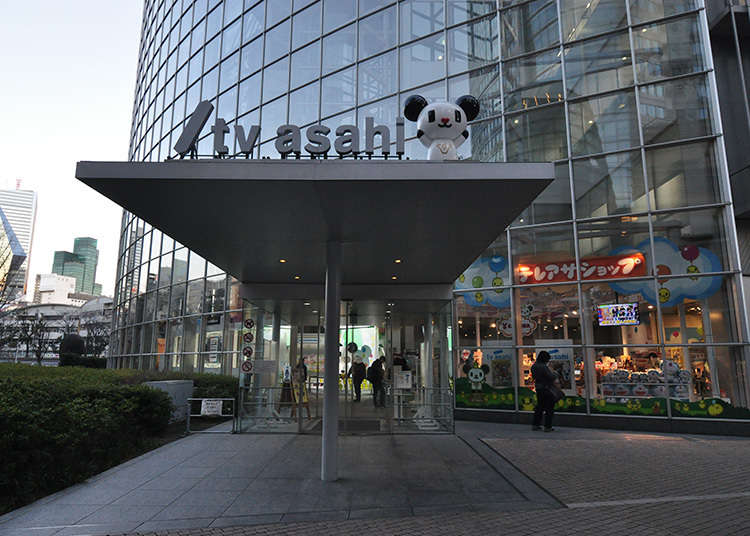 TV Asahi, a TV station located in Roppongi Hills, is a must-see place when you go around the area for sightseeing! Its main entrance is open to the public, and you can actually have a look at studio sets of popular programs. Do take a keepsake photo pretending to be someone famous!
TV Asahi Head office building
テレビ朝日
Address

6-9-1, Roppongi, Minato-ku, Tokyo, 106-8001

Nearest Station

Roppongi Station
・ Tokyo Metro Hibiya Line
・ Toei Oedo Line
5 minutes on foot

Phone Number
Making a visit to Izumo Shrine Tokyobunshi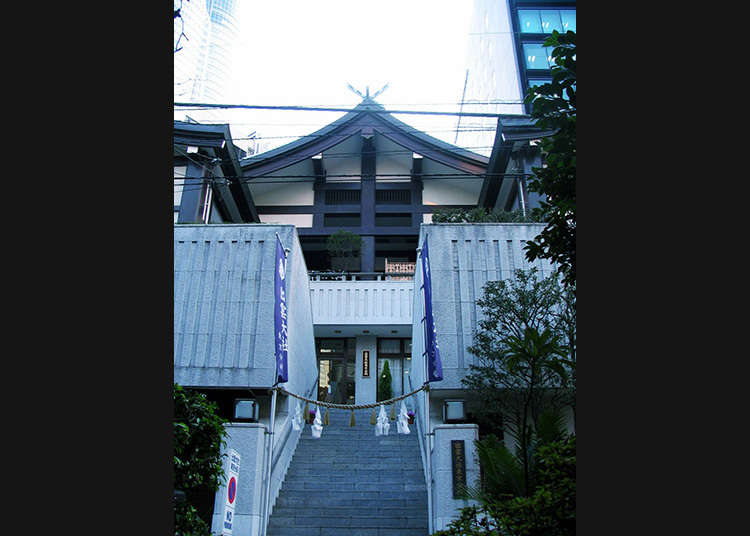 This shrine in Tokyo shares its deity with the Izumo-taisha (Grand Shrine of Izumo) in Izumo-shi, Shimane. Izumo-taisha is well-known for its match making God, and it is said that it brings good luck not only in love, but also in business and money matters. Making a visit to this solemn shrine will certainly bring you luck!
Izumo Taisha Tokyo-bunshi
出雲大社東京分祠
Address

7-18-5 Roppongi, Minato-ku, Tokyo 106-0032, Japan
*This information is from the time of this article's publication.
---