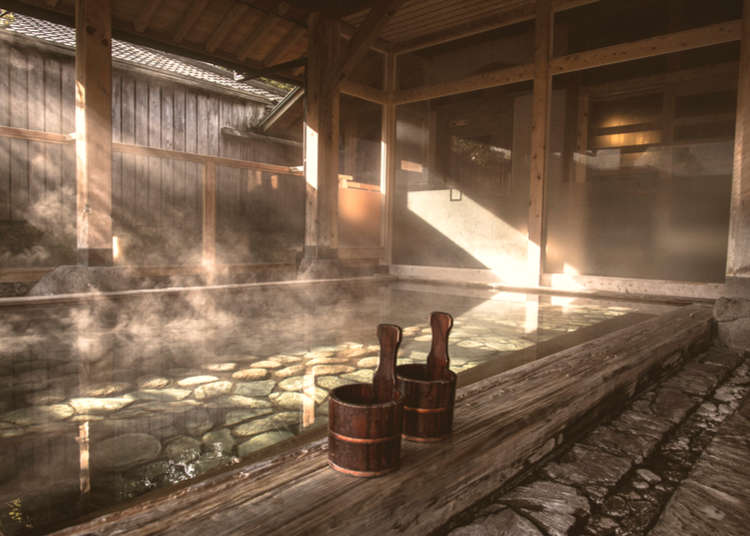 Japan is a volcanic country and has many hot springs. It could be said that the hot springs are the spirit of Japanese people. Here, we will introduce three hotels where you can enjoy a hot spring bath without a stay. Two other popular hot spring facilities in Tokyo will also be introduced.
The large public bath with the Tamagawa river right beneath it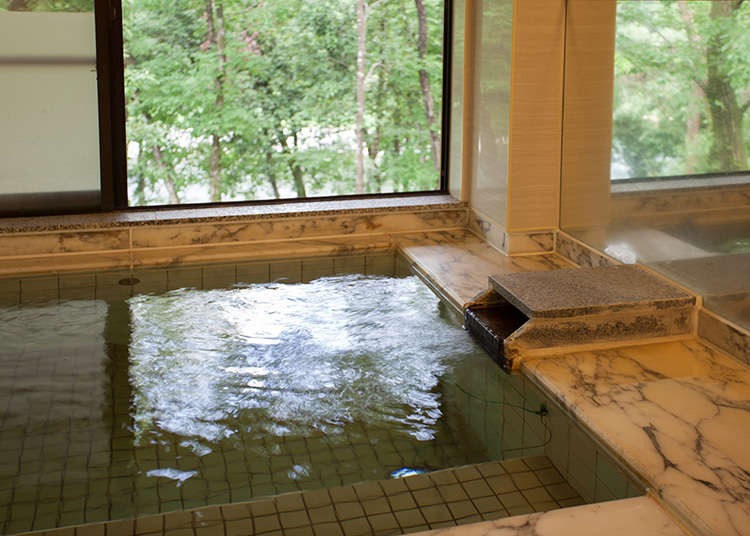 Located in Ome where there is a plenty of nature, the hotel Okutamaji commands a view of the clear stream of the Tamagawa. Ome Ishigami Onsen within the facility is an alkaline simple sulfur hot spring which is clear and colorless with a slight scent of eggs. It is a hot spring of beauty which is said to make your skin smooth and nice. It is effective for various ailments including articular rheumatism, low back pain, neuralgia, contusions, bad circulation, diabetes, fatigue recovery, insomnia, and atopic dermatitis. The large spacious public bath with a wide window is situated at close range to the clear stream of Tamagawa and spreading green nature.
東京・青梅 石神温泉 清流の宿 おくたま路

Address

2-371, Futamatao, Ome-shi, Tokyo, 198-0171, Japan
At a spa where you can savor the feelings of the resort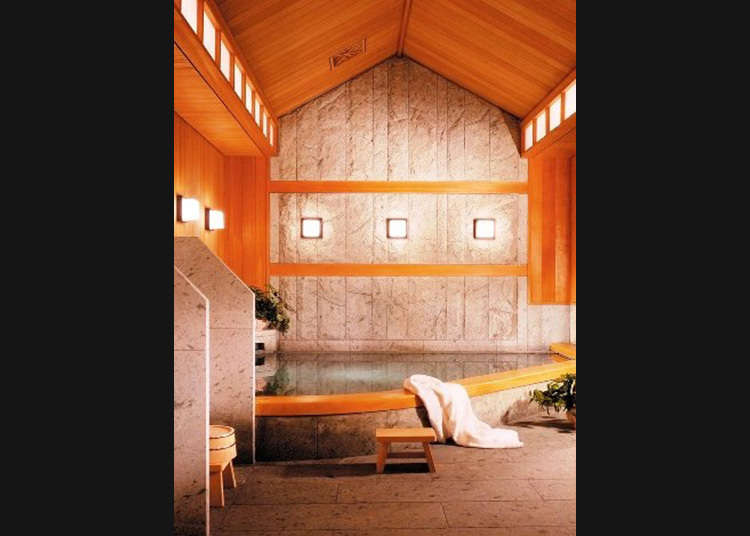 Hotel Chinzanso Tokyo has a garden like a forest and provides world-class hospitality. In the day-use plan "Relax day plan", you can enjoy the spa and spa treatments, and an afternoon tea at the hotel lounge is included in the plan. The hot spring water is directly sent from Shizuoka prefecture. You can enjoy a heated swimming pool, open-air jacuzzi, and a gym while staying in Tokyo without visiting anywhere else. In this package, you are free to use a guest room from 10:00 to 18:00. You can rest in the room when you feel tired. With a drink at the bar included, this is a luxurious package plan in which you can savor the feelings of a resort in one day.
The hot spring water is diluted, heated, filtered, and disinfected.
Address

2-10-8, Sekiguchi, Bunkyo-ku, Tokyo, 112-0014
View Map

Nearest Station

Edogawabashi Station (Tokyo Metro Yurakucho Line)
10 minutes on foot


Phone Number

03-3943-1111
Located in front of Kamata Station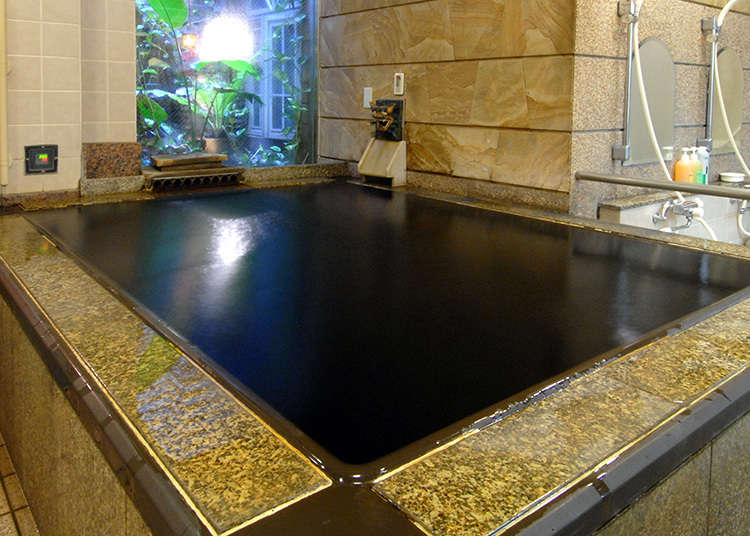 20 minutes by car from Haneda Airport and 25 minutes to Tokyo Station, this is a commercial hotel which is also an ideal base for sightseeing. The hot spring water drawn up from beneath the hotel is Kuroyu. It is not a volcanic hot spring, but ground water which turned into a hot spring with dissolved components of vegetation and foliage buried in the Paleozoic stratum. It is nicknamed "Bijin no yu" (a hot spring of beauty) because the water feels nice and skin is given a moist feeling and a smoothness after bathing. The feature of this hot spring is it warms the body to the core and a chill after a bath is not likely to occur. This is because of the sodium contained in the water. You can visit it empty-handed because the fee includes rental towels.
蒲田黒湯温泉ホテル末広

Address

8-1-5, Nishikamata, Ota-ku, Tokyo, 144-0051, Japan
Cloudy hot spring flowing directly from the hot spring source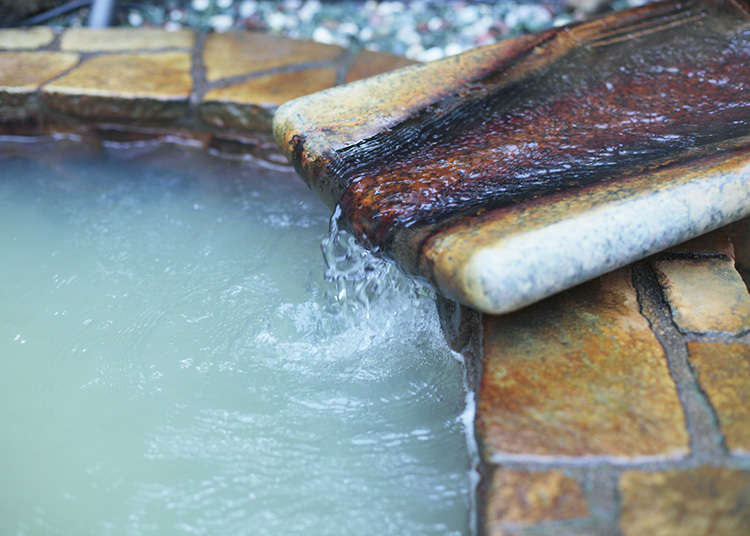 A hot-spring facility without accommodations. It is a composite facility consisting of various kinds of baths, massages, a stone sauna, a Japanese-style garden, and restaurants. The distinctive feature is that their "gensen kakenagashi" hot spring water. "Gensen kakenagashi" means that the hot spring is not diluted with water or filtered, and no chemicals are fed into it, but the natural hot spring gushing out from underground is directly going into the bathtub. Saline substance attached to the skin keeps sweat from evaporating. Thus a chill after a bath is prevented and a warm feeling remains in the body after taking the bath. There are other baths including an open-air bath surrounded by green, lying bathing (you can lie down in the bath), and "Tsubo yu" which is a bath for one person's use. During the day you can look at the blue sky and at night you can look at the moon and stars while you enjoy the bath. They also have a jet bath, a dry sauna, and a steam sauna.
Address

3-41-1, Maenocho, Itabashi-ku, Tokyo, 174-0063
View Map

Nearest Station

Shimura-Sakaue Station (Toei Mita Line)
8 minutes on foot


Phone Number

03-5916-3826
You can enjoy two kinds of natural hot springs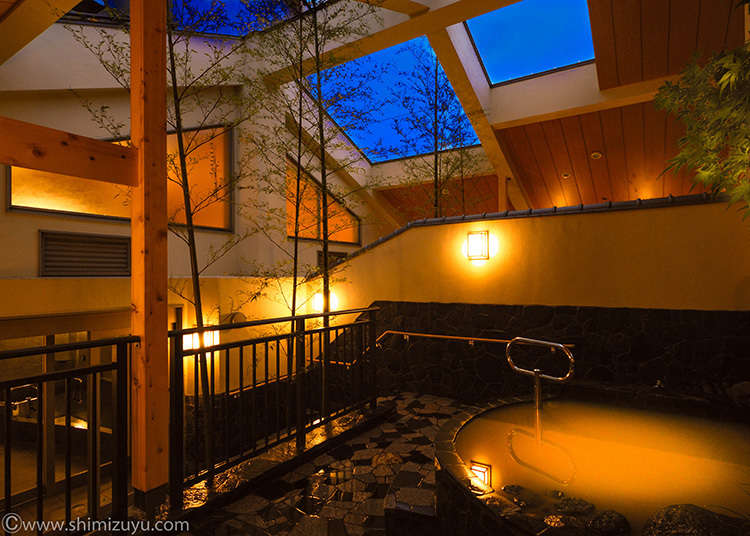 A public bath where you get to enjoy two natural hot springs, Kuroyu and Koganenoyu, with different spring quality. Kuroyu is a dark amber colored hot spring and famous as a hot spring of beauty. It is said to be effective for all kinds of diseases because it is excellent in retaining warmth. At Shimizuyu, they enhance the concentration of nano bubbles in the water. The super minute bubbles enhance the effectiveness. Koganenoyu is ocherous hot spring water gushing out from a layer deeper than that of Kuroyu. You can expect healing effects on cuts, scratches, and sore throats. You can enjoy an open-air bath with the water flowing directly from the hot spring source. It is recommended to take the two baths in turn. First get in Koganeyu, then Kuroyu. You repeat the alternation. Don't rinse your body after bathing because the water contains ingredients to make skin beautiful.
Address

3-9-1, Koyama, Shinagawa-ku, Tokyo, 142-0062
View Map

Nearest Station

Musashi-Koyama Station (Tokyu Meguro Line)
5 minutes on foot


Phone Number

03-3781-0575
Area

Category

Articles Genre
*This information is from the time of this article's publication.