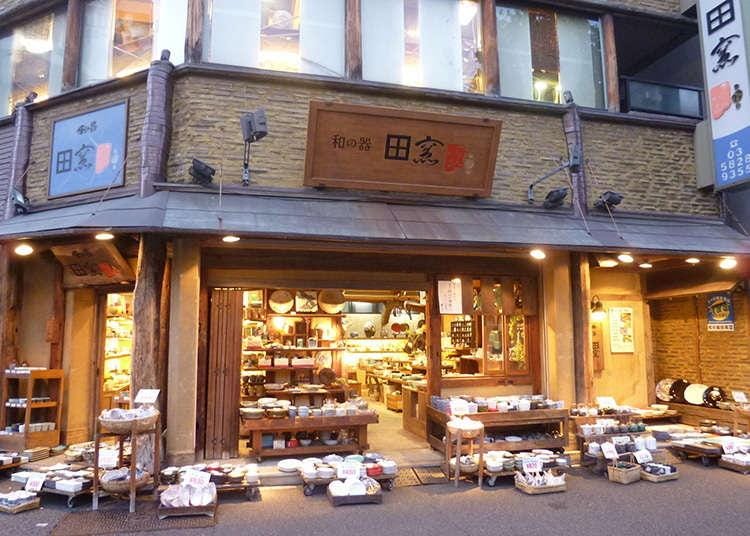 Here are the most popular Other Shopping in Tokyo and Surroundings, according to leading travel website Live Japan! Our ranking is based on the most popular pages viewed by foreign visitors in the past month. Be sure to add them to your Japan travel plan when you visit Tokyo and Surroundings!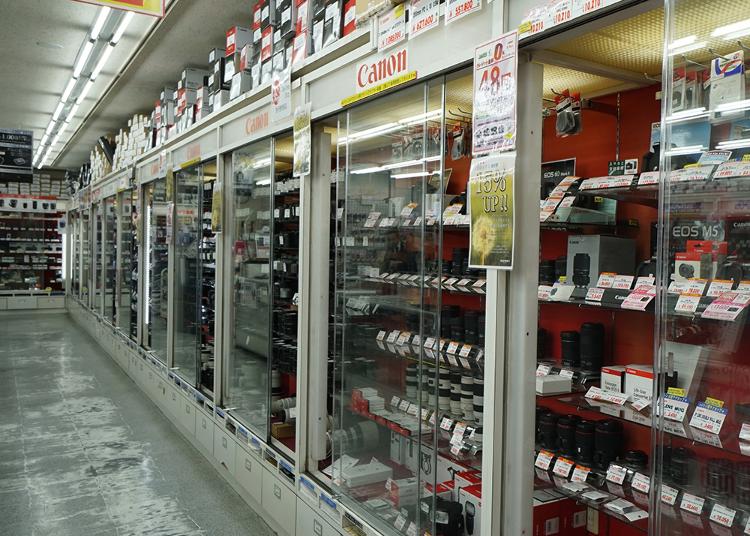 As a camera specialty shop we have a large assortment of camera-related equipment such as cameras, lenses, tripods, bags, and flash units. Our shop's main draw is our large stock of used items – we keep a steady supply of around 3,000 used items for your perusal! From classic camera brands such as Leica to the latest digital cameras, you're sure to get a better deal buying used rather than new, including accessories such as tripods and camera bags. In Japan many of the used cameras are in great condition, so why not pick one up as a memento of your trip to Japan? We have 3 shops: our main shop stocking cameras, lenses, and accessories; our gear shop with tripods and lighting equipment; and our 'junk' shop where you'll find books and broken cameras. We are a shop enjoyable for camera-lovers to just drop in. We look forward to seeing you.
Address

Tatsumi building, 5-61-1, Nakano, Nakano-ku, Tokyo, 164-0001
View Map

Nearest Station

Nakano Station (JR Chuo Main Line / Tokyo Metro Tozai Line)
2 minutes on foot


Phone Number

03-5318-2241
2.RICOLAND TOKYO BAY SHINONOME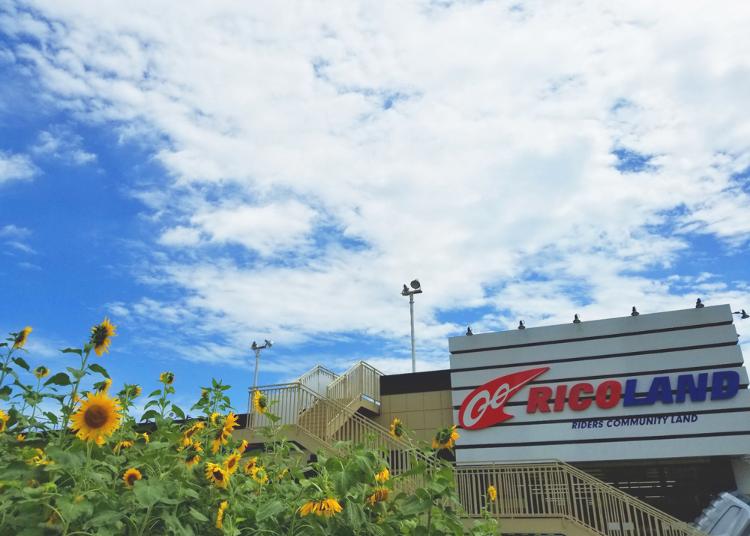 We stock a huge lineup of motorcycle-related products, such as helmets, clothing, gloves and shoes. In particular, the helmet brands SHOEI and ARAI offer a fitting service, so we recommend that you consult our experienced staff at the Shinonome store if you're unsure about sizes. We'll definitely be able to suggest the best size for you.
Of course, we also offer a variety of stock such as race suits, boots and gloves, which will satisfy the needs of circuit users. Our well-versed staff can help you out. At this store, we speak not only English, but also employ staff who can speak Chinese and Thai, so feel free to ask anything. If you're going to buy motorcycle accessories, do it at Ricoland Tokyo Bay Shinonome!
We're looking forward to your visit.
RICOLAND TOKYO BAY SHINONOME

RICOLAND TOKYO BAY東雲

Address

2-7-12 Shinonome, Koto-ku, Tokyo, 135-0062


Nearest Station

Shinonome Station (Rinkai Line)
10 minutes on foot


Phone Number

03-3527-7431
3.AWESOME STORE Harajuku Omotesando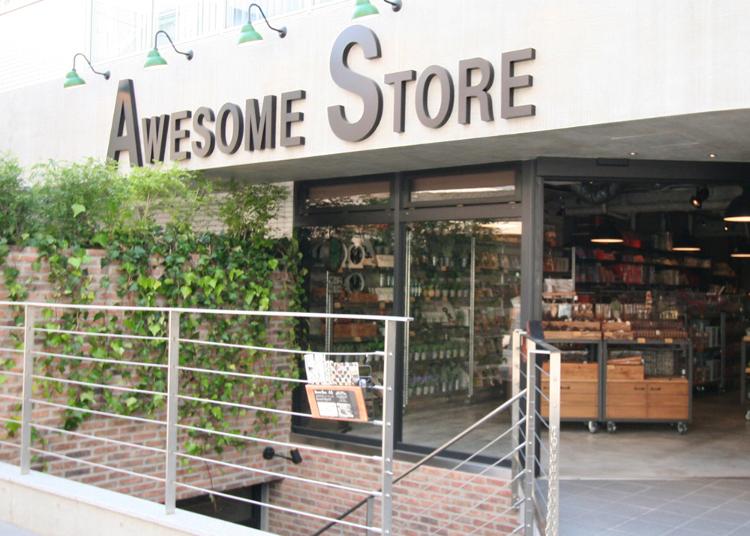 "AWESOME STORE" became famous on many media like magazines and TV programs. This is why our goods are awesome prices and qualities as "life style shop."

Our shop stands the center of Harajuku-Omotesando which is a source of trend. The image of in-store is SOHO, NY and garage store. You can find favorite one for sure.

We recommended
"Harajuku-Ramen" 148JPY (+tax)
This soy-sauce flavored ramen does not consist of chemical seasoning, aretificial color, and preservative.
Best suited fot souvenir!!

"The decoration of Japanese traditional events" 190~290JPY (+tax)
We have the felt decoration that expresses Japanese four seasons and the traditional events.

And also you can find "AWESOME" price and quality goods and lots of "made in Japan" if you visit us!
AWESOME STORE Harajuku Omotesando

AWESOME STORE 原宿表参道店

Address

Omotesando IIDA Building 1F / B1F, 5-8-7 Jingumae, Shibuya-ku, Tokyo, 150-0001


Nearest Station

Omotesando Station (Tokyo Metro Ginza Line / Tokyo Metro Chiyoda Line / Tokyo Metro Hanzomon Line)
3 minutes on foot


Phone Number

03-6450-6021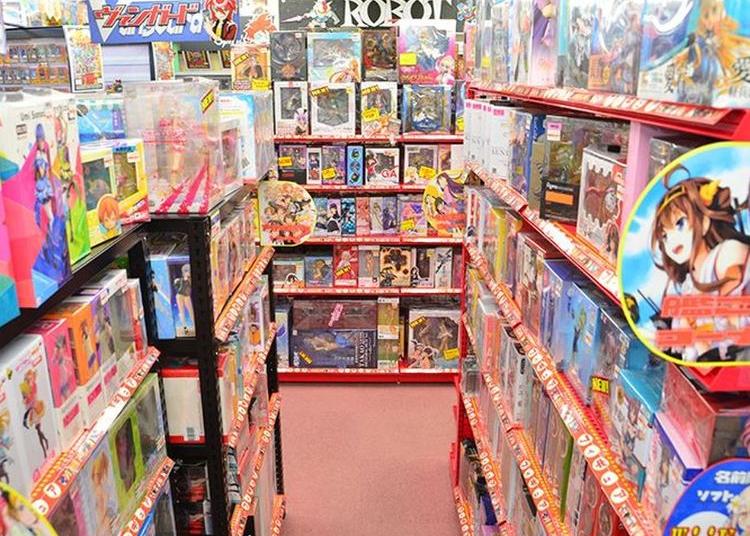 If you're looking for toys,figures, figurines, games, or trading cards in Akihabara, be sure to visit us first! [Product Categories] <Toys> Bishoujo figures, "Love Live!", "Bakemonogatari", "Hatsune Miku", "Fate", "One Piece", "Dragon Ball", "Kamen Rider", "Super Sentai", "Ultraman", "Godzilla", "Gundam", robots, "Robotech", American toys, etc. <Trading Cards>"Dragon Ball Heroes",and much more.With 12 locations throughout Japan, this well-established used entertainment shop chain has expanded to Akihabara!
5.Travel luggage and accessories speciality shop -Toko Yuurakucho Store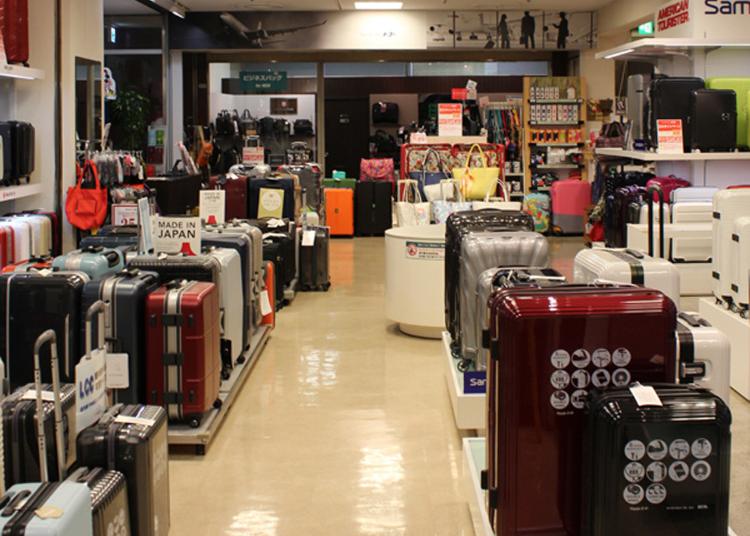 We've been in business in Yurakucho, Tokyo for 50 years. Our wide selection of products includes many different travel goods perfect for your next vacation, as well as souvenirs that make perfect gifts. Let us help you make your next trip a special one! We also offer repair and maintenance service for your products after you buy.
Tax-free purchases are available. Money exchanges available on the same floor. English, Chinese, and Korean-speaking staffs are available on certain days.

Some Available Brands:
Proteca, Samsonite, ZERO HALLIBURTON, SUNCO, PROTEX, American Tourister, Kanana, CARAN d'ache, VICTORINOX, RONCATO, etc.
Address

Tokyo traffic hall 2F, 2-10-1, Yuurakucho, Chiyoda-ku, Tokyo, 100-0006
View Map

Nearest Station

Yurakucho Station (JR Keihin-Tohoku Line / JR Yamanote Line / Tokyo Metro Yurakucho Line)
1 minute on foot


Phone Number

03-3213-8717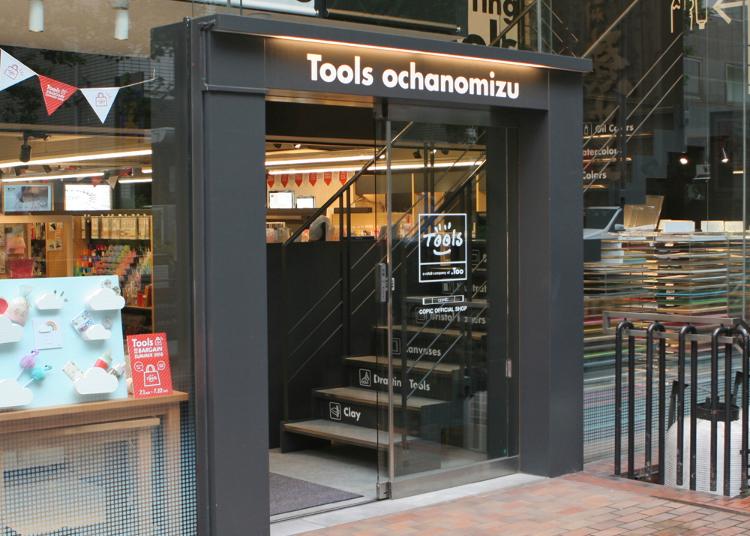 Our store has been operating in Ochanomizu for over 45 years and we aim to bring the fun of drawing and creation to everyone, from beginners to professionals! We are a popular place to get presents and souvenirs, such as stationery and art supply sets.
• 1F: Copic products, stationery, and miscellaneous goods!
As an official Copic store, we stock all Copic-related goods.
*We also offer limited edition and early release goods (no set schedule).
We get our hands on popular Japanese-made stationery items, such as calligraphy brush pens, ballpoint pens and erasers, ahead of the crowd. We also offer a huge selection of other fun items, such as seasonal greeting cards, stickers, and masking tape!
• 2F: Art supplies!
For acrylic paints, we stock products by the famous pioneering brand Liquitex. For watercolors, we have high-quality products from Winsor & Newton.
We also offer masterpieces such as brushes crafted by Japanese artisans, paints made from Sumi ink, suihitsu brush pens, and sketch books.
We will definitely have something you are looking for!
Just browsing our store is exciting! Come by and see for yourself.
トゥールズお茶の水店

Address

Fuji Building 1/2F, 2-1-30 Kandasurugadai, Chiyoda-ku, Tokyo, 101-0062


Nearest Station

Ochanomizu Station (JR Chuo Main Line / Tokyo Metro Marunouchi Line / JR Sobu Line)
1 minute on foot


Phone Number

03-3295-1438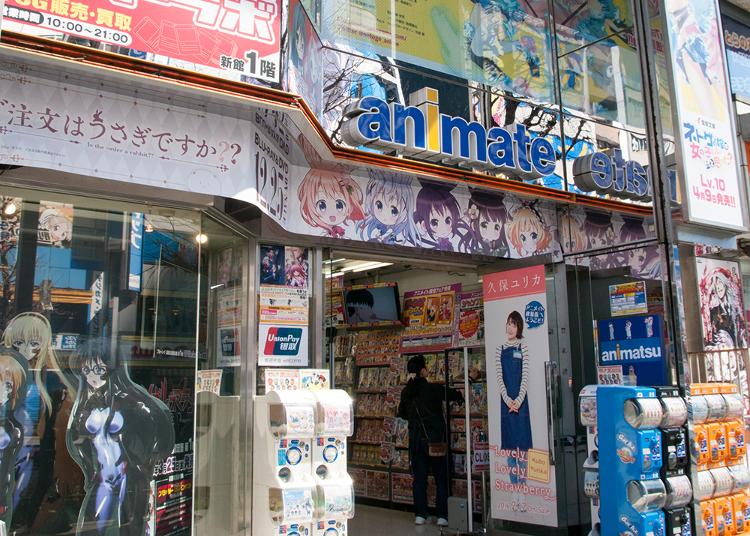 The Akihabara branch of of one of Japan's biggest total anime/comic shop chains, Animate. It is located along Chuo-dori in Akihabara Electric Town. The first to seventh floors of this 8-storey building are sales floors, displaying various goods ranging from DVDs and Blu-rays of TV anime series, to comic books, figurines, and anime song CDs. There is a collection of tickets and souvenir goods on the first floor and an event space on the seventh floor. In addition, there are original goods and cosplay items found only at Animate, making it a place where you can thoroughly enjoy the world of anime. Various credit cards and China UnionPay cards can be used, making it convenient for foreign tourists to shop. It is a 4-minute walk from the Electric Town Exit of JR Akihabara Station.
Address

4-3-2, Sotokanda, Chiyoda-ku, Tokyo, 101-0021
View Map

Nearest Station

Akihabara Station (JR Keihin-Tohoku Line / JR Yamanote Line / Tokyo Metro Hibiya Line / Tsukuba Express / JR Sobu Line)
4 minutes on foot


Phone Number

03-5209-3330
8.Japanese Tableware Dengama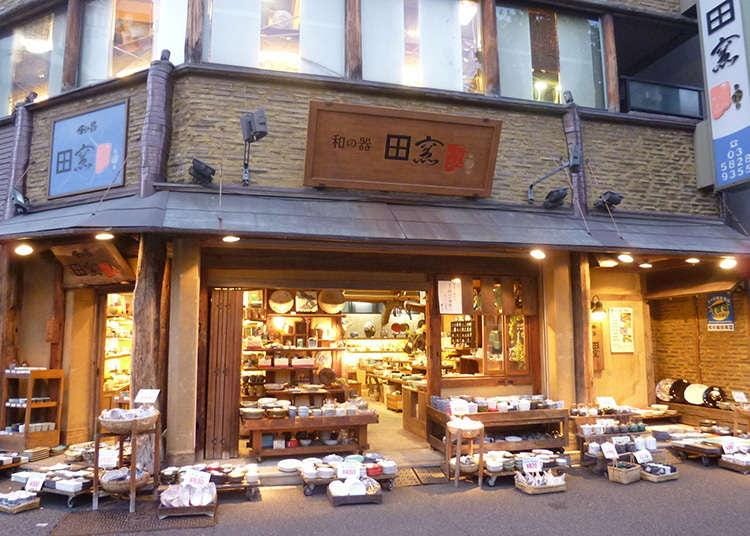 Japanese Pottery Shop Dengama is a Japanese pottery speciality store which directly purchases the product from the potteries all over Japan such as Arita, Kutani, Mashiko and Mino. They handle a wide range of products focused on bowls with made with traditional Japanese pottery techniques and pictures, along with fine articles from famous potteries, and products for ordinary daily use as mugs, tea cups and small plates. Don't forget to check the bargains near the entrance of the shop.
Address

Matsui Building 1~2 floor, 1-4-3, Nishiasakusa, Taitou-ku, Tokyo, 111-0035
View Map

Nearest Station

Tawaramachi Station (Tokyo Metro Ginza Line)
3 minutes on foot


Phone Number

03-5828-9355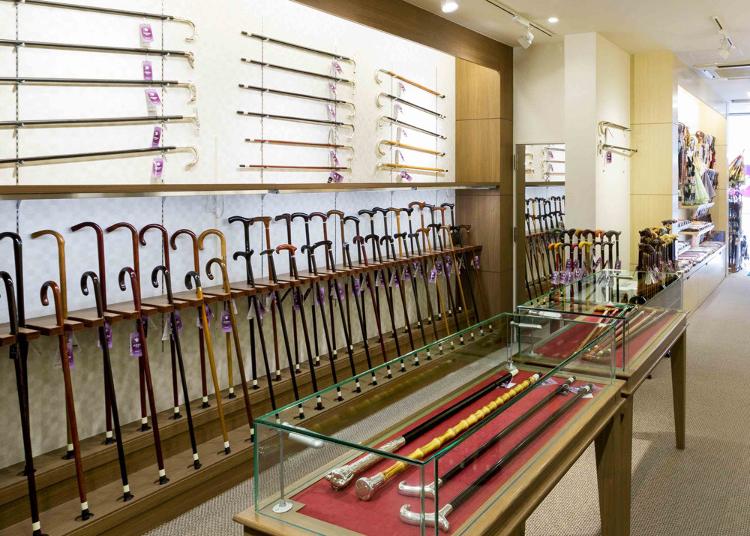 Since its founding in 1882, skilled craftsmen have been making elaborate walking sticks by focusing on high quality materials. We use high-grade imported woods including snakewood, cane , ebony, and red sandalwood, as well as Japanese woods, including oak, maple, and bamboo root. We carry new products, such as sticks with unique animal-motif handles, sticks that use light-weight carbonaceous materials; folding, portable sticks; and a wide variety of colorful sticks with openwork rings for women. We also deal in various kinds of umbrellas that are made by skilled Japanese craftsmen.
Because we are particular about both functionality and quality, we make each waking stick and umbrella by hand and with great care. We will be happy if you would like to pick them up.
銀座タカゲン

Address

6-9-7 Ginza, Chuo-ku, Tokyo, 104-0061


Nearest Station

Ginza Station (Tokyo Metro Ginza Line / Tokyo Metro Marunouchi Line / Tokyo Metro Hibiya Line)
5 minutes on foot


Phone Number

03-6263-9515
10.Travel luggage and accessories speciality shop -Toko Haneda International Airport Store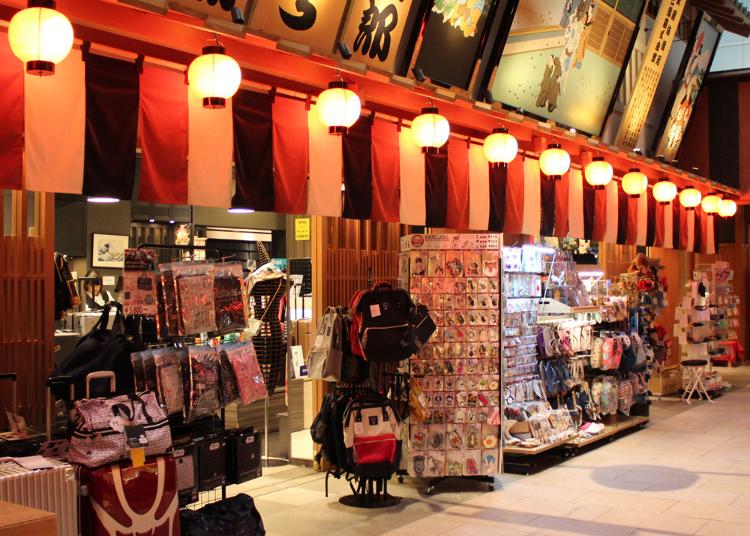 On the 4th floor of Haneda Airport's International Terminal, Japanese culture and the aesthetics of Japan's Edo Period come together to create the main street of "EDO MARKET". Travel Pro-Shop Toko (Haneda International Airport Store), which specializes in travel, travel-related products and souvenirs, is located there.
We carry top suitcase brands such as Samsonite and Proteca, and our messenger bags and backpacks include the popular anello series, known for their ease of use.
Our most popular miscellaneous travel product is the stylishly-designed, weather-resistant B-SIDE LABEL stickers. You can find Haneda Airport-exclusive designs in addition to ordinary stickers at our store, including the "Haneda Penguin" and "I LOVE HANEDA" stickers. We also stock Japanese souvenirs, which are a necessity for any traveler in Japan on business or for a homestay. Our selection of Japanese-made hand towels is also popular.
Before you set out on your journey, be sure to pay us a visit.
Address

HanedaAirport international passenger terminal 4F, 2-6-5, HanedaAirport, Ota-ku, Tokyo, 144-0041
View Map

Nearest Station

Haneda Airport International Terminal Station (Keikyu Airport Line / Tokyo Monorail Haneda Airport Line)


Phone Number

03-6428-0722
*This information is from the time of this article's publication.
*Prices and options mentioned are subject to change.
*Unless stated otherwise, all prices include tax.
Limited time offer: 10% discount coupons available now!