Here are the most popular Old Towns (Shitamachi) in Tokyo and Surroundings, according to leading travel website Live Japan! Our ranking is based on the most popular pages viewed by foreign visitors in the past month. Be sure to add them to your Japan travel plan when you visit Tokyo and Surroundings!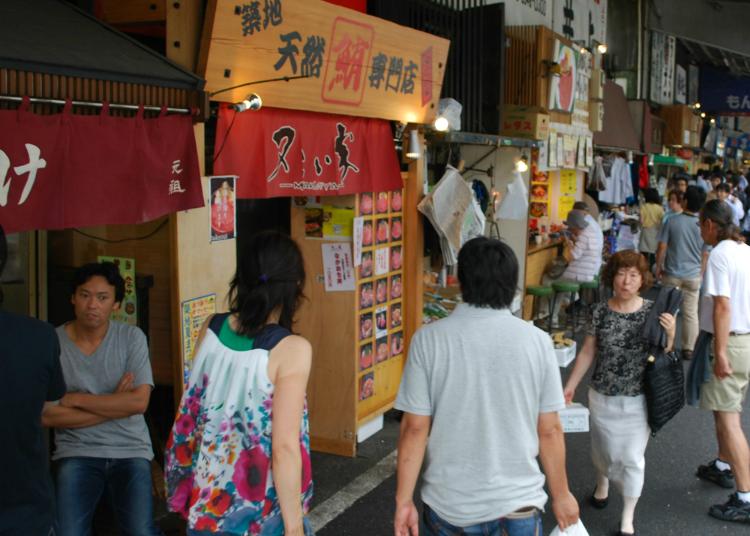 The Tsukiji Outer Market is located on the outer rim of the famous wholesale market in Tokyo. About 400 shops specialize in food-related products, such as freshly caught seafood, good-quality fresh produce, cooking tools, and tableware. There are also many restaurants that serve fresh seafood in the form of sushi and kaisen-don (seafood over rice). It is a very popular spot, not only for tourists but also general consumers. Seminars and events about food are held from time to time. The general information center, Johoichiba Puratto Tsukiji, opened in 2012. The center offers information about shops, sightseeing, and transportation, and it sells center-original goods. The center also has space for resting, and you can stop by at your convenience while you are sightseeing. Although the Tsukiji Outer Market will remain, the inner wholesale market will be moved to Toyosu in 2017. After the move, new commercial facilities will be built in the place where the wholesale market currently sits. It is a one-minute walk from the A1 Exit of the Tsukijishijo Station of Toei Oedo Line or the No. 1 or 2 Exit of the Tsukiji Station on the Subway Hibiya Line.

Rules
■At Restaurants
Restaurants in Tsukiji Market tend to be small with limited seating. Sometimes lines form outside. Depending on the time of day, you may have to keep up with the eating pace of the locals. (Yes, they eat fast because they have to go back to work.) Also, splitting meals is generally a taboo during the busy hours.

■Smoking
In the Chuo-ku, smoking on the streets is prohibited. Just smoke within the designated areas with ashtrays.

■Big baggages and Strollers
The streets are narrow and intricate with lots of people. Please come to the Market without big items like suitcases and large belongings and strollers.

■How you look
At Tsukiji Market, the floors are often wet and slippery, and bikes and carts are going here and there, so make sure to come with your safe shoes that covers your toes. No high-heeled shoes and sandals.

■About "Tsukiji Uogashi"
Shopping at the new wholesale facility called "Tsukiji Uogashi" is limited to those who have permission in advance of 9:00 a.m.
*After 9:00 a.m. the wholesale facility will be open to everyone.
Address

Amount of 1,000 ridge 1F, 4-16-2, Tsukiji, Chuo-ku, Tokyo, 104-0045
View Map

Nearest Station

Tsukijishijo Station (Toei Oedo Line)
1 minute on foot


Phone Number

03-3541-9444
2.Yanaka Ginza Shopping Street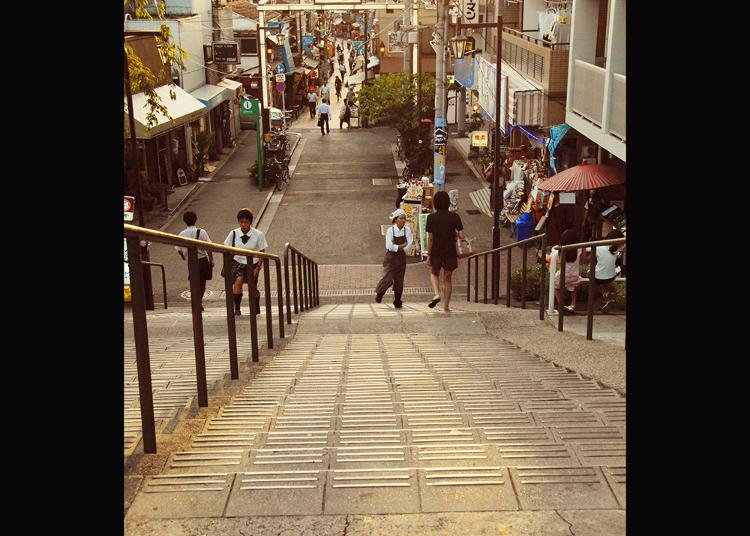 Yanaka Ginza Shopping District is a local shopping street in downtown Tokyo that retains the good old shitamachi atmosphere. The friendly service, the close rapport between staff and the customer, and the human warmth keep customers coming back. This district is located in an area called Yanesen, which is the connected areas of Yanaka, Nezu and Sendagi. It is so popular that many people come from afar, especially on weekends. There are 70 stores along the 170-meter-long street, mainly older private shops. Not only locals but tourists as well can enjoy traditional Japanese sweets, cakes, crafts, take-out dishes, cafes and so on. Enjoy a stroll along this pleasant street with its charming awnings, signboards and cat-motif street furniture. A five- minute walk from Nippori Station on the JR Yamanote Line, Jouban Line, Keisei Line and Toei Toneri Line.
Address

3, Yanaka, Taitou-ku, Tokyo, 110-0001
View Map

Nearest Station

Nippori Station (JR Keihin-Tohoku Line / JR Yamanote Line / JR Joban Line / JR Ueno Tokyo Line / Nippori-Toneri Liner / Keisei Main Line / Narita SKY ACCESS Line)
5 minutes on foot

3.Ameyoko Shopping Street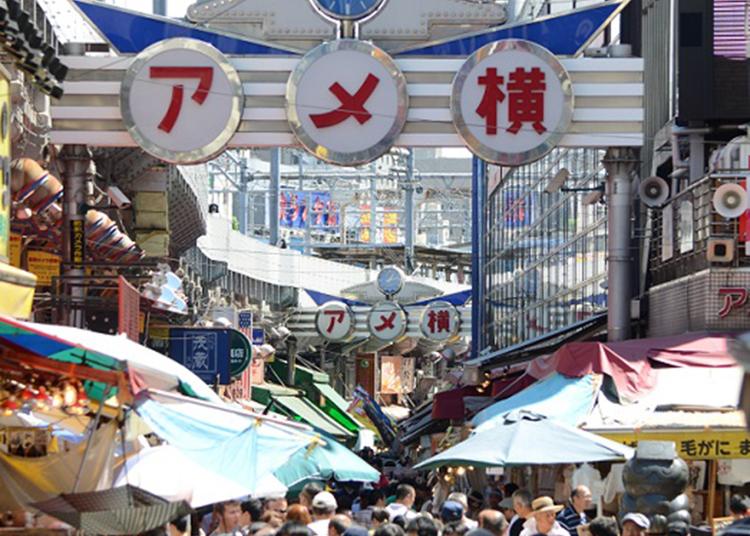 The Ameyayokocho shotengai(shopping street) is located between JR Okachimachi Station and JR Ueno Station. It is a lively market with the charming atmosphere of historic downtown Tokyo and is visited by many shoppers every day. In addition to the well-known fish and crab, there is a wide variety of shops selling everything from clothing to Asian food, as well as food stalls. Looking back at its history, it is said to have grown out of a black market that sprung up in the years following the end of World War II. Initially, when sweets were valuable, many shops sold sweet potato candies and candies called amedama, but once the Korean War started in 1950, many shops began selling articles procured from the American military forces and the Market gradually changed from a black market to a shopping district. Because it was selling imported goods, it began to be called Ameyoko, which is a combination of "Ameya-yokocho" (candy store lane) and "Amerika-yokocho" (America lane). Even today, there is an "Ameya-yokocho" sign on the Ueno side where many food stores are, and an "Ameyoko" sign on the Okachimachi side, where many import stores are. It is well-known as a market full of shoppers buying fresh food at the end of the year to prepare for the New Year. It is a short walk from the central exit of JR Ueno Station.
Address

4, Ueno, Taitou-ku, Tokyo, 110-0005
View Map

Nearest Station

Ueno Station (Hokkaido Shinkansen Line / Tohoku Shinkansen Line / Akita Shinkansen Line / Yamagata Shinkansen Line / Joetsu Shinkansen Line / Hokuriku Shinkansen Line / JR Keihin-Tohoku Line / JR Yamanote Line / JR Tohoku Main Line / JR Utsunomiya Line / JR Takasaki Line / JR Joban Line / JR Ueno Tokyo Line / Tokyo Metro Ginza Line / Tokyo Metro Hibiya Line)
1 minute on foot


Phone Number

03-3832-5053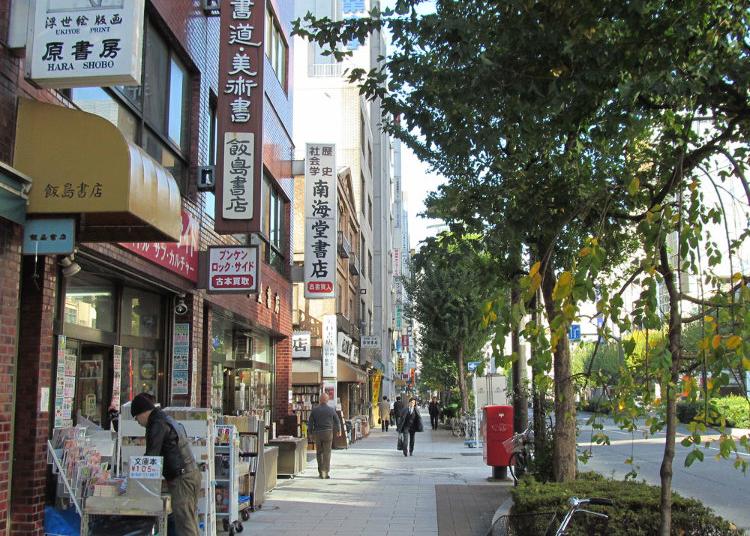 Jimbocho is known as one of the largest bookshop districts in the world; it is also called an antique-bookshop district. There are about 150 bookshops specializing in antiques, most of them located near the Jimbocho Intersection,
where Yasukuni-dori Street crosses Hakusan-dori Street. You can find a variety of books when strolling through the district. While Jimbocho is considered an area for antique books, there are a surprising number of shops with new books, too. Yet these are slightly different from ordinary bookshops; they choose their stock differently, and competition is fierce. A one-minute walk from the A6 Exit of Jimbocho Station brings you to the antique bookshop district.
Address

Kandajinbocho, Chiyoda-ku, Tokyo, 101-0051
View Map

Nearest Station

Jimbocho Station (Tokyo Metro Hanzomon Line / Toei Mita Line / Toei Shinjuku Line)
1 minute on foot


Phone Number

03-3293-0161
5.Asakusa Underground Shopping Center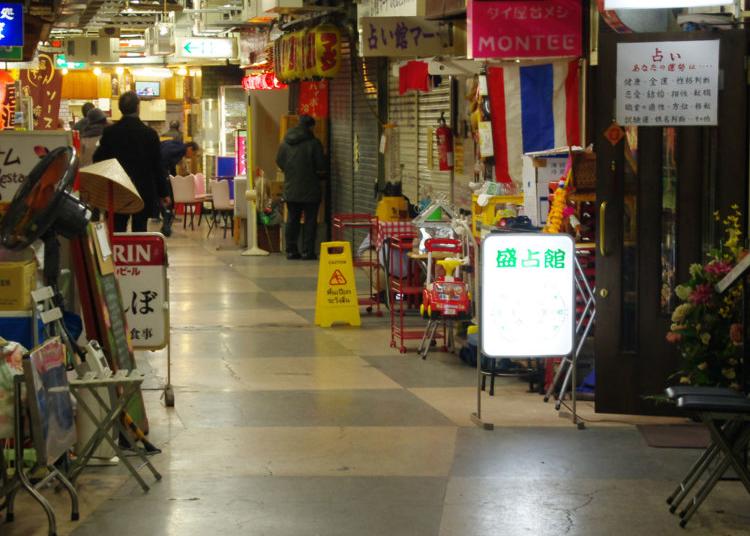 When it was built in 1955, Asakusa Underground Mall became the third such structure in Japan, and it is now the oldest remaining. The mall is filled with a nostalgic atmosphere, as if you had traveled back to the Showa Era (1926-1989), with bare pipes on the ceiling and water leaking onto the floor. The 23 shops here include a very cheap barber (haircut: 700 JPY), yakisoba eatery (one plate: 350 JPY), DVD shop, Thai restaurant, sundry goods store with permanent discounts of 50–90%, fortune teller, Qigong shop, and printing shop. Each one is small (33 square meters) and fun to explore. A two-minute walk from Asakusa Station on the Tokyo Metro Ginza Line.
Address

1, Hanakawado, Taitou-ku, Tokyo, 111-0033
View Map

Nearest Station

Asakusa Station (Tokyo Metro Ginza Line / Toei Asakusa Line / Tobu Isesaki Line (Tobu Sky Tree Line) / Tsukuba Express)
1 minute on foot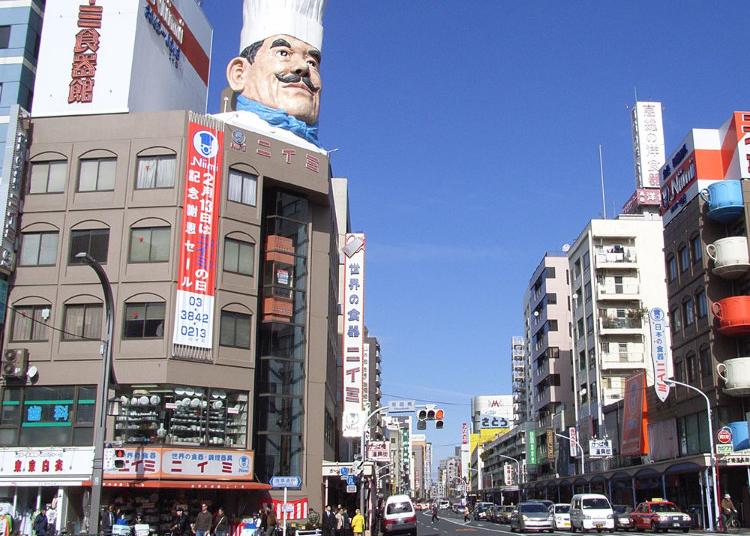 Kappabashi Dogu Gai or the Kappa-bashi Cooking Tools District is a shopping district that stretches around 800 meters from north to south between the Asakusa and Ueno areas. It originated from the merchant stalls trading secondhand tools on both sides of the Shinbori-gawa River in the early Taisho era (1912-1926). Around the same time as the reconstruction efforts were being made following the Great Kanto Earthquake of 1923, food-related stores began gathering around the Kappa-bashi area, particularly those selling confectionery tools. The area developed into a specialized shopping district where stores in various industries that meet the needs of the time for the food and drink industry are gathered. Currently, around 170 stores in a variety of fields are operating. From cooking tools and tableware to kitchen equipment and baking supplies, many tools are being sold. In the center of the shopping district, a gold-leafed bronze "Kawataro the kappa" (the literal translation of kappa is a river boy, an imaginary figure in folklore) statue looks up at the sky and prays for a thriving business. The district is a five-minute walk from the Tawaramachi Station on the Tokyo Metro Ginza Line or a six-minute walk from the Iriya Station on the Tokyo Metro Hibiya Line.
Address

1, Matsugaya, Taitou-ku, Tokyo, 111-0036
View Map

Nearest Station

Tawaramachi Station (Tokyo Metro Ginza Line)


Phone Number

03-3844-1225
7.Togoshi Ginza Shotengai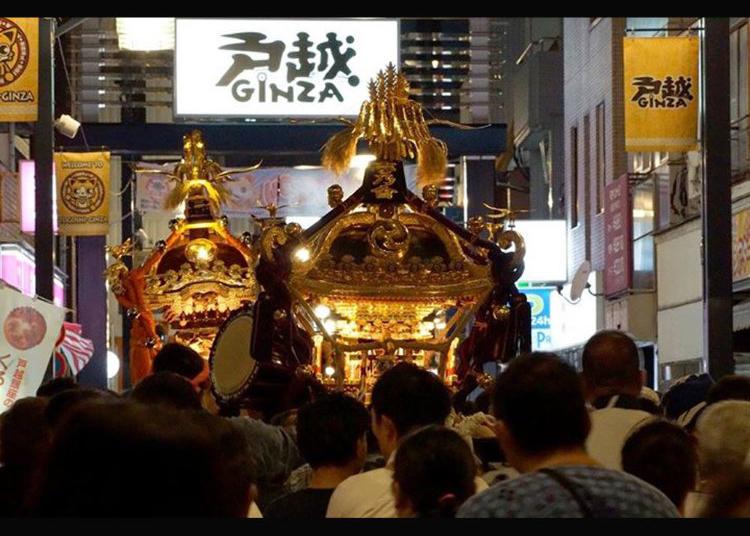 The 1.3 km-long Togoshi Ginza Shopping Street is one of the longest such streets in the Kanto area. It is a very lively street with many customers even on weekdays. There are 400 shops comprising three promotional organizations: specialty shops selling necessities such as grocery stores, clothing stores and general stores as well as essential services including medical clinics, welfare facilities, banks and dry cleaners. There is even a golf school and glass workshop to enjoy one's spare time. Overall, this is a community-based shopping district. It has a popular mascot character, Togoshi Ginjiro (commonly called Gin-chan) who livens up the street and events. Togoshi Ginza croquette (Japanese hash brown) is a popular food here that many shops make in their own style. Food fairs from different regions are held regularly at Gin-chan Bussan Theater; they offer free tastings and giveaways, too. A ten-minute walk from Togoshi Ginza Station on the Tokyu Ikegami Line.
Address

Togoshi, Shinagawa-ku, Tokyo 1-3 chome, 142-0041
View Map

Nearest Station

Togoshi-Ginza Station (Tokyu Ikegami Line)
10 minutes on foot


Phone Number

03-3788-1474
8.Sunamachi Ginza Shopping Street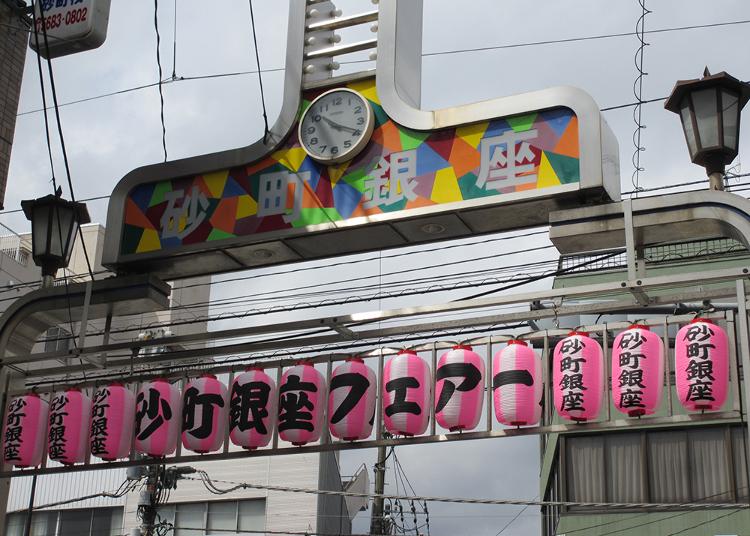 A 670 meter long shopping street with various stores. It used to be a small shopping street with only 30 stores called Heiwakai. When the shopping street received praise from a councilor of former Tokyo City in October 1932, its name was renewed to the current name. During the war, the area was completely destroyed and after the war, people returned to here to restart business. And then the number of stores increased rapidly and by 1963 the shopping street became almost the same size as today. The street organizes a variety of events such as the Hana-matsuri (flower festival) parade in spring, Koto's traditional summer festival,, Tanabata-matsuri (the star festival), beautiful illuminations during Christmas season as well as tombola and monthly Bakaneichi (crazy bargain sale held on 10th). A five-minute bus ride from Nishi-ojima Station on the Toei Shinjuku Subway Line. Many tourists enjoy this short local bus trip as a part of their Tokyo experience.
Address

3, Kitasuna, Koutou-ku, Tokyo, 136-0073
View Map

Nearest Station

Kinshicho Station (JR Sobu Main Line / JR Sobu Main Line (Rapid) / Tokyo Metro Hanzomon Line / JR Sobu Line)
15 minutes by bus


Phone Number

03-3644-5854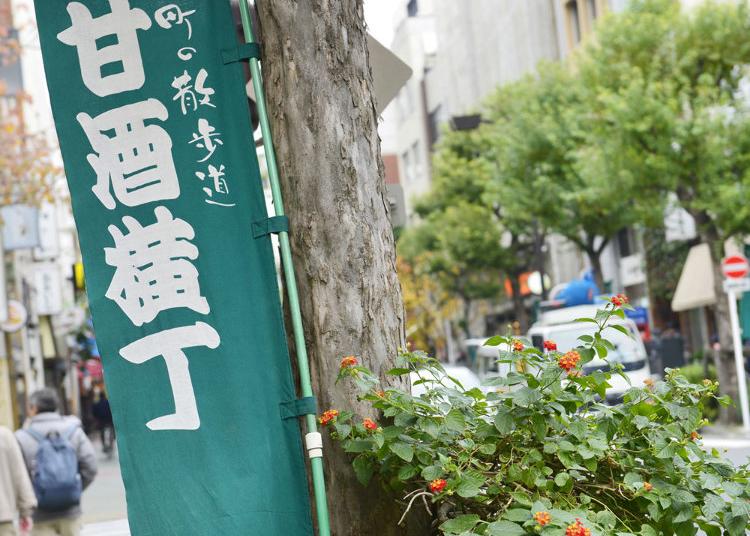 Amazake Yokocho runs some 300 metres, from the intersection exit outside Ningyocho Station right up to the Meiji Theatre. It is said to be named after a Meiji-period (1868–1912) shop selling sweet sake, Owari-ya, which could be found in a small side-alley just south of the main alley's entrance. Following the Great Kanto Earthquake the roads in the area were widened (to their present width), but the affectionately named alley remains. Within Amazake Yokocho you can find restaurants serving genuine Japanese cuisine, licensed sellers of local Japanese sake, stores selling beautiful Kimono, stores selling more casual fashions, outfitters, fine art shops and more — a mixed bag of almost 50 establishments line the alley. Amazake Yokocho is a one-minute walk from the A1 Exit of Ningyocho Station on the Tokyo Metro or Asakusa Line, or a two-minute walk from Hamacho Station on the Shinjuku Line.
Address

Amazake bystreet, 2, Nihonbashiningyocho, Chuo-ku, Tokyo, 103-0013
View Map

Nearest Station

Ningyocho Station (Tokyo Metro Hibiya Line / Toei Asakusa Line)
1 minute on foot

10.Shitamachi Ninjo Kirakira Tachibana Shoutengai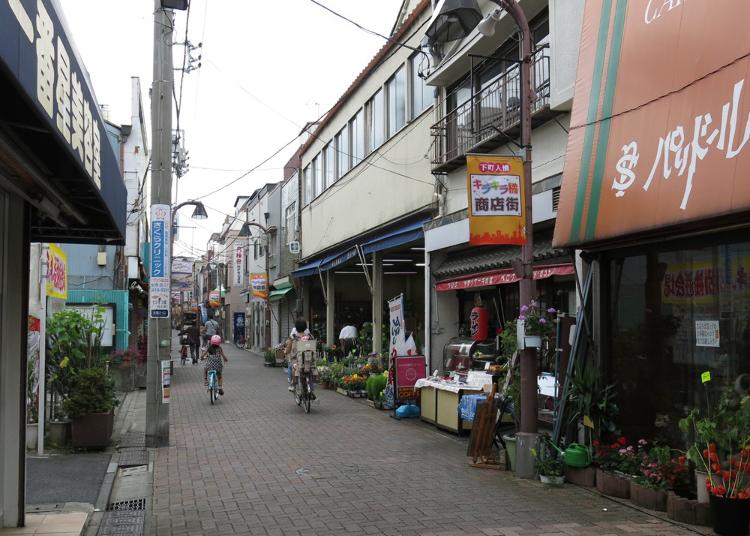 This shopping avenue has been beloved by the local community since olden times. Miraculous survivor of the 1923 earthquake and aerial attacks that devastated Tokyo, it remains a retro presence in the area. In 1989, its colors, arch and streetlights were refurbished; it later changed its name from Mukojima Tachibana GInza Shotengai Kyodo Kumiai to Shitamachi Ninjo Kirakira Tachibana Shotengai. There are 90 shops on the avenue, many selling food-related products. The morning market, held since 1980, highlights unique services at each shop on the fourth Sunday every month. Other events include the bikkura (surprise) market held every two months with featured products on sale, and the night and tanabata market (held on July 7) once a year. A 10-minute walk from Hikifune Station on the Keisei Oshiage Line.
Address

2, Kyojima, Sumida-ku, Tokyo, 131-0046
View Map

Nearest Station

Hikifune Station (Tobu Isesaki Line (Tobu Sky Tree Line) / Tobu Kameido Line)
10 minutes on foot


Phone Number

03-3612-2258
*This information is from the time of this article's publication.
*Prices and options mentioned are subject to change.
*Unless stated otherwise, all prices include tax.