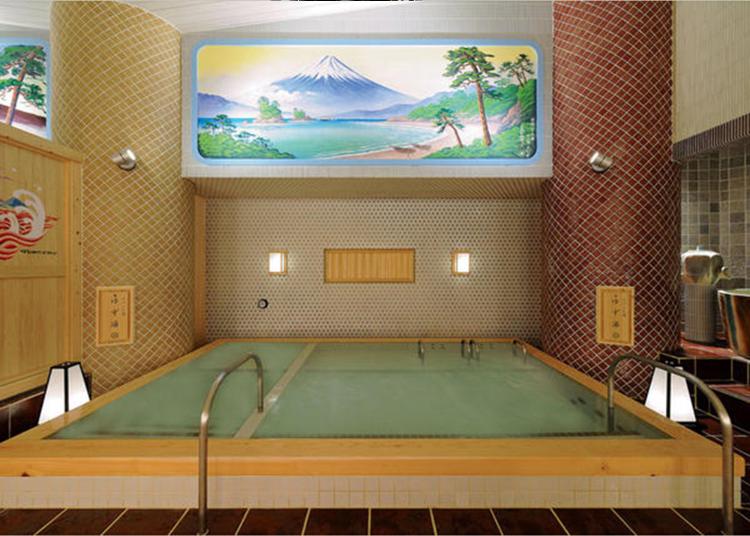 Here are the most popular Hot Springs (Onsen) & Bath Houses (Sento) in Tokyo and Surroundings, according to leading travel website Live Japan! Our ranking is based on the most popular pages viewed by foreign visitors in the past month. Be sure to add them to your Japan travel plan when you visit Tokyo and Surroundings!

Please be aware that as of 2020/3/12, onsen are taking precautions to avoid the spread of coronavirus (covid-19). This may affect opening times, or general practice. Please check details directly with the individual establishments.
1.Ooedo Onsen Monogatari Odaiba Tokyo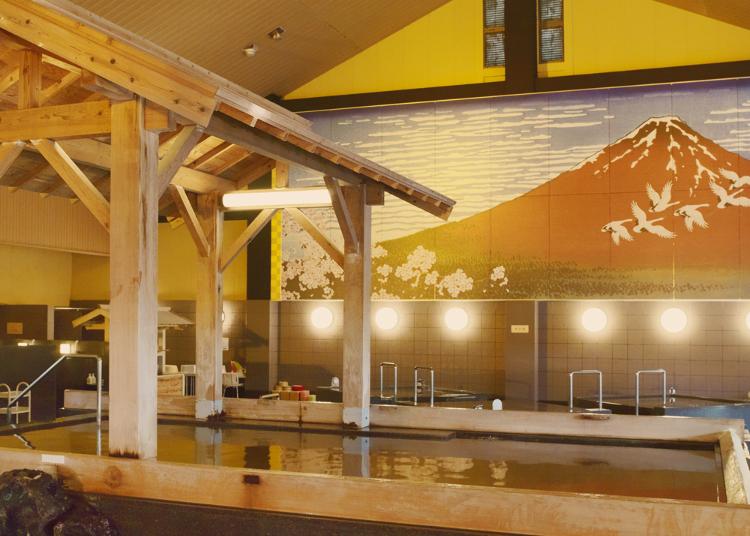 Located only a thirty-minute train ride from Tokyo Station is the city's biggest hot spring theme park where you can experience authentic hot springs in Tokyo. As well as hot bath facilities such as a foot bath (Japanese garden), large public bath, and open-air baths, our building which makes you feel as if you are transported through time to the Edo period is also very popular with foreign tourists. Wearing your free rental yukata, you can enjoy fairs, shows, and events, as well as authentic Japanese food and sweets. Our hot spring theme park is perfect for a day's outing with empty hands, recommended for everyone from couples to groups and families.

*We have a banquet hall for groups of 4-300 people. (advance reservation required)
*We also have exciting events and shows from time to time. Check the event information for more details.

*Entry is not permitted for people with tattoos, tattoo stickers, or body paint, nor customers with pets. There are also other cases when staff may refuse entry.
2.Myouhou: Japanese public bath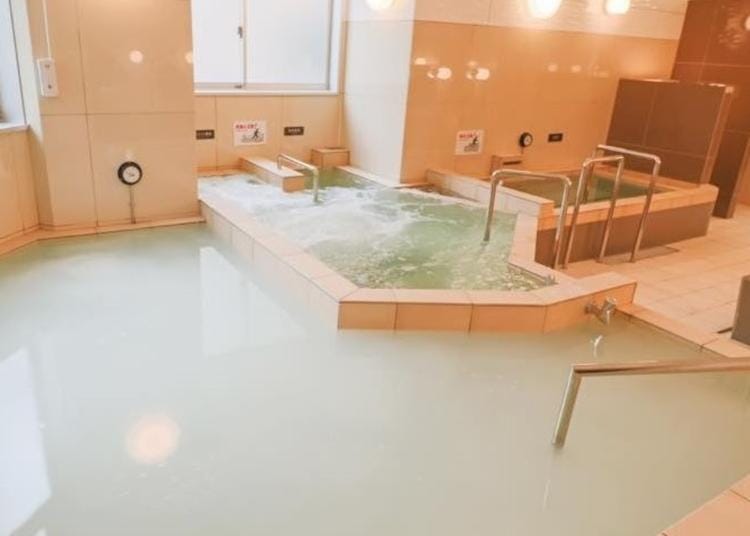 Myohoyu is a public bath with a bright atmosphere, and their glass-sided building allow the view of the lobby from the street. It has a big dressing room, and in the resting space, a wide selection of the beverages are available for purchase.

[Regarding the bath]

- Hot-water is heated using firewood so it has an established reputation of the water being soft and not stingy
- Shampoos and such are available in the bath room, so it is ok to bring only the towel with you
- The crib is placed in the ladies' side of the bath room
- Provides lavender bath every Sundays
- Clean washing place
- Sauna available
Address

4-32-4, Nishiikebukuro, Toshima-ku, Tokyo, 171-0021
View Map

Nearest Station

Ikebukuro Station (JR Shonan Shinjuku Line / JR Yamanote Line / JR Saikyo Line / Tokyo Metro Marunouchi Line / Tokyo Metro Yurakucho Line / Tokyo Metro Fukutoshin Line / Seibu Ikebukuro Line / Tobu Tojo Line)
15 minutes on foot


Phone Number

03-3957-8433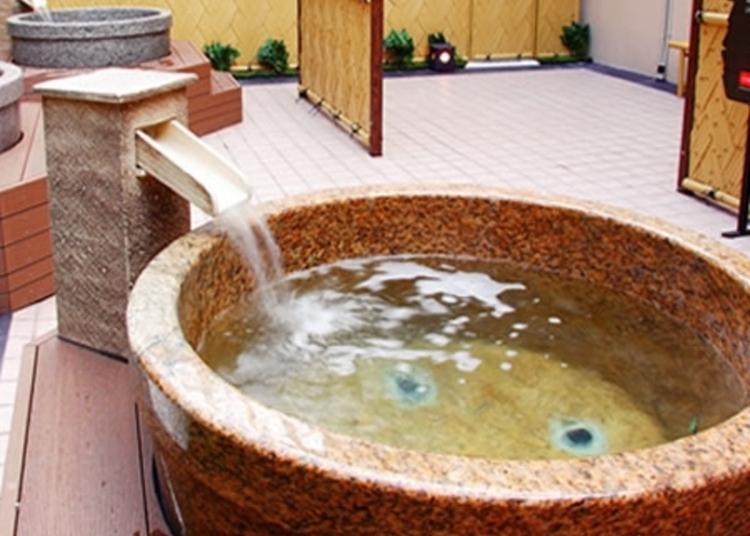 ● The "löyly (Finland style sauna experience)" event is especially popular
Come experience one of the top three high-salinity natural hot springs in all of Tokyo's 23 wards. In particular, recommend the "löyly" event.
Aromatic water is poured on heated rocks to produce steam, while our staff uses towels to send a wave of heat to guests.
In the men's bath, staff members who send the wave of heat are dressed in suits (during the event).
It's more entertaining than you'd ever imagine for a sauna experience.
This event switches between men's and women's spa areas on the 5th, 10th, 15th, 20th, 25th, and 30th of every month.

● Our bathing areas
Ancient seaweed and other plants have blended into the mineral strata in our abundance of natural hot spring baths, offering both indoor and outdoor bathing.
Our jet bath, silky bath, and sauna are available with yellow earth, mist, and salt options.
The mist sauna is especially good for those who aren't fond of the high temperature in a typical sauna.
* The natural hot springs are heated, watered, filtered, and circulated.

● So many ways to relax
Some of our options include "seitai" massage, Thai massage, "akasuri" body scrub, and Bali-style beauty treatment.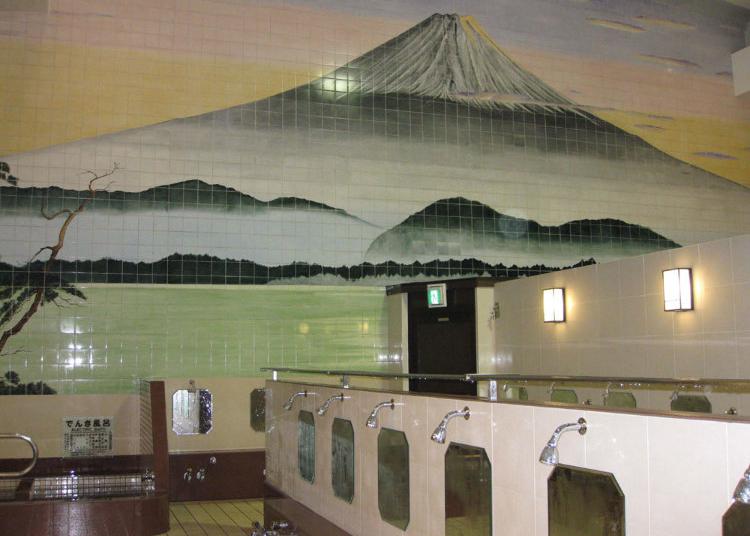 This traditional Asakusa sento (public bathhouse) was founded in the Edo Period. Its natural hot-spring baths use an odourless, blackish-brown water called kuroyu. Kuroyu is a cold (under 25°C) mineral spring that occurs naturally with underground water and contains dissolved organic substances such as grass and leaves. Bathing in this hot water warms your body to the bone, and the warmth stays with you. A large mural of Mt. Fuji adorns the wall of this typical Japanese-style bath. Both male and female baths are equipped with hot-spring, milky-water, jet, pulse, open-air and cold-water baths as well as an electric sauna. As part of a refurbishing in 2009, hand-rails were installed in the baths to make them accessible to a wider age group. Necessities such as towels and toothbrushes are available for purchase. End your day of sightseeing in Asakusa with a traditional, piping hot bath. A three-minute walk from the No. 3 Exit of Tawaramachi Subway Station, or a five-minute walk from the A1 Exit of Asakusa Station of Toei Asakusa Line.
Address

1-11-11, Asakusa, Taitou-ku, Tokyo, 111-0032
View Map

Nearest Station

Tawaramachi Station (Tokyo Metro Ginza Line)
3 minutes on foot


Phone Number

03-3841-8645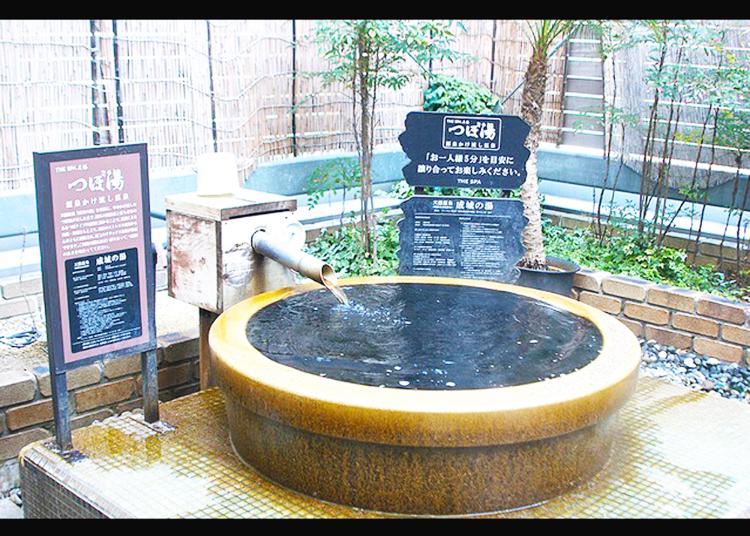 About the Hot Spring
Our natural hot spring is a hydrogen carbonate spring originating 1200 meters below ground. Kuroyu (hot black water) is a feature of natural hot springs in Tokyo, and as a product of ancient sea grasses and plants that merged into the rock layer, it is rich in minerals. Kuroyu has a velvety alkaline quality that is soft on the skin and is known for its heat retaining and moisturizing properties.
*The source water of our natural hot spring is additionally heated, and some filtration and circulation equipment is used.

Relaxation Rooms
We offer three different relaxation rooms!
●Kaiun (Theme of deep sea)
A medium- to low-heat relaxation room where hot yoga lessons are held. Effects include improved resistance to cold.

●Chinen (Theme of geotherm)
A medium- to low-heat relaxation room with natural rock salt on the walls. Effects of the mineral-rich natural rock salt include recovery from physical exhaustion.

●Shinka (Theme of forest))
A relaxation room equipped with reclining chairs and Ryukyu-tatami mats. Please take it easy here after your bath.
Address

Central wellness town the second floor, 3-20-2, Chitosedai, Setagaya-ku, Tokyo, 157-0071
View Map

Nearest Station

Chitose-Funabashi Station (Odakyu Odawara Line)
15 minutes on foot


Phone Number

03-5429-1526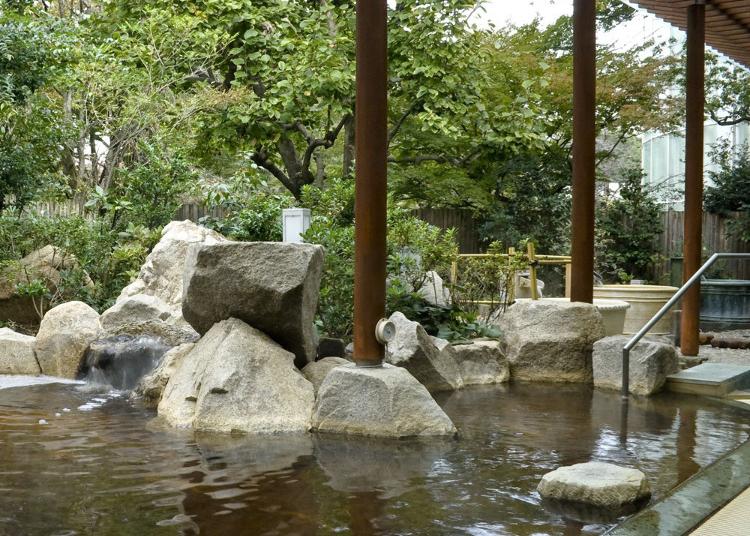 Toshimaen Niwa-no-yu is a natural hot spring bathing facility overlooking a tranquil Japanese-style garden of about 4,000 sqm designed by renowned landscape architect Kenzo Ogata, and is located just 1 minute on foot from Toshimaen Station.
On the first floor Hot Spring Zone are men's and women's separated bathing areas where bathers can spend a relaxing time in open-air baths with views of Japan's four seasons, natural hot spring baths, and baths with artificially carbonated water. The facility also features the Bade Zone which has a bade pool and is designed for health purposes, and in which bathers are required to wear a swimsuit. In this zone bathers can enjoy refreshing aqua massages and aqua exercise. Visitors can also enjoy a variety of different saunas including a Finnish sauna, mist sauna, and thermalium sauna.
*Note that entrance of the following persons is prohibited: Those with tattoos (including temporary tattoos), those affiliated with criminal organizations, and those who have consumed excessive amounts of alcohol.
*Children under middle school age are not permitted. Visitors may be required to provide identification.
豊島園 庭の湯

Address

3-25-1 Mukoyama, Nerima-ku, Tokyo, 176-0022


Nearest Station

Toshimaen Station (Toei Oedo Line / Seibu Toshima Line)
1 minute on foot


Phone Number

03-3990-4126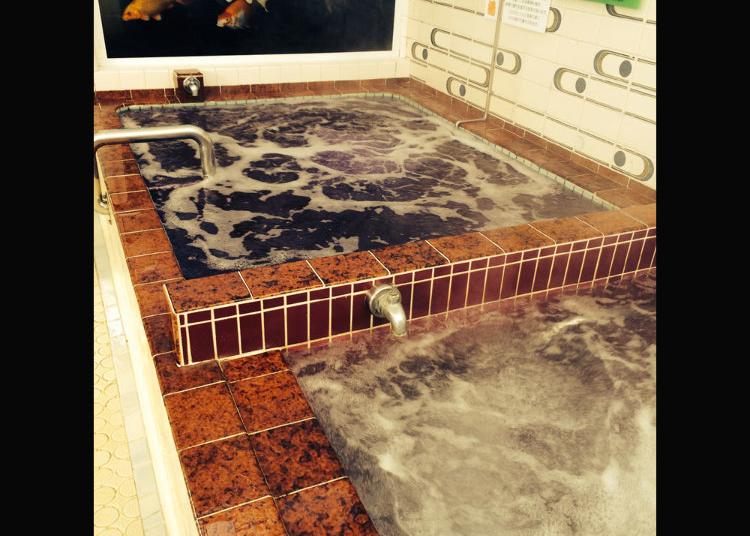 Kotobuki-yu is a retro-style public bathhouse in Yuten-ji, Meguro Ward. The bright interior with coffered ceiling is designed like an undersea palace. This is a bathhouse where you can enjoy a traditional atmosphere. Illustrations adorn the opaque glass of the changing room and the bathroom tiles. In addition to the tile illustrations that adorn the bathhouse, a tank filled with colorful, soothing carp sits beside the bathtub. The temperature of this hot spring is below 41℃ — slightly lower than in other bathhouses, but more comfortable for first-time visitors. A popular low-temperature jacuzzi warms you to the bone. The bathhouse is also equipped with sleeping baths, sitting baths, jet baths, ice packs and standing showers; a number of beverages are available after bathing. A nine-minute walk from Yutenji Station on the Tokyu Toyoko Line brings you to the bathhouse.
Address

5-27-18, Kamimeguro, Meguro-ku, Tokyo, 153-0051
View Map

Nearest Station

Yutenji Station (Tokyu Toyoko Line)
9 minutes on foot


Phone Number

03-3713-3019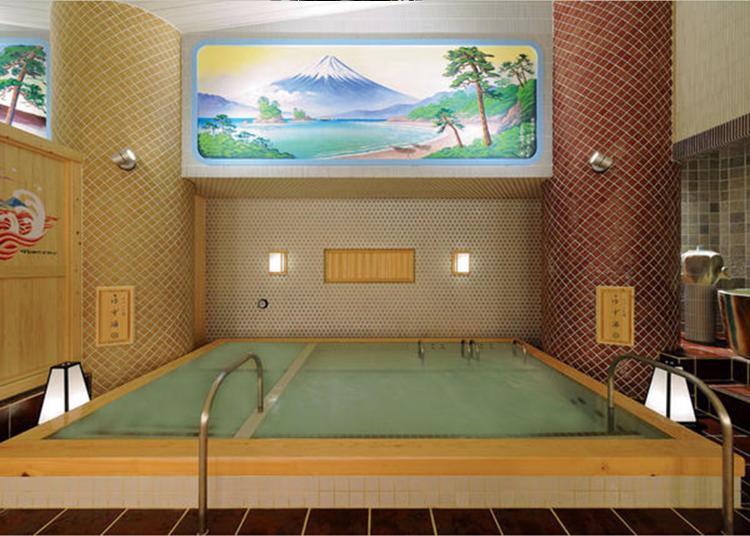 Here at Fukunoyu, you can stretch out in a large bath and enjoy the high-quality well water of Musashino. The bathhouse was renovated in December 2011 and reopened with the catch-phrase, "bathhouse with a blessing mood." The building has a retro-modern atmosphere and features man-made radon baths (daikokuten-no-yu) and herbal baths (benzaiten-no-yu). Both are on a weekly alternating schedule between men and women. Bathrooms are designed with the image of Shichifukujin, a character of the surrounding Yanesen district. The building is also equipped with Jacuzzis, body massages and earthen tubs. Shampoos and conditioners are provided, so you can come empty-handed. A five-minute walk from Hon-komagome Station on the Tokyo Metro Namboku Line.
Address

5-41-5, Sendagi, Bunkyo-ku, Tokyo, 113-0022
View Map

Nearest Station

Hon-Komagome Station (Tokyo Metro Namboku Line)
5 minutes on foot


Phone Number

03-3823-0371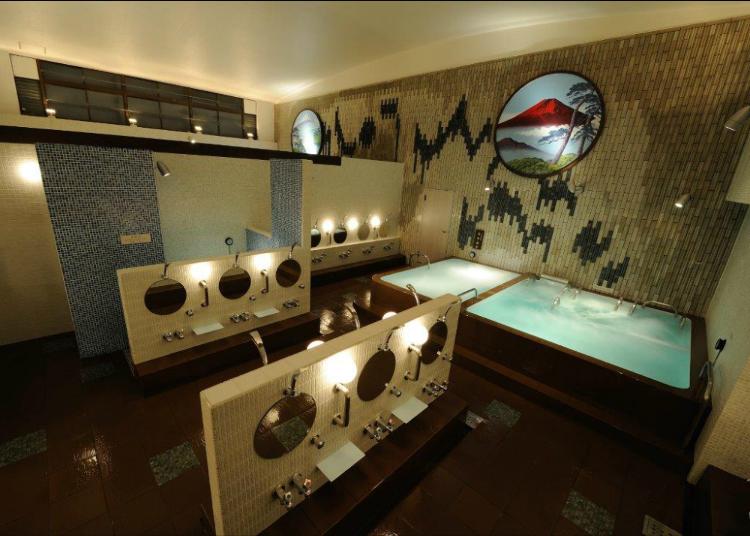 This bathhouse, opened in 1928, is a local favourite and has been used as a filming location for television dramas. The soft water here is helpful for people with sensitive or atopic skin. Soft water, sometimes called "beauty water," is ionically balanced water with properties similar to those found in sodium hot springs. The bathhouse offers a Nano-yu (nano-bubbles) on weekdays and Saturdays along with a special herbal bath on Sundays. There is also a sauna and laundromat on the premises, and with bath sets (towel, soap and shampoo) available for purchase, you can drop by empty-handed. A five-minute walk from the Higashi-guchi Exit of Ikejiri Ohashi station on the Tokyu Denentoshi Line.
Address

3-6-8, Higashiyama, Meguro-ku, Tokyo, 153-0043
View Map

Nearest Station

Ikejiri-Ohashi Station (Tokyu Den-en-toshi Line)
5 minutes on foot


Phone Number

03-3792-4126
10.Matsuri No Yu Hot Springs area at Seibu-Chichibu Station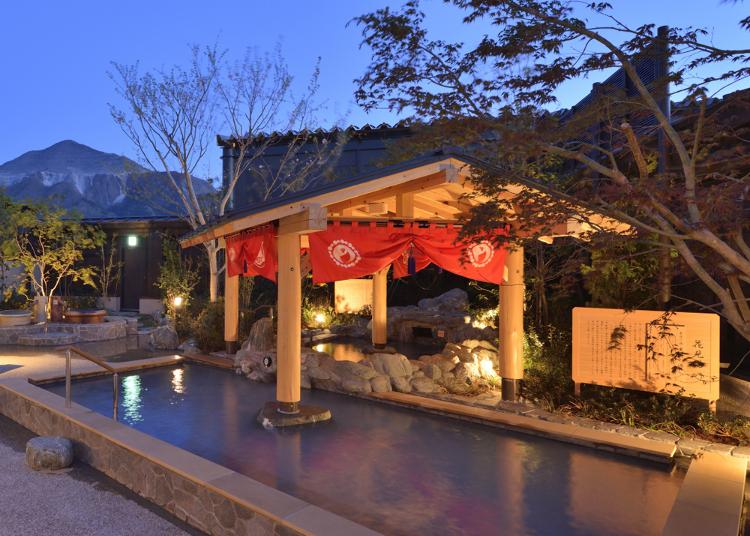 A complex hot spring facility with the concept of Chichibu's famous festival. The complex is divided into three areas: the hot spring area Matsuri no Yu has open-air baths and a bedrock bath, the food court Matsuri no Utage is filled with Chichibu specialties, and the shopping area Chichibu Miyage-ichi sells specialty products.

In the hot spring area Matsuri no Yu, there are four open-air baths where you can gaze out at Mt. Buko, six indoor baths (the men's area has five indoor baths) including a highly-concentrated artificial carbonated spring and silky bath, and a bedrock bath. We have a spacious resting area, so you can relax until the next morning on weekends.

At the food court Matsuri no Utage, you can enjoy a variety of Chichibu's delicious specialties, such as Waraji Katsudon (rice bowl with massive volume of pork cutlet), Buta Miso Don (rice bowl with miso-flavored pork), and miso potato (batter-fried potatoes with miso).

The shopping area Chichibu Miyage-ichi sells many specialty products that are perfect as souvenirs, from Japanese and western sweets to local sake.
Address

1-16-15, Nosakamachi, Chichibu-shi, Saitama, 368-0033
View Map

Nearest Station

Seibu-Chichibu Station (Seibu Chichibu Line)


Phone Number

0494-22-7111
*This information is from the time of this article's publication.
*Prices and options mentioned are subject to change.
*Unless stated otherwise, all prices include tax.