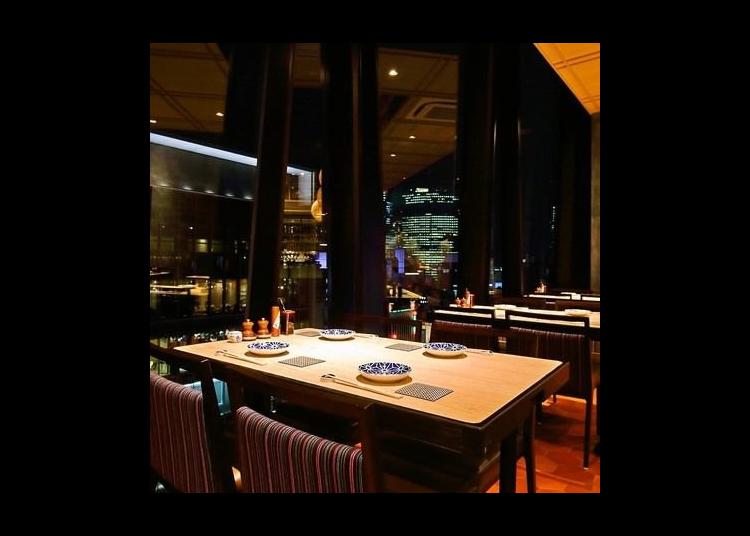 Here are the best Japanese Food in Tokyo and Surroundings, with travel tips and more, according to LIVE JAPAN, a top-class travel website for visitors to Japan. Our ranking is based on the most popular pages viewed by foreign visitors in a given category.

For instance, ITAMAE SUSHI, ITAMAE SUSHI, Tsurujiro and other related spots will be listed. Be sure to check them out during your visit to Tokyo and Surroundings!
Itamae Sushi Akasaka has a modern Japanese-style interior highlighted with wood and glass accents, lending a feeling of an upscale New York eatery. The restaurant features a huge glass wine cellar, a VIP private room for up to 10 people, a sunken kotatsu dining room for up to 20 people and a sushi counter on both the first and second floors. It is open until 5am on weekdays, allowing diners to enjoy sushi into the wee hours. Itamae Sushi operates 10 branches in Japan and more than 60 overseas.

The chefs of each branch carefully select the farm-fresh ingredients directly from Tsukiji and fish markets across Japan. Their blue-fin tuna is a point of pride at Itamae and is as good as that found at the highest-end restaurants in Japan and they are proud to have won the first-of-the-year tuna auction four years in a row. Itamae Sushi has lunch sets ranging from 980 - and dinner courses for between 3,000 - 5,000. They also offer an all-you-can-drink menu from 1,500. Sushi dishes (one piece of sushi) start from 98, variety kinds of a la carte menu from 680. Itamae Sushi offers high-quality sushi in a foreigner-friendly atmosphere and their helpful chefs can recommend wine, champagne, sake and shochu to enhance your experience.
板前寿司 赤坂店

Address

1-2F,3-8-17, Akasaka, Minato-ku, Tokyo, 107-6052


Nearest Station

Akasaka-Mitsuke Station (Tokyo Metro Ginza Line / Tokyo Metro Marunouchi Line)


Phone Number

03-6659-7288
2.ITAMAE SUSHI (Kabukicho)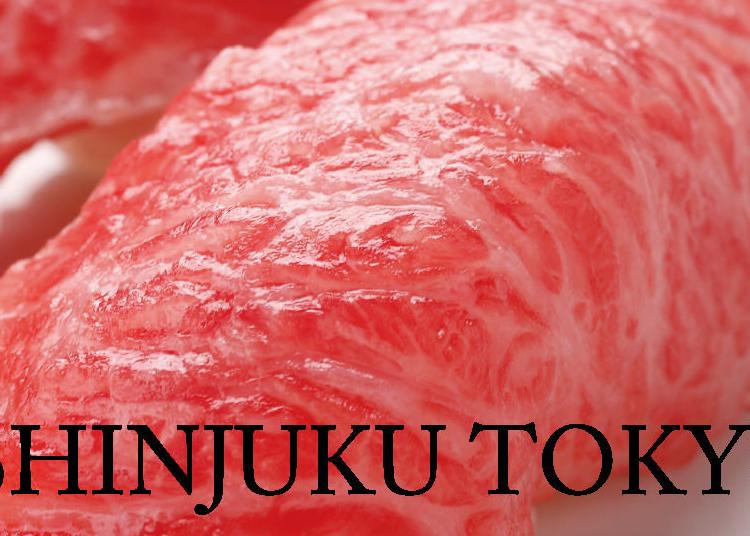 "Itamae Sushi again?!" I hear you ask. Well, it seems that their separate branches are popular all over Tokyo! Here's what's special about their Kabukicho branch:

In April 2015, Itamae Sushi opened its biggest branch in Shinjuku's famous Kabukicho district in the Toho building, which is topped with a life-size Godzilla statue. Boasting seating for 100, including counter seating for 18, the restaurant is laid out around a semi-stage cooking area, allowing diners to observe the techniques of the sushi chefs, up to 24 hours a day.

With 11 branches in Japan and more than 60 overseas, Itamae chefs know their fish, carefully selecting their ingredients directly from the Tsukiji Fish Market and ports across Japan. Blue fin tuna is a specialty and Itamae's is as good as that found at the highest-end restaurants. Sushi starts from just ¥58/piece and nigiri sushi sets start at ¥1,380. Course menus featuring seven items are ¥3,500, while eight-item courses are ¥5,000. All-you-can-drink options start at ¥1,500. Itamae Sushi offers high-quality sushi in a foreigner-friendly atmosphere and their chefs are happy to recommend wine, champagne, sake or shochu to best complement the sushi.
ITAMAE SUSHI Shinjukutohobiruten

板前寿司 新宿東宝ビル店

Address

Shinjuku Toho Building 1F,1-19-1, Kabukicho, Shinjuku-ku, Tokyo, 160-0021


Nearest Station

Seibu-Shinjuku Station (Seibu Shinjuku Line)


Phone Number

03-6273-9985
Enjoy yourself in the bright ambiance. We use specially ordered teppan grill at the counter on the 1st floor. We grill your okonomiyaki right in front of your eye.

Fluffy dough okonomiyaki is our specialty. The rich flavor from the chicken soup stock that has been cooked for three days is the secret for our vaunted taste. We also have a reasonably priced course menu.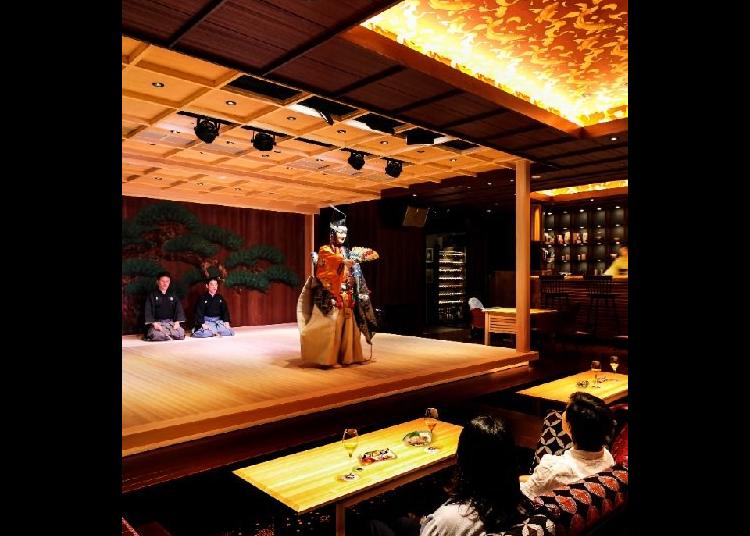 At Suigian, guests can enjoy performances of Noh drama - Japan's oldest performing art - and other traditional performing arts, as well as delicious meals featuring sushi, sake, Japanese tea, and sweets, coming together for a new type of theater-sytle restaurant and lounge.

Enjoy sushi from Sushiei, Japan's oldest Edo-style sushi shop, as well as tea from Fukujuen, a long-estaglished tea shop in Kyoto. Our sweets are likewise prepared by the Kyoto classics Oimatsu and Kamesuehiro. All of these items are served on beautiful vintage dishes from a century or more ago, as well.
水戯庵

Address

B1,2-5-10, Muromachi, Nihombashi, Chuo-ku, Tokyo, 103-0022


Nearest Station

Shin-Nihombashi Station (JR Sobu Main Line (Rapid))


Phone Number

03-3527-9378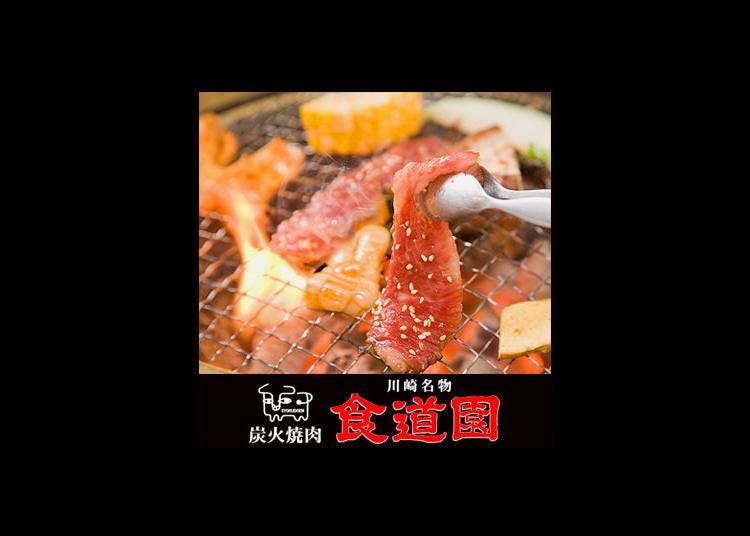 The quintessence of charcoal-grilled meat in Kawasaki. "Kawasaki Syokudoen", in business for more than half a century, since 1961

"Uncompromised" flavors come from the stubbornness and pride of a long-established restaurant.

"New" flavors come from experience and from the spirit of challenge, and authentic traditions are the proof of results which bring pride to our restaurant.

We offer Japanese beef carefully selected by a professional and special, homemade exquisite dishes.

Enjoy the flavors of "Kawasaki Syokudoen", loved for more than 50 years and also visited by celebrities from various fileds.
川崎名物 炭火焼肉 食道園

Address

14-13, Ogawacho, Kawasaki-ku, Kawasaki-shi, Kanagawa, 210-0023


Nearest Station

Kawasaki Station (JR Tokaido Main Line / JR Keihin-Tohoku Line / JR Nambu Line / JR Ueno Tokyo Line)


Phone Number

044-222-0016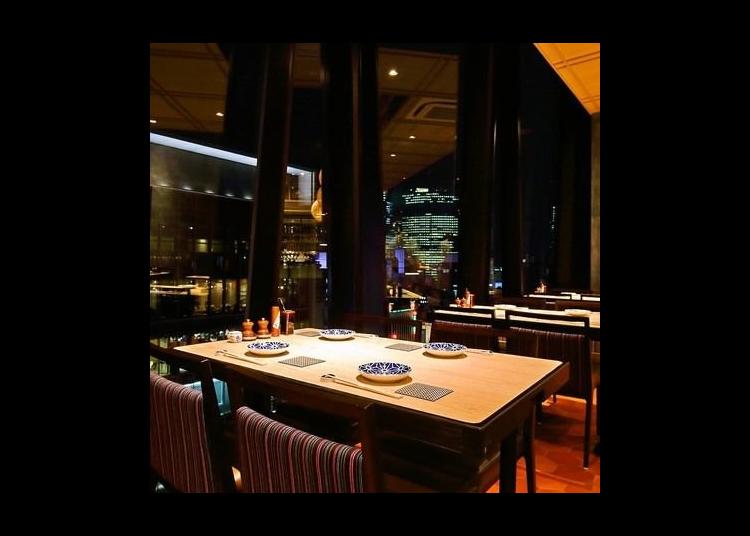 We have prepared many kinds of high quality chicken dishes. Also, you can stick to spices, vegetables, seasonal dishes thoroughly domestically, and enjoy "Soba" which boasts at the end. Please enjoy yourself to the fullest with the best environment overlooking the city of Ginza.
TORISUKI Tokyupurazaginzaten

鳥と手打ち蕎麦 とり数寄 東急プラザ銀座店

Address

Tokyu plaza Ginza 11F,5-2-1, Ginza, Chuo-ku, Tokyo, 104-0061


Nearest Station

Ginza Station (Tokyo Metro Ginza Line / Tokyo Metro Marunouchi Line / Tokyo Metro Hibiya Line)


Phone Number

03-6264-5266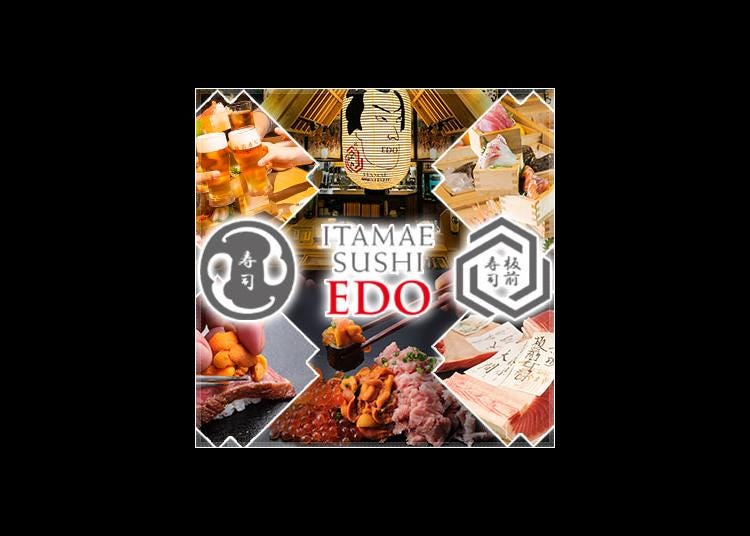 The Itamae Sushi Edo Concept

•A restaurant that reproduces the Edo period – the origin of sushi
Through Japanese panel screens, ukiyo-e paintings, Nishijin brocade ceilings, lanterns and sake box containers that are spread out in front of shop curtains and tatami mats, a space is created that makes you feel as though you had traveled in time back to the Edo period. The theater-style seats that are modeled after the sajiki-seki box seats in the traditional Japanese art form of Kabuki, and the energetic sushi chefs produce a restaurant that will have guests wanting to take pictures before they know it.

•Just like a Little Tsukiji! – Choose the fish and preparation method of your preference from the fresh fish available at the Edo Food Stands
In the Edo period, sushi was lined up in wooden boxes called neta-bako. Inspired by this tradition, we have prepared Edo Food Stands that line up neta-bako in neat rows, almost as if they were part of a picture, featuring foods carefully selected from all over Japan. This collection of neta-bako makes for an atmosphere like a "Little Tsukiji" where seasonal foods from all over Japan gather. At the "Edo Food Stand," guests can choose the food of their preference and also order from a wide range of preparation styles, including sushi, sashimi, sautéed, steamed or boiled.

The Japanese word iki (meaning "refined") is a keyword that represents the Edo period. Iki may also be interpreted as meaning either "fresh" or "dynamic," and at Itamae Edo Sushi, we take great pride both in the freshness of our foods and the live performances that Itamae puts on. We invite our guests to enjoy, with all five senses, the joint performance between Japan's freshness preservation technology, now recognized as being the best in the world, and the sushi and other dishes that our chefs create through the traditional techniques they have inherited from the past.
We also have a wide selection of Japanese sake carefully selected from all around the country. You can experience the Edo culture of enjoying sake with a side dish.

•At the "Sushi Stand," guests can take a picture wearing a kimono – it's a photogenic opportunity that gives you a chance to experience Japanese culture.

At our "Sushi Stand," which recreates an Edo period sushi establishment, you can take a picture of yourself wearing a kimono or a happi coat. We are fully equipped with the fastest Wi-Fi, which we make available as a complimentary service, so that you can share your photograph on SNS platforms right then and there.
板前寿司 江戸

Address

1F,3-9-2, Akasaka, Minato-ku, Tokyo, 107-0052


Nearest Station

Akasaka-Mitsuke Station (Tokyo Metro Ginza Line / Tokyo Metro Marunouchi Line)


Phone Number

03-5797-7347
*This information is from the time of this article's publication.
*Prices and options mentioned are subject to change.
*Unless stated otherwise, all prices include tax.