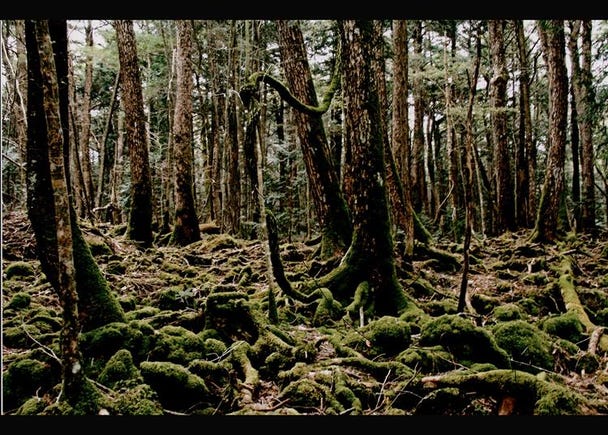 Here are the best Forests & Mountains in Tokyo and Surroundings, with travel tips and more, according to LIVE JAPAN, a top-class travel website for visitors to Japan. Our ranking is based on the most popular pages viewed by foreign visitors in a given category.

For instance, Mount Fuji, Mt. Takao, Aokigahara and other related spots will be listed. Be sure to check them out during your visit to Tokyo and Surroundings!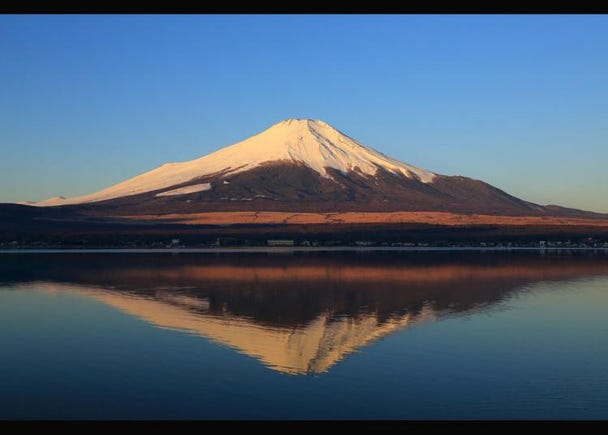 Mount Fuji is the highest mountain in Japan, and stands 3,776 meters high, as sung in the nursery rhyme, "Fuji is the Number One Mountain in Japan." The beautifully symmetric form of Mount Fuji is commonly known as the symbol of Japan, and in the past it was the theme of an ukiyo-e (Japanese woodblock print) by artist Hokusai Katsushika. The image of Mount Fuji reflected beautifully in the lake is known as "sakasa-Fuji"(upside down Mount Fuji) and is currently printed on Japanese bills. In 2013, Mount Fuji was registered as a World Heritage Site, and it became a popular sightseeing spot not only for visitors from Japan, but also for those from all over the world. It takes around five to six hours from the fifth station of Mt Fuji, which is the starting point. As the altitude is high, the air gets thin from the eighth station, so you should take your time when climbing the mountain. There is an observation deck, a shrine and a shop, and if the sky is clear you will be able to see the vast view of Lake Yamanaka, Fujiyoshida City, and Lake Kawaguchi. You can take the Fuji Subaru Line (toll road) or take a direct bus from major cities in Kanto Area to the fifth station that is at 2,220 meters above sea level.
Address

Fujiyoshida-shi, Yamanashi, 403-0000
View Map

Nearest Station

Gotemba Station (JR Gotemba Line)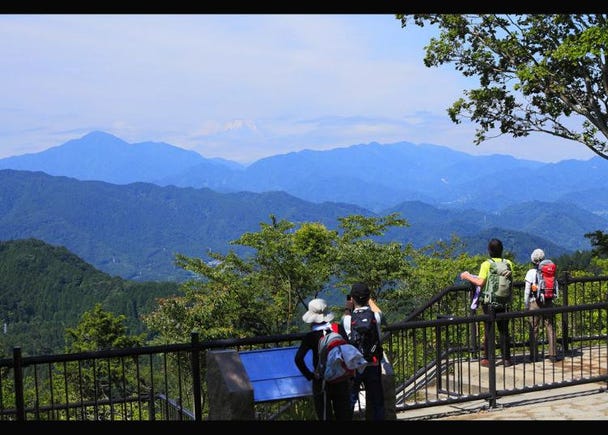 It takes only about 50 minutes by train from the Shinjuku Station and has easy access from central Tokyo. Mt. Takao, which people can start climbing from the Takaosanguchi Station on the Keio Line, is 599 meters high. It is a popular spot to enjoy hiking at one's own pace. All three routes from the foot take you to the peak in about 90 minutes, so it is easy for novice trekkers as well. On the mountain paths are various plants, animals, and insects, and you can look at them every season. About 1,300 species of vascular plants are growing in the surrounding area, so it is also a real thrill to look for typical plants in Mt. Takao during hiking. A cable car and a chairlift can take you quickly from the foot to a height of 472 meters. The observation deck near the Takaosan Station on the cable car line offers a marvelous view, and you can see skyscrapers in the center of Tokyo as well as the Yokohama area. If you go further up near the peak, you can enjoy a great panorama of the Japanese Southern Alps and Mt. Fuji. There are kiosks serving snacks and gift shops on the trail.
Address

Takaomachi, Hachioji-shi, Tokyo, 193-0844
View Map

Nearest Station

Takaosanguchi Station (Keio Takao Line)
5 minutes on foot


Phone Number

042-661-4151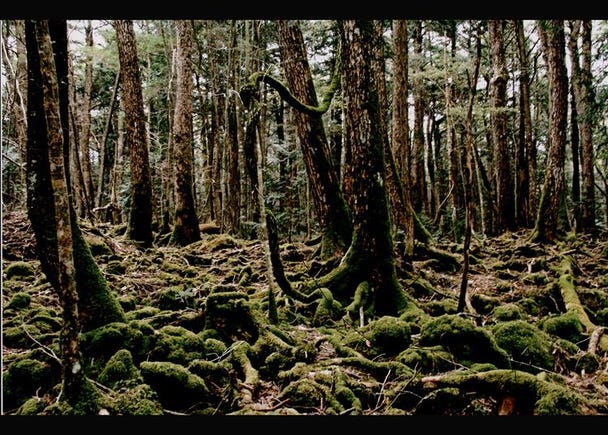 The Aokigahara Forest lies to the east of Lake Saiko at an altitude of 1,000 meters. Its area is approximately 30 million square meters. It is believed that the forest was formed after the volcanic eruption of Mt. Fuji about 1,200 years ago when the new trees sprouted out of cooled lava. The dense forest is part of Fuji Hakone Izu National Park and registered as a National Natural Treasure. Although the thickness of the soil is only 10 centimeters or so, the forest is a sea of trees with evergreen conifers, such as Japanese cypress, as well as broadleaf trees, such as Mongolian oak, Fuji cherry, and maple trees. It is also a habitat for small animals, birds, and insects, as well as bats that live in the lava caves. You can enjoy trekking at ease by joining a guided tour led by registered Fuji-Kawaguchiko guides who have a wide knowledge of the nature of the forest. It is a 40-minute bus ride on a Saiko shuyu circular bus from the Kawaguchiko Station on the Fuji Kyuko Line. Get off at the Saiko-komoriana bus stop.
Address

1700, Funatsu, Fujikawaguchiko-machi, Minamitsuru-gun, Yamanashi, 401-0301
View Map

Nearest Station

Kawaguchiko Station (Kawaguchiko Line (Fujikyuko))
40 minutes by bus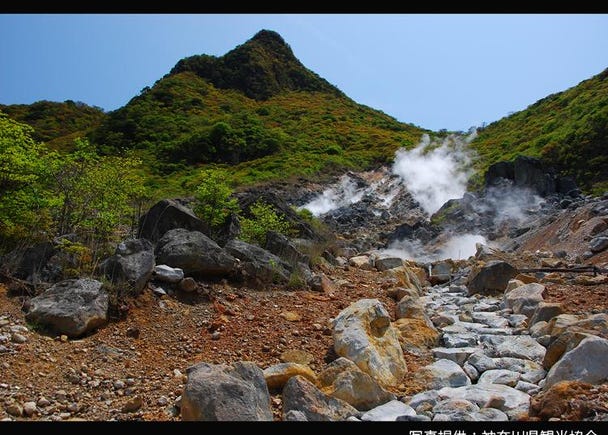 Owakudani was created by the eruption of Mt. Kamiyama about 3,000 years ago. It is an active volcano that still emits 100°C sulphurous gas and vapour. You can feel the force of nature from the rough rocks that give off white smoke and a sulfurous smell. Here, 1,040 meters above sea level, you have a magnificent view of Mt. Fuji and Japan's North Alps, and on a clear day, of Yokohama's Landmark Tower and Rainbow Bridge. Taking the Hakone Ropeway gives you a view of Owakudani itself. A specialty of Owakudani is eggs with a deep black shell, made by the chemical reaction of geothermal heat and volcanic gas. Access Owakudani by Izu Hakone Bus from Odawara Station on the JR and Odakyu Lines, or from Hakone Yumoto Station. From Gora Station, take the Hakone Tozan Cablecar or Hakone Ropeway.
Address

1251, Sengokuhara, Hakone-machi, Ashigarashimo-gun, Kanagawa, 250-0631
View Map

Nearest Station

Gora Station (Hakone Tozan Railway / Hakone Tozan Cable Car)


Phone Number

0460-84-5201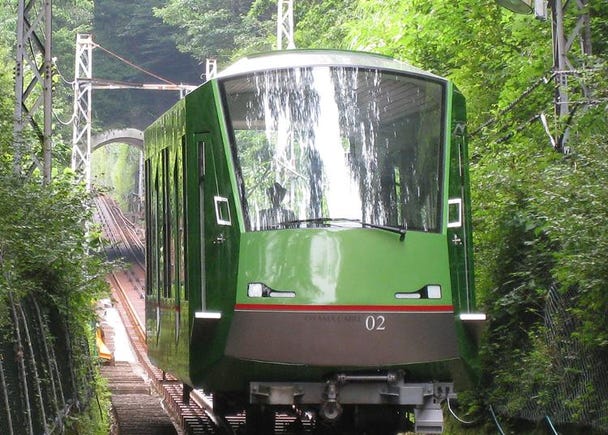 Mt. Oyama located in Isehara City, Kanagawa, is popular for visitors to enjoy a view of nature every season. The revised 4th edition of the Michelin Green Guide Japan gave Oyama one star and a view from the Oyama Afuri Shrine two stars. Beautiful fresh green in spring and colorful foliage in fall are must-sees. The Oyama temple was founded in 755 and an iron-made Fudo-myoo statue, the principal image of worship, has been registered as a National Important Cultural Property. The Afuri Shrine is said to have been founded in 97 B.C., and it is venerated as a mountain god and a water god. From the precincts of the lower shrine of the Afuri Shrine, a grand view of the Sagami Bay can be enjoyed. A cable car offers an easy access to the Oyama temple and the lower shrine of the Afuri Shrine. A new type of cable car started to operate from October 2015, and its large glass windows and observation seats make the view even more beautiful. Also, the tofu bean curd made using the famous water in Oyama is superb, and a tofu kaiseki multi-course meal and desserts using the tofu can be enjoyed. It is a 15-minute walk to the Oyama Cable Car Station after getting off at the final stop of a Kanagawa Chuo Bus leaving from the Isehara Station on the Odakyu Line.
Address

667, Oyama, Isehara-shi, Kanagawa, 259-1107
View Map

Nearest Station

Isehara Station (Odakyu Odawara Line)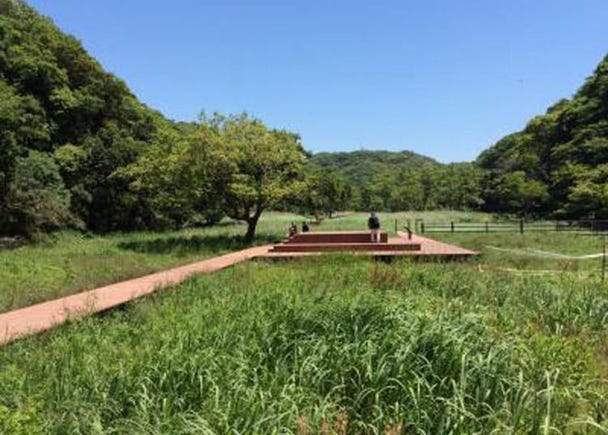 The Koajiro-no-Mori Forest is located at the tip of the Miura Peninsula in Kanagawa Prefecture and is a water catchment area of the Ura-no-kawa River, which runs through the valley in the center. A continuous stretch of land from the forest, marsh, and mudflat to the sea remains in its natural state and is an extremely precious resource. A variety of creatures including rare species is forming various ecosystems. Particularly, red-clawed crabs (Chiromantes haematocheir) that require an ecosystem of a forest, river, and the sea to survive represents this forest. A red-clawed crab is called "a crab living in a forest," and it can survive away from the water. Thus, you can spot one in the forest. There are also some nights when the forest is open to the public for firefly observation from late May to early June, and you can see two types of Japanese fireflies, Luciola cruciata and Luciola lateralis. Many areas are kept untouched in the Koajiro-no-Mori Forest, so some creatures may be dangerous. It is advisable to wear a long-sleeved shirt, long trousers, and shoes suitable for walking when you visit. It is a 30-minute walk from the Misakiguchi Station on the Keikyu Express or a 5-minute walk from the Hikibashi Terminal bus stop by catching a bus from the Misakiguchi Station.
Address

2255, Misakimachikoajiro, Miura-shi, Kanagawa, 238-0225
View Map

Nearest Station

Misakiguchi Station (Keikyu Kurihama Line)
30 minutes on foot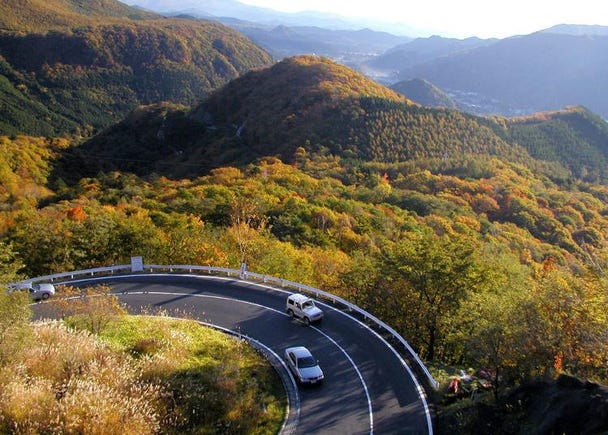 The Iroha-zaka Slopes lead to Lake Chuzenji and Kegon Falls, two major sightseeing spots in Nikko. There are 48 hairpin turns on Daiichi Iroha-zaka (the first, for going down) and Daini Iroha-zaka (the second, for going up); the "Iroha" in the names come from a song used to memorize Japanese characters. The difference in elevation is 440 meters, making the slopes a great vantage point for viewing Nikko's nature. Fall is the most popular season, when trees gradually begin to change color from the north side, creating a totally new scene before you. Buses start from both JR Nikko Station and Tobu Nikko Station on the Tobu Line, taking approximately 40 minutes to reach the summit of the Iroha-zaka Slopes.
Address

Chuguushi, Nikko-shi, Tochigi, 321-1661
View Map

Nearest Station

Nikko Station (JR Nikko Line)
40 minutes by bus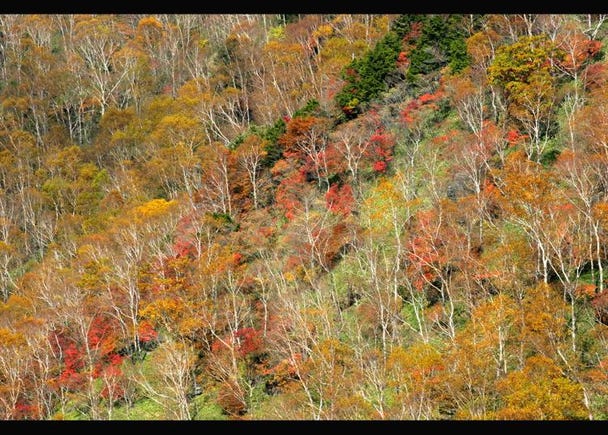 Located at an elevation of about 1,200 meters on the slopes of Mt. Akanagisan, the Kirifuri-kogen Highlands is a plateau consisting of three areas: mountain, stream and forest. Visitors can enjoy rich nature here throughout the year, particularly the vivid azaleas in spring, the day lilies in summer and the changing colors of leaves in autumn. Between late June and mid-July, the Nikko kisuge (Nikko day lilies) come into full bloom, blanketing the entire field in yellow — a sight well worth seeing. At Kisuge-daira Park where the day lilies grow, there is a 1,445-step stairway from the car park to the observation deck for visitors to view the various flowers and panoramas. The area also offers restaurants, hot springs and accommodations. Kirifuri-Kogen is about 25 minutes from JR Nikko Station or Tobu-Nikko Station by buses bound for Kirifuri-kogen or Ozasa Bokujo, and a short walk from Kirifuri-kogen bus stop.
Address

Tokorono, Nikko-shi, Tochigi, 321-1421
View Map

Nearest Station

Nikko Station (JR Nikko Line)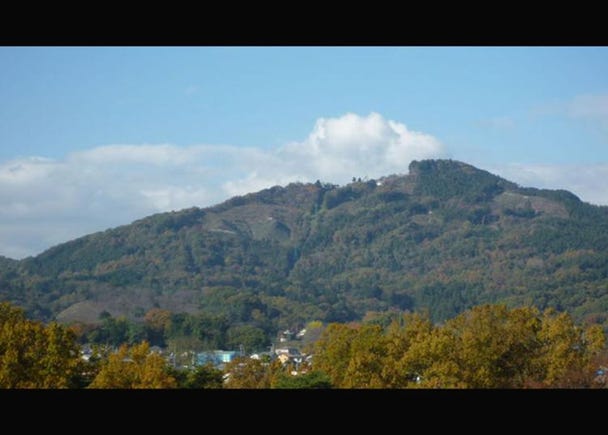 Mt. Hodosan in Saitama has an altitude of 497.1 meters. If you take the ropeway from Hodosanroku Station, you will reach Hodosancho Station in about five minutes. At the top you have a view of other mountains, the okumiya (rear shrine) of Hodosan Shrine and the Hodosan Small Animal Park. Here, you can feed, pet and play with untethered animals such as Japanese macaques, Japanese deer and rabbits. The top of Hodosan is also known for its beautiful flowers. There is a garden with 3,000 Japanese allspices, translucent light-yellow flowers also called wintersweet for their strong sweet scent, and in winter, a umehyakka garden that prides itself on some 470 plums from 170 species. Mt. Hodosan is showcase of nature in each season, with cherry blossoms, azaleas and autumn leaves from spring through fall. Hodosanroku Station (ropeway) is a 20-minute walk from Nagatoro Station on the Chichibu Railway.
Address

Nagatoro-machi, Chichibu-gun, Saitama, 369-1300
View Map

Nearest Station

Oyahana Station (Chichibu Railway)


Phone Number

0494-66-0307
10.Hachikokuyama Ryokuchi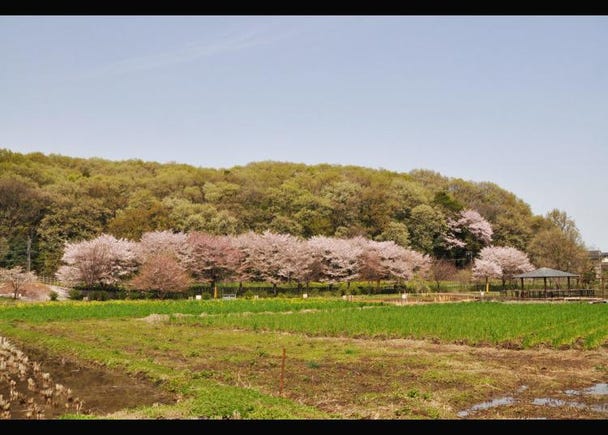 Hachikokuyama Park at the east end of Sayama hill is one of four metropolitan parks with abundant nature on the western Kanto plain. Here, thickets of konara oak (Quercus serrata) and sawtooth oak (Quercus acutissima) fill the whole park, and you can observe various wild birds and insects. The park also features remnants of landforms and paths from the Edo period. Nearby is an ancient battlefield from the Kamakura period, and there stands a monument to Nitta Yoshisada, warlord of the Minamoto clan, on top of the mountain. The ridgeway with seasonal flowers such as Japanese cherry (Prunus serrulata) and Rhododendron kaempferi is easy to walk and has nice views. Around Futatsuike pond at the south end of the park is a spot for birdwatching. A five-minute walk from Seibuen Station on Seibu Seibu-en Line.
Address

Suwacho, Higashimurayama-shi, Tokyo 2.3 chome, 189-0026
View Map

Nearest Station

Seibuen Station (Seibu Seibu-en Line)
5 minutes on foot


Phone Number

042-393-0154
*This information is from the time of this article's publication.
*Prices and options mentioned are subject to change.
*Unless stated otherwise, all prices include tax.