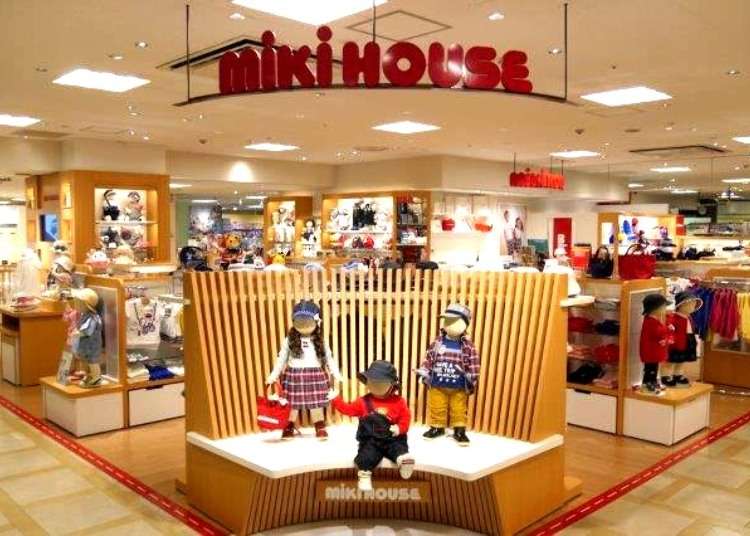 MIKI HOUSE is a well-known Japanese brand of baby and children's wear. It has long been a popular brand overseas, not to mention Japan, but in recent years there has been a sharp increase in the number of foreign tourists in search of MIKI HOUSE shoes. We visited Abeno Harukas Kintetsu Main Store to learn the reason why.
MIKI HOUSE: a brand loved by moms all over the world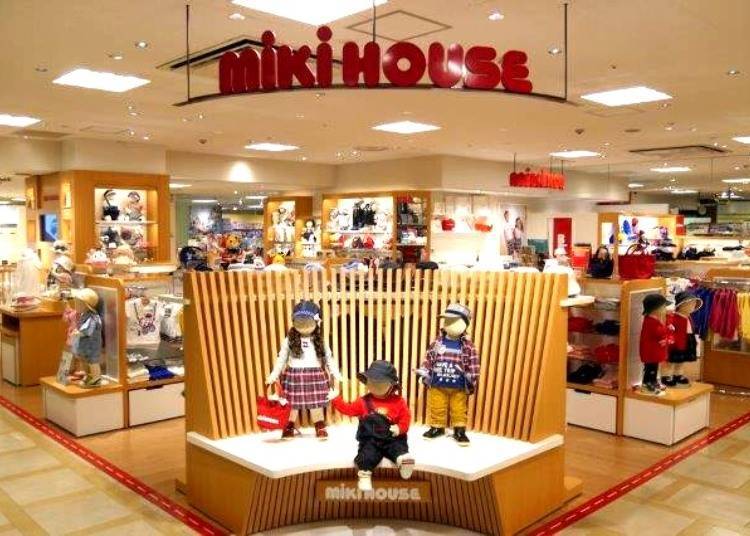 MIKI HOUSE is extremely popular among Japanese moms. It's a brand that has gained support from a wide range of generations for over 48 years since its founding in 1971, so women who chose MIKI HOUSE for their children back then are now once again choosing it for their grandchildren.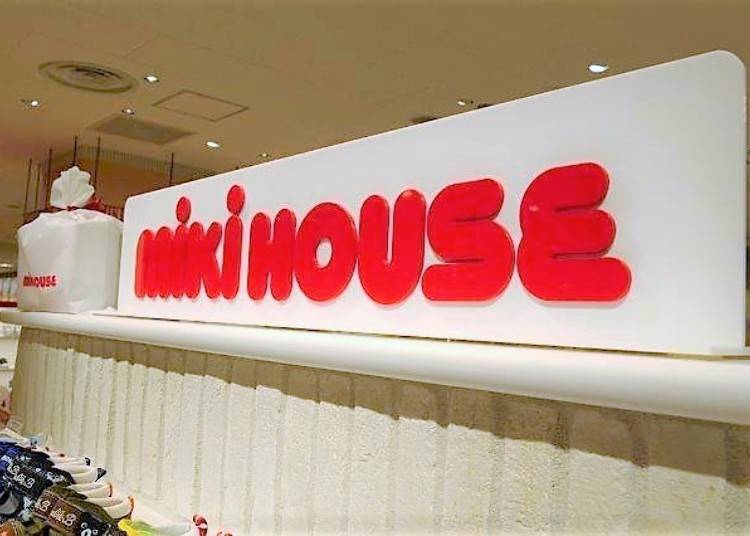 Besides stores in Japan, there are 46 stores in 13 major cities such as Paris, London, New York, and Beijing (34 stores in Asia, 5 stores in Europe, 5 stores in North America, and 2 stores in Oceania). Since the number of tourists visiting Japan from overseas has been increasing these days, we can see many tourists purchasing MIKI HOUSE goods as souvenirs and gifts to take home with them. This is the MIKI HOUSE that has attracted the world. But what made its products so appealing?
Functionality tailored to the design and age of the child makes it popular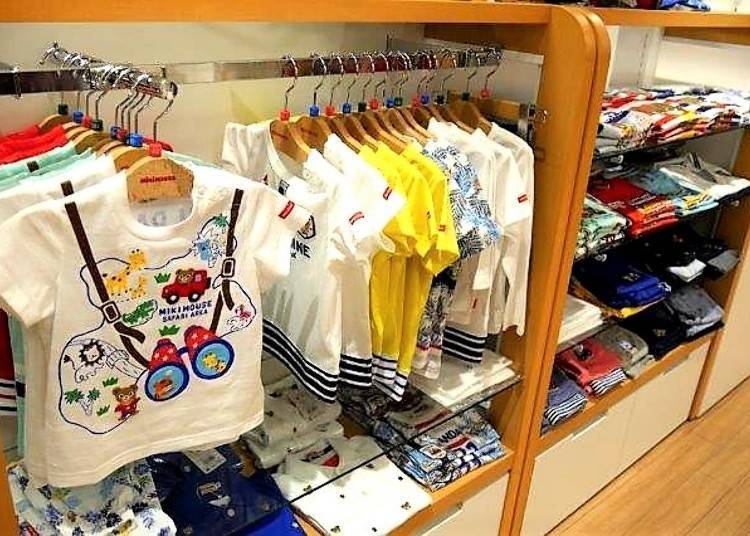 MIKI HOUSE has a great variety of clothes, underwear, shoes, hats, toys and picture books for newborns to children up to 6 years old. With a huge variety of designs and styles, the lineup ranges from classic red and navy designs to pastels, Japanese and American styles. Not only do the products look adorable, but a key point to their popularity is their excellent quality. Since they use high quality materials and various ingenuity has been put in the creation process, they fit very well to fast growing kids and this makes the products outstanding for their functionality. It is the high quality that has attracted mothers all over the world.
Shoes are highly popular among foreign visitors!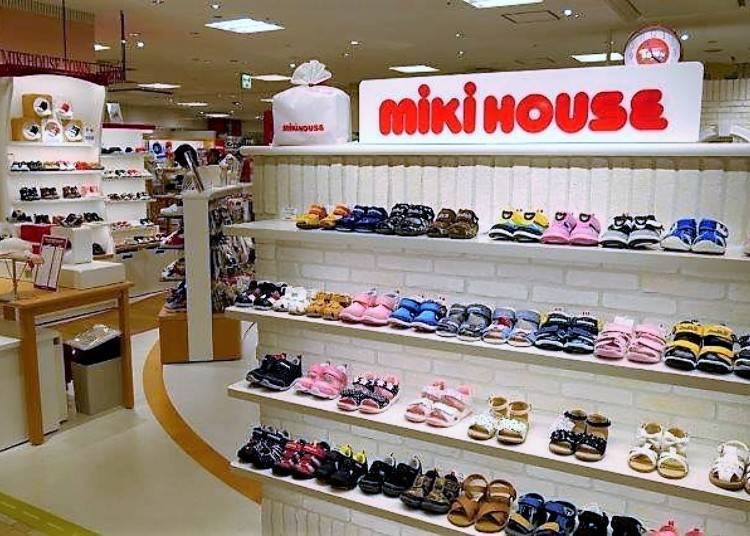 Shoes are especially popular with foreigners. There are three stages of MIKI HOUSE shoes for children. "Pre-shoes" are for children who have just begun to stand up. Light constructed shoes provide a feeling of almost being barefoot in order for a child to become accustomed to wearing shoes. "1st Shoes" are designed for children who have just begun to walk. Once the child has learned how to walk and has increased mobility, "2nd Shoes" are recommended for their durability enabling children to run safely. Design that is thought out for each children's age and purpose made the shoes popular all over the world.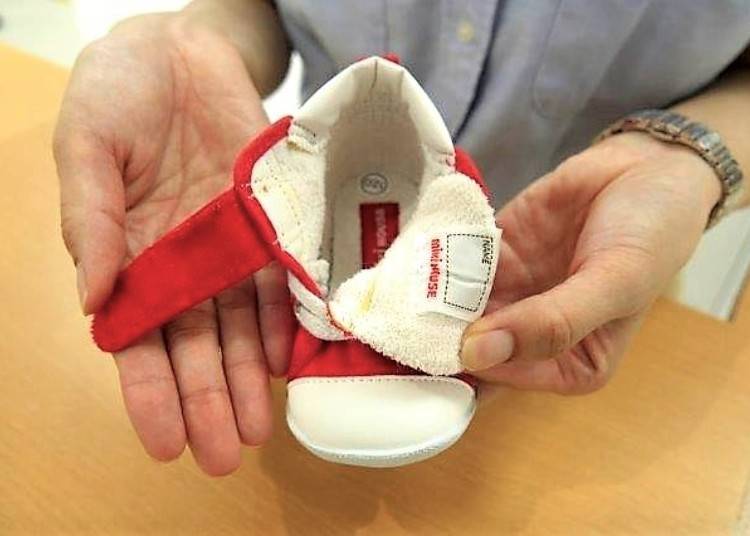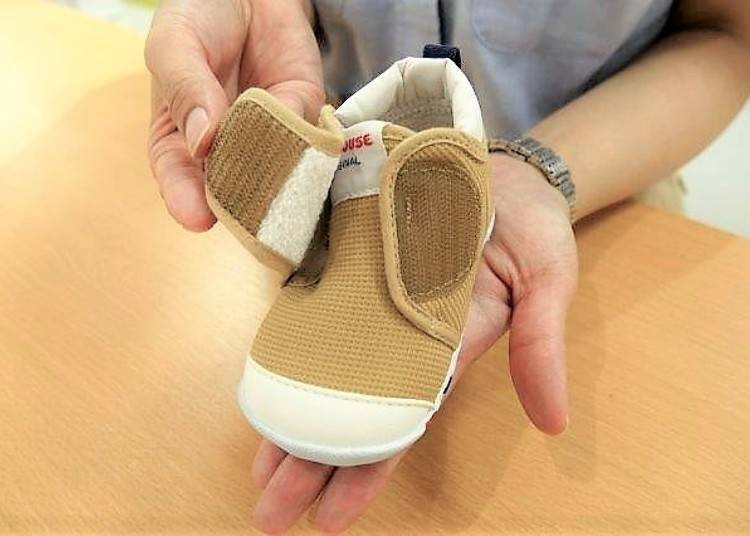 Let's take a closer look at the design of baby shoes. First of all, the opening is large, making it easier to wear. They are secured with Velcro strips for a snug fit to make easier to move. The inside is a soft, pile material gentle to the skin that is highly sweat absorbing.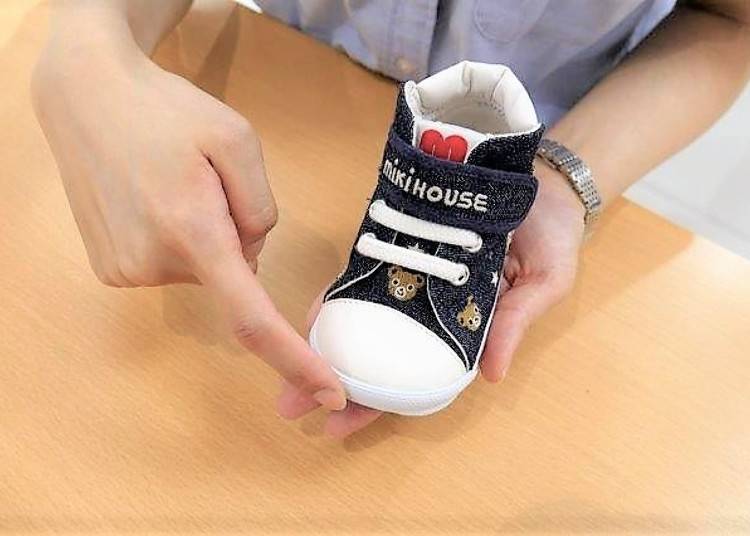 Babies' feet are constantly growing. The toe part of the shoe is wide and round so as not to hinder toe movement thus making it possible for babies to firmly plant their feet on the ground. A toe guard function has also been added to protect the foot which secures the heel firmly in place, which in turn stabilizes child's walk.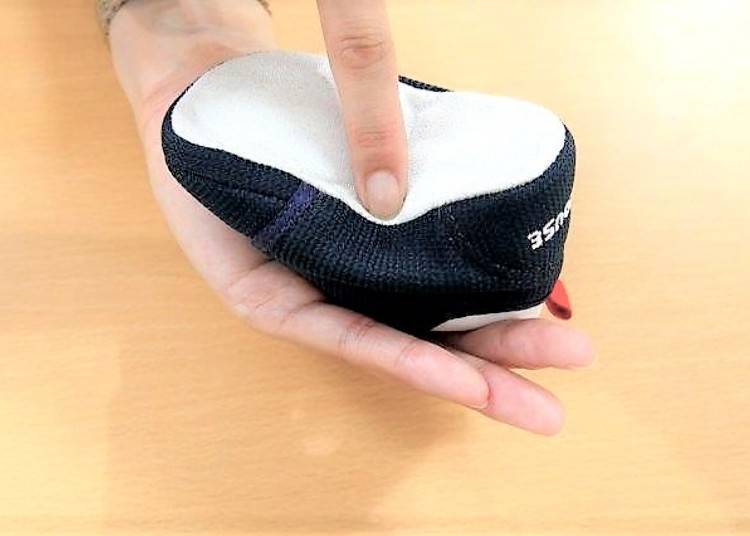 The soles also have a special feature for the wearer. Pre-shoes are made with a light and soft material that gives the sensation of being barefoot. The 1st and 2nd Shoes, on the other hand, are made from different materials so that the sole of the foot bends in the correct position, which also helps to form an arch. The shoes feel heavy when placed in the palm of your hand, but this is to provide stability for young feet just learning to walk. In fact, many children specifically choose only MIKI HOUSE shoes for themselves. Probably these shoes are so comfortable that the wearer unconsciously recognizes how good they feel.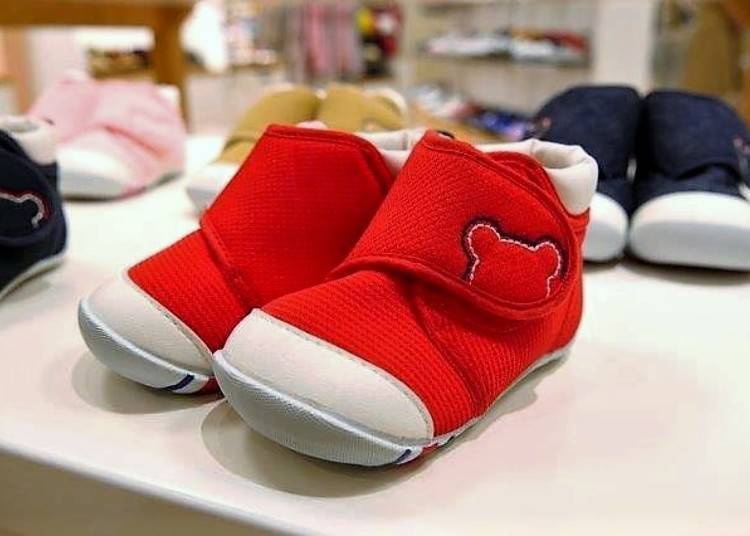 MIKI HOUSE baby shoes are noted not only for their design, but their quality stitching, too. First, we will take a look at the technology used in making patterns. All the stitching is done by skilled craftsmen in Japan, so even if there are few seams, shoes fits perfectly and comfortably. What's more is that the sole and upper parts covering the instep are made to feel particularly supple and soft. This is done by applying pressure with a special process called the "vulcanization process" where the materials are slowly heated and pressurized.

The materials used in the shoes are MIKI HOUSE originals. In-house management of the
thread type, direction, dyeing, and everything creates a strong and durable material. The
quality is so high that many have been heard to say, "MIKI HOUSE shoes do not fade even
when washed". Because they are durable and do not fade, your child can wear them every single day without worrying about the quality decreasing, making them eco-friendly and superior to other brands.
Hot sellers! Top 3 popular shoes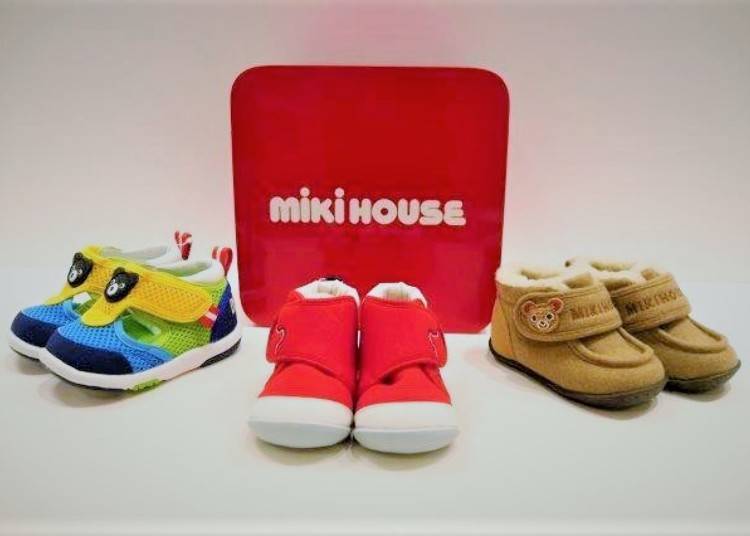 There are so many types to choose from, you may have difficulty in deciding which baby shoes to buy. Which designs are popular among buyers? We asked staff members at MIKI HOUSE.
This is the most traditional and famous red and navy shoes!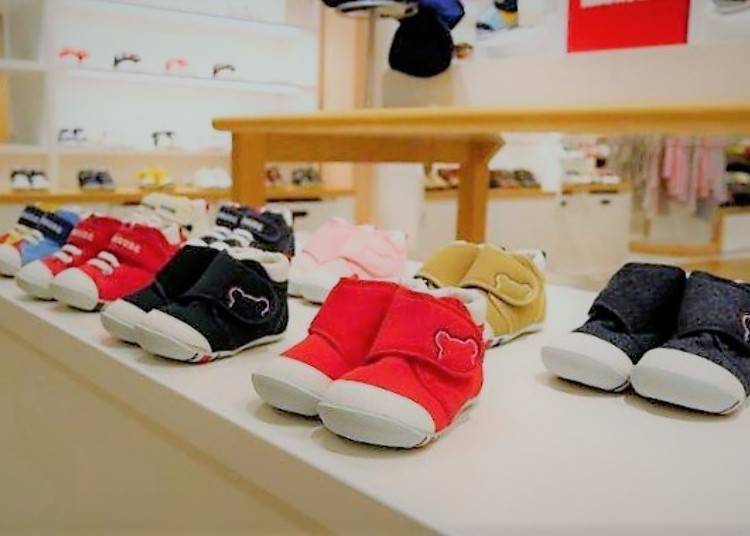 Red and navy are the signature of MIKI HOUSE and have been best seller since the brand established. Sharp, clear colors fit the image of active children. There seems to be core fans who purchase sweatshirts and bags with the same classic red and navy colors.
Excellent ventilation! Light and colorful Sandal Type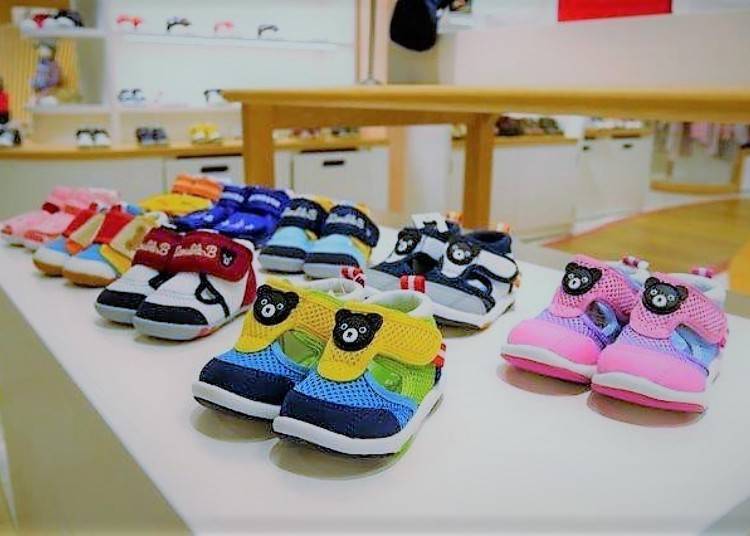 During the hot seasons, these sandals that breathe well are popular. Unlike adult sandals, there are many parts that cover the feet, so that the toes are not exposed and the heel part is also firmly supported. The shoes are easy to put on because Velcro is used for the part that covers the top of the foot. Because of the special three-dimensional mesh material with excellent breathability and quick drying, these shoes are great for splashing about in the water during summer.
The Warm Shoes use a cute brushed material called Mokomoko Boa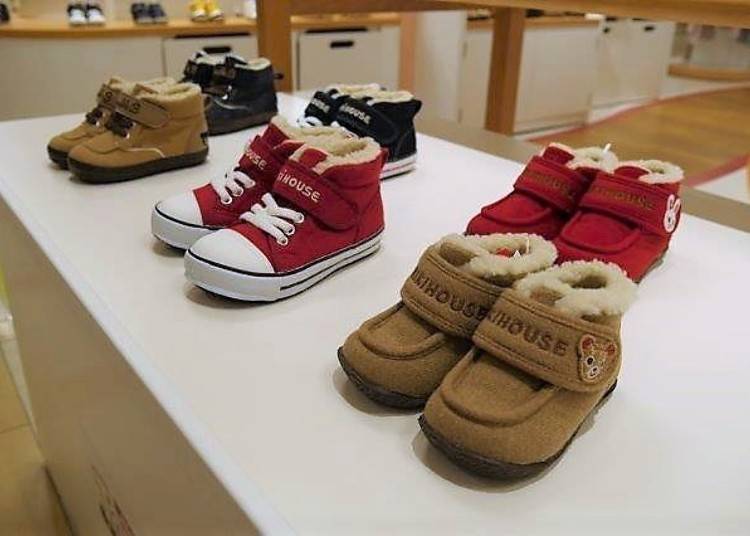 These shoes designed for winter use. The brushed material inside and a fluffy boa border around the ankle keep warm even when playing outdoors in the winter. These shoes are so cute that they easily win the hearts of moms.

Most brands normally do not carry out-of-season products, but MIKI HOUSE displays all of its shoe types throughout the year. Therefore, they can meet the needs of foreign customers who come from various regions in the world and those who want to buy shoes for the next season because little children grow so quickly.
Leather Shoes that have a cool luster are also popular with overseas customers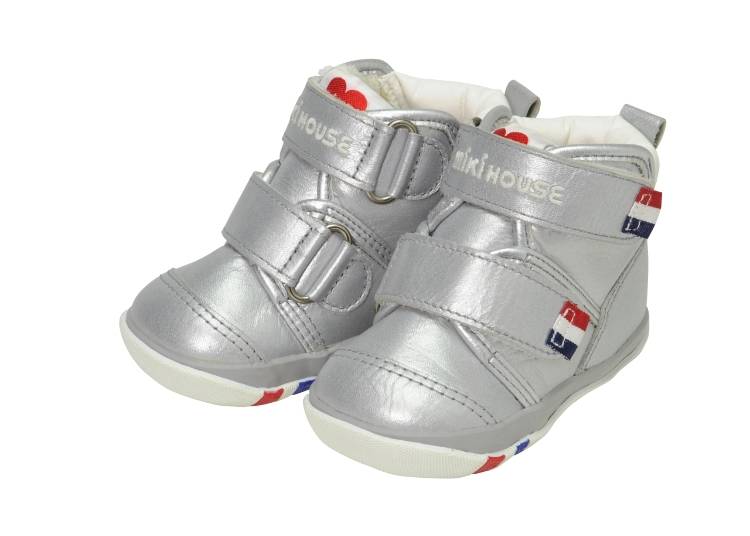 Baby shoes made of leather with a slightly adult-like shape are also popular with foreigners. They not only look cool, but are also light, soft, and flexible because they are made with kangaroo leather, a natural material. One thing that makes them especially popular with foreigners is the color, which is a sophisticated silver.
MIKI HOUSE stores are everywhere in Japan so you can easily find one during your visit!
MIKI HOUSE has directly managed stores mainly in department stores and large commercial facilities. They run the stores in most of the major cities in Japan as well. Before you head out on your trip, it is a good idea to see if there is a store in the areas you plan to visit. Stores with many foreign visitors are staffed with clerks who can speak foreign languages, such as English and Chinese, making it easy for first-time visitors to consult with them. In fact, in addition to buying shoes for their own children, it seems that many visitors take SNS photos of the shoes to send back to family and friends in their home countries so that they, too, can select shoes they would like to receive. Some stores also have interpreting devices which can handle many languages.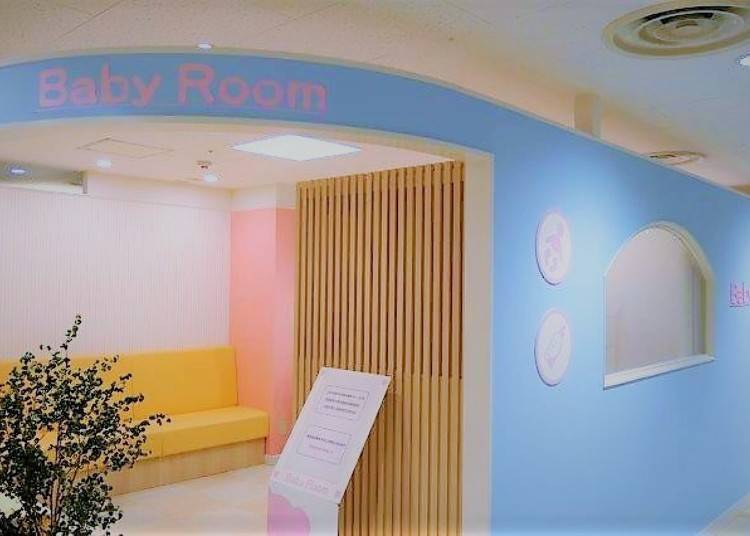 For this article, we visited the Miki House Abeno Harukas Kintetsu Main Store, in MIKI HOUSE Town, which has a large sales area. There are also a baby room where you can breastfeed and change diapers, and a play corner where kids can read picture books and play with educational toys. This store is also popular because you can leisurely sit on a sofa and consult with a staff member about shoes you would like to buy.

"We will listen carefully and help you choose shoes that suit each child's growth," the staff member says, for they take pride in carefully explaining not only your favorite design but also the functions that are appropriate for each age. "Thank you for choosing MIKI HOUSE out of the many stores in Japan during your visit to Japan," is how the staff member often greets foreign visitors, and this form of traditional Japanese hospitality is no doubt also part of the secret to its popularity.
Goods

Address

Takashimaya Shinjuku store 9F, 5-24-2, Sendagaya, Shibuya-ku, Tokyo, 151-8580
View Map

Nearest Station

Shinjuku Station (JR Shonan Shinjuku Line / JR Yamanote Line / JR Chuo Main Line / JR Saikyo Line / Tokyo Metro Marunouchi Line / Toei Shinjuku Line / Toei Oedo Line / Keio Line / Keio New Line / Odakyu Odawara Line)
2 minutes on foot


Phone Number

03-5361-1807
Goods

Address

Keio Department Store Shinjuku store 7F, 1-1-4, Nishi-Shinjuku, Shinjuku-ku, Tokyo, 160-8321
View Map

Nearest Station

Shinjuku Station (JR Shonan Shinjuku Line / JR Yamanote Line / JR Chuo Main Line / JR Saikyo Line / Tokyo Metro Marunouchi Line / Toei Shinjuku Line / Toei Oedo Line / Keio Line / Keio New Line / Odakyu Odawara Line)
1 minute on foot


Phone Number

03-5321-4367
Goods

Address

Tobu department store Ikebukuro store 7F, 1-1-25, Nishiikebukuro, Toshima-ku, Tokyo, 171-8512
View Map

Nearest Station

Ikebukuro Station (JR Shonan Shinjuku Line / JR Yamanote Line / JR Saikyo Line / Tokyo Metro Marunouchi Line / Tokyo Metro Yurakucho Line / Tokyo Metro Fukutoshin Line / Seibu Ikebukuro Line / Tobu Tojo Line)
1 minute on foot


Phone Number

03-3981-5040
Goods

Address

Seibu Department Stores Ikebukuro head office 6F, 1-28-1, Minamiikebukuro, Toshima-ku, Tokyo, 171-8569
View Map

Nearest Station

Ikebukuro Station (JR Shonan Shinjuku Line / JR Yamanote Line / JR Saikyo Line / Tokyo Metro Marunouchi Line / Tokyo Metro Yurakucho Line / Tokyo Metro Fukutoshin Line / Seibu Ikebukuro Line / Tobu Tojo Line)
1 minute on foot


Phone Number

03-5949-2251
Text by: WEST PLAN
*This information is from the time of this article's publication.
*Prices and options mentioned are subject to change.
*Unless stated otherwise, all prices include tax.