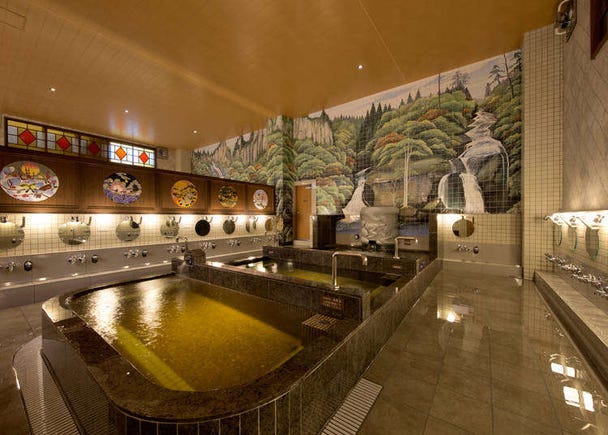 As Japan continues to enjoy a steady increase in international visitors, rules and regulations that have governed traditional Japanese facilities for many years are starting to globalize as well. The most prominent example of this would be the sentō, or public baths.

In times past, public baths would generally not allow foreigners or anyone with tattoos into their premises. Of late, however, more and more public baths have been making themselves foreigner-friendly, and these same facilities will welcome anyone with tattoos too!

Here are three such public baths within Tokyo city itself that we think you'll enjoy trying out as an international visitor or someone sporting a tattoo or two. And these aren't newfangled places trying to ride on the hype, either. We're talking about charming old-time establishments with long histories that will help bring you closer to Japan's cultural core. There's no time like the present to experience a Japanese public bath if you haven't already!
Did you know there's a proper procedure to using public baths in Japan?
Before we launch into the list, it may be of interest to you to know that there's a proper procedure to using public baths in Japan.

First of all, take off your shoes at the entrance and put them into the gesokubako, or shoe lockers. Next, make your payment at the bandai, or reception counter. Most public baths operate on an upfront payment basis. Some of them also sell entry tickets through conveniently placed vending machines on the premises.

There are separate entrances to the male and female baths, each of which leads to a communal changing room. This is where you can start taking off your clothes. Place your clothes and valuables into a locker here, and don't forget to lock it before you leave for the bath!

When you enter the bath area, do not head directly for the bath. Use one of the shower stalls to wash off the dirt on your body first before climbing in. Most public bath waters are at a comfortably warm or hot temperature, so feel free to dip your body inside! For hot baths, five to 10 minutes is a good gauge. For baths with lukewarm water, take your time and soak for about 20 minutes.

After returning to the changing room, dry yourself with a towel. As you would have perspired quite a bit during the hot bath, remember to rehydrate. It may also be a good idea to take a quick breather in the resting room before heading off for your next activity.
Things to note before using a public bath
・Do not wear underwear into the bath
・Wash your body first before entering the bath
・Do not bring towels into the bath
・Shower stalls are to be used seated, turn off the water when done
・Do not wash clothes in the bath
・Dry yourself in the changing room

Public baths in Japan have limited space, so always be considerate of those around you.

Now that that's settled, let's dive into the list of foreigners and tattoo-friendly establishments you've been waiting for. Keep all the points mentioned above in mind and you'll be all set!
1. Hasunuma Onsen: An appealing natural hot spring with stained glass decor
Hasunuma Onsen is located about 20 minutes by train from Shinagawa Station, and it only uses natural spring water for its baths. The water makes the skin so smooth and supple that it's earned itself the moniker of "beautiful skin bath" among patrons. The place is usually packed even on weekdays with visitors from near and far who have traveled here in search of the health benefits of its natural hot spring water.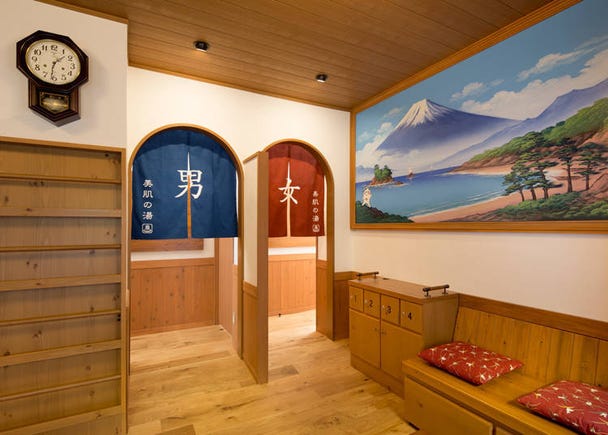 Loved and appreciated by local residents for ages, the facility underwent a major renovation in 2017 and emerged with a design reminiscent of Japan's olden Taishō Era (1912 C.E. to 1926 C.E.), meant to evoke an uplifting, idealistic mood.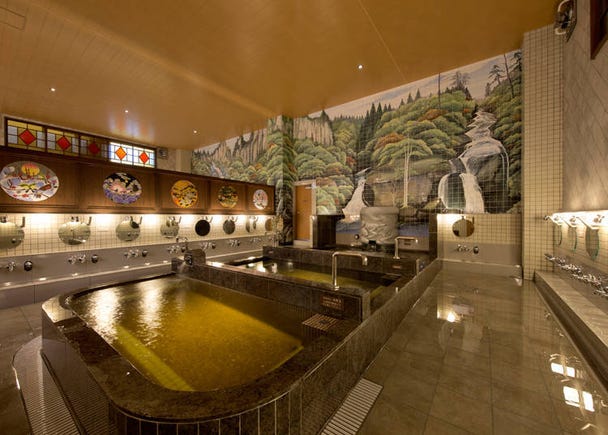 The bathroom's daunting wall tile artwork of a majestic waterfall has been one of the facility's most well-known features even before the renovation. Round windows painted with beautiful natural sights separate the male and female bath areas, adding a touch of pomp to the interior. They also complement the waterfall mural perfectly.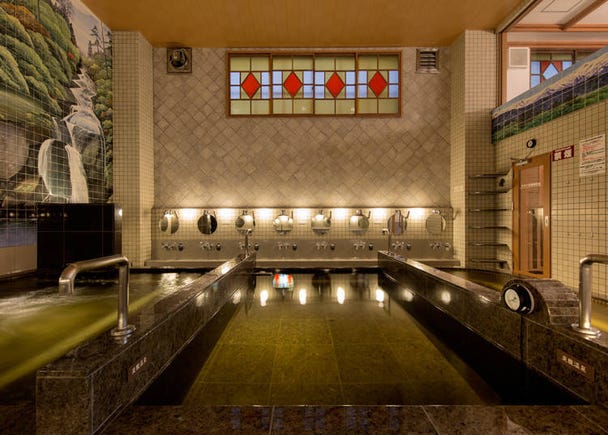 In the bath space, you'll find three tubs. One is filled with hot spring water, another, hot carbonated spring water, and finally, natural spring water. The carbonated spring is said to promote blood circulation and is great for taking all your travel fatigues away.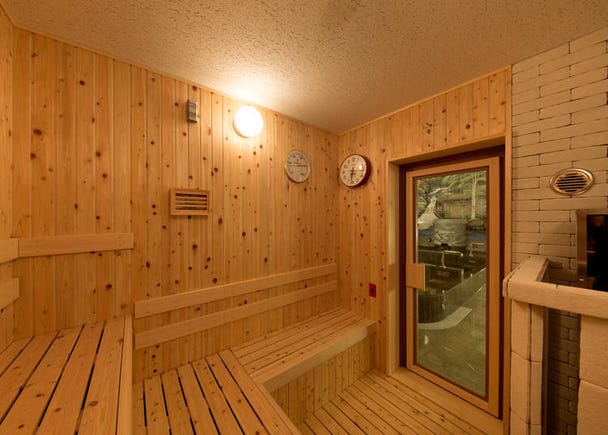 Sauna rooms are also available for 300 yen per use. The floor and walls are made with planks of Japanese cypress, infusing the room with the mellow scent of natural wood. After thoroughly enduring the high temperatures here, you get to easily wash all your perspiration away in a bath of natural spring water. Talk about extravagance!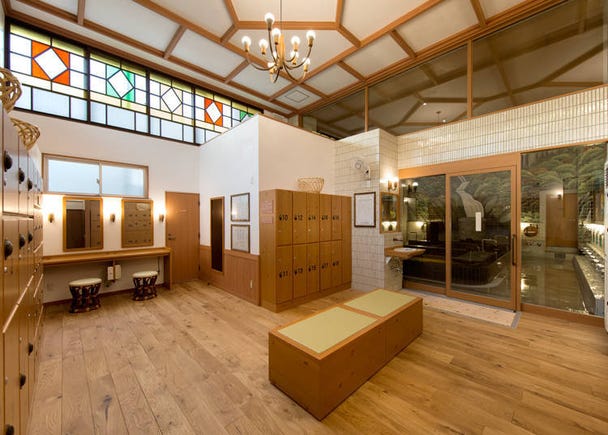 The changing room's stained glass windows, chandeliers, and coffered ceilings with checker motifs were individually picked to enhance the room's quaint charm. The high ceiling makes the room look spacious and welcoming.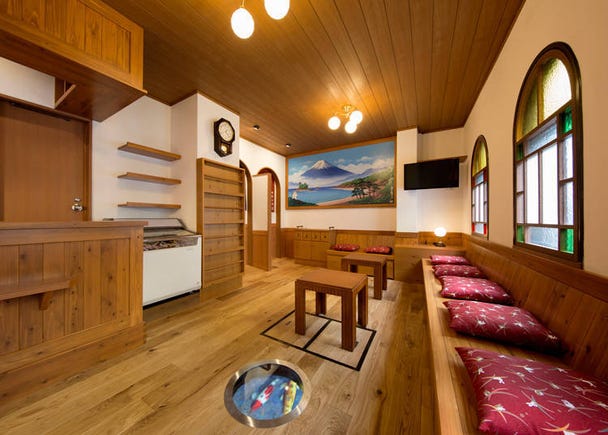 The lobby where you hang out in after the bath has a fresh and trendy design as well. Did you notice the little glass window on the floor and what's inside? Yes - those are koi fish! They're unfortunately not real, however, just images being shown on a digital signage. Many public baths in Tokyo in times past kept koi ponds, and this element was added in order to remind patrons of the facility's traditional roots.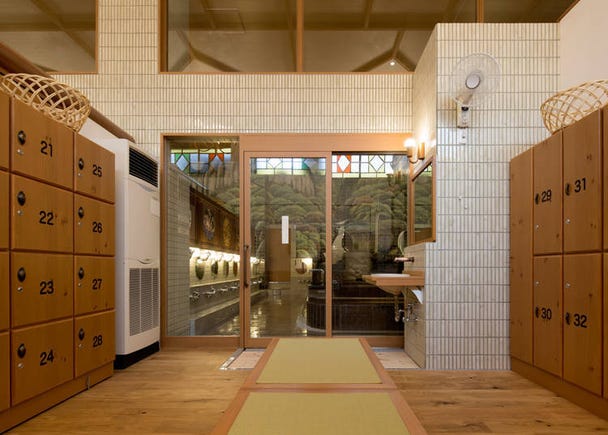 The facility has prepared a few tools with English explanations to help foreign visitors enjoy their outing here as well. Since soap and two sizes of towels are available for rental here, you can feel free to hop by even if you don't have any bath toiletries on hand. Hasunuma Onsen is worth visiting despite the hassle of a train transfer because of its natural spring water and beautifully renovated interior that still retains elements of its traditional charm.
はすぬま温泉

Address

6-16-11, Nishi Kamata, Ota-ku, Tokyo-to

Nearest Station

2-minutes walk from Hasunuma Station on the Tokyu Ikegami Line


Phone Number

03-3734-0081

Hours: 3:00 p.m. – 1:00 a.m.
Closed: Tuesdays
Fee: Adults 470 yen; Elementary to Junior High students 180 yen
2. Kosugiyu: Regular events and special baths with unique features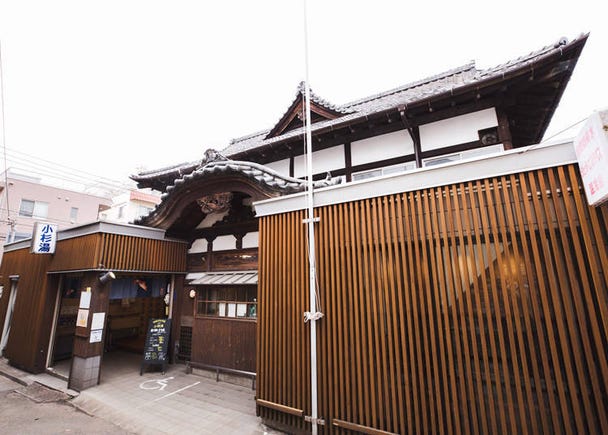 Kōenji, about 15 minutes by train from Shinjuku is a popular town among creators like musicians and illustrators. Kosugiyu is a public bath in Kōenji with about 90 years of history under its belt, and the facility is certainly a creative place that has carved its own niche inside this thriving subculture town.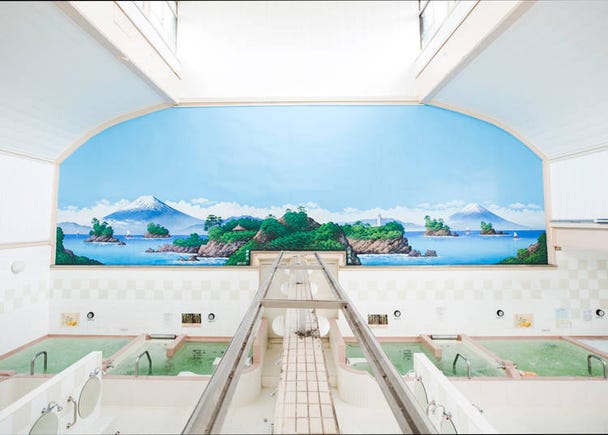 With a massive Mount Fuji wall art and an emphasis on white tones in its shower and air bubble bath rooms, this facility seems determined to make you feel clean by just looking at it! The room layout with rows of tightly packed seated showers is that of a typical Japanese public bath space, making the place uniquely Japanese in its own way as well.
Even the changing room is standard and simple. As a bonus, shampoo, body soap, and other amenities can be borrowed from the facility completely free of charge.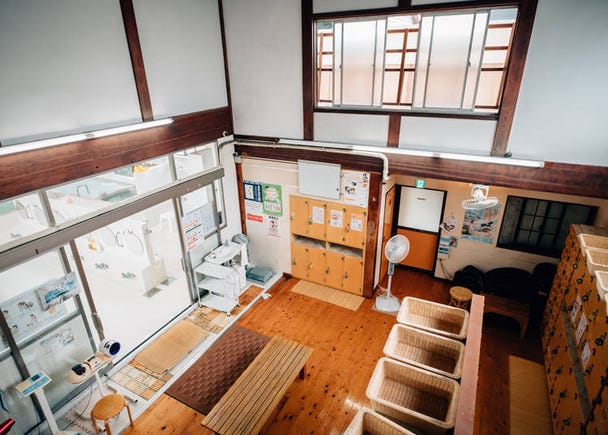 For bathers looking for something a bit more different, feel free to rent a fluffy Imabari towel at 50 yen per towel. In case you didn't know, Imabari is a region in Japan famous for producing quality towels. And since you're here to enjoy Japanese bath culture, you might as well go all out with the towels too!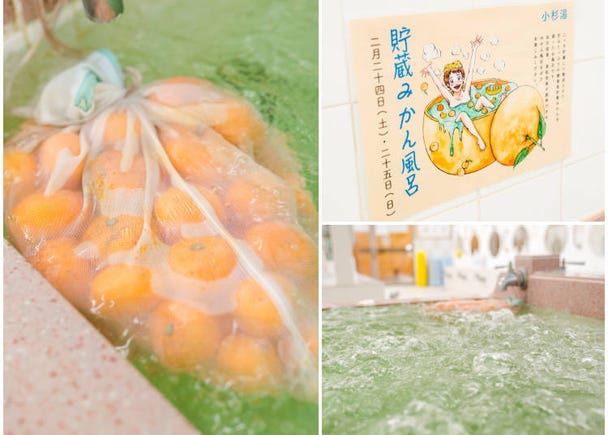 Now here's what sets Kosugiyu aside from regular public baths: Unique baths that are only available on a seasonal basis. Some of the more special baths you'll find are milk baths, baths with floating mandarin oranges, and a tomato-based bath that was created in conjunction with a local tomato juice manufacturer. These seasonal offerings add a certain flavor to the otherwise rather mundane activity of bathing, and if you're in town when the special baths are in action, consider dipping into one!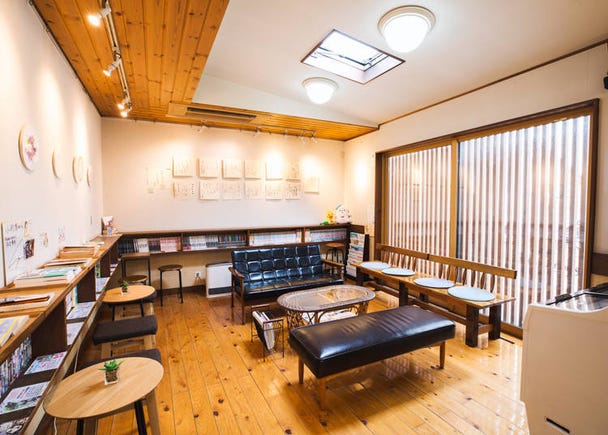 As mentioned earlier, the facility has carved out a niche in the subculture town it calls home. How so? By being sufficiently artistic as well, to match the general mood of the town, of course. Check out the lounge space that's been prepared for people to relax in after a bath. Artwork is being regularly featured on the walls on a rotation basis. There are even sets of cute-looking illustrations that educate visitors on the proper way to use the changing rooms!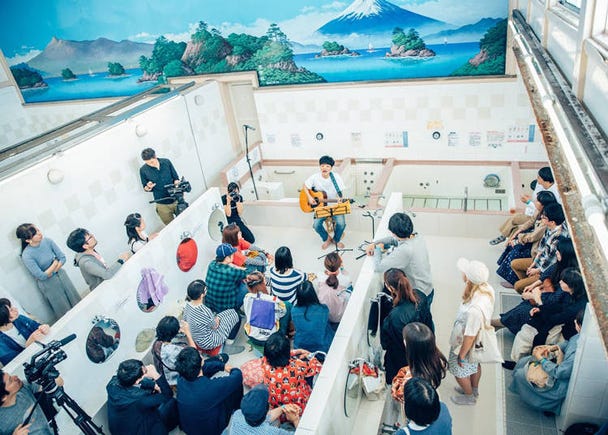 Another special feature of Kosugiyu is the slew of unique events being held here regularly, like rakugo (traditional Japanese storytelling) performances, music concerts, and the Japanese version of Oktoberfest, just to name a few. The events are held in a way that makes it easier for people who don't usually visit public baths to step in and have a good time as well.

Kōenji town itself is packed with good eating places and an excellent place to experience the varied and interesting subcultures of Japan, so the number of foreign visitors are understandably on the rise. To cater to them, Kosugiyu also has English pamphlets and English-speaking staff on hand.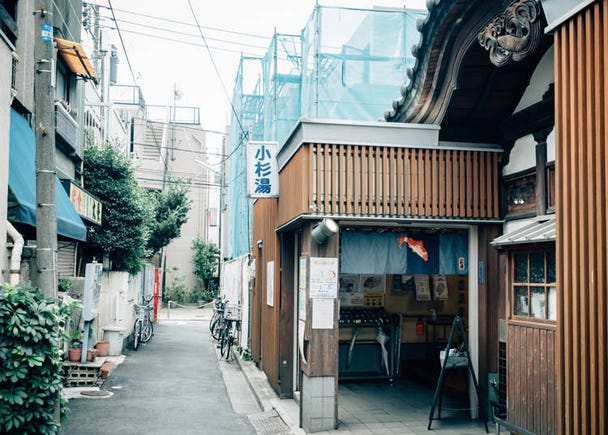 Japan's public baths have always been considered a gem to be cherished by locals - a location where people of all ages in town can gather together for a common activity. Kosugiyu is similarly not just a place that transcends generational boundaries, but racial ones as well. This is where you can take a long and soothing bath in a homey environment that hasn't changed much since its establishment!
小杉湯(こすぎゆ)

Address

3-32-2, Koenji Kita, Suginami-ku, Tokyo-to

Nearest Station

5-minutes walk from Koenji Station on the JR Lines


Phone Number

03-3337-6198

Hours: 3:30 p.m. – 1:45 a.m. *Sundays only 8:00 a.m. – 1:45 a.m.
Closed: Thursdays
Fee: Adults 470 yen; Elementary school students 180 yen; Toddlers 80 yen
3. Konparuyu: More than 150 years of public bathing right smack in the middle of Ginza
Just a 5-minutes walk from Ginza Station on the Tokyo Metro Ginza Line is Konparuyu, a public bathing facility in the center of Tokyo city that's been in business since 1863 - that's more than 150 years! There are only two public baths in all of Ginza (as of time of writing), and Konparuyu is one of them.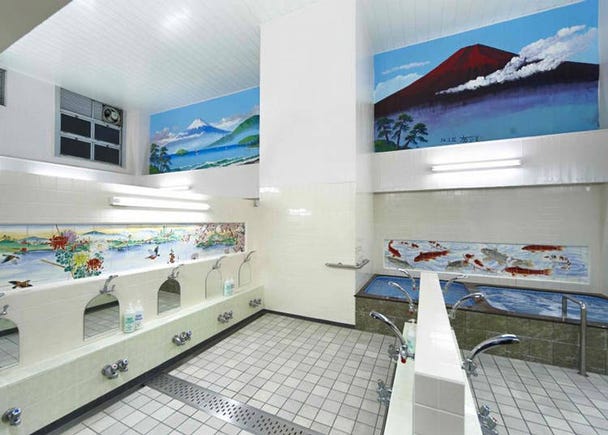 As you enter the bath space, you can't help but feel your eyes being drawn to the imposing wall art of Mount Fuji. This is the work of Morio Nakajima, one of the last two muralists in Japan. Elsewhere in the room, you'll also find paintings of koi fish and beautiful natural sights painted in the beautiful style of Kutani ware, a type of Japanese porcelain art.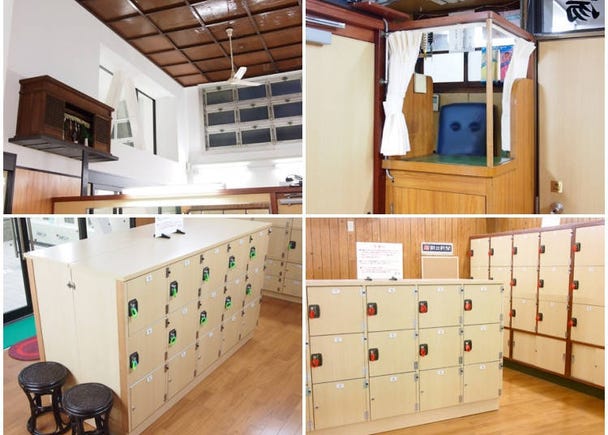 The changing rooms look and feel traditional as well. A bandai counter is used to collect entry fees and sell toiletries like soap. The large ceiling fan also adds to the olden mood in its own way. Directly opposite the bandai is an old household altar that was made more than 100 years ago. Restrooms are separated by gender and come installed with western-style toilets and washlets that even international visitors can use with ease and comfort.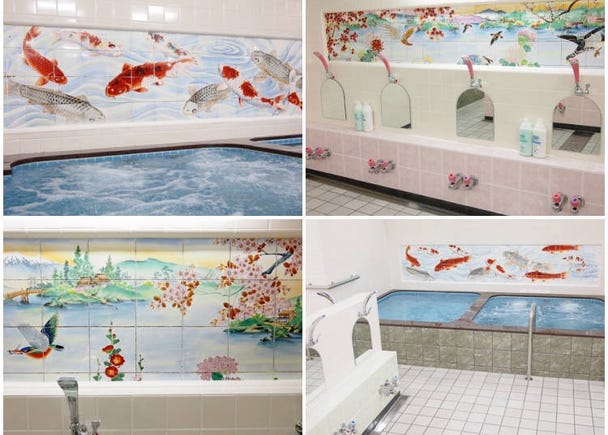 Konparuyu has two bath tubs. Some days, seasonal herbs and flowers such as irises, lavenders, and yuzu are mixed into the bath water for added fragrance. Shampoo, conditioner, and body soap are available for use within the bath room, so you don't have to buy and bring your own if you don't want to.

Note, however, that these won't be available during the 100 yen sentō day every second and fourth Friday of the month, so if that's the day of your visit, be sure to bring along your own toiletries.

Information about temporary closures and events can be found on the facility's official Facebook page. While these details are only published in Japanese, it's still worth a quick check before you head down, just in case!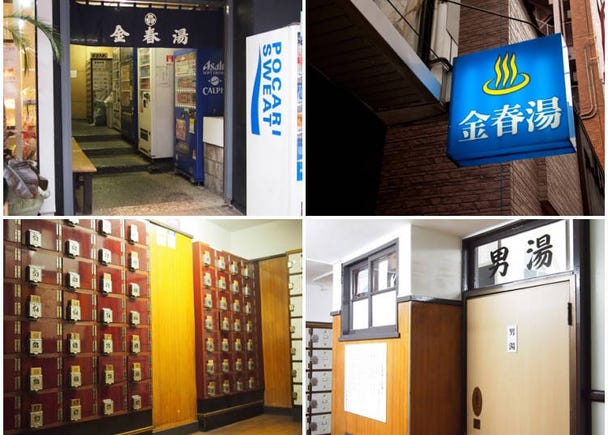 Every staff member working here is friendly to a fault and foreigners are very welcome. The facility's conveniently placed location also means you can drop by before returning to the hotel or in between shopping trips for an authentic retro-style Japanese public bath experience.
金春湯(こんぱるゆ)

Address

8-7-5, Ginza, Chuo-ku, Tokyo-to

Nearest Station

5-minutes walk from Ginza Station on the Tokyo Metro Ginza Line or Shimbashi Station on the JR Lines


Phone Number

03-3571-5469

Hours: 2:00 p.m. – 10:00 p.m.
Closed: Sundays and national holidays
Fee: Adults (12 and above) 470 yen; Children (7 to 12) 180 yen; Minors (6 and below) 80 yen
Writer: Ran Tanaka. English translation by: Huimin Pan
*This information is from the time of this article's publication.
*Prices and options mentioned are subject to change.
*Unless stated otherwise, all prices include tax.