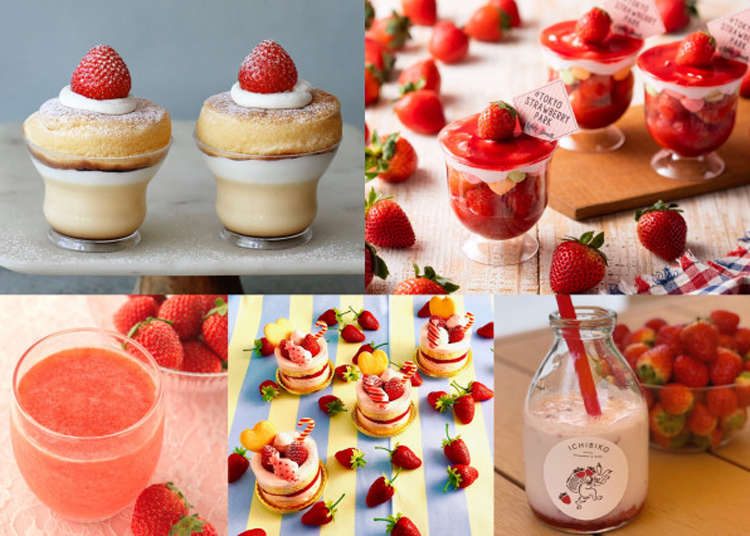 The end of a long winter is soon approaching and the early signs of spring will be upon us. There will be several events in Tokyo during February and March 2019 that will be vying for your attention. These include traditional Japanese festivals handed down through generations, such as an indoor cherry blossom viewing event, a strawberry festival announcing the arrival of spring, a fire walking festival at Mt. Takao, one of the three largest Dharma fairs in Japan at Jindaiji, and the Chinese New Year Festival in Yokohama Chinatown, all of which you will not want to miss.
Flowers by Naked 2019 - Tokyo Nihonbashi -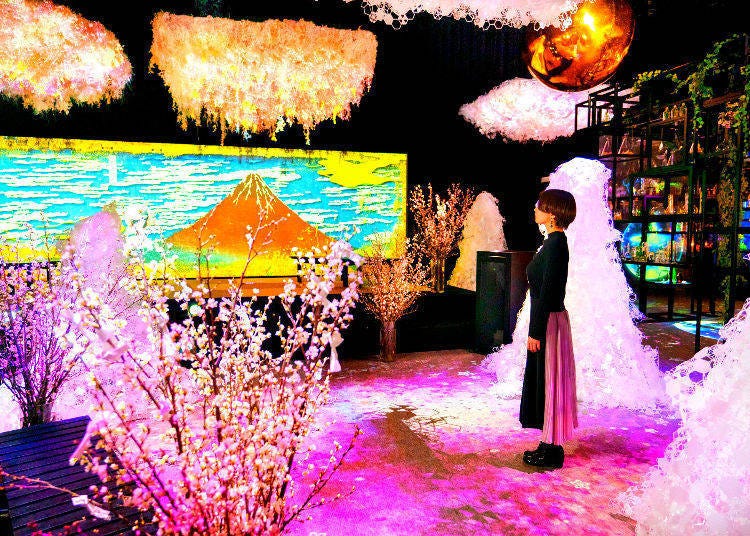 Event dates: Tuesday, January 29 ~ Sunday March 3
Event times: 10:00 a.m. ~ 8:00 p.m. (Last admission 7:30 p.m.)

Immersive flower event "Flowers by Naked" produced by creative company Naked Inc. This art space where photogenic photos can be taken has been a hot topic and popular event that has attracted more than 400,000 people to date.
Cherry blossom viewing art space Ousai symbolizing "the earliest place in Japan for viewing cherry blossoms" is especially noteworthy. Projection mapping using the entire space and artistic creations as well as real cherries are used to totally wrap viewers 360 degrees in cherries to give them the feeling of being immersed in cherries.

Admission: Weekdays Adults 1,600 yen; weekends and holidays Adults 2,000 yen
Closed: Open daily
Venue: Nihonbashi Mitsui Hall COREDO Muromachi Floors 1 and 5 (entrance is on 4th floor)
Nihonbashi Mitsui Hall Coredo Muromachi

日本橋三井ホールCOREDO室町

Address

2-2-1, Nihombashi-muromachi, Chuo-ku, Tokyo, 103-0022, Japan / 〒103-0022 東京都中央区日本橋室町2丁目2−1
Yokohama Chinatown Chinese New Year Festival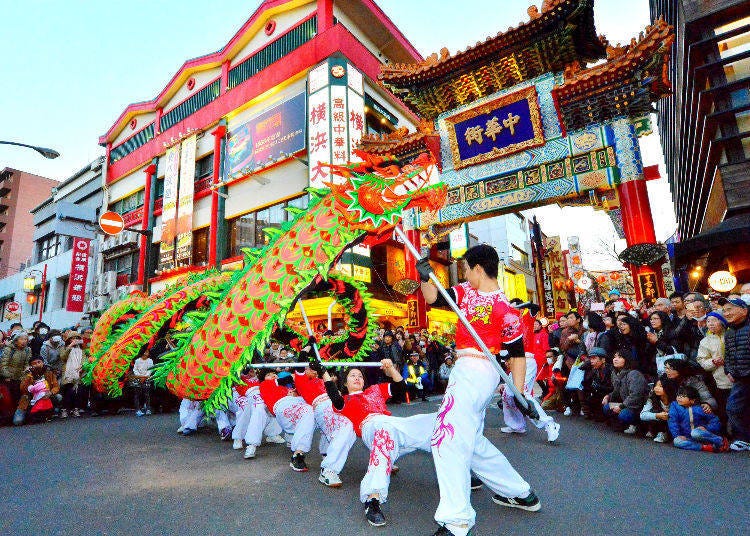 Event dates: Tuesday, February 5 ~ Tuesday February 19
Event times: Varies depending on event

To this day the New Year based on the old lunar calendar is still widely celebrated in China. Following this custom Yokohama's Chinatown has held events every year since 1986 during this Lunar New Year period. Tourists are also familiar with it as a winter tradition.

Many events are held during this time, such as the traditional Chinese Lion Dance cai qing parade which wends its way through Chinatown amidst the beating of drums and firecrackers; the wǔdǎo yóuxíng (Folk Festival Parade), the biggest New Year's event; and many other traditional Chinese performing arts, such as the Dragon Dance and Chinese acrobatics, collectively known as the Spring Festival Entertainment Performances. Just walking around the streets at this time will put you in a festive mood.

Fee: None
Closed: Open daily
Venue: Yokohama Chinatown
Address

Naka-ku, Yokohama-shi, Kanagawa, 231-0023
View Map

Nearest Station

Motomachi-Chukagai Station (Minatomirai Line)
1 minute on foot

Yokohama Strawberry Festival 2019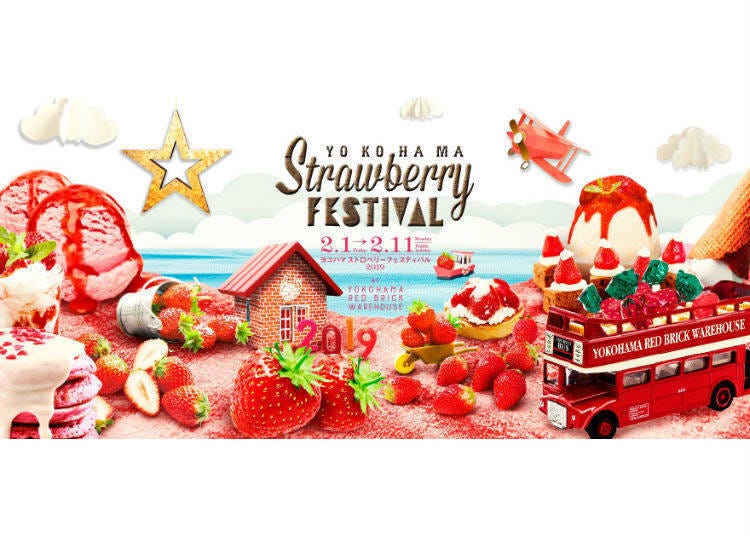 Event dates: Friday, February 1 ~ Monday, February 11 (holiday)
Event times: Weekdays 11:00 a.m. ~ 6:00 p.m.; weekends and holidays 10:00 a.m. ~ 6:00 p.m.

The end of winter and approach of spring marks the strawberry season in Japan. At this time there is a profusion of not only strawberries, but also pastries made with strawberries and other related products. Many kinds of strawberry attractions have been planned to make this event most enjoyable. In addition to selling strawberries picked fresh that morning and pastries made with strawberries just for this event, it will also be possible to taste samples of strawberry brands at no cost. At the same time as the event is being held outside, the restaurants, cafes, and shops inside the Yokohama Red Brick Warehouses will also offer special menus and strawberry related items during the event. Goods with strawberry motifs will also be available as well as other attractions, so you can enjoy the event with all five senses and not just that of taste.

Fee: None
Closed: Open daily
Venue: Yokohama Red Brick Warehouses
Address

1-1, Shinkou, Naka-ku, Yokohama-shi, Kanagawa, 231-0001
View Map

Nearest Station

Sakuragicho Station (JR Negishi Line / Line 3 (Yokohama Blue Line))


Phone Number

045-211-1515
Ganzan Daishi Festival Dharma Fair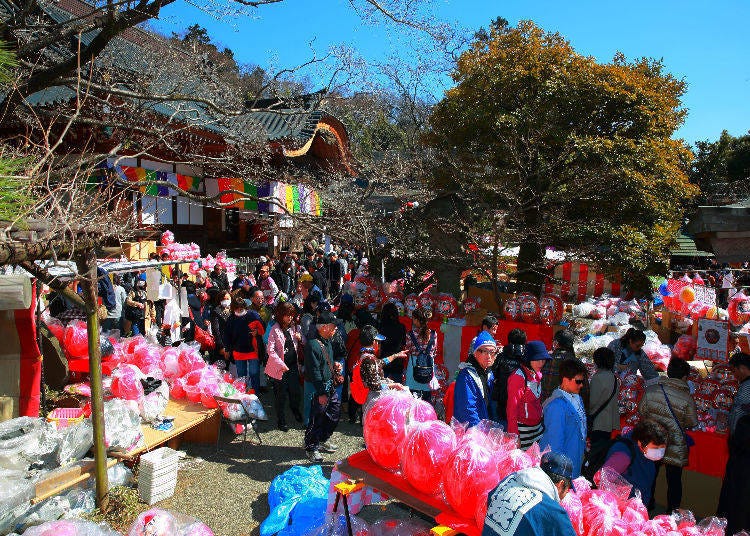 Event dates: Sunday, March 3 ~ Monday, March 4
Event times: 9:00 a.m. ~

The Dharma Fair coincides with the Yakuyoke Ganzandaishi Taisai [Apotropaic Ganzandaishi Grand Festival] and is well-known as one of the three great Dharma fairs in Japan. There are about 300 stalls inside the temple precincts selling good-luck Dharma of all sizes. You may of course paint in one eye of the Dharma yourself after purchasing it, but there is a specially established "Dharma Eye-Opener Space" where you can have a priest paint in an eye for you. Here a Sanskrit character is painted in the eye of the Dharma which is a custom unique to Jindaiji. The priest first writes the character 阿, meaning "The beginning of things", in the left eye after the person who bought the Dharma has made a wish. When the wish has been granted, then the character 吽, an expression of gratitude, is written in the right eye when the Dharma is taken back to the temple.

Fee: None
Venue: Jindaiji
Address

5-15-1, Jindaijimotomachi, Chofu-shi, Tokyo, 182-0017
View Map

Nearest Station

Chofu Station (Keio Line / Keio Sagamihara Line)


Phone Number

042-486-5511
Mt. Takao Fire Walking Festival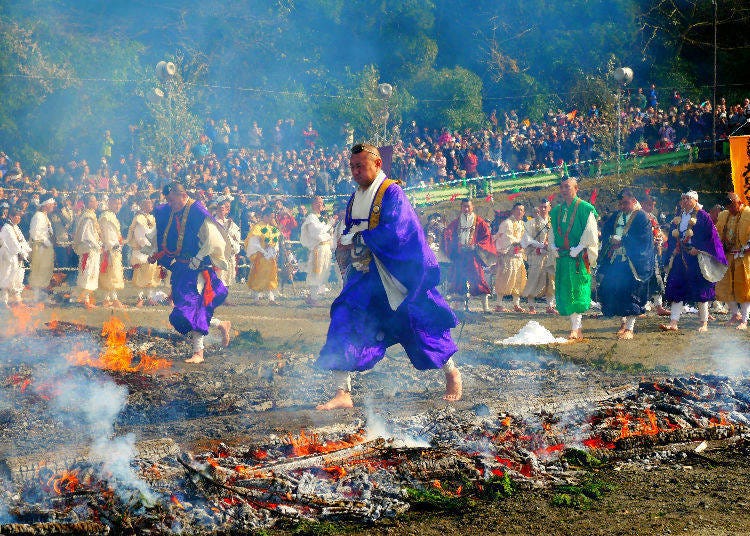 Event dates: Sunday, March 10
Event times: 1:00 p.m. ~ about 3:30 p.m. (*Depends on the number of participants)

This is one of the major Mt. Takao ascetic training practices held in a parking area at the foot of Mt. Takao on the second Sunday in March every year. After incantations for world peace, longevity, protection from disasters, traffic safety, and good health and safety, it culminates in Ogoma, a Buddhist ceremony of burning cypress sticks, that is part of a purification by fire ceremony of the esoteric Shingon sect. Yamabushi blow conch shell horns while walking barefoot across the embers remaining from the Ogoma fire that have been spread out in an 8-meter long path. The general public may also participate if they wish.

Fee: None
Venue: Parking area of the Mt. Takao Yakuoin Temple
Address

Takaomachi, Hachioji-shi, Tokyo, 193-0844
View Map

Nearest Station

Takaosanguchi Station (Keio Takao Line)
5 minutes on foot


Phone Number

042-661-4151
Kinryu no Mai [Dance of the Golden Dragon]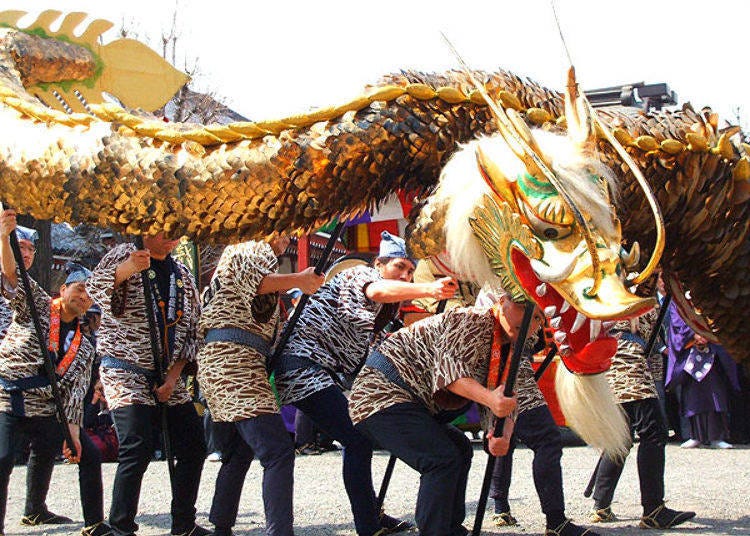 画像提供:浅草観光連盟 365ASAKUSA
Event dates: Wednesday, March 18
Event times:11:30〜、14:00、15:30〜

On March 18th every year the Honzonjigen'e [appearance of the principal image] ceremony is held to commemorate the appearance of the Sacred Bodhisattva of Compassion that occurred on March 18, 628 at Sensoji Temple. The "appearance" indicates the many different forms into which the Buddha and the Bodhisattva can change in order to save all life forms and this is worshiped in the Dance of the Golden Dragon. According to legend, when Kannon appeared a golden dragon descended dancing from heaven and overnight a grove of one thousand pine trees was created which were used to build the Sensoji Temple. The gold dragon is 18 meters long and weighs about 88 kilograms and the sight of it dancing to festival music is very powerful.

Fee: None
Venue: Sensoji Temple
Address

2-3-1, Asakusa, Taitou-ku, Tokyo, 111-0032
View Map

Nearest Station

Asakusa Station (Tokyo Metro Ginza Line / Toei Asakusa Line / Tobu Isesaki Line (Tobu Sky Tree Line) / Tsukuba Express)
5 minutes on foot


Phone Number

03-3842-0181
Date: February 8 (Fri.) – March 8 (Fri.)

Yushima Tenjin Shrine has been well-known for its magnificent plum trees (called 'ume' in Japanese) since the Edo period. There are about 300 plum trees of 13 different varieties and eighty percent of them are white plum trees, such as Shirokaga, Getsuei, and Bungo. It has a plum festival of its own from the middle of February to the beginning of March.
On the weekends, you can enjoy joining in a tea ceremony surrounded by the beautiful plum trees in full bloom for 600 yen. Other than that, you can also enjoy seeing Japanese dance, listening to a traditional shamisen concert, Rakugo (Japanese verbal entertainment) and so forth. The festival will also showcase local specialty products from 4 prefectures – Ishikawa, Fukushima, Kumamoto, and Aomori. You can buy them as souvenirs for your family and friends. If you are in Japan, why not enjoy spring along with the beautiful plum blossoms?

Admission Fee: Free
Hours: 6am - 8pm every day
Address

3-30-1, Yushima, Bunkyo-ku, Tokyo, 113-0034
View Map

Nearest Station

Yushima Station (Tokyo Metro Chiyoda Line)
2 minutes on foot


Phone Number

03-3836-0753
Traditional Culture Experience Programs for Foreign Visitors: Japanese Dance Workshop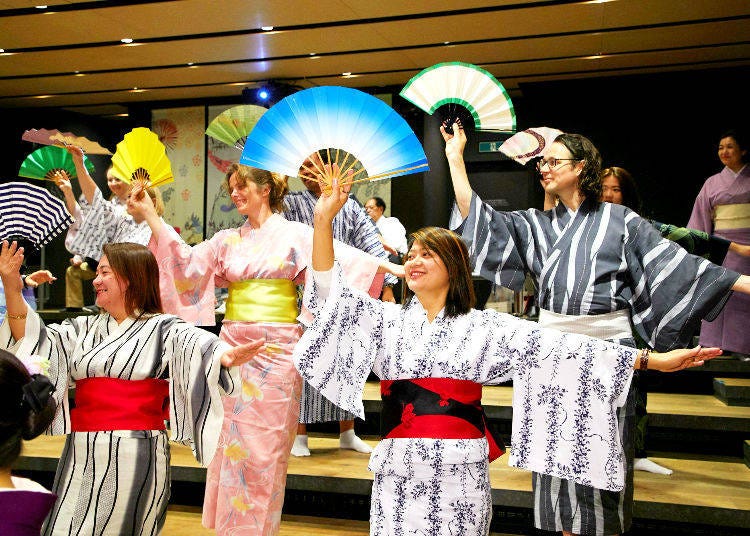 Date: Apr. 8 (Sun.), 2018 - Mar. 31 (Sun.), 2019 Every Sunday
*Feb. 17 (Sun.) and Mar. 3 (Sun.) are closed.
Hours: 11am~12pm、1pm~2pm、3pm~4pm

Nihon Buyo is a traditional Japanese dance that has a history dating back nearly 400 years. This dance is a mixture of calm and elegant movements (mai) and upbeat dance (odori).
In this program, you can wear a traditional yukata garment and experience the dance with professionals. After the lesson, the professional Japanese dance performers will put on a show. There is no need to bring anything with you, as they provide everything you need for the experience. This program will be a great opportunity to learn Japanese culture and experience traditional Japanese dance.

*Advanced booking is required.
Participation Fee: Free
Address

2-18-9, Kaminarimon, Taitou-ku, Tokyo, 111-0034
View Map

Nearest Station

Asakusa Station (Tokyo Metro Ginza Line / Toei Asakusa Line / Tobu Isesaki Line (Tobu Sky Tree Line) / Tsukuba Express)
1 minute on foot


Phone Number

03-3842-5566
*This information is from the time of this article's publication.
*Prices and options mentioned are subject to change.
*Unless stated otherwise, all prices include tax.
Limited time offer: 10% discount coupons available now!