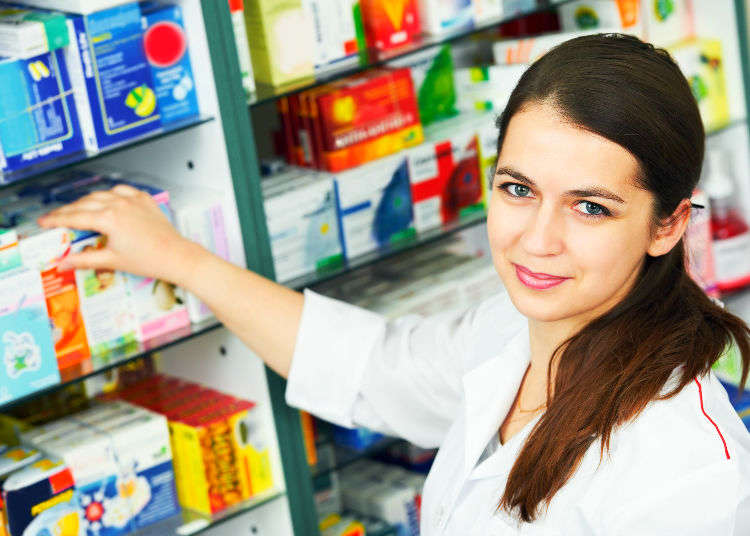 Preparing for a trip to Japan always requires a lot of planning, especially if you're thinking of staying abroad for a long time. This is particularly true when it comes to those of us who also need to take certain prescription medications to Japan.

Unfortunately, every country has specific rules by which all visitors and residents have to abide. Japan is no exception. In this article, we'll take a look at some of the things you should know if you're preparing for a trip to the Land of the Rising Sun, and you need to bring your meds with you.

Please keep in mind that while we have done extensive research on this matter, this article should be referred to exclusively as a guideline.
Contact the Proper Authorities Before Visiting Japan
First of all, you won't be able to gather accurate information from your country of origin. In fact, as mentioned earlier, rules and regulations change from country to country.

If you want to travel to Japan and need to know precisely what you're allowed or not allowed to enter the country with, you should contact the Japanese authorities.

Usually, the Consulate of Japan will be able to point you in the right direction. Still, at the end of this article, you'll find links to useful resources and to the websites of the appropriate Japanese authorities.
Over the Counter Drugs and Prescription Drugs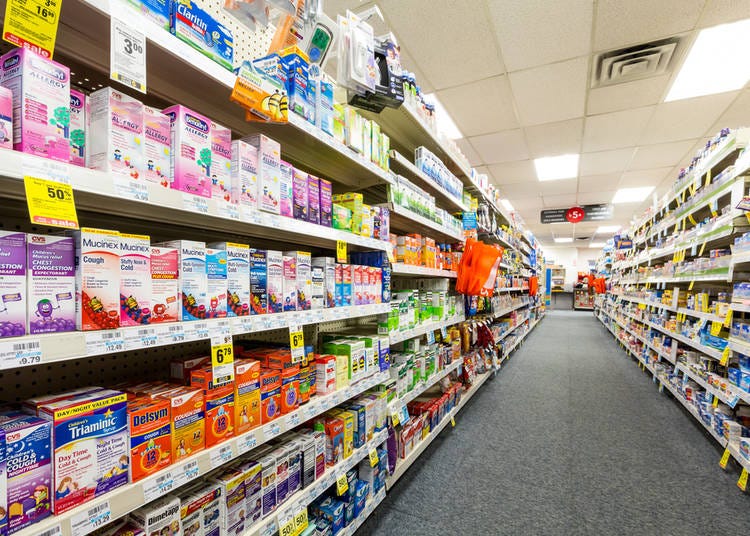 Some over the counter (OTC) drugs are allowed, if within a certain amount, to be carried to Japan.
Some examples of medications that are allowed in Japan
Hayfever Tablets

Cetirizine, Fexofenadrine
Acetaminophen

Paracetamol, Panadol
Nurofen

Ibuprofen
The allowed items are not limited to this list. The Ministry of Health, Labor and Welfare of Japan specifies that the drugs you take with you to Japan must be, in addition to being permitted in the country, only for your personal use, not part of medications considered to be narcotics in Japan (we'll get more into detail later in the article), and not more than a 30-day supply.
Need More Than a Month's Supply of Medicine? You'll Need a Yakkan Shoumei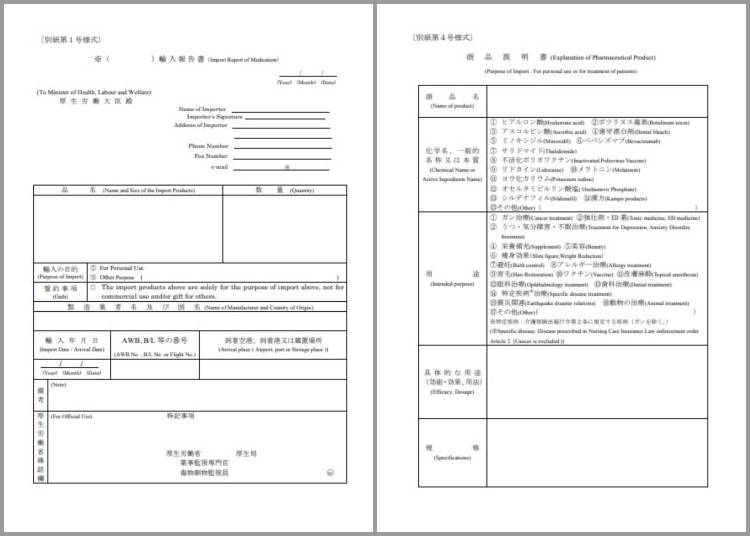 Should you need to bring with you more than a month's supply of permitted meds, you'll need to apply for the so-called Yakkan Shoumei, a Medicine Import Certificate. If this is the case for you, you must acquire this certificate before leaving for Japan. This stamped document will have to be presented at customs upon arrival.

You will need to send your application for the Yakkan Shoumei via mail or electronically as a PDF. And you will need to attach some documentation as well:
・Import Report of Medication (two copies, signed, filled in).
・Explanation of Product (You'll have to compile a copy for each product)
・Copy of Prescription or Direction for medicines with doctor's signature (the Pharmaceutical Inspector will need this to confirm that the meds and their quantity are exclusively for your use).
・Document indicating your date and location of arrival (i.e., plane ticket).

Should you need an original Yakkan Shoumei, you'll also need a Return Envelope with the appropriate stamps and of the proper size.

Please note that to apply for the Yakkan Shoumei, you'll need to contact specific offices depending on your location of arrival.

For more detail on how to compile the documents, which offices to contact, and details about mailing, refer to the English website of the Ministry of Health, Labor, and Welfare of Japan linked at the end of this article.

Assuming all your documents are in order, from sending your application to receiving your Yakkan Shoumei will take anywhere between two weeks and a month. It serves to prepare well ahead of your trip. Should you be tight on time, at the end of this article, you'll find some numbers of the offices of Pharmaceutical Inspectors of the most common arrival locations in Japan, who may be able to help you.

Should your application be rejected, the Pharmaceutical Inspector may request revised, or additional documents to add to your application.

When you finally have all the necessary permits, make sure to bring them with you and to have them readily available for when you reach customs. You'll need to present the Yakkan Shoumei, along with the drugs it's for. Customs will be particularly strict about it. Make sure that the medicines match exactly those reported in the certificate and do not make any changes to the document after it's been approved, or it will be considered void. Also, do not use un-labeled containers and don't put the meds in any storage that is not their own (box, bottle, etc.).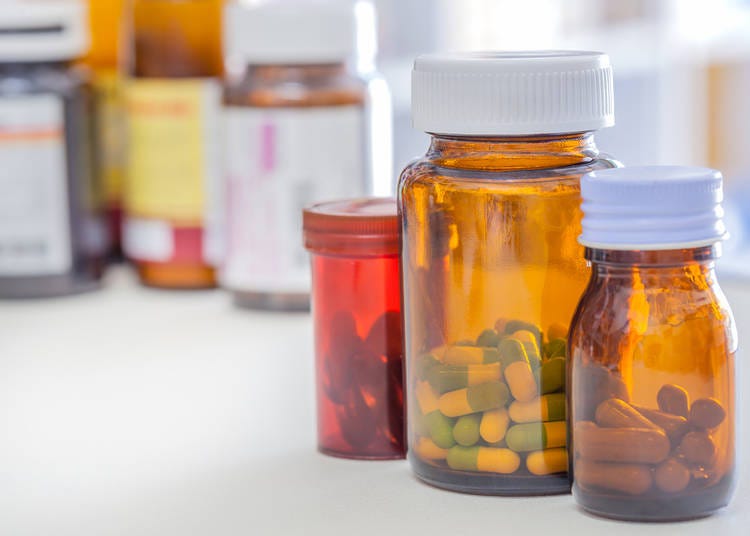 Some prescription drugs follow the same rules as OTC ones, but you'll also need a document compiled by your physician stating what drugs they are and for what purpose.

Furthermore, it will be best to have your physician contact, as early as possible, the Ministry of Health Labor and Welfare. Your physician will have to include in his letter the diagnosis, why the medication is essential, and how much of it is needed, in addition to a prescription.

If the drug is restricted in Japan, you're not guaranteed the Ministry of Health will allow you to take it into Japan.
Restricted and Prohibited Drugs in Japan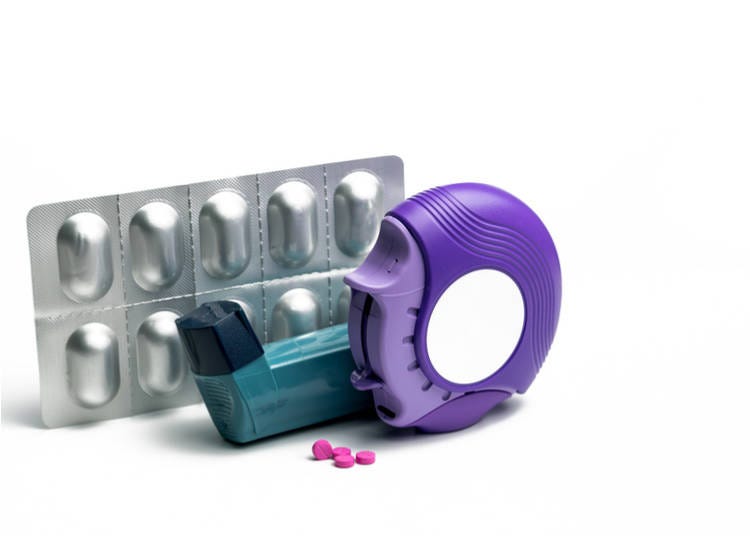 Now it's where things may get a little confusing, and that's why we stress that you use this article only as a guide but refer to proper authorities to analyze your specific case.

Drugs such as contraceptive pills (i.e., Yasmine), Tramal (Tramadol hydrochloride), a limited amount (1) of inhalers, and not more than one prefilled syringe (or self-injection kit – think EpiPen or insulin), are allowed in Japan without needing to apply for a Yakkan Shoumei. Yet, several exceptions are extremely important to take into consideration.

For many travelers to Japan, this proves to be the most puzzling aspect of the regulations.
Foreigners regularly use medications that are adamantly forbidden in Japan, regardless of one's needs or permits. While some psychotropics and narcotic medicines will "simply" require additional documentation, other drugs are banned outright.

The list is very long, but some notable mentions are:
List of medications not allowed in Japan
Viagra and other sexual enhancers

Sildenafil
Adderall, Vyvanse/Elvanse

Lisdexamphetamine
Dexedrine

Dextroamphetamine
Prozac

Fluoxetine
It's pointless to try and get a permit for these and other such drugs.

Furthermore, depending on one's country or state of origin, one may be used to using drugs that are considered narcotics in Japan. For example, Pseudoephedrine Hydrochloride (Cold and flu medicine); Dexamphetamine (used to treat ADHD, Narcolepsy and other conditions); cannabinoids, and products that contain stimulants (Pseudoephedrine, such as Actifed, Sudafed, and Vicks inhalers), or Codeine are prohibited.

Japanese authorities are not known for making any exception, and there have been many cases of travelers detained even for weeks, for inadvertently breaching regulations.

Depending on the severity of the offense, the punishment can be extremely harsh. Even in the best-case scenario, those caught in violation of drugs regulations, may be detained for up to a month and barred, during that period, from having any contact with visitors, or from making any call (with the exception of a lawyer from their own country). Solitary confinement is not uncommon. Violators will also face very hefty fines, as well as imprisonment for periods varying from a few months to decades.

If you have a prescription for a particular drug, it's important to remember that foreign prescriptions of any kind are not valid in Japan. Therefore make sure that you have a supply that will last for the whole duration of your trip.
Interestingly enough, cosmetic products such as creams, makeup, and ointments, fall under the same regulations as drugs. According to the Ministry of Health, Labor, and Welfare of Japan, you can bring up to 24 pieces per item (i.e., lipstick) without needing to apply for a Yakkan Shoumei.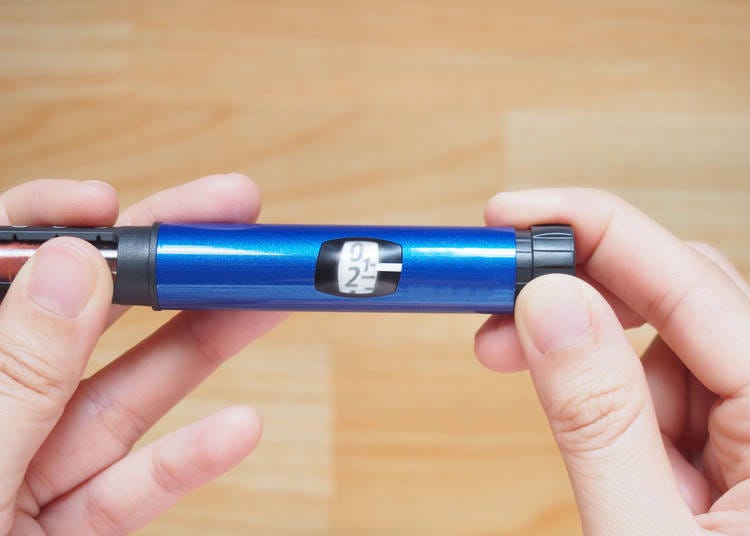 Very similar to the above cases, home medical devices (such as insulin pens/syringes) can be brought into Japan within a limited amount (2). Other examples are medical devices for household use (massaging tools) (not more than 1 set), disposable contact lens (2-month supply).

For anything more than that, you will need to compile a Yakkan Shoumei.
Alternatives to Your Drugs
Sometimes, despite trying to obtain all the permits for a drug you need to bring with you, you might not receive it. At this point, you have to choose between canceling your trip or, even worse, leave without your medication. In this case, it's worth noting that, frequently, certain prescription drugs are prohibited or restricted in Japan because they do not comply with the standards of dosage, or components used to synthesize a given medication.

This doesn't mean though that there is not a Japanese equivalent to your drug. Of course, the drugs will not be exactly the same, but they may fit your needs during your stay. Don't forget to consult your physician if you choose to find alternatives. Should you, for whatever reason, need to find a substitute for your medication while in Japan, refer to this list of English speaking clinics and medical facilities in Japan:

https://jp.usembassy.gov/u-s-citizen-services/doctors/

The stringent regulations and their enforcement in Japan are a byproduct of the country's crackdown on illegal substances of any kind. Japan might be one of the strictest and most punishing countries in the world when it comes to the sale, use, transportation, and distribution of non-permitted substances. For this reason, it's essential to accustom oneself with such laws, should you need to carry medicines with you. In this section, you will find a list of useful resources and contact numbers and addresses to gather official information.
Official Japanese Government Resources
Ministry of Health, Labor and Welfare of Japan (Traveling with meds) – English
https://www.mhlw.go.jp/english/policy/health-medical/pharmaceuticals/01.html

Yakkan Shoumei details
https://www.mhlw.go.jp/english/policy/health-medical/pharmaceuticals/dl/qa1.pdf

Offices for Health Welfare and Drug control of some popular destinations

Kanto-Shinetsu Regional Bureau of Health and Welfare
TEL: +81-48-740-0800
FAX:+81-48-601-1336
e-mail: yakkan@mhlw.go.jp
(Place of arrival: Narita International Airport, Haneda International Airport, etc.)

Kinki Regional Bureau of Health and Welfare
TEL: +81-6-6942-4096
FAX:+81-6-6942-2472
e-mail: kiyakuji@mhlw.go.jp
(Place of arrival: Chubu Centrair International Airport, Kansai International Airport, etc.)

Okinawa Narcotics Control Office
TEL: +81-98-853-7100
FAX:+81-98-853-7101
e-mail:okinawa-yakuji@mhlw.go.jp
(Place of arrival: Naha Airport, etc.)
*This information is from the time of this article's publication.
*Prices and options mentioned are subject to change.
*Unless stated otherwise, all prices include tax.