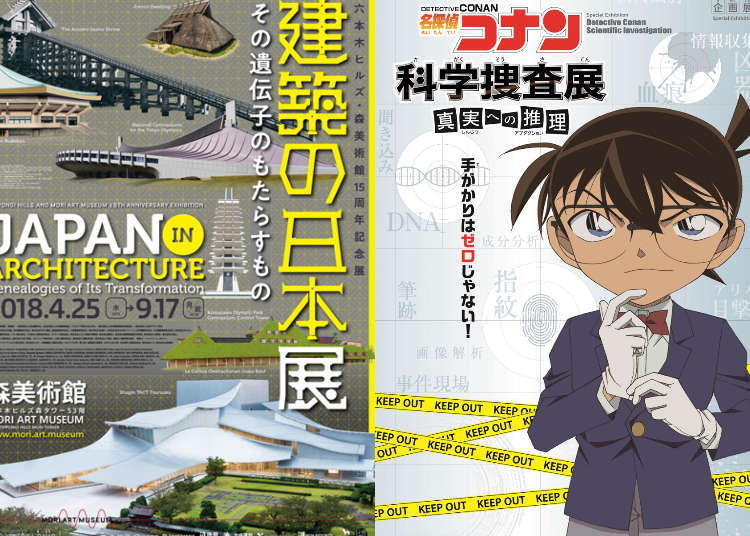 Summer has taken over and the temperatures are steadily on the rise, not even yielding to the rainy season. It's the best time to be outside and enjoy Tokyo's various activities and festivals, from mysterious fireflies to beer gardens and art exhibitions!
"Hotaru no Yūbe" Firefly Night 2018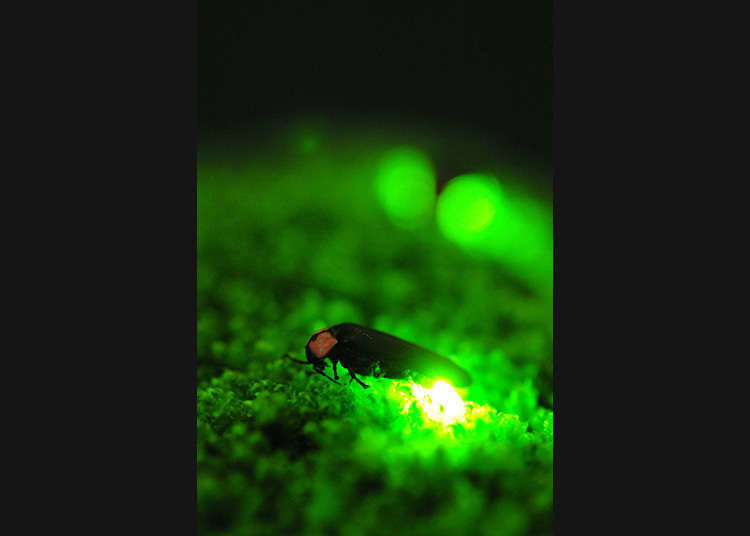 Photo: Tomoichi Tomatsu
June 20 (Wed) to 24 (Sun) 2018
The Shibuya City Botanical Garden Fureai uses electrical power generated from the Shibuya incineration plant. Explore 200 types of tropical plants, succulent plants, insectivorous plants, and more in the "Green Garden" greenhouse and its many creeks flowing throughout the facility. Two species of Japanese fireflies perform their glowing dances during the Hotaru no Yūbe event. The heikebotaru (Luciola lateralis) and genjibotaru (Luciola cruciata) will bring nature's magic to your evening!
Photo: Tomoichi Tomatsu

Hours: 5:30 p.m. – 9:00 p.m. (last admission at 8:15 p.m.)
Address

2-25-37, Higashi, Shibuya-ku, Tokyo, 150-0011
View Map

Nearest Station

Shibuya Station (JR Shonan Shinjuku Line / JR Yamanote Line / JR Saikyo Line / Tokyo Metro Ginza Line / Tokyo Metro Hanzomon Line / Tokyo Metro Fukutoshin Line / Tokyu Toyoko Line / Tokyu Den-en-toshi Line / Keio Inokashira Line)

Canned Snack Night in Sunshine Aquarium 2018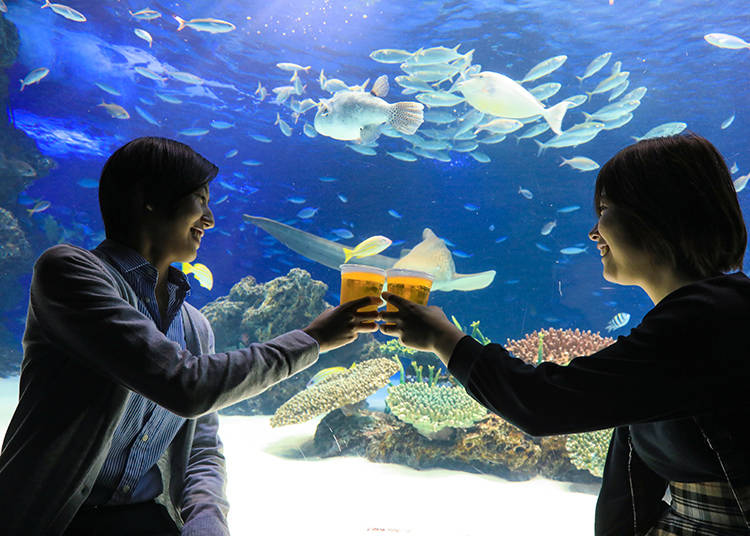 June 8 (Fri) to July 8 (Sun) 2018
The Sunshine Aquarium is a favorite spot among both locals and tourists. The concept "oasis in the sky" showcases a variety of sea creatures in a modern, almost enigmatic space that'll make you feel like exploring a lagoon. Throughout June and early July, the aquarium hosts the "canned snack night," offering not only alcoholic beverages but also seven varieties of delicious canned snacks to match your drink!

Savor flame-grilled cheese, red perilla mayonnaise, and various spices as original toppings for the canned snacks, adding an extra kick to the taste! There's hardly anything more exciting than snacking in such a mysterious, underwater-like space while sipping on craft beer or whisky cocktails!

Hours: 5:00 p.m. – 9:00 p.m. (last order at 8:30 p.m.)
Closed: open throughout the event
Address

World import Mart Building, the roof, 3-1, Higashiikebukuro, Toshima-ku, Tokyo, 170-8630
View Map

Nearest Station

Higashi-Ikebukuro Station (Tokyo Metro Yurakucho Line)
3 minutes on foot


Phone Number

03-3989-3466
Special Exhibition "Detective Conan: Scientific Investigation"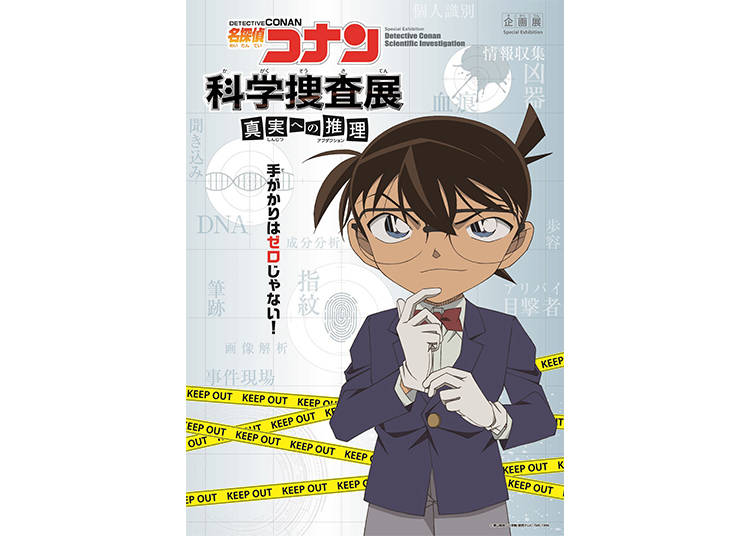 ©青山剛昌/小学館・読売テレビ・TMS 1996
April 18 (Wed) to July 8 (Sun) 2018
Detective Conan boasts numerous fans around the world, with over 200 million sold manga all over the planet! Look forward to investigating different areas with your own detective memo, gathering evidence at the "Crime Scene Inspection Area" before looking for new information at the "Information-Gatherin Area." All your finds will be scientifically appraised at the "Lab Area" to reveal the truth behind your case!

This fun, interactive exhibition leads you through an original story that can't be found in any Detective Conan manga, taking you right to his intriguing world! This isn't just a must for fans of the series but an amazing first-hand experience for every manga and anime lover!

Hours: 10:00 a.m. – 5:00 p.m. (last admission at 30 minutes before closure)
Closed: Tuesdays
Address

2-3-6, Aomi, Koutou-ku, Tokyo, 135-0064
View Map

Nearest Station

Telecom Center Station (Yurikamome)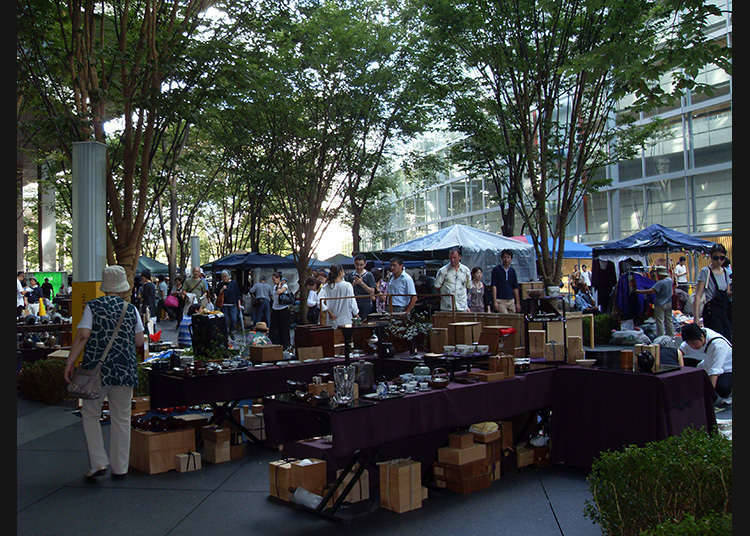 June 3 (Sun), 17 (Sun), July 1(Sun), 15 (Sun) 2018
This antique market was first held in 2003 to "take another look at fine antiquities and rediscover the culture of Japan while providing a place to interact with and talk about cultural arts." The Oedo Antique Market takes place on the first and third Sunday of every month and features about 250 booths, making it the largest antique market in Japan. Look forward to not only Japanese ceramics, kimono, and woodblock prints but antiques from Western countries! Usually, the market is held at the Tokyo International Forum but moves to Yoyogi Park's Keyaki-Namiki (Zelkova tree) street on June 10.

Hours: 9:00 a.m. – 4:00 p.m. (8:00 a.m. – 4:00 p.m. while at Yoyogi Park)
Closed: always open
Address

3-5-1, Marunouchi, Chiyoda-ku, Tokyo, 100-0005
View Map

Nearest Station

Yurakucho Station (JR Keihin-Tohoku Line / JR Yamanote Line / Tokyo Metro Yurakucho Line)
1 minute on foot


Phone Number

03-5221-9000
The Miracle of M.C. Escher: Prints from the Israel Museum, Jerusalem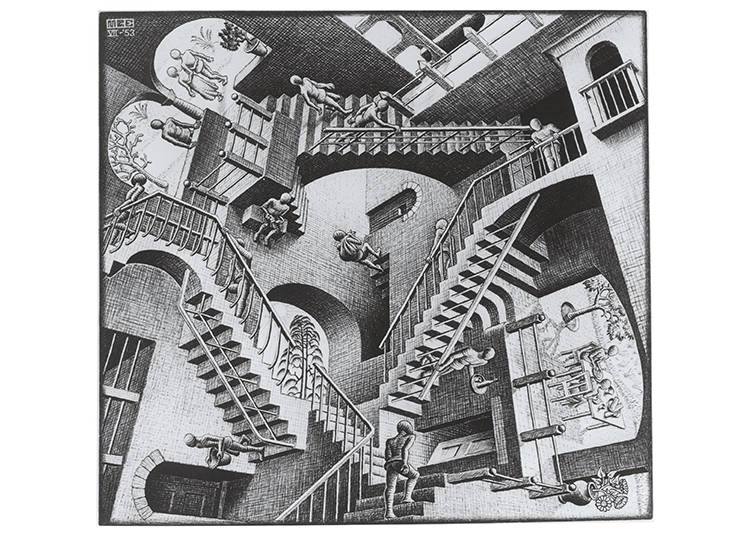 1953 All M.C. Escher works copyright © The M.C. Escher Company B.V. - Baarn-Holland. All rights reserved. www.mcescher.com
June 6 (Wed) to July 29 (Sun) 2018
Maurits Cornelis Escher, commonly known as M.C. Escher is a true master of illusion, known throughout the world. His prints did not only have a massive impact on the 20th century, they're also casting a spell over every modern onlooker.

This exhibition celebrates Escher's 120th birthday, showcasing numerous works from The Israel Museum that boasts the largest Escher Collection worldwide. Next to many of his Trompe-l'œil masterpieces, about 150 select items are showcased as well, including early works, woodblock prints, and autographed drawings.
The main attraction is Escher's glorious Metamorphosis II, spanning 4 meters wide! Standing in front of this massive, first-edition print is a stunning experience indeed.

Hours: 10:00 a.m. – 5:00 p.m. (open until 8:00 p.m. on Fridays)
Closed: open throughout the exhibition
Address

1-2, Uenokouen, Taitou-ku, Tokyo, 110-0007
View Map

Nearest Station

Ueno Station (Hokkaido Shinkansen Line / Tohoku Shinkansen Line / Akita Shinkansen Line / Yamagata Shinkansen Line / Joetsu Shinkansen Line / Hokuriku Shinkansen Line / JR Keihin-Tohoku Line / JR Yamanote Line / JR Tohoku Main Line / JR Utsunomiya Line / JR Takasaki Line / JR Joban Line / JR Ueno Tokyo Line / Tokyo Metro Ginza Line / Tokyo Metro Hibiya Line)
3 minutes on foot


Phone Number

03-3833-4191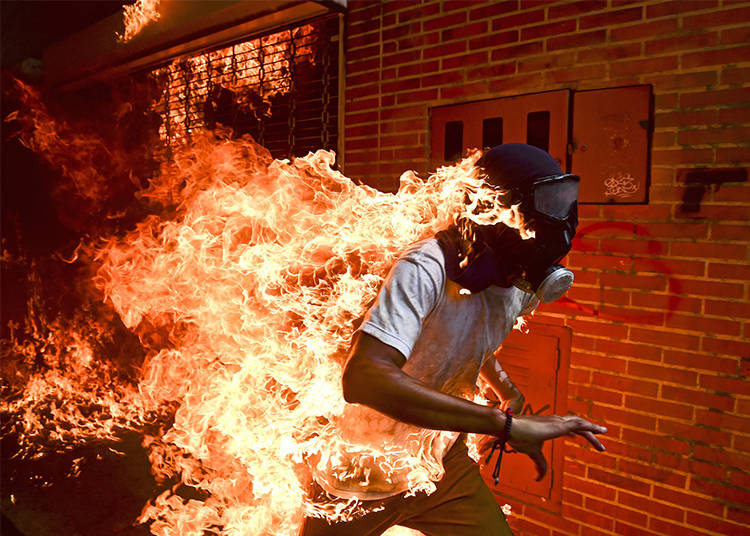 World Press Photo of the Year, prize stories; Venezuela Crisis; Ronaldo Schemidt; May 3, 2017, Venezuela, Commissioned by Agence France Pres
June 9 (Sat) to August 5 (Sun) 2018
This exhibition showcases the award-winning works of the World Press Photo Contest that was held for the 61st time this year. Tokyo is one stop around its tour around the world, directly coming from Holland's Amsterdam. In total, the World Press Photo exhibition will take place in about 45 countries.

It features about 160 individual works by 42 photojournalists and documentary photographers – the crème de la crème of a total of 73,044 submitted works by 4,548 artists. The photos tell a compelling story about current events throughout the world, some beautiful and fascinating, some brutally honest and unapologetic. It's a thought-provoking look at people, politics, and nature through the lens of a camera.

Hours: 10:00 a.m. – 6:00 p.m. (open until 8:00 p.m. on Thursdays and Fridays; open until 9:00 p.m. on July 19, 20, 26, 27, as well as August 2, 3)
※Last admission at 30 minutes before closing.
Closed: Mondays (open on July 16, closed on July 17 instead)
Tokyo Photogenic Art Museum

東京都写真美術館

Address

Yebisu Garden Place, 1-13-3 MitaMeguro-ku, Tokyo 153-0062, Japan

Phone Number

03-3280-0099
Yayoi Kusama Museum: Here, Now, I have Reached the Grandest Start of My Life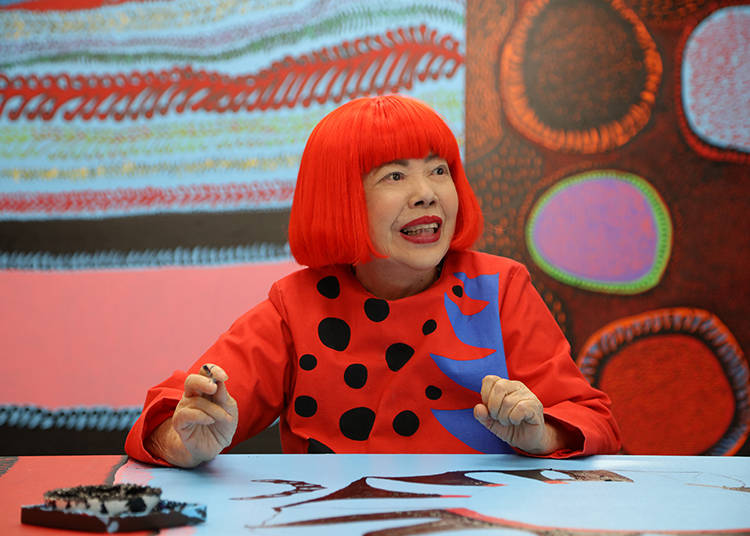 ©YAYOI KUSAMA
April 1 (Sun) to August 31 (Fri) 2018
1st Term: April 1 - June 17
2nd Term: June 21 - August 31

Yayoi Kusama is one of the world's greatest avant-garde artists; her mesh and polka dot patterns are famous all around the planet. Since the Yayoi Kusama Museum first opened in October 2017, showcasing every aspect of her amazing art, it has been popular beyond belief.
"Here, Now, I have Reached the Grandest Start of My Life" is the current exhibition of the museum, running from April to August 2018. It highlights drawings and watercolor works that Yayoi Kusama created in her hometown of Matsumoto during the 50s, considered the start of her fascinating art career. The 40 works are divided into two sections, being exhibited alongside her latest work "My Eternal Soul" and the all-new Mirror Room. It traces her footprints from the early beginnings to the current Yayoi Kusama, taking you on a journey to explore her unique perspective.

Information regarding the next exhibition is planned to be uploaded to the official website once further details are available.

Hours: 11:00 a.m. – 5:00 p.m.
Closed: Mondays, Tuesdays, Wednesdays (open on public holidays)
Admission via specified date and time, ticket valid for the specified period only.
※Ticket sales for the following start at the first day of every from at 10:00 a.m. (JST) on the official homepage: www.yayoikusamamuseum.jp
※Tickets cannot be bought on the door.
草間彌生美術館

Address

107 Bentenchō, Shinjuku-ku, Tōkyō, 162-0851, Japan

Phone Number

03-5273-1778
Japan in Architecture: Genealogies of Its Transformation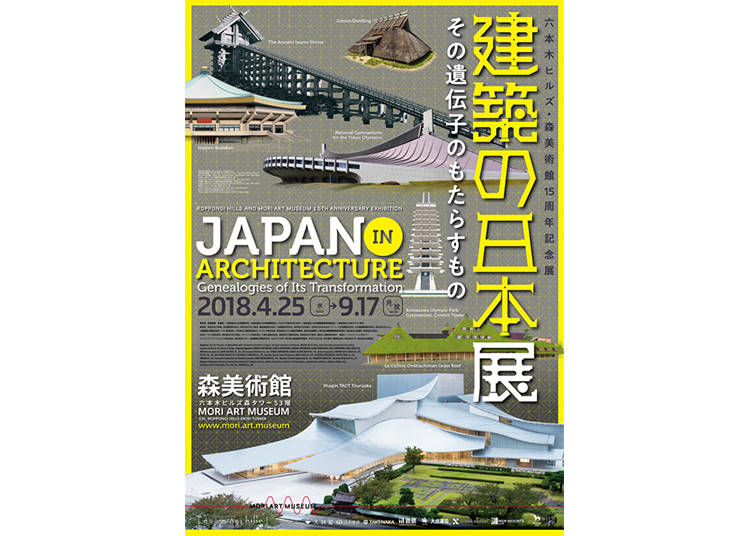 April 25 (Wed) to September 17 (Mon) 2018
Japanese architecture is renowned throughout the world. "Japan in Architecture: Genealogies of Its Transformation" showcases characteristics considered to be the key to understand Japanese architecture in nine sections. These characteristics are beautifully illustrated with 100 projects such as precious building materials and models, as well as more than 400 exhibited items. On your journey through Japanese architecture, you'll meet famous representatives such as Tange Kenzo, Taniguchi Yoshio, Ando Tadao, Kuma Kengo, Sejima Kazuyo and more.

What did the West value about Japanese architecture and what was Japan's response? That's just one of the many in-depth questions that this stunning expedition provides an answer for, alongside a glimpse into the future of Japanese architecture.

Hours: 10:00 a.m. – 10:00 p.m. (last entry at 9:30 p.m.)
※Open until 5:00 p.m. on Tuesdays (last entry at 4:30 p.m.)
Closed: always open
Address

6-10-1, Roppongi Roppongi Hills forest tower 53F, Minato-ku, Tokyo, 106-6153
View Map

Nearest Station

Roppongi Station (Tokyo Metro Hibiya Line / Toei Oedo Line)


Phone Number

03-5777-8600
Area

Category

Articles Genre
*This information is from the time of this article's publication.