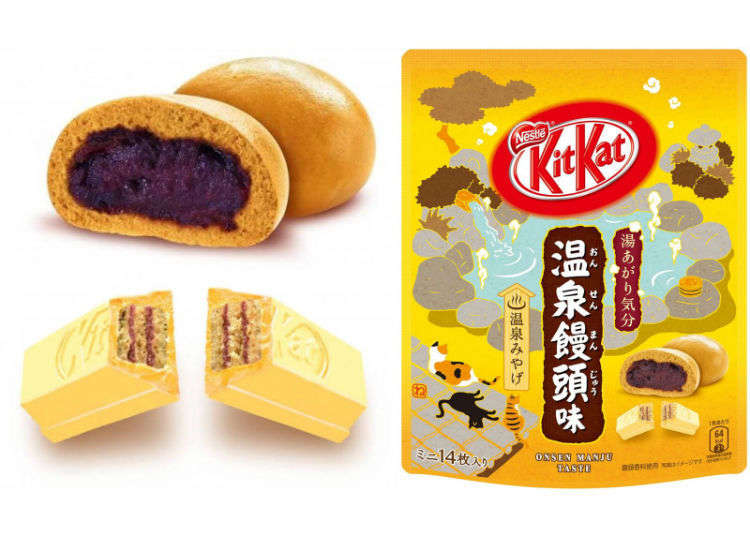 Japan is famous for its abundance of quirky KitKat flavors. This season, we get to see one of the fanciest yet: "Onsen Manju" flavor. A manju is a sweet bun with a bean-jam filling, a traditional treat that has a special place in the hearts of many Japanese people. On top of that, it's a popular souvenir to bring home from a relaxing hot spring trip, which is exactly the image that this brand-new KitKat flavor seeks to convey. Available from February 19 at hot spring resorts all around the country, try Japan's newest KitKat trend for yourself!
But What Does Real "Onsen Manju" Taste Like?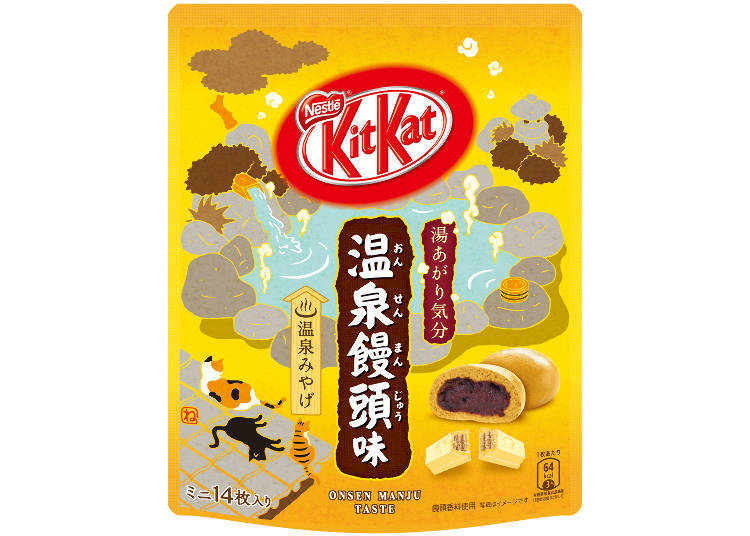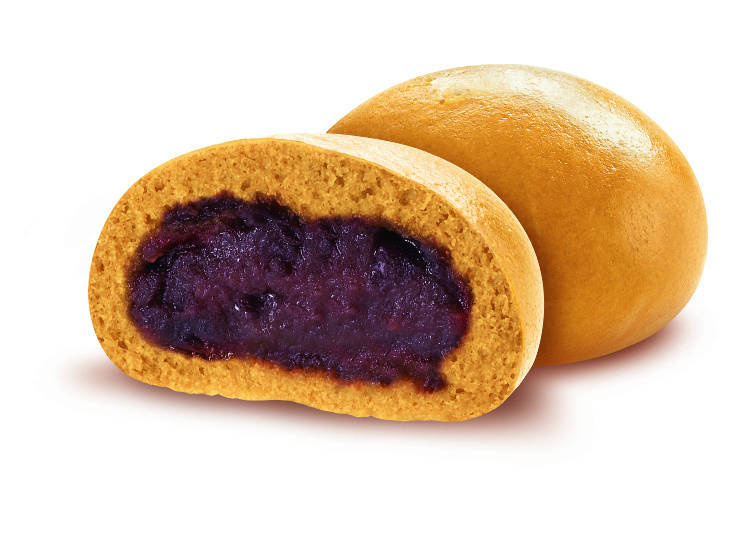 This new KitKat emulates the basic structure of a manju – bun on the outside, flavorful filling on the inside. As such, the chocolate that covers the classic treat boasts an appealing golden-brown finish, just like the actual sweet bun. Inside, a mellow cream with red bean powder is sandwiched between the wafers will tickle your taste buds with a traditional flavor of Japan.

On top of that, KitKat teamed up with the popular "Neko Hyakkei," or "100 Famous Views of Cat," three adorable cat characters that explore Japan's most iconic views. This makes for a particularly pretty packaging!
Even the individual KitKat packaging comes in 14 different varieties, all themed around hot springs! This treat, albeit not traditional in itself, really manages to convey an atmosphere of steaming water and the Japanese countryside.
The Hardest Part About Making the KitKat Onsen Manju?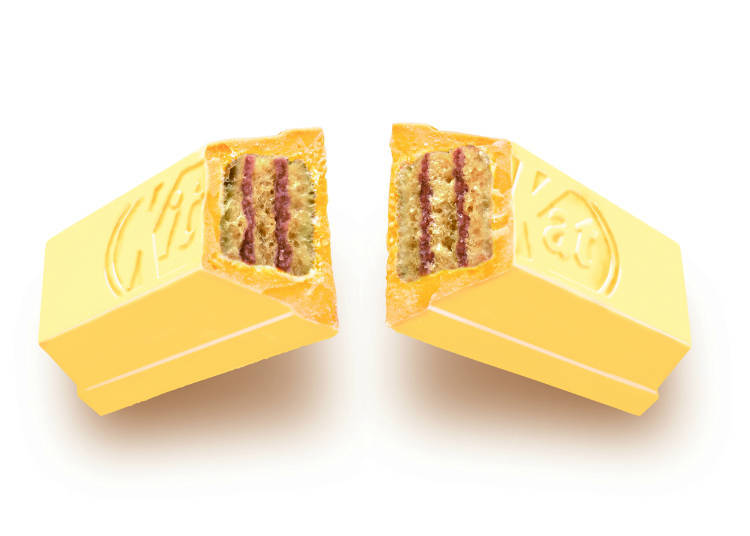 Hot spring manju are plump buns, so apparently finding the right balance between red bean and wheat was quite a challenge. Nonetheless, taking a bite of the Onsen Manju KitKat now is sure to put you in a proper hot spring mood!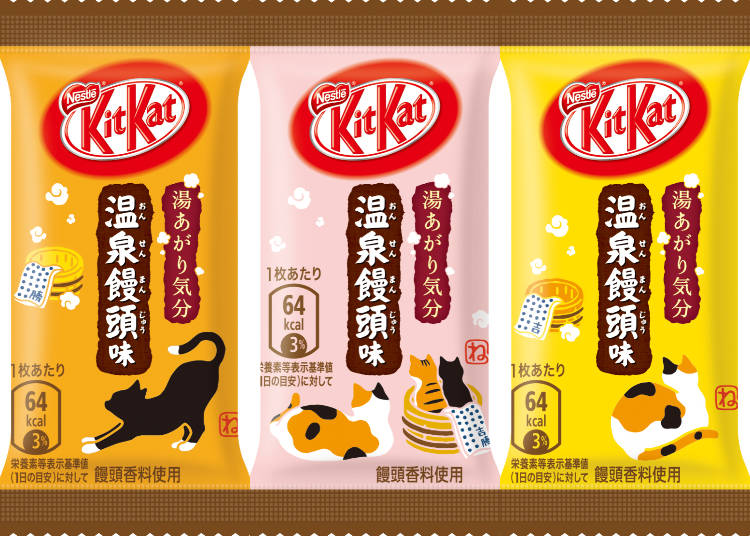 Japan is beautiful in every season and Neko Hyakkei transmits this beauty in a playful, relaxed way. As such, it goes perfectly well with the onsen manju flavor of the new KitKat. An adult cat and its two kittens amidst simple yet impactful hot spring imagery set the mood just right to kick back, relax, and enjoy this unique sweet. Created by the company HN & Associates, there are plenty of Neko Hyakkei goods that make for excellent souvenirs, so keep your eyes open!

Product: KitKat Mini Onsen Manju, 14 for 900 yen
Sold at: hot springs throughout Japan (21 in total)
Hokkaido: Noboribetsu Onsen
Tohoku: Akiu Onsen, Iwaki Onsen
Kanto: Kinugawa Onsen, Nasu Onsen
Chubu: Yuzawa Onsen, Hakone Onsen, Atami Onsen, Ito Onsen, Iawa Onsen, Gero Onsen, Unazuki Onsen, Kaga Onsen, Hida Takayama Onsen, Kusatsu Onsen
Kinki: Arima Onsen, Shirahama Onsen
Chugoku and Shikoku: Dogo Onsen, Tamatsukuri Onsen
Kyushu: Beppu Onsen, Yufuin Onsen

※The areas selling the special KitKat may change.
※Also sold at souvenir shops around hot spring areas.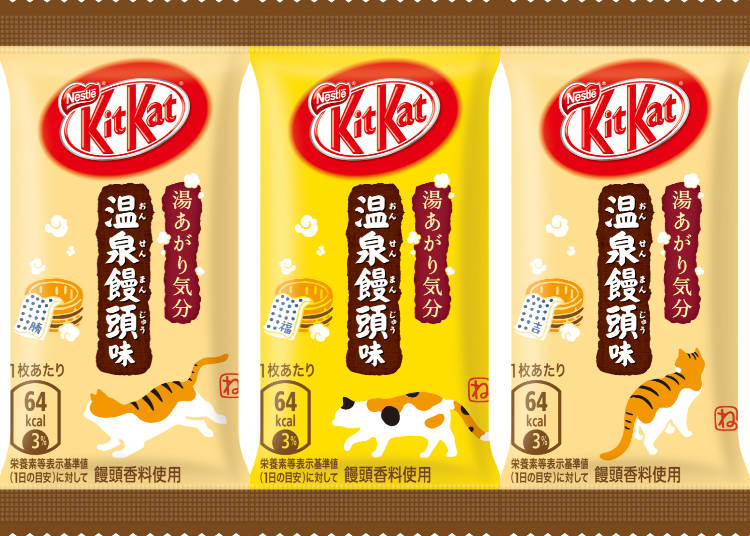 *This information is from the time of this article's publication.