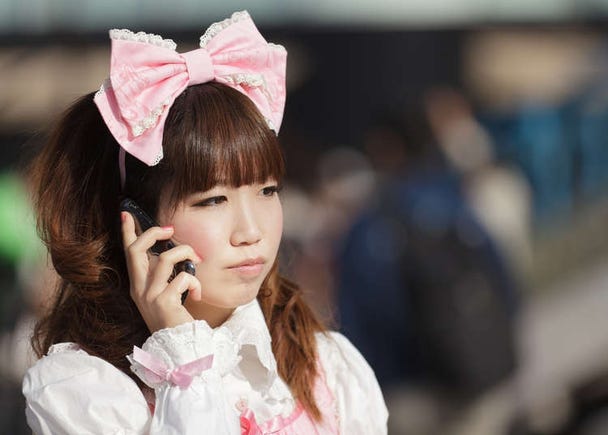 Japanese culture is rich and diverse. Part of what makes Japanese culture so unique is its subcultures! And subculture fashion in Japan is one-of-a-kind. From body suits to a good, old-fashioned pompadour, Japan has a long history of unique, even weird, fashion subcultures.

To help you get an idea, we've rounded up some examples of made-in-Japan fashion subcultures. So, here are 9 unique types of Japanese fashion subcultures you can see today!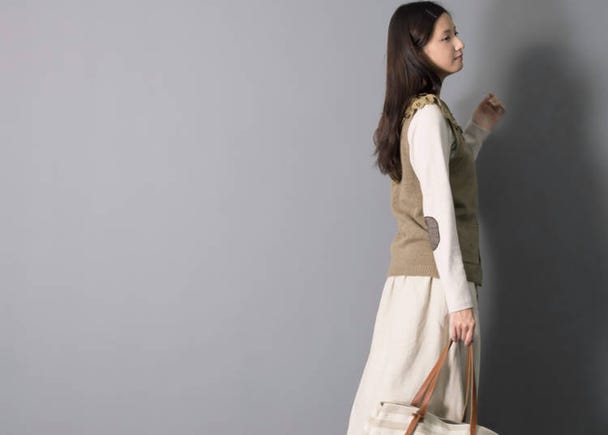 Do you like cute rustic cabins with little gardens and enjoy reading a good fairy tale? If so, mori kei might be the Japanese subculture for you! Mori kei refers to a 'forest style' fashion subculture and was founded in 2007 when a woman by the name of Choco wrote rules for being mori kei and started an online mori kei community. Those who follow mori kei are soft-spoken dreamers. They wear loose-fitting layers and cozy knits. While many people consider mori kei to be girls-only, boys can be mori kei, too.
Nowadays, everyone and their grandmothers are seen on social media wearing some big unicorn onesie or other. These characters onesies are known as 'kigurumi' in Japan, a mashup of the words "kiru" (to wear) and "nuigurumi" (stuffed animal), and the trend of wearing pikachu and dinosaur getups was first seen in Japan over a decade ago! At that time, groups of young girls called kigurumin would be seen out and about shopping in kigurumi. While kigurumin are not as popular today, you can see more foreigners donning kigurumi.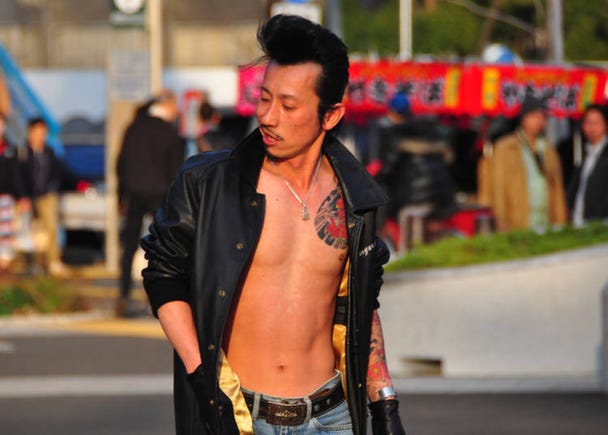 Miss that 1950s rock 'n' roll fashion style? Well, so do the Japanese rockabillies. This subculture loves American 1950s culture — the music, the fashion, the hair. You can find this group every weekend in Yoyogi Park, where they meet to dance and listen to old rock 'n' roll music.
Oh, and Japanese rockabillies are easy to spot; look for leather jackets, blue jeans, and exaggerated Elvis-inspired hair. No, I'm not joking.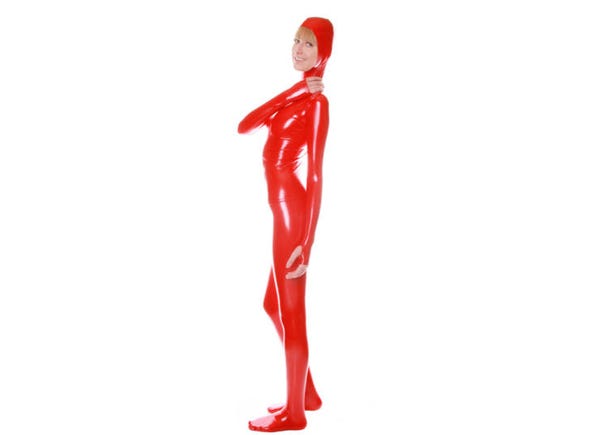 Japan can't seem to get enough of the onesie. This time, we're talking full-on, spandex body suits. Zentai is an abbreviation of the Japanese word "'zentaishitsu", which translates to full body suit. As you can probably guess, the zentai are a subculture who gather to wear their skin-tight clothing of choice in public. Typically, this means brightly colored and patterned full body suits. Zentai are admittedly a small group, but their message is quite profound: society is overly judgemental. The zentai just respond to this by wearing their body suits that they believe protects them from such criticisms.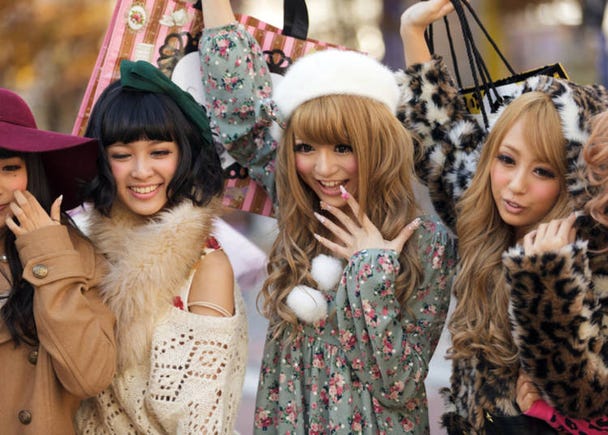 Gyaru is one of the largest types of Japanese fashion subcultures. The Japanese pronunciation of the word 'girl', gyaru was popularized in the 70s and became synonymous with a fashionable girl in the 80s. The first gyaru type to appear were the kogal who appeared in the mid-1990s, young women who wear school uniforms with loose knee-high socks and have dyed hair and wear plenty of makeup. Today, gyaru has grown and many subtypes have sprung up, from hime gyaru to shiro gyaru.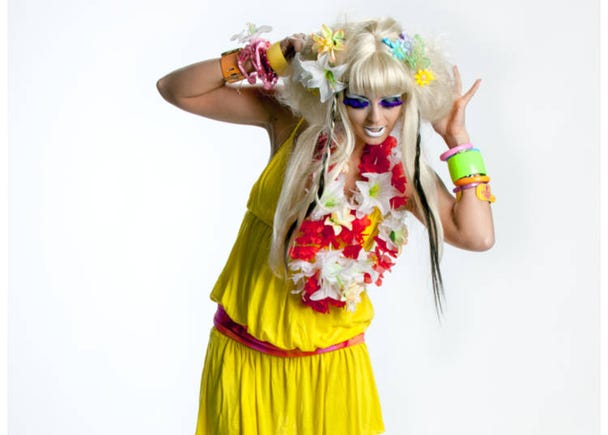 Sometimes lumped in with gyaru, yamamba is extremely different and worth mentioning. Yamamba is a subtype of ganguro, a style marked by extreme tanning, platinum blonde hair, and pastel eye makeup that appeared in the 1990s. Then, yamamba arose in 2004, and with it came darker tans, panda-like makeup, and neon hair extensions. Soon after, however, the style died out. But in 2008, the style appeared with a few changes and the name changed to mamba. This subculture is seen as rebellious and is often looked down on by most of society, calling those have this type of Japanese fashion sense dirty and promiscuous. While yamamba isn't nearly as big as it was a decade ago, you may spot some of this subculture in Shibuya or Ikebukuro.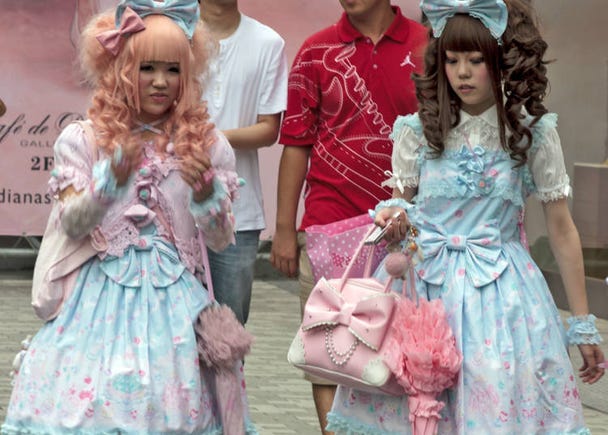 One of the biggest subcultures seen in Japan today is lolita. Lolita are often described as doll-like in appearance. These young women are dressed in Victorian-inspired lace dresses and frilly petticoats. You can often find them in Harajuku, under the shade of their elaborate parasols. Lolita culture isn't anything new; the movement first appeared in the 70s as a response to society's expectations of women but wasn't officially recognized as a Japanese subculture until 1987. The fashion grew in the 1990s, and now the lolita subculture has many subclasses.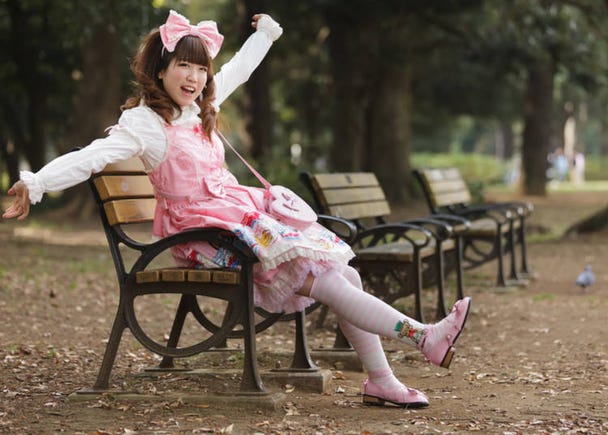 Move over millennial pink and baby blue, because this fashion subculture is all about pastels that are absolutely whimsical. It's called fairy kei, and as you might be able to tell, it means fairy style. Fairy kei fashion is a mish-mash of Polly Pocket, My Little Pony, and Care Bears combined. Tutus are welcome, as are stuffed animals and big bows. Popular motifs include unicorns, stars, rainbows, kittens, and candy.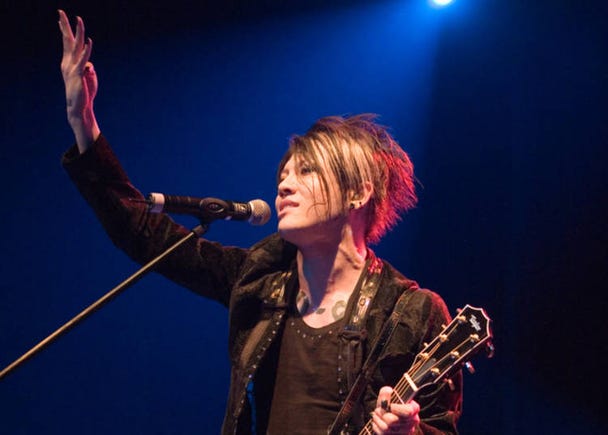 Image credit: Ferenc Szelepcsenyi / Shutterstock.com
Anyone interested in a bit of glam rock? You can get a bit of that and a whole lot more in this Japanese subculture. Known as visual kei, this music and fashion subculture has been mixing glam rock, punk, and metal since the 1980s. Its popularity skyrocketed in the 1990s when bands like L'Arc-En-Ciel gained mainstream popularity. Key components to visual kei fashion include exaggerated hairstyles, theatrical costumes, extreme makeup, and androgyny.

Japanese fashion culture is ever-evolving. From rockabilly to fairy kei, you can find your own sense of style in one of Japan's many fashion subcultures. Keep an eye out for these 9 unique Japanese fashion subcultures next time you're in Tokyo, and add a bit of them into your own style today!
*This information is from the time of this article's publication.
*Prices and options mentioned are subject to change.
*Unless stated otherwise, all prices include tax.