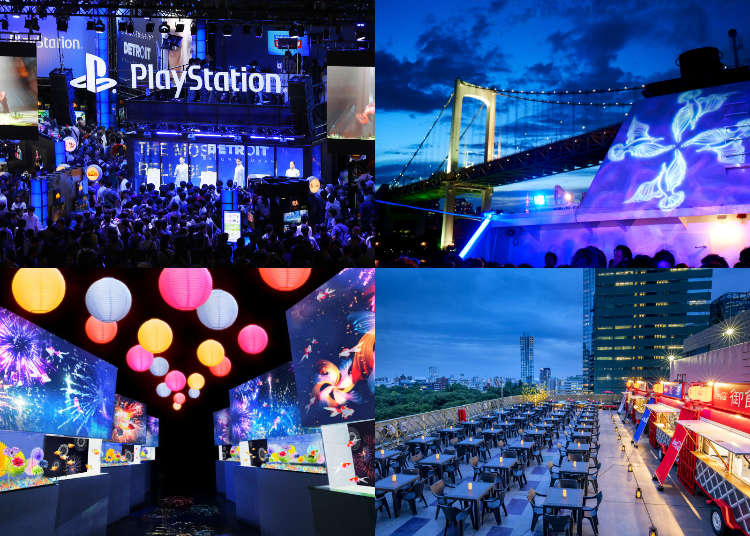 What's happening in Tokyo this month? In April, Tokyo gets into the swing of spring with a sakura-themed art exhibition ahead of Earth Day events. For the foodies, it's time to chow down at the Ramen Girls Festival (boys are welcome, too!). May will see an incredible gourmet gala plus huge art-related events - including one commemorating famous manga magazine Shonen Jump's 50th anniversary!
Weekly Shonen Jump Exhibition Vol. 2 The 1990s - A record-breaking 6.53 million copies in circulation!
March 19 (Mon) – June 17 (Sun), 2018

The famous manga magazine Shonen Jump is turning 50!

To commemorate this monumental birthday, there are three different exhibitions showcasing the long, colorful history of the pop culture magazine. It's time for exhibition VOL.2 and it delivers some real treats for manga and anime fans! Look forward to original drawings from masterpieces such as Slam Dunk, Dragon Ball, and more!

There's also a special exhibition corner called "Jump to 2000s." It displays the early works of five famous artists that were active in the 2000s, including Eiichiro Oda, the creator of One Piece. This exhibition offers a fascinating glance how early manga masters influence today's big hits.

Shonen Jump is one of the main pillars of Japanese pop culture, so this exhibition is an absolute must for every manga and anime fan!

Hours: 10:00 a.m. – 8:00 p.m. (last admission at 30 minutes before closing)
(9:00 a.m. – 9:00 p.m. between April 28 (Sat) and May 6 (Sun), 2018)
Admission: 2,000 yen (regular)
Closed: open throughout the exhibition
Address

6-10-1, Roppongi Roppongi Hills forest tower 53F, Minato-ku, Tokyo, 106-6153
View Map

Nearest Station

Roppongi Station (Tokyo Metro Hibiya Line / Toei Oedo Line)


Phone Number

03-5777-8600
Sakura, Sakura, Sakura 2018 - Flower Viewing at the Museum!
小林古径《清姫》のうち「入相桜」1930年(昭和5年) 紙本・彩色 山種美術館
March 10 (Sat) – May 6 (Sun), 2018

This spring-tastic exhibition by the Yamatane Museum unites about 60 masterpieces depicting Japan's iconic cherry blossoms. From images of people appreciating the fleeting flowers to pictures of legends, famous places, and memorable sceneries, see "sakura" in all of its various forms! Through the lens of selected famous artists, you'll get to know the famous cherry blossoms on a whole new level.

Particularly amazing is the corner dedicated to cherry blossoms at night, called yozakura in Japanese. The moonlit flowers have enchanted Japanese people, both noble and common, for many centuries. Night creates an entirely different scenery than during the day, seeming almost like a picture from another world.

Hours: 10:00 a.m. – 5:00 p.m. (last admission at 4:30 p.m.)
Admission: 1,000 yen (regular)
Closed: Mondays (open on April 30)
山種美術館

Address

〒150-0012 東京都渋谷区広尾3丁目12−36

Phone Number

03-5777-8600
Ramen Girls Festival 2018
April 26 (Thu) – 30 (Mon) / May 2 (Wed) – 6 (Sun), 2018

Sakoto Morimoto is a Japanese ramen personality who eats more than 600 bowls of the famous noodly delight each year! She has made it her mission to spread the culture of women enjoying a bowl of ramen all by themselves, something that is rarely done in today's Japan. Last year, she held the Ramen Girls Festival for the first time for female ramen fans – and it attracted more than 100,000 people!

The ramen shops represented at the venue were all chosen by female ramen fans and range from classic to unique and modern, including creations with cilantro and lemon. There are even bowls that can be savored exclusively at this event, so if you're looking to slurp a special, savory bowl of ramen, you won't want to miss this fun opportunity! Find your very favorite bowl among the many ramen varieties.

Hours: 11:00 a.m. – 9:00 p.m.
* From 10:00 a.m. on weekends and national holidays
* Open until 7:00 p.m. on April 30 and May 6
Admission: free (food and drinks not included)
Closed: open throughout the event period
中野セントラルパーク

Address

4-13, Nakano, Nakano-ku, Tokyo, 164-0001, Japan
May 12 (Sat) and 13 (Sun), 2018

Design Festa is Asia's largest art event that is open to everyone, without prior screening. This means that you'll get to indulge in more than 10,000 works of art from various artists and genres, including paintings, videos, crafts fashion, photography, dolls, performances, and so on.

Many of these works aren't just showcased, they're also up for sale. It's a perfect opportunity to get your hands on a one-of-a-kind accessory, such as a piercing, earring, or necklace! Popular artists tend to sell out very quickly. Don't miss the many creative shows held on the event stage too! Design Festa is quickly rising to one of the most anticipated events throughout the year among young people and the Japanese art scene - be sure to join in.

Hours: 11:00 a.m. – 7:00 p.m.
Admission: 800 yen advance sale, 1,000 yen regular
Closed: open throughout the exhibition
Address

3-11-1, Ariake, Koutou-ku, Tokyo, 135-0063
View Map

Nearest Station

Kokusai-Tenjijo-Seimon Station (Yurikamome)
3 minutes on foot


Phone Number

03-5530-1111
April 21 (Sat) and 22 (Sun), 2018

With over 100,000 people visiting and participating, Earth Day is the largest environmental festival in all of Japan. The global event is all about consciousness of our planet and a variety of events are held under this theme. The main stage hosts live performances by musicians and other entertainers who seek to raise awareness about pollution and our planet. There's much to learn and even more to experience.

2018 also marks the 50th anniversary of Apollo 8, the second manned spaceflight mission that successfully orbited the moon, bringing back the famous photo of the earth rising behind the moon, "Earthrise." Several special events will celebrate this spectacular milestone.

Hours: April 21: 10:00 a.m. – 8:00 p.m.
April 22: 10:00 a.m. – 6:00 p.m.
(the exhibition tent is open until 5:00 p.m.)
Admission: free
Closed: open throughout the event
Address

2-1, Yoyogikamizonocho, Shibuya-ku, Tokyo, 151-0052
View Map

Nearest Station

Harajuku Station (JR Yamanote Line)
3 minutes on foot


Phone Number

03-3469-6081
May 26 (Sat) – 27 (Sun), 2018

Since its debut in March 2009, Roppongi Art Night has grown bigger and better every year. Roppongi is known as a hot spot for a plethora of bustling commercial facilities, and amidst this vivid pulse of big city life, you'll find various works of contemporary art, design, music, videos, and performances dotted all around town. It's a nightlife event of a wholly different kind! As one of Tokyo's leading art festivals, it seeks to create a new lifestyle of "enjoying art in everyday life."

The theme for 2018 is "the city dreams of art." Night is turned into day by various installations and performances featuring bright neon lights, inviting you to step into a world that almost seems different from the one we know. The event lasts all night long, sure to keep you entertained from dusk 'til dawn.

Hours: 10:00 a.m. (May 26) – 6:00 p.m. (May 27)
Admission: free (some events and venues may charge an admission fee)

Main venues:
Roppongi Hills, Mori Art Museum, Tokyo Midtown, Suntory Museum of Art, 21_21 Design Sight, National Art Center, Roppongi Shopping Area, various commercial facilities and public spaces throughout Roppongi
Address

6-10-1, Roppongi, Minato-ku, Tokyo, 106-6108
View Map

Nearest Station

Roppongi Station (Tokyo Metro Hibiya Line / Toei Oedo Line)
0 minute on foot


Phone Number

03-6406-6000
May 17 (Thu) – June 4 (Mon), 2018

Manpaku, held for the eighth time this year, is a foodie's dream come true. Japan's largest food festival boasts separate areas for all kinds of food, such as steak, seafood, and so on. On top of that, a variety of gourmet-centric events are held to whet your appetite. From seafood to ramen, to dumplings to desserts, the battlefield is yours to conquer!

This year also sees the meat area getting much bigger than before, while the all-new cheese area invites you to savor various cheeses to your heart's content. On top of street performances and other shows, there's also a kids' area that keeps the little ones entertained. A mustn't-miss highlight is the tuna cutting show.
Address

3173, Midoricho, Tachikawa-shi, Tokyo, 190-0014
View Map

Nearest Station

Nishi-Tachikawa Station (JR Ome Line)
2 minutes on foot


Phone Number

042-528-1751
*This information is from the time of this article's publication.