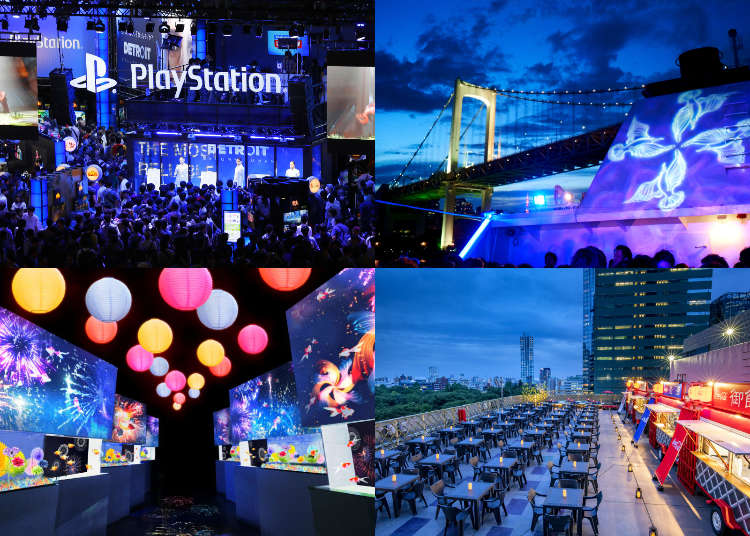 Rich in many customs and traditions in January, February, on the other hand, already brings a faint but delicious taste of spring. In the March, a huge Anime event is coming up – so what are you waiting for?
The Grand Spring Kabuki & Triple Name Succession at Kabukiza
January 2rd to 26th, 2018
The Grand Spring Kabuki is held at Tokyo's Kabukiza to celebrate the New Year and the 130th anniversary of Kabukiza itself. This time, the undisputed highlight is the name succession of three generations of the same acting family. A monumental event like that has last taken place 37 years ago! The actor Matsumoto Kōshirō will succeed to the name Matsumoto Hakuō II, Ichikawa Somegorō will become Matsumoto Kōshirō X and Matsumoto Kintarō will succeed to the name Ichikawa Somegorō VIII.
In addition to this honorable ceremony, various kabuki plays suitable for Japanese theater first-timers will take place, so if you've never dipped your toes in the ancient art of kabuki, this January definitely is the right time to do just that!

Tickets
First-class seats: 20,000 yen
Second-class seats: 15,000 yen
3rd-Floor A seats: 6,000 yen
3rd-Floor B seats: 4,000 yen
1st-Floor seats: 22,000 yen
Hours
Matinee: 11:00 a.m.
Evening Show: 4:30 p.m.
Closed: January 5, no matinee show
Address

4-12-15, Ginza, Chuo-ku, Tokyo, 104-0061
View Map

Nearest Station

Higashi-Ginza Station (Tokyo Metro Hibiya Line / Toei Asakusa Line)


Phone Number

03-3545-6800
TeNQ Special Exhibition: Over The Sailor Moon
©Naoko Takeuchi/PNP, Toei Animation
December 15, 2017 – April 15, 2018
Tokyo Dome's own TeNQ Space Museum has teamed up with the one-and-only guardian of love and justice, Sailor Moon! The exhibition "Over the Sailor Moon" celebrates the 25th anniversary of the iconic anime, exploring it from the unique, space-focused perspective of TeNQ, such as exploring the complex and fascinating relationship between the Moon and the Earth, or showcasing various features about the planets that the Sailor Guardian are based on. For Sailor Moon Fans, this is an absolute must – experience your favorite childhood memory from a whole new and intergalactic angle!

Admission: 1,800 yen (regular)
Hours: Weekdays 11:00 a.m. – 9:00 p.m.
Weekends, national holidays and specific days: 10:00 a.m. – 9:00 p.m. (last entry at 8:00 p.m.)

※The specific days are: December 29 – January 3, March 26 – 30
※December 31 – January 3: open until 8:00 p.m. (last entry at 7:00 p.m.)
宇宙ミュージアム TeNQ(テンキュー)

Address

1-3-61 Koraku, Bunkyo-ku, Tokyo
FLOWERS by NAKED 2018: Rondo
January 23rd – February 26th, 2018

"A music banquet of flowers and dancing" is the theme of this stunningly beautiful exhibition called Flowers by Naked: Rondo. Numerous artists from various art fields come together in this massive collaboration, enticing and entertaining visitors with both contemporary and traditional performing arts, classical music, and much more.

The photogenic art space is a breathtakingly beautiful venue to explore, having drawn in about 100,000 people last year. If you're sick of winter and feel that spring cannot come quick enough, then Flowers by Naked: Rondo is just the place to catch the first breeze of the warmer season!

Admission: 1,200 yen (advance sale), 1,400 yen (regular)
Hours: 10:00 a.m. – 8:00 p.m. (last admission until 30 minutes before closing time)
Closed: open throughout the exhibition
Nihonbashi Mitsui Hall (COREDO Muromachi 15F)

日本橋三井ホール COREDO 室町 15F

Address

2-2-1 Nihonbashi Muromachi, Chuo-ku, Tokyo
Shinagawa Yaki-imo Terrace
January 30 – February 5, 2018
The Shinagawa Yaki-imo Terrace in 2017 drew in about 30,000 people, all looking to cuddle up under a warm kotatsu out in the open and enjoy delicious, hot sweet potato. Because that is what this festival is all about! Hot sweet potato is a favorite winter snack throughout Japan and tastes even better when enjoyed with friends or a person dear to you. If you're already a fan of the healthy snack, then look forward to trying sweet potato varieties from all over Japan, available at the numerous stalls during the festival.

Cuddling up and snacking on something delicious really is what Japanese winter coziness is all about, so don't miss out on this charming event!

Admission: Free
Hours: 11:00 a.m. – 6:00 p.m.
Shinagawa Season Terrace, Event Space

品川シーズンテラス イベント広場

Address

1-2-70 Konan, Minato-ku, Tokyo
TOKYO SKYTREE TOWN® ICE SKATING PARK 2018
©TOKYO-SKYTREETOWN
January 4th – March 11th, 2018
Skate under the lights of Tokyo Skytree at Tokyo Skytree City's large ice skating rink! This year, the popular venue even offers a special children's corner for the little ones younger than elementary school age, allowing them to frolic on their skates and play with the snow to their heart's content.

If you're looking to spend a fun day out with friends or family, this ice rink certainly is a great choice. We especially recommend coming by after 5 when the sun has set and the rink is illuminated by the beautifully lit-up Tokyo Skytree.

Admission: 1,600 yen for adults, 900 yen for children
Hours: Monday – Thursday: 11:00 a.m. – 8:00 p.m.
Fridays, Saturdays, Sundays, and on national holidays: 11:00 a.m. – 9:00 p.m.
※Admission until 30 minutes before closing time.
Tokyo Skytree Town®4F Sky Arena

東京スカイツリータウン®4階 スカイアリーナ

Address

1 Chome-1-2 Oshiage, Sumida-ku, Tokyo
Mount Takao Hiwatari Matsuri – a Walk on Fire!
March 11, 2018

The Takaosan Hiwatari Matsuri, or Mount Takao Fire-walking Festival, is a major event held every year on the second Sunday in March, drawing in hundreds of people from far and wide. This exciting ceremony fulfills an important purpose: visitors pray for rather monumental desires, such as health, longevity, and world peace. The flames are believed to ward off disaster by purification. As the purifying fire still kindles on a large square of about 8 meters, the Buddhist monks start to walk over the hot coal to the sound of traditional conch-shell horns. It's a fascinating spectacle that welcomes both parishioners and tourists, providing an impressive example of how old traditions are still alive and well even in modern-day Japan.

Admission: free
Hours: 1:00 p.m. – 3:30 or 4:00 p.m. (the ending time depends on the number of participants)
Square in front of the Kitoden Hall

山麓自動車祈祷殿広場

Address

2390 Takao-machi, Hachioji-shi, Tokyo 193-0844
March 24 and 25, 2018

Anime is a global phenomenon that draws people to Japan from all around the world. To celebrate this important part of Japanese pop culture, "Anime Japan" was first held in 2014 under the theme of "All things anime, right here." This year, the convention celebrates its 5th anniversary.
Anime Japan has everything you'd expect from a proper anime convention – but it's more, it's bigger, and it's absolutely amazing. Studios and creators from Japan and all around the world introduce their newest creations to curious fans, exhibiting works, and selling highly sought-after goods.
On top of that, numerous projects under the theme of "the people who create anime" are planned to take place, and a special exhibition gives a thorough and fascinating glimpse into the little-known world of CG anime creation. Look forward to stunning cosplays, collaboration goods, and themed food as well!

Admission: 1,800 yen (advance sale), 2,200 yen (regular)
Hours: 10:00 a.m. – 5:00 p.m. (last admission at 4:30 p.m.)
Address

3-11-1, Ariake, Koutou-ku, Tokyo, 135-0063
View Map

Nearest Station

Kokusai-Tenjijo-Seimon Station (Yurikamome)
3 minutes on foot


Phone Number

03-5530-1111
*This information is from the time of this article's publication.