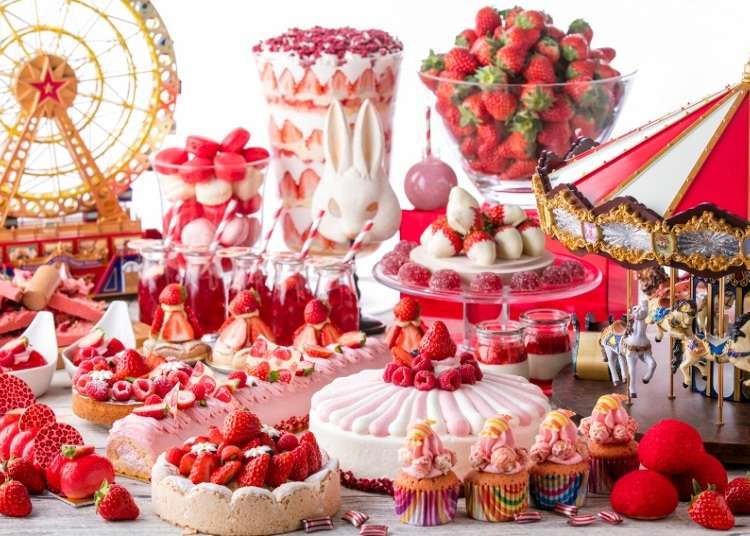 When asking about Japan's favorite taste of spring, you will get a unanimous answer: strawberries! To welcome the season of cherry blossoms, hotels all around Tokyo have a tradition of bringing this favorite spring fruit to Tokyoites and tourists alike – look forward to Tokyo's strawberry spring buffets! From cakes and parfaits to macarons and muffins, look forward to a pink and red strawberry wonderland that is sure to get you in the proper spring fever mood!
Hilton Tokyo – Welcome to the Strawberry Circus!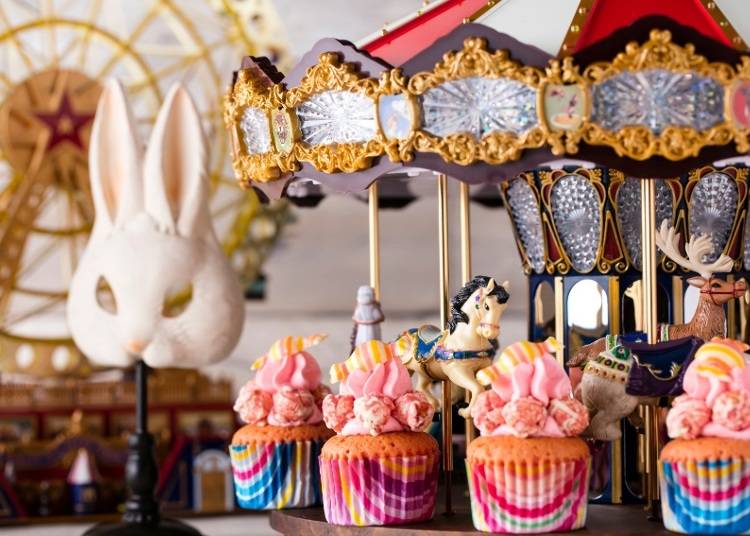 This season's theme at the Hilton Tokyo is Cirque de Fraise, or Strawberry Circus.
Last spring, Hilton Tokyo has used an astounding 19 tons (65,000 packs of strawberries) throughout the 5 months the last strawberry buffet was taking place. As one of the hotel's most popular events, the strawberry buffet welcomed more than 32,000 guests to the hotel's magnificent Marble Lounge that can host up to 200 people. And while it's already rather hard to get a reservation for the strawberry buffet, we highly recommend the combination of Strawberry Dessert and Dinner Buffet after 6:00 p.m.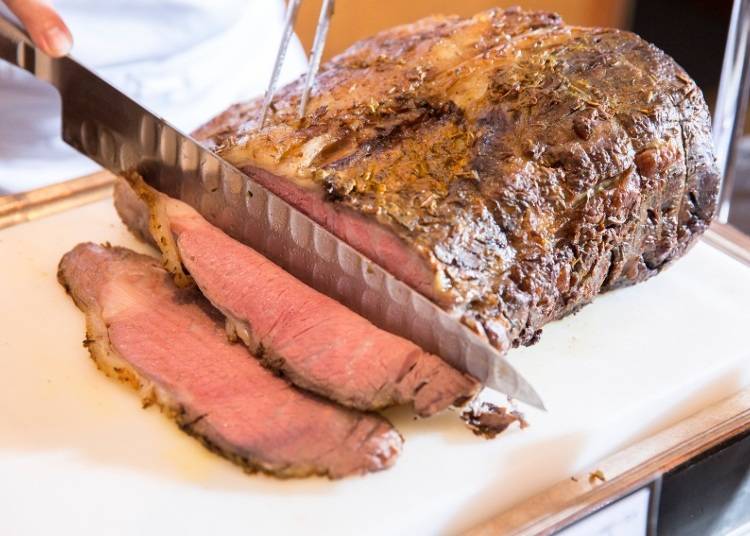 To balance out the sweetness, look forward to an all-you-can-eat of roast beef on port wine sauce.
This unique buffet setup will let you freely indulge in 15 different kinds of high cuisine strawberry desserts and fresh strawberries just as they are, while the sweetness is wonderfully balanced out by all-you-can-eat roast beef cut right in front of your eyes and different appetizers. Say hello to spring at the Hilton Tokyo, the gourmet way!

Date: December 26 (Sun) to Mid-March 2017
Hours: 6:00 p.m. – 9:00 p.m.
Holidays: none
Fee: Monday – Thursday: 5,000 for adults, 3,000 for children (age 4-12)
Friday – Sunday, national holidays: 6,000 for adults, 3,500 for children (age 4-12)
Address

6-6-2, Nishishinjuku, Shinjuku-ku, Tokyo, 160-0023
View Map

Nearest Station

Nishi-Shinjuku Station (Tokyo Metro Marunouchi Line)
2 minutes on foot


Phone Number

03-3344-5111
Keio Plaza Hotel – Strawberry Desserts of Every Variety!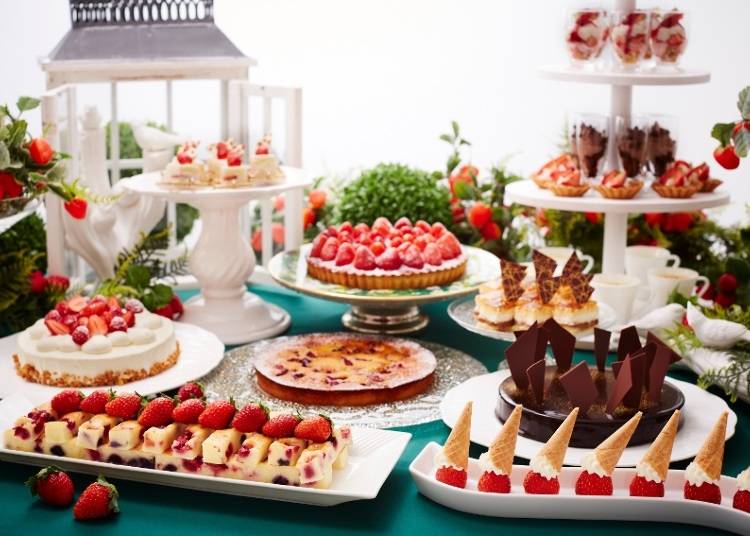 February's menu, all set and ready for Valentine's Day.
At Keio Plaza Hotel's amazing strawberry buffet you can look forward to over 30 different kinds of strawberry desserts, carefully prepared by the hotel's own pastry chefs. Beautifully arranged on long counters, five different strawberry-themed zones can be explored – and tasted, to give you the full-fledged strawberry spring taste of Japan!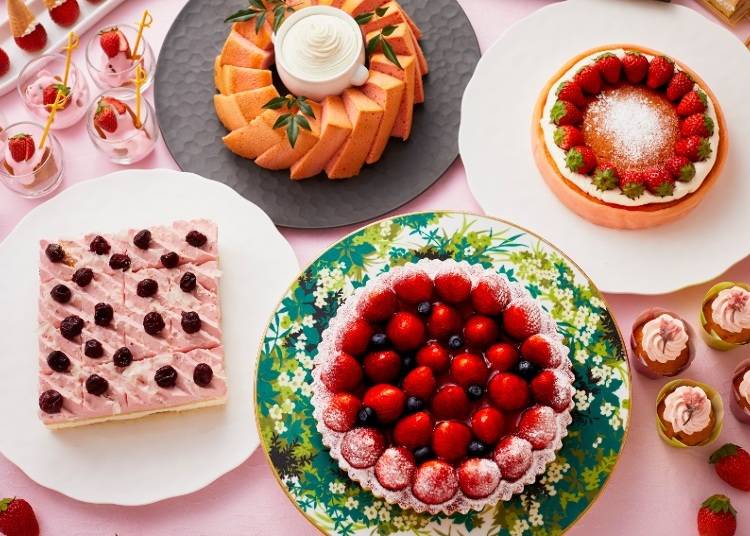 March's menu conveys the revitalizing, fresh spirit of spring!
While February's menu is centered on Valentine's Day and focuses the harmony between chocolate and strawberries, March's menu will partially change both its menu and theme as well. Hence, there's absolutely no reason to enjoy Keio Plaza Hotel's strawberry deliciousness only once!

Date: February 1 (Wed) – March 31 (Fri) 2017
Hours: 3:00 p.m. – 5:30 p.m. (last order 5:00 p.m.)
Holidays: none
Fee: 3,800 for adults, 2,600 for children (4 – elementary school age)
(Service charge & tax included)
Address

2-2-1, Nishishinjuku, Shinjuku-ku, Tokyo, 160-0023
View Map

Nearest Station

Tochomae Station (Toei Oedo Line)


Phone Number

03-3344-0111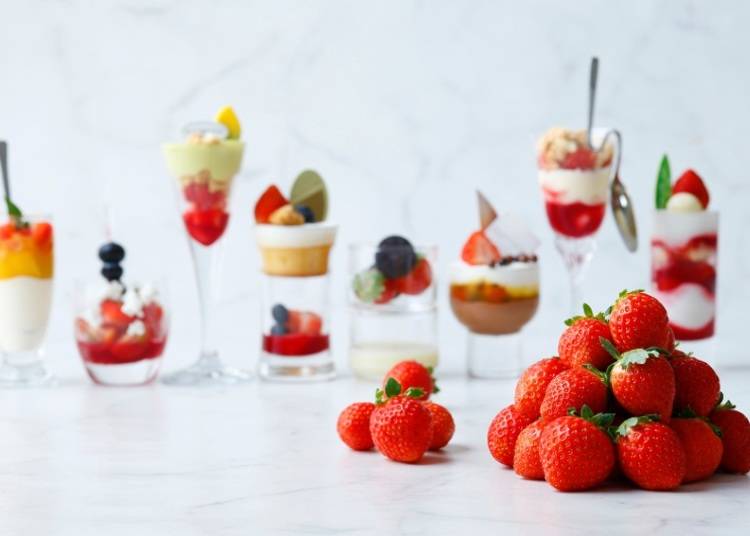 Spring's strawberries, also a feast for the eyes.
Held only in the afternoon, The Westin Tokyo's strawberry buffet evokes the image of an elegant and modern afternoon tea – just with strawberries instead of crumpets and the likes. With its European style, The Westin is one of Tokyo's most representative hotels and as such, it comes to no surprise that the hotel's strawberry buffet is one of the most sought after spring gourmet experiences. Over 60 unique desserts await, all strawberry-centric and created by the hotel's chef patissier himself, Kazuo Suzuki.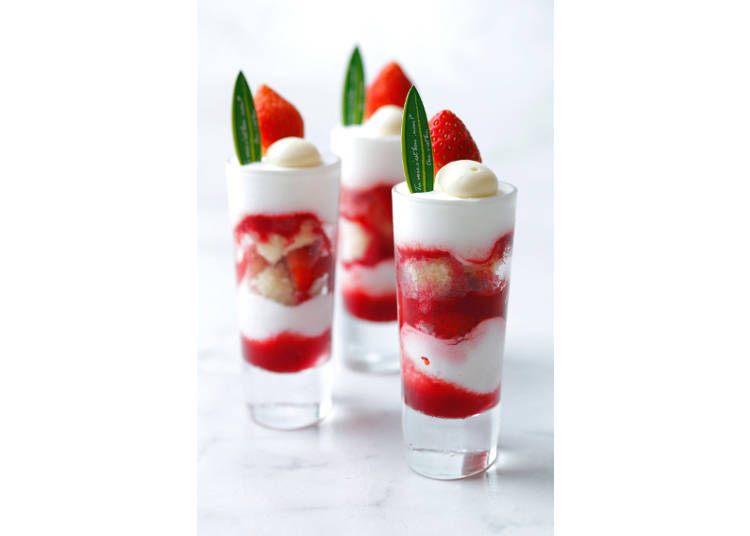 The strawberry creations almost look like little works of art, perfect to share with your friends.
The buffet is held from January until April, and every single month, the menu is renewed, surprising you with new creative strawberry creations. Mr. Suzuki's repertoire is a large one, ranging from traditional European dessert cuisine to unique and modern creations so full of originality, there's no doubt that the changing menu has many a surprise to offer. And these desserts don't only taste amazing; every single one of them looks like a beautiful work of art and is utterly photogenic! Go ahead and see for yourself!

Date: January 4 (Wed) to April 28 (Fri) 2017, weekdays only
Hours: 3:00 p.m. – 5:00 p.m.
Holidays: Saturdays, Sundays, national holidays
Fee: 3,700 yen (service charge and tax excluded)
The Westin Tokyo, The Terrace International Buffet Restaurant

ウェスティンホテル東京/インターナショナルブッフェレストラン「ザ・テラス」

Address

1-4-1 Mita, Meguro-ku, Tokyo-to 153-0062
Hilton Tokyo Odaiba – Dare to Enter the Strawberry Forest?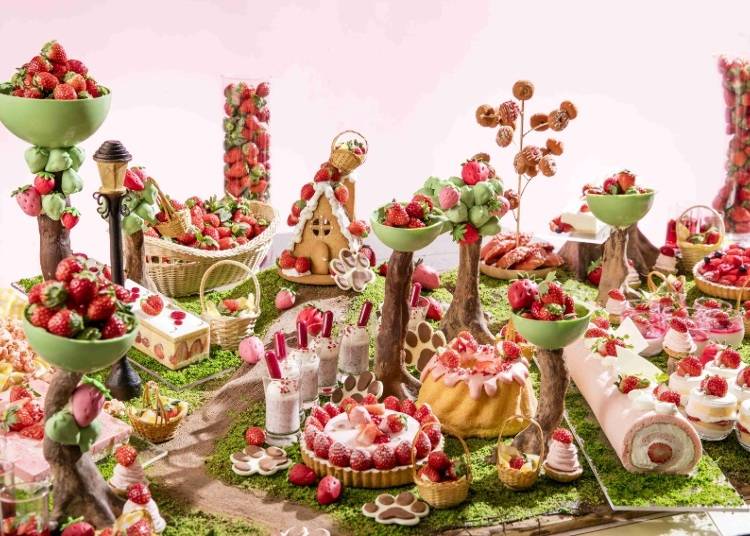 Enter the Strawberry Forest of the newly opened All Day Dining!
Hilton Tokyo Odaiba's newly opened restaurant Seascape Terrace Dining joins the tradition of greeting spring with an amazing strawberry dessert buffet. Indulge in the rich sweetness of fresh strawberries while gazing out over the blue sea and equally blue sky, a scenery dotted with some of Tokyo's most famous landmarks like the rainbow bridge!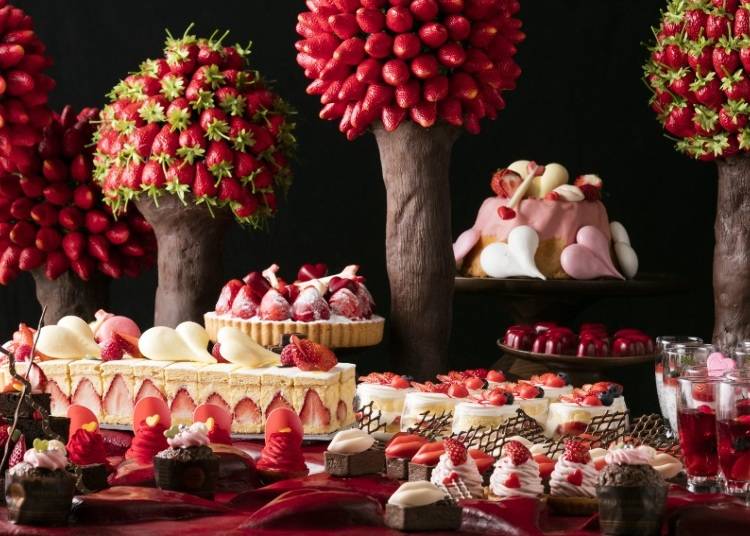 Savor the strawberry love of Valentine's Day from February 1 to March 14.
The theme of the buffet is Strawberry Forest – Embraced by Strawberry Aroma, offering both a large variety of different desserts, from traditional to modern, as well as an enchanting atmosphere that really seems to whisk you away to a magical strawberry forest.

Date: December 31 (Sat) to April 30 (Sun) 2017
Hours: 3:00 p.m. – 5:00 p.m., 90 minutes
Holidays: always open
Fee: 3,000 yen for adults, 1,800 yen for children (6 - 11) on weekdays
3,500 yen for adults, 2,100 yen for children (6 - 11) on Saturdays, Sundays, and national holidays (service fee and tax excluded)
Address

1-9-1, Daiba, Minato-ku, Tokyo, 135-8625
View Map

Nearest Station

Daiba Station (Yurikamome)
1 minute on foot


Phone Number

03-5500-5500
Sunshine City Prince Hotel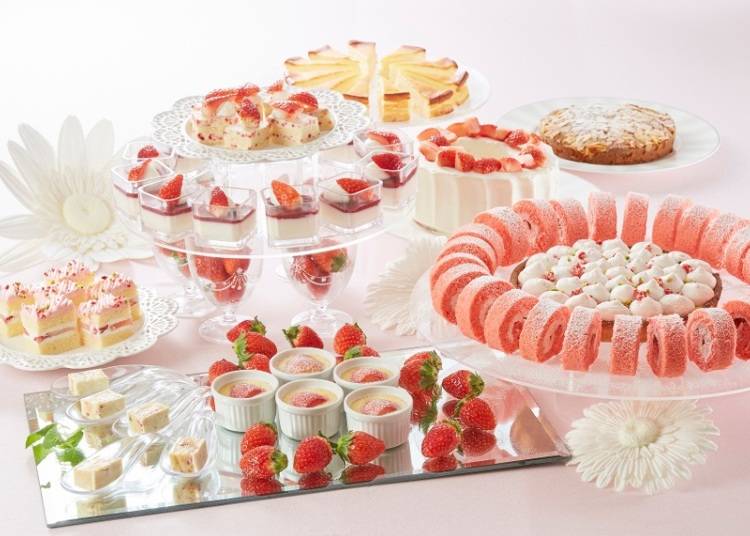 The strawberry lineup of Season 2.
The Strawberry Sweets Fair of the Sunshine City Prince Hotel is Ikebukuro's own and massively popular strawberry-tastic spring tradition. Look forward to eating your way through 10 kinds of strawberry sweets, 10 limited time desserts, and frozen sweets and ice cream.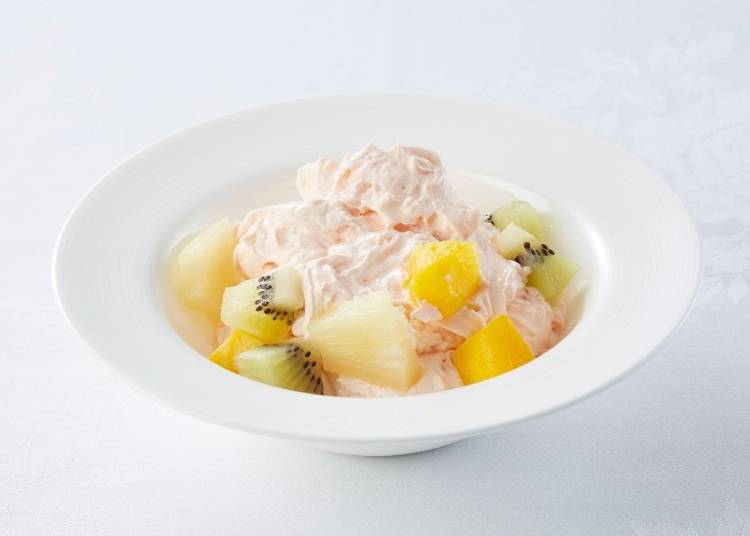 An ice cream dessert that is made at -45° Celsius.
The buffet is made up of Season 1 and Season 2, each offering its very own unique menu and a reason to visit more than once! From 6:00 p.m., the combined Strawberry Sweets & Dinner buffet is open to be enjoyed, and the restaurant's chefs serve hors d'oeuvres, fresh pasta, pizza, and all kinds of other savory dishes that go excellent with the many spring strawberry desserts!

Fee: Sweets Buffet – 2,800 yen for adults; 1,400 yen for older elementary school children (grades 3 - 6); 800 yen for young elementary school children (grades 1 and 2)
Sweets & Dinner Buffet – 3,500 yen for adults; 1,500 yen for older elementary school children (years 3 - 6); 900 yen for young elementary school children (years 1 and 2)
No service fee, tax included. Reservation required.
Address

3-1-5, Higashiikebukuro, Toshima-ku, Tokyo, 170-0013
View Map

Nearest Station

Higashi-Ikebukuro Station (Tokyo Metro Yurakucho Line)
3 minutes on foot


Phone Number

03-3988-1111
*This information is from the time of this article's publication.