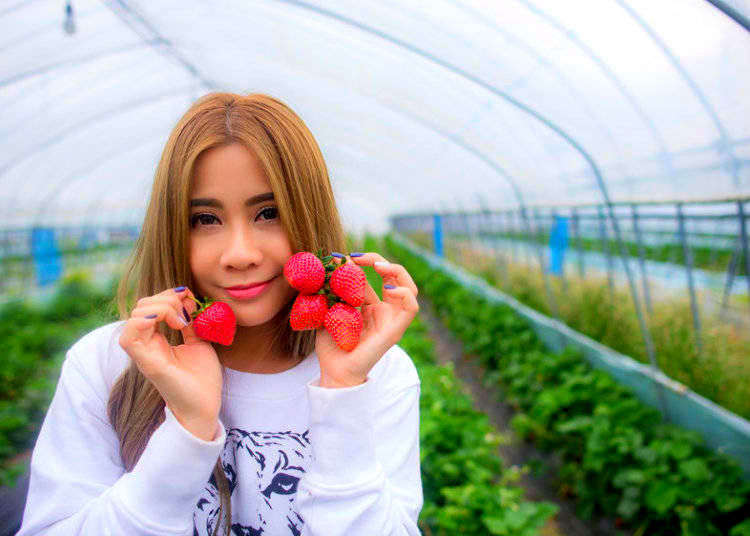 What's better than eating red, juicy strawberries? Picking them yourself! Every spring, people in Japan flock to strawberry gardens for a chance to pick ripe strawberries (called 'ichigo' in Japanese) with their own hands. Visitors can eat lots of berries on the spot, or bring some home as a tasty souvenir. Japan is home to a large number of unique strawberry varieties, some of the most popular of which being Tochiotome, Akihime, and Toyonoka, just to name a few. Some varieties are considered regional specialties: Fusanoka from Chiba, Beni Hoppe from Shizuoka, Yayoihime from Gunma, and Asuka Ruby from Nara, are all strawberry representatives of their respective regions. Strawberry picking is a very popular weekend activity among Japanese people, typically from January until early May.
When Can Strawberries be Picked?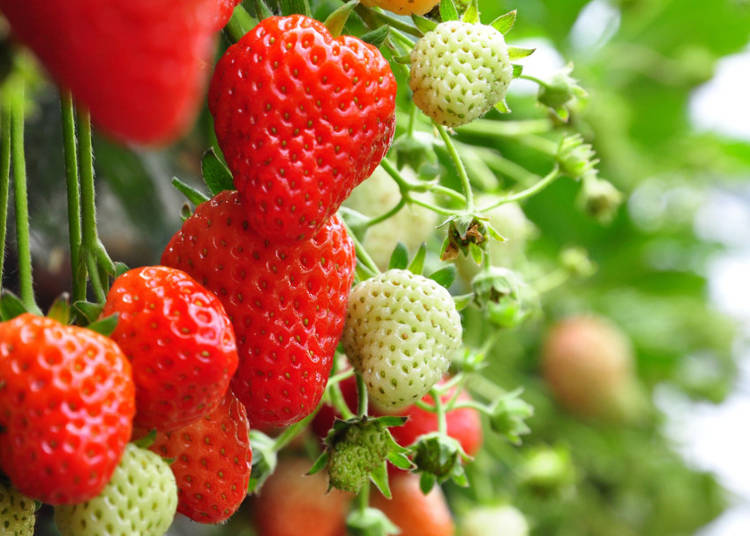 The best time for picking depends on the region and also the cultivation style.

・Greenhouse Cultivation: Many strawberry growers are open for business from January through Golden Week, the first week of May. However, some indoor gardens may allow picking as early as December. Colder regions tend to be open later in the season. For example, Nagano offers strawberry picking well into the end of June. In Kanagawa and Chiba, there are many places that are open during Golden Week.

・Open-field Cultivation: In rural areas with heavy snowfall, there are many farms with field-grown strawberries. Hokkaido in particular is an especially popular spot for outdoor strawberry picking, with a relatively short season that typically lasts from late June until late July.
How To Pick the Best Strawberries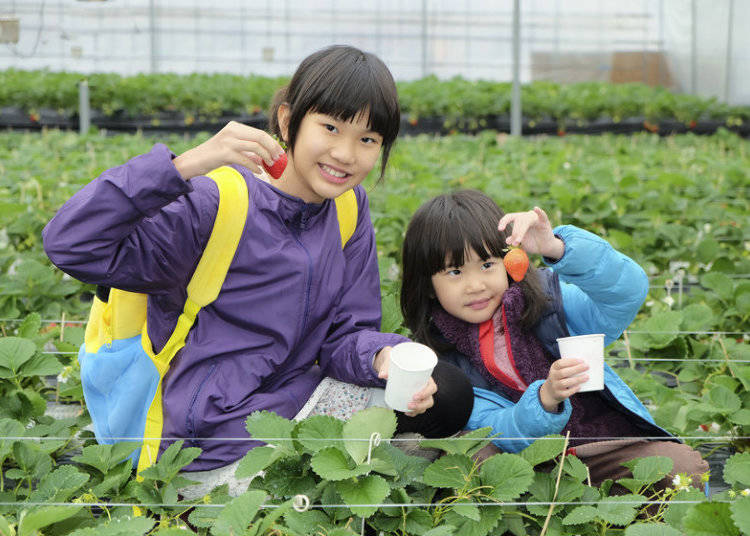 If you go strawberry picking while in Japan, you will want to know the best method for getting the most delicious strawberries! We recommend following these steps for a successful strawberry hunt:

1. Start by searching from the back areas. Most people are likely to begin by picking closest to the entrance, so try the reverse.

2. Search for hard-to-reach spots; berries may be hidden behind posts or other objects.

3. Look for the ripest strawberries, instead of just the biggest. A smaller, redder berry will be more delicious than a larger unripe one.

4. Check for cracks. Search for strawberries with red skin and cracks close to the stem. Strawberries with cracks are very easily damaged, and as such, are generally not sold. However, these berries are often at peak ripeness and sweetness! Being able to taste this kind of strawberry is a rare chance, so don't miss out. (Note: Depending on the type, cracks may be inevitable, and sometimes

5. Find strawberries that are not perfectly shaped. Because there are many people who avoid choosing oddly shaped strawberries, you may find many strange-looking, but delicious berries that have been neglected. So don't judge a book by its cover!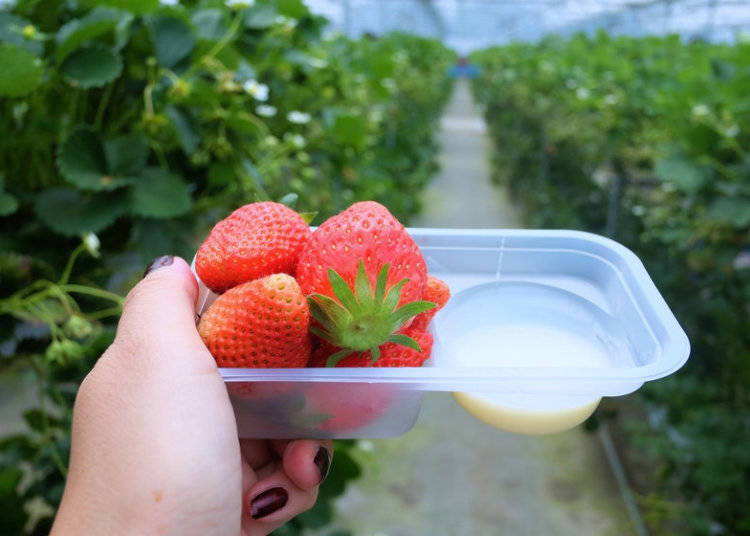 Generally speaking, strawberries are sweetest at the tip and more sour towards the stem. It's recommended that after removing the stem, eat the berry starting from the stem side and working your way down to the tip. By savoring the sweetest part last, you can maximize your eating enjoyment! Conversely, if you begin from the tip, you will be able to finish with a more tart flavor. Some farmers will also prepare condensed milk to eat with the strawberries, which is a very popular way to enjoy them in Japan.
Where Can You Pick Strawberries?
Strawberries can be found in prefectures all across Japan! However, the peak time for picking depends not only on the weather, but on the region they are grown in. Berries cultivated in the southern prefectures tend to be the earliest to ripen, typically in January or February, while those grown in northern areas, such as Hokkaido, can be picked as late as July. As previously mentioned, whether they are grown indoors or outdoors also plays a role.

The top five most popular prefectures for strawberry picking are as follows:

1. Chiba Prefecture
2. Saitama Prefecture
3. Aichi Prefecture
4. Tochigi Prefecture
5. Shizuoka Prefecture

If you are visiting Tokyo during the spring, and wish to pick strawberries, you still have plenty of opportunities for fresh strawberry sampling, as both Chiba and Saitama are easily accessible for day trips. Should you wish to venture further, you can choose from even more strawberry gardens in other prefectures. So, try sweetening your spring visit by picking fresh off the vine, Japanese strawberries!
*This information is from the time of this article's publication.