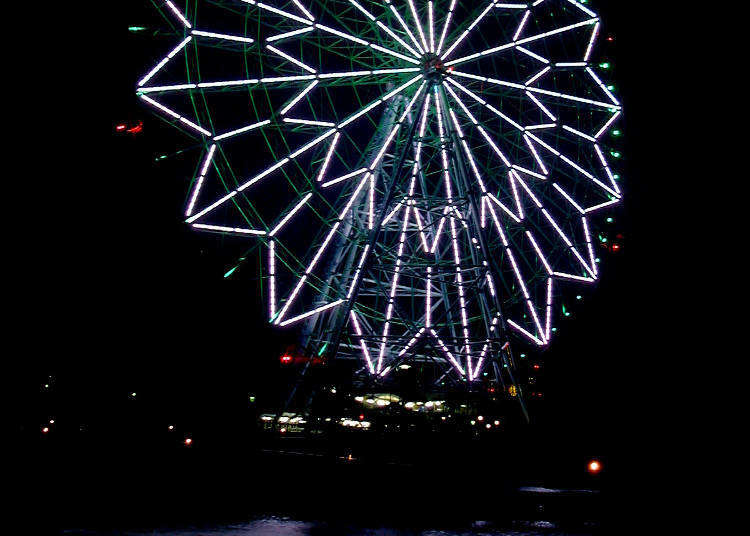 The Japanese New Year is known to last far more than a couple of days and is rich in many customs and traditions - as such, the entire January is filled with a whole plethora of energetic and amazing events all around Tokyo and beyond. From New Year's countdowns on Japan's biggest ferris wheel to rice cake making on the deck of a historical ship, there's much and more to experience throughout January and New Year's!
The Furusato Festival Tokyo 2017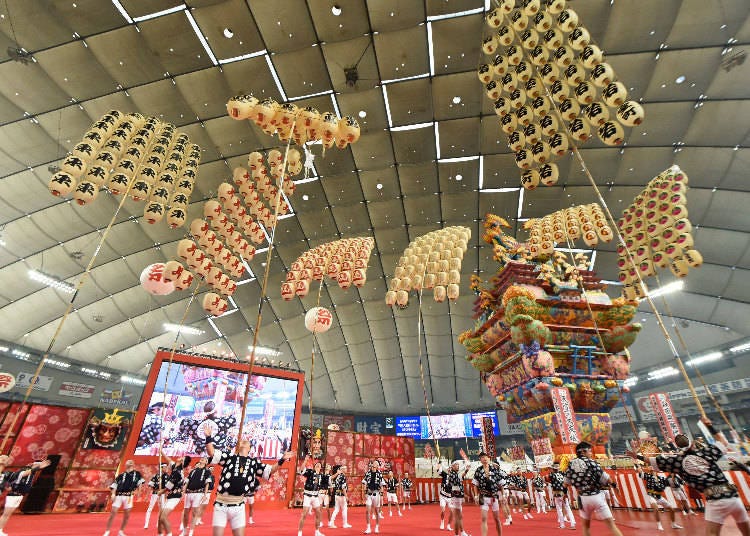 January 7th (Sat) - January 15th (Sun)

The beloved Furusato Festival Tokyo takes place right in the wake of Japan's New Year's celebrations after the actual New Year's Day. "Furusato" means "home" and can refer both to one's birthplace as well as a place that is simply very dear to one's heart, and the festival is all about the beloved characteristics of people's furusato. Gourmets from all around Japan gather in Tokyo to both savor and offer regional tastes. Culturally, the Furusato Festival Tokyo 2017 also has a lot to offer: for one, there will be the magnificent floats of the Aomori Nebuta Festival, as well as the beautiful lanterns of the Akita Kanto Festival, that are as heavy as 50kg and are made up of 46 individual lights. This year, the famous Kariya Mando Festival and its amazing floats will make an appearance for the first time as well.
In the food corner of the event venue, special highlights are Yamanashi Prefecture's Kikyo Shingen Soft Ice Cream, Utsunomiya's incredibly delicious gyoza, and many other local specialties from all over Japan. Indulge in regional culture without setting foot out of Tokyo!

Entry: 1,600 yen
Hours: 10:00 a.m. - 9:00 p.m.
(until 7:00 p.m. on January 10th; until 6:00 p.m. on January 15th)
Holidays: none
Address

1-3-61, Kouraku, Bunkyo-ku, Tokyo, 112-8575
View Map

Nearest Station

Suidobashi Station (JR Chuo Main Line / Toei Mita Line)
5 minutes on foot


Phone Number

03-5800-9999
The New Year's Countdown at Kasai Rinkai Park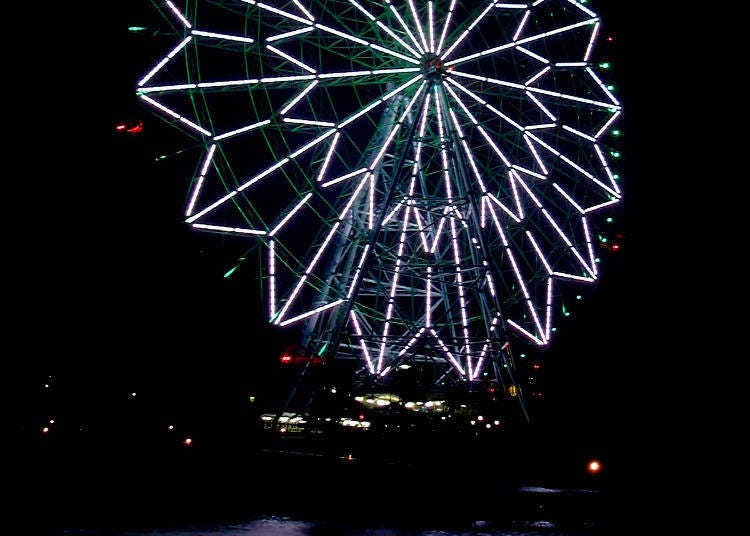 December 31st (Sat)

The Diamond and Flower Ferris Wheel is the beloved landmark of Kasai Rinkai Park, the beautiful public space located in Tokyo's Edogawa area. The ferris wheel is the largest in all of Japan, with a diameter of 111 meters and a heigth of an astonishing 117 meters. From its top, you'll be able to enjoy a marvelous view over the Rainbow Bridge, the artificial island Umihotaru on the Aqua Line highway, Tokyo Tower, and even Tokyo Skytree(R). On New Year's Eve, it is open the entire night, making for a very unique and magical new Year's celebration. In addition, the stage in front of the ferris wheel will be occupied by the attraction's mascot called Dia-chan, doing the countdown to midnight. Various live music, dancing, and singing performances will also provide entertainment throughout the entire evening. Why not welcome 2017 from the top of Japan's biggest ferris wheel, gazing over the sparkling city?

Entry: free access to event venue; a ferris wheel ride is 700 yen
Hours: 10:00 a.m. - 8:00 a.m. the next day

The Diamond and Flower Ferris Wheel
℡ 03-3686-6911
Address

6, Rinkaicho, Edogawa-ku, Tokyo, 134-0086
View Map

Nearest Station

Kasairinkaikoen Station (JR Keiyo Line)
1 minute on foot


Phone Number

03-5696-1331
New Year's at Hanayashiki, Tokyo's Oldest Amusement Park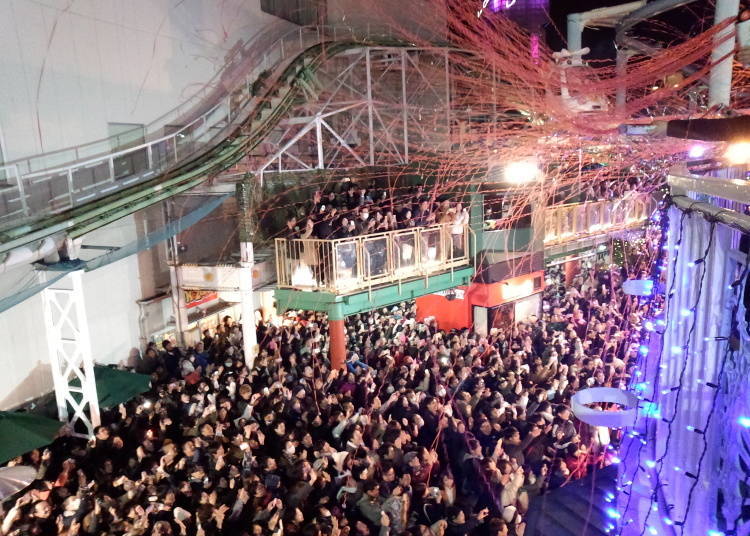 For those who aren't keen on ferris wheels, Tokyo's oldest amusement park right next to the famous Senso-ji Temple in Asakusa, Hanayashiki provides an excellent alternative to welcome 2017. On the 31st of December, Hanayashiki will close at 6:00 p.m. like on a regular day, then reopen its gates at 9:00 p.m. for its unique countdown event. This includes a live comedy show in the park's garden hall that entertains visitors until 11:45 p.m. when the actual New Year's countdown starts. Throughout the evening, all the attractions of Hanayashiki are of course open to visitors, an excellent and fun pastime until the official New Year's celebration. And if you have other plans for the 31st? Make sure to hop by Hanayashiki on the 30th of December then, as the celebratory illuminations are already installed and make for a stunning scenery.
Address

2-28-1, Asakusa, Taitou-ku, Tokyo, 111-0032
View Map

Nearest Station

Asakusa Station (Tokyo Metro Ginza Line / Toei Asakusa Line / Tobu Isesaki Line (Tobu Sky Tree Line) / Tsukuba Express)
3 minutes on foot


Phone Number

03-3842-8780
"Vingt et Un" Countdown Cruise: Celebrating New Year's with Champagne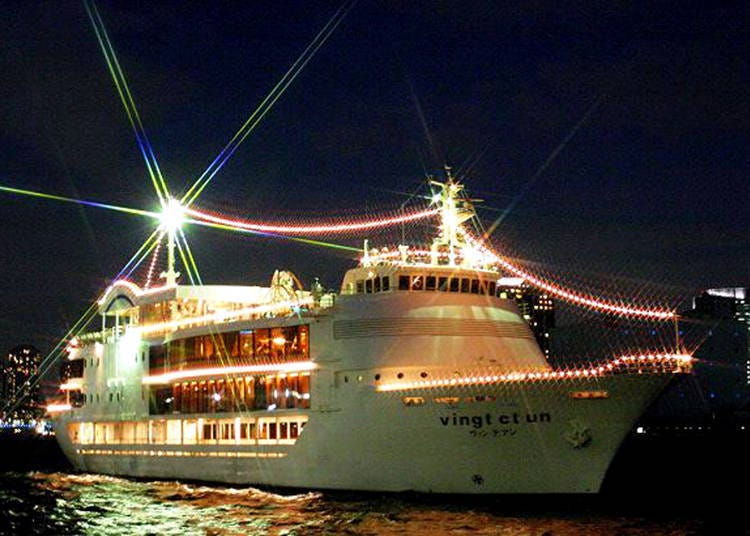 December 31st (Sat)

The large cruise ship "Vingt et Un" isn't only known for the scenic cruises it provides through Tokyo Bay but also for the amazing and authentic French cuisine that is served on board. On December 31st, the ship is open for a special New Year's Cruise - the ship's spacious open deck is the perfect place to mingle and celebrate as both guests and staff do the countdown to midnight together before welcoming 2017 with champagne. This is certainly one of the more luxurious ways to make wonderful New Year's memories and a warm recommendation to everyone who wants to fall in love with Tokyo Bay all over again - or for the very first time!
The Spanish band "La Tuna" will entertain guests with energetic live performances, and fun and lively games will take place during DJ time. Both reservation and payment is required in advance.

Fee: 13,000 yen (dinner included)
Hours: 10:30 p.m. - 1:30 a.m.
Tokyo Bay Cruise VINGT ET UN

東京ヴァンテアンクルーズ

Address

1-12-2 Kaigan, Minato-ku, Tokyo-to 105-0022
Celebrating the New Year at Rikugien Garden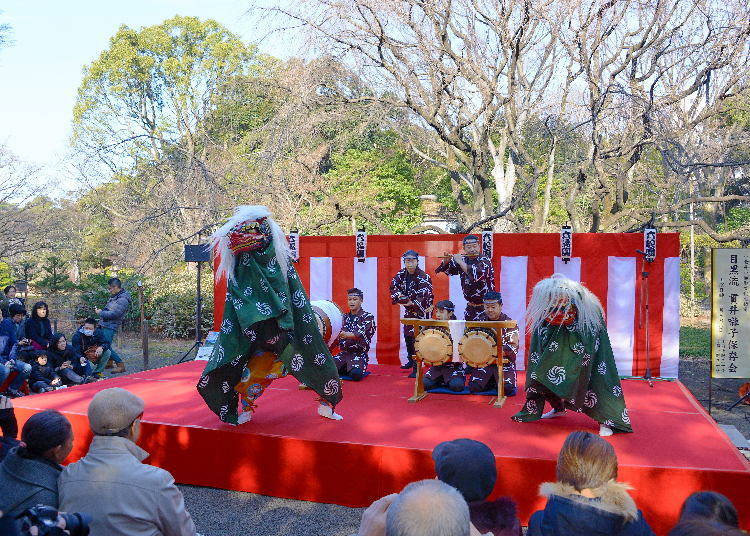 January 2nd (Mon) and January 3rd (Tue)

The Rikugien Garden is an extraordinarily beautiful park that was commissioned by the 5th shogun of the Edo shogunate, Tsunayoshi Tokugawa, and designed by the talented Yoshinori Yanagisawa - it took a total of seven years to finish this majestic garden, featuring a large pond and a scenic walkway around it.
On the 2nd and 3rd of January, you won't just be able to enjoy the wintery beauty of Rikugien Garden but lion dancing and musical are being held, and volunteer guides explain both the many characteristics and the history of the beautiful park. At the tea house in Rikugien Garden, feel free to enjoy matcha tea with sweets for 510 yen and sweet sake for 300 yen to fight off the January cold and welcome the New Year in a very Japanese way!

Entry: 300 yen
Hours: 9:00 a.m. - 5:00 p.m. (last entry: 4:30 p.m.)
Address

6, Honkomagome, Bunkyo-ku, Tokyo, 113-0021
View Map

Nearest Station

Komagome Station (JR Yamanote Line / Tokyo Metro Namboku Line)
7 minutes on foot


Phone Number

03-3941-2222
New Year's Mochi Making on the Historic Ship "Hikawa Maru"
January 2nd (Mon)

Our special recommendation to partake in traditional Japanese New Year's celebrations takes place on a very special ship: the Hikawa Maru is a large ocean liner that used to run between Yokohama, Vancouver and Seattle. Throughout her lifetime, she has had many a historic figure on board, from Charlie Chaplin to Rabbi Zerach Warhaftig, one of the signatories of Israel's Declaration of Independence who boarded the ship during his escape from Nazi Europe.
Today, the Hikawa Maru is berthed in Yokohama's Yamashita Park as a museum ship - but right after New Year's, it offers a whole different entertainment. Visitors are invited to make mochi in a historical setting with the proper traditional tools. The freshly beat rice cake is then sprinkled with savory kinako or topped with sweet red bean paste, serving up to 600 people! Mochi making is a fixed tradition of the Japanese New Year, so why not do it in an equally historic setting?
Please note that the event doesn't take place in the event of rain.

Entry: 300 yen
Hours: 11:00 a.m. - 1:00 p.m. (as scheduled)
The event ends as it runs out of mochi.
Address

Yamashita, Yamashitacho, Naka-ku, Yokohama-shi, Kanagawa Park frontage, 231-0023
View Map

Nearest Station

Motomachi-Chukagai Station (Minatomirai Line)
3 minutes on foot


Phone Number

045-641-4362
Yasushi Horibe: A Human Space for Architecture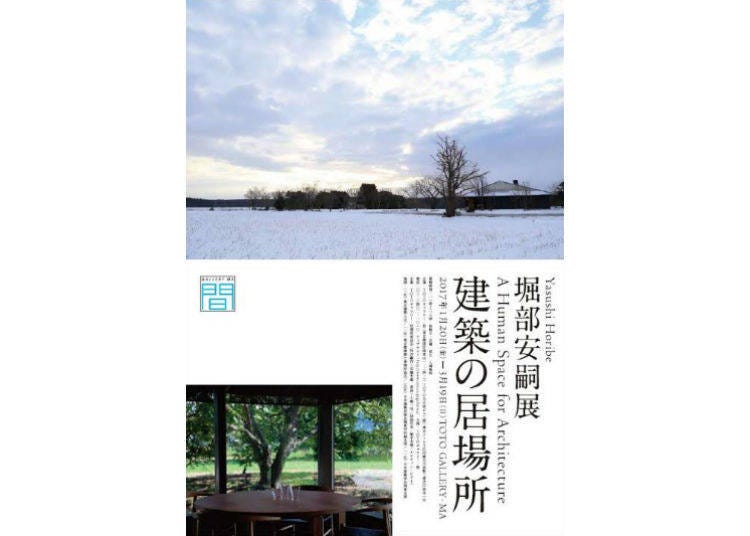 January 20th (Fri) to March 19th (Sun)
Yasushi Horibe is an incredibly famous architect that has worked on over 80 unique projects, mainly houses, known for always staying true to his own authentic aesthetics without giving in to the latest trends. This exhibition celebrates the more than 20 years of his work by showcasing the entire process of architectural creation. From the first sketches to the actual erection of the building, Yasushi Horibe's aesthetics and style are showcased in numerous sketches, drawings, photographs, and short films, allowing a unique glimpse into the mind of a modern architecture genius.

Entry: free
Hours: 11:00 a.m. – 6:00 p.m.
Closed: Mondays, national holidays
Address

TOTO Nogizaka building 3F, 1-24-3, Minamiaoyama, Minato-ku, Tokyo, 107-0062
View Map

Nearest Station

Nogizaka Station (Tokyo Metro Chiyoda Line)
1 minute on foot


Phone Number

03-3402-1010
*This information is from the time of this article's publication.
*Prices and options mentioned are subject to change.
*Unless stated otherwise, all prices include tax.