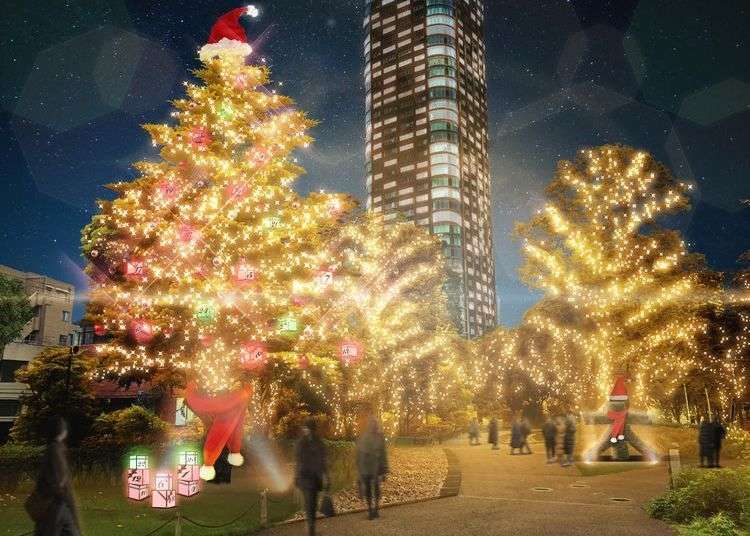 From traditional festivals that have a history of over 300 years, to colorful Christmas celebrations, Tokyo's December offers a lot of unique and lively events to fight the cold! Let's take a look at the best of them!
The Meiji Shrine Outer Garden Ginkgo Festival
November 16 - December 2

The 300-meter long canopy road leading through the Meiji Shrine Outer Garden will be dyed in magnificent gold as the over 150 ginkgo trees lining the street turn color. Because of this amazing spectacle, the Outer Garden is one of Tokyo's most popular autumn leaf viewing spots.

To celebrate the changing seasons, the Ginkgo Festival is being held, an event that features around 50 different stalls and booths offering both delicious dishes and various crafts and arts. The Meiji Shrine Outer Garden Ginkgo Festival is a must-visit event for both locals and tourists alike!

Admission: None
Hours: 10:00 a.m. - 8:00 p.m.
May be canceled in case of bad weather.
Address

1-1, Kasumigaokamachi, Shinjuku-ku, Tokyo, 160-0013
View Map

Nearest Station

Shinanomachi Station (JR Chuo Main Line)
5 minutes on foot


Phone Number

03-3401-0312
Roppongi Christmas Market 2018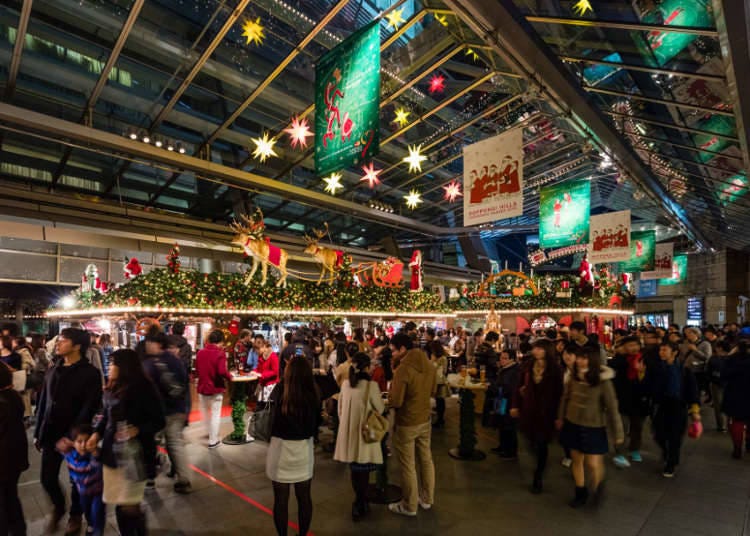 November 23 - December 25

The Roppongi Christmas Market is an event that seeks to emulate the one that is said to be the world's largest: the Stuttgart Christmas Market. This year, the Roppongi version celebrates its 11th anniversary, offering a large and colorful variety of Christmas-y goods from Germany, including the prestigious decorations of Käthe Wohlfahrt. Apart from atmospheric Christmas shopping, do enjoy some delicious mulled wine and a sausage while strolling along the many stalls and booths. From Friday the 23rd to Sunday the 25th, Christmas concerts will take place at the Roppongi Hills Arena, sure to invoke the appropriate Christmas spirit for the holidays.

Admission: None
Hours: 11:00 a.m. - 9:00 p.m. (until 10:00 p.m. on Friday, Saturday, and Sunday the 24th)
Address

6-10-1, Roppongi, Minato-ku, Tokyo, 106-6108
View Map

Nearest Station

Roppongi Station (Tokyo Metro Hibiya Line / Toei Oedo Line)
0 minute on foot


Phone Number

03-6406-6000
Setagaya Boro-Ichi Flea Market
・December 15 and 16
・January 15 and 16

The Setagaya Boro-Ichi Flea Market has a very long history, dating back over 430 years to the Warring States period. One samurai lord, Ujimasa Hojo, held Setagaya's first flea market event called "rakuichi" in 1578 to give the local residents an opportunity of trading freely. Its successor is the Boro-Ichi Market, which is held twice a year on two days in December and January. With the Setagaya Daikanyashiki in its center, a historic mansion from the Edo period, the flea market features over 700 individual shops selling everything that the heart desires, from second-hand clothes and antiquities to jewelry and interior.

This year also features the feudal lord parade that is held every five years. The streets of Boro-Ichi Market will be filled with people wearing authentic costumes of the Edo period on the 15th of each month, so don't miss out!

Admission: None
Hours: 9:00 a.m. - 8:00 p.m.
ボロ市通りとその周辺

Address

1 Setagaya,Setagaya-ku,Tokyo,154-0017,Japan
Asakusa's Colorful Hagoita-Ichi Festival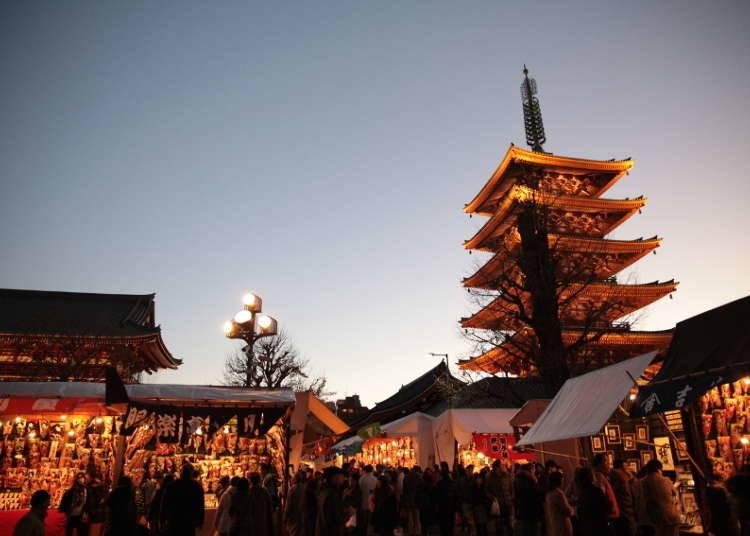 December 17 to December 19

The Hagoita-Ichi Festival is one of Tokyo's most beloved end of the year events. Hagoita are small wooden paddles, decorated with a variety of different adornments and ornaments. In ancient times, they have been used as ritual instruments for getting rid of demons and evil spirits but became most popular as rackets for an old Japanese badminton-like game called hanetsuki in the Muromachi period.

Held in the precincts of Asakusa's Senso-ji Temple, over 50 different stalls offer their own unique hagoita creations, some masterfully lacquered with kabuki-esque imagery, others decorated with different jewelry and fabric. The prices vary wildly, ranging from a few hundred up to thousands of yen. Pick your favorite hagoita to take home one of Japan's most unique handmade souvenirs!

Admission: None
Hours: 9:00 a.m. - 9:00 p.m.
Address

2-3-1, Asakusa, Taitou-ku, Tokyo, 111-0032
View Map

Nearest Station

Asakusa Station (Tokyo Metro Ginza Line / Toei Asakusa Line / Tobu Isesaki Line (Tobu Sky Tree Line) / Tsukuba Express)
5 minutes on foot


Phone Number

03-3842-0181
The Breathtaking Chichibu Night Festival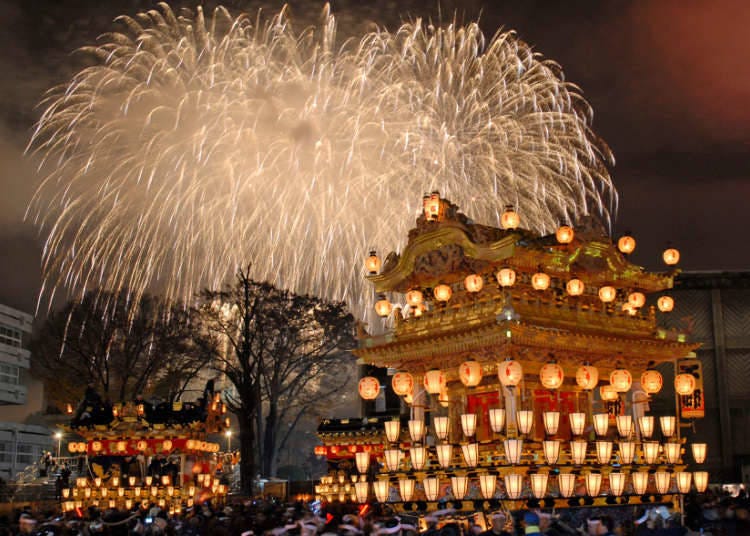 December 2 to December 3

Called yomatsuri in Japanese, the Chichibu Night Festival is a beautiful spectacle held by the Chichibu Shrine in the same-named city, just outside of Tokyo. Dating back around 300 years, it is a winter favorite not only among locals. The highlight of the celebrations takes place on the evening of the December 3, when a gorgeous parade of illuminated floats makes its way from the Chichibu Shrine to a sacred palanquin. Shortly after, the cold winter night is lit up in a thousand vivid colors when one of Japan's only winter fireworks is taking place right above the cozy, lively atmosphere of the Chichibu Night Festival. Japan's winter is by no means a gloomy one!

Admission: None
Hours: 12:00 p.m. - 8:00 p.m. on December 2,
9:00 a.m. - dawn on December 3
Holidays: None
Address

Chichibu-shi, Saitama Banba 1-3, 368-0041
View Map

Nearest Station

Chichibu Station (Chichibu Railway)
3 minutes on foot


Phone Number

0494-22-0262
The Tokyo Christmas Market 2018
December 14 to December 25

Bringing Europe's atmospheric Christmas markets to the Japanese capital in all their glory is the Tokyo Christmas Market in Hibiya Park. Over 30 stalls and booths sell various Christmas ornaments and wood crafts from the German city of Seiffen, known for its traditional toys and Christmas decorations. Visitors will also get to enjoy typical Christmas treats such as mulled wine and the German stollen, a kind of Christmas fruitcake. Another major highlight of this event is the 14-meter high "Christmas Pyramid" which is directly imported from Seiffen as well. Next to a German orchestra providing the appropriate music for the occasion, candle-making and snowdome building workshops invite to actively participate. This is a must for every Christmas market fan!

Admission: None
Hours: 11:00 a.m. - 10:00 p.m.
Address

1-6, Hibiyakouen, Chiyoda-ku, Tokyo, 100-0012
View Map

Nearest Station

Hibiya Station (Tokyo Metro Hibiya Line / Tokyo Metro Chiyoda Line / Toei Mita Line)
3 minutes on foot


Phone Number

03-3501-6428
*This information is from the time of this article's publication.
*Prices and options mentioned are subject to change.
*Unless stated otherwise, all prices include tax.
Recommended places for first-time visitors to Tokyo