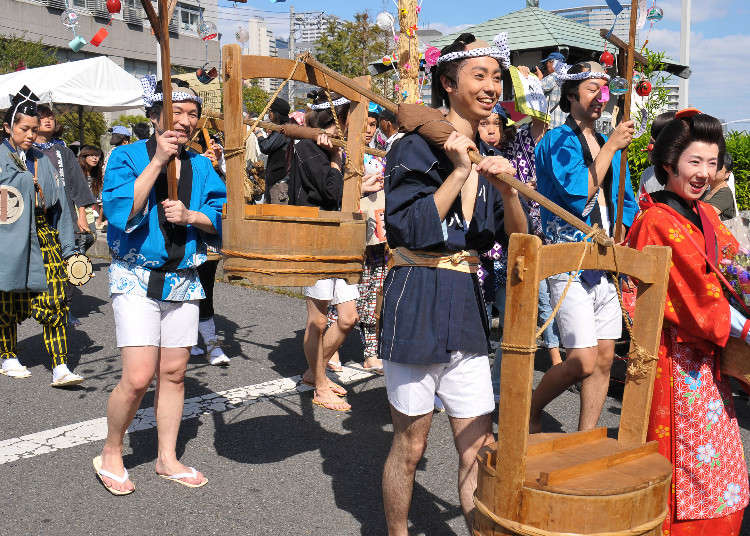 During the remaining days of summer, Tokyo fights the lingering heat with a variety of colorful festivals! From traditional Shinto and harvest celebrations to lively festivals, there's more to see and discover throughout September. We've chosen the eight must-see festivals and events that everyone should visit at least once in their lifetime!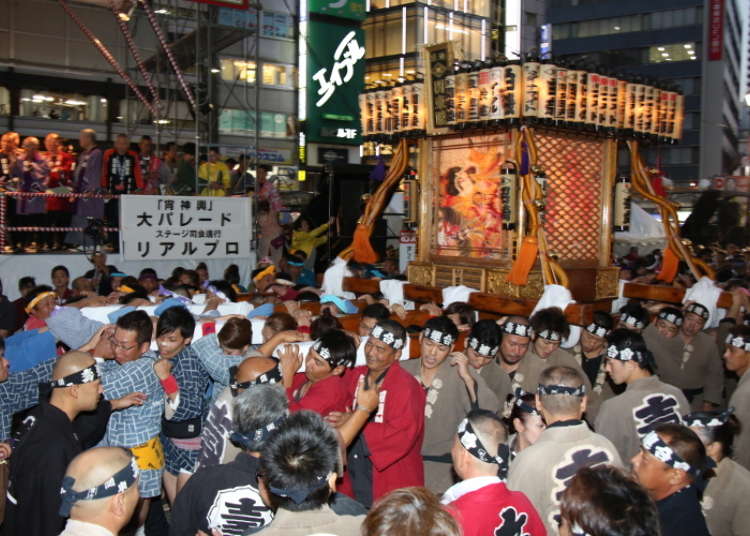 September 24th (Sat) to September 25th (Sun) 2016; October 8th (Sat) to October 9th (Sun), 2016

This year, the famous Fukuro festival begins on the evening of September 24th, a Saturday, while the mikoshi parade – a mikoshi is a portable shrine - takes place on Sunday. Thirteen local groups gather in Ikebukuro to form five large processions, filling Ikebukuro with both shrine parades and eager spectators. The 8th of October marks the day of the dance festival, featuring intriguing performances such as hula, Kyokushin Karate shows, Edo kappore, a traditional comic dance, the Sado Okesa dance, the Ikebukuro Yassa, Eisa from Okinawa, and of course the Tokyo Ondo – this lineup promises a colorful dance festival! On Sunday, the 9th of October, the 17th Tokyo Yosakoi is being held.
Address

1-8-26, Nishiikebukuro, Toshima-ku, Tokyo, 171-0021
View Map

Nearest Station

Ikebukuro Station (JR Shonan Shinjuku Line / JR Yamanote Line / JR Saikyo Line / Tokyo Metro Marunouchi Line / Tokyo Metro Yurakucho Line / Tokyo Metro Fukutoshin Line / Seibu Ikebukuro Line / Tobu Tojo Line)
1 minute on foot


Phone Number

03-3981-0534
Sanriku Ofunato Sanma Matsuri at Tokyo Tower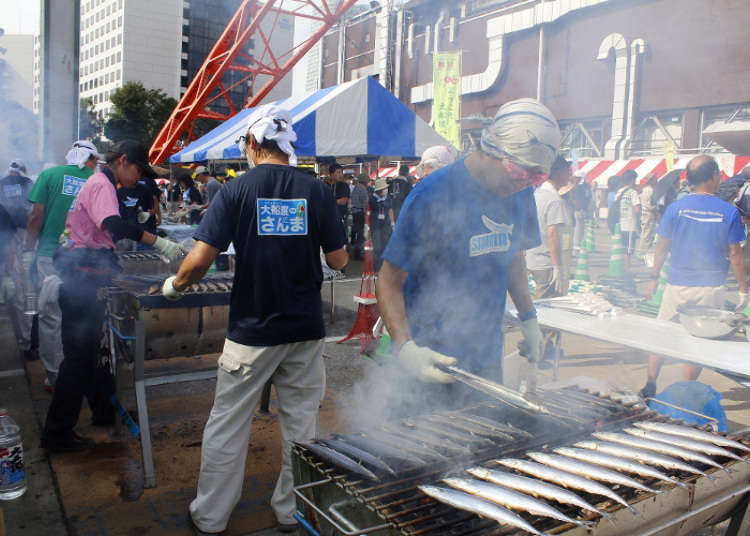 September 22th (Thu, national holiday), 2016

Sanma is the Japanese word for saury and the festival is all about this delicious fish. The ones served here come from the Ofunato Port in Sanriku, as fresh as they can be, and are charcoal-grilled skillfully by Ofunato locals in Tokyo. A total of 3,333 grilled fishes will be available to be savored by visitors – completely free of charge! Additionally, 2,000 cups of the traditional Ofuna "Saury Surimi Soup", offering the authentic taste and smell of savory saury are being handed out, along with 1,000 "Ofuna Saury Burgers", a specialty of the region that will be sold. First come, first served!
Address

4-2-8, Shibakouen, Minato-ku, Tokyo, 105-0011
View Map

Nearest Station

Akabanebashi Station (Toei Oedo Line)
5 minutes on foot


Phone Number

03-3433-5111
The Akasaka Hikawa Festival
September 16th (Fri) to September 18th, 2016

This year's Akasaka Hikawa Festival, held from the 16th to the 18th of September, is planned to be the biggest one yet since the end of the Second World War. It celebrates the 300th anniversary of the day on which Yoshimune Tokugawa, who built the shrine as it is today became the Shogun. Furthermore, there's a parade of the main mikoshi that was rebuilt after being destroyed in the war, and a limited edition beer that was created in collaboration with the city of Wakayama will be available. Performances from before and after the war, exhibitions of festival floats, and the Akasaka-Wakayama Shogun Gourmet Festival make for great entertainment, along with many other events.
Address

6-10-12, Akasaka, Minato-ku, Tokyo, 107-0052
View Map

Nearest Station

Akasaka Station (Tokyo Metro Chiyoda Line)
8 minutes on foot


Phone Number

03-3583-1935
The 26th Shinagawa Shukuba Festival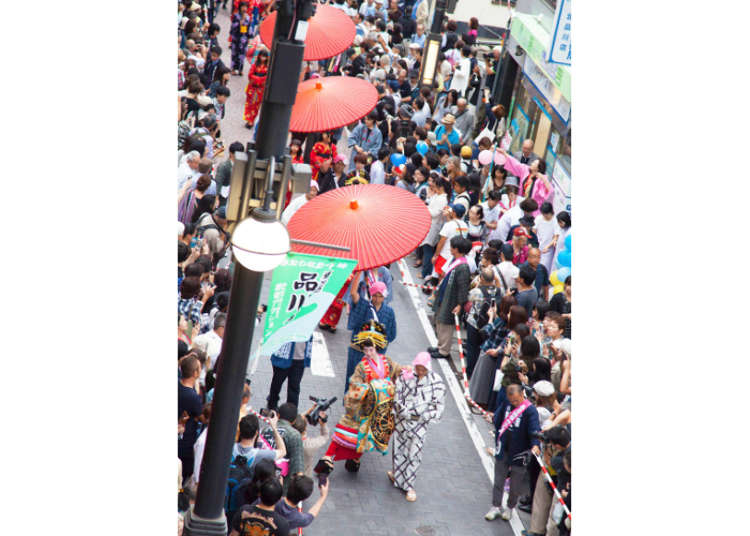 September 24th (Sat) and September 25th (Sun), 2016

The 24th of September marks the day of the procession of oiran, an enigmatic procession of courtesans of old, that celebrates Shinagawa's history as a lively rest stop on the way between Edo and Kyoto. Besides the parade, there's a lot more to see and do, such as stalls offering food, drinks, and various goods in Seiseki Park, and a children's stage that definitely shouldn't be missed. On the 25th, there's an Old Edo parade, a traditional parade of Honsen-ji firefighters, stalls from Shingawa's hotel restaurants offering their delicacies, street rakugo, and a mini steam locomotive occupiying the Tokaido Street. To make this Old Edo experience complete, there's also a vegetable all-you-can-grab offer and a workshop on the traditional art of creating stuffed animals – spend an entire day in Old Edo, there's so much to see and do!
Address

1, Kitashinagawa, Shinagawa-ku, Tokyo, 140-0001
View Map

Nearest Station

Kitashinagawa Station (Keikyu Main Line)
2 minutes on foot


Phone Number

03-3472-4772
The 28th Hokkaido Fair in Yoyogi: The Road of Hokkai-Foods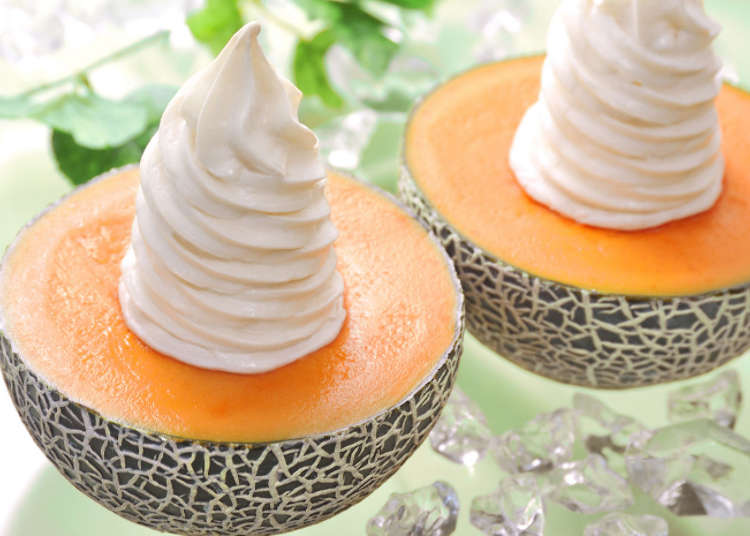 September 29th (Thu) to October 2nd (Sun), 2016

Enjoy both hearty riches of the sea and riches of the soil from Hokkaido under a clear autumn sky! Savoring these delicacies in the real Hokkaido way – piping hot, that is – is the real charm of this fantastic event. A special highlight is the "390 Yen Gourmet Deal" – all kinds of regional delicacies, such as seafood bowl, or Hokkaido's famous pork bowl can be had for a mere 390 yen. These special daily menus are limited to fifty servings per day, so you'd better be fast. Additionally, there are quite a few shops that take part in the festival for the first time, alongside numerous regulars, allowing visitors to Yoyogi Park to discover a whole new Northern definition of the word "delicious!" On top of that, the first 300 people to arrive every day will receive alkaline ionized water, bottled in Hokkaido's parks. Apart from food and drinks, various events will take place on the park's stage to make the Hokkaido experience perfect !
Address

2-1, Yoyogikamizonocho, Shibuya-ku, Tokyo, 151-0052
View Map

Nearest Station

Harajuku Station (JR Yamanote Line)
3 minutes on foot


Phone Number

03-3469-6081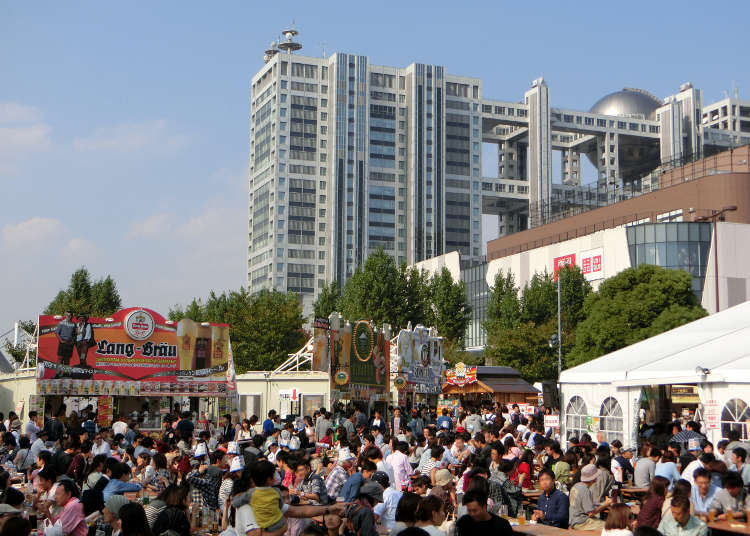 September 30th (Fri) to October 10th (Mon), 2016

This is Japan's own version of the world's largest beer festival, the Oktoberfest, held every year in Munich, Germany. Besides barrels of German beer that have never been sold in Japan before, this festival offers a large selection of over 100 individual dishes of food, such as different sausages and pretzels. Everything revolves around German cuisine! Dance to traditional folk tunes performed by a live band from Germany – and why not do so in a dirndl, a traditional German dress, to get a genuine experience? The dresses can be rented at the festival itself. There's a deposit system for beer in place as well. On top of the price for the beer, people pay a deposit of 1,000 yen for the mug at every booth. This fee is, of course, returned when the mug is brought back to the corresponding booth. Enjoy your beer not only in a genuine German mug, but also in an eco-friendly way!
シンボルプロムナード公園 セントラル広場

Address

2-2 Aomi, Kōtō-ku, Tōkyō-to, 135-0000
The 8th Ebisu Beer Festival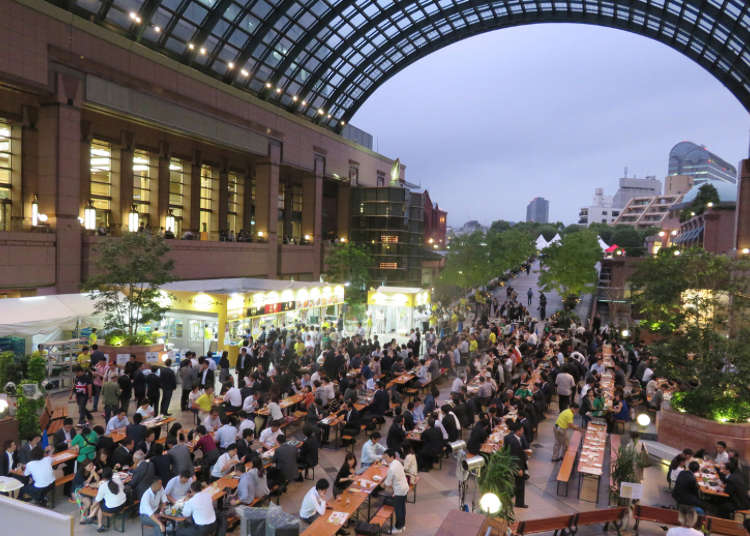 Festival Eves: September 14th (Wed), September 15th (Thu), 2016
Main Festival: September 16th (Fri) to September 19th (Sun, holiday), 2016

The Ebisu Beer Festival is made up of four different parts:
- Ebisu Beer Hall: the band "Music Beer Plaza Lion" makes for a wonderful atmosphere in the Beer Hall. Enjoy beer straight from the barrel while listening to classy jazz tunes or traditional music from Europe's Alps.
- Chateau Square: beer lovers have united to create the community called "A Hundred Beer Lovers' Lab", and the delicious new brews born from this project will be served at Chateau Square.
- Food Court: the most popular restaurants of Ebisu Garden Place come together to serve their delicacies to hungry beer fans. The first thing to do after arriving at the Festival is to order an ice-cold beer here!
- Ebisu Beer Museum: The exhibitions "Celebrate! 500 Years of Reinheitsgebot!" and "Gold Winner at the Paris Expo!" can be experienced in the museum. The "Reinheitsgebot" refers to a 500 year-old Bavarian law about proper beer brewing while the other exhibition showcases Ebisu at the Paris Expo of 1990, where the beer won a gold prize.
Address

4-20, Ebisu, Shibuya-ku, Tokyo, 150-6090
View Map

Nearest Station

Ebisu Station (JR Shonan Shinjuku Line / JR Yamanote Line / JR Saikyo Line / Tokyo Metro Hibiya Line)
5 minutes on foot


Phone Number

03-5423-7111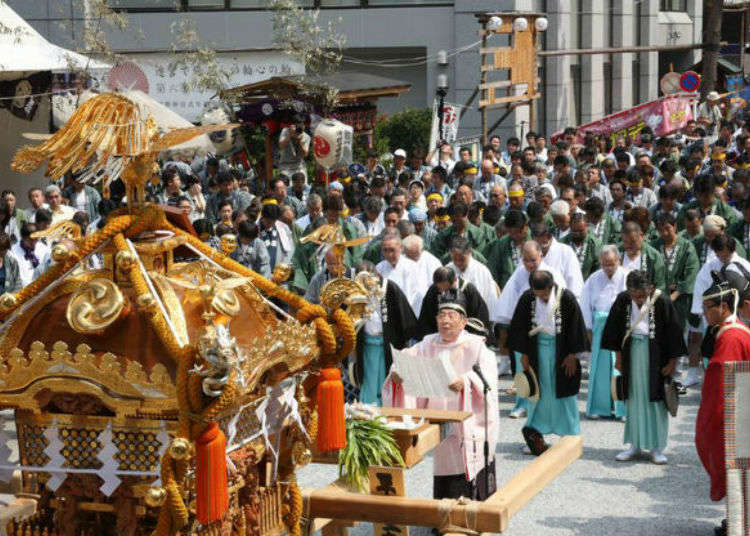 September 11th (Sun) to September 21st (Wed), 2016

The Daradara Festival is one of Japan's longest shrine festivals, lasting from the 11th to the 21st of September, offering a large variety of traditional performances and dances. The highlight of these celebrations takes place on the 16th, a day that is entirely dedicated to Japanese court music and dances. In ancient times, the festival was also known as the "ginger market," as ginger was sold extensively on the shrine grounds and its vicinity. This is because, the shrine used to be surrounded by a vast ginger field and thus, many people offered ginger roots to the Shinto deity enshrined within. Even today, fresh ginger roots are being sold every day. Make sure to get your hands on some - a person who regularly consumes some ginger is said to never ever catch a cold!
Address

1-12-7, Shibadaimon, Minato-ku, Tokyo, 105-0012
View Map

Nearest Station

Hamamatsucho Station (JR Keihin-Tohoku Line / JR Yamanote Line)
1 minute on foot


Phone Number

03-3431-4802
Area

Category

Articles Genre
*This information is from the time of this article's publication.