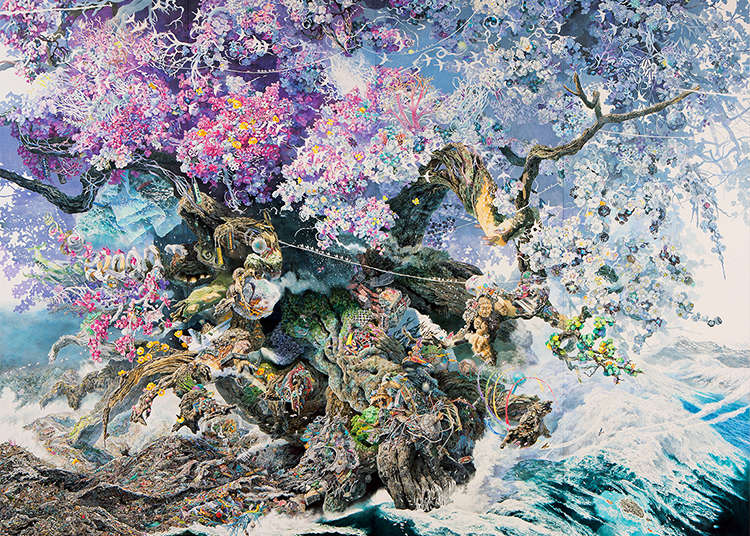 In September, Tokyo's hot summer isn't quite over just yet – and how better to escape the heat than by visiting a museum? September brings many interesting and intriguing exhibitions, from giant sharks to delicate ukiyo-e prints.
Poster image: Kitakyushu Museum of Natural History & Human History, National Museum of Nature and Science, Tokyo, Mie Prefectural Museum, Ibaraki Nature Museum
< July 8th (Fri) to October 2nd (Sun) >
Hunting to survive: the hunters of the sea are giants like whales and sharks but there are also much, much smaller creatures, such as the tiny frogfish. The exhibition "Hunters of the Sea" has made this predation its very theme. Focusing on the evolution of jaws and teeth, indispensable for every hunter, the unique hunting techniques of sea predators of every shape and size are being introduced. The highlight of the exhibition is the presentation of an adult male white shark, a first in Japan – its large body is a total of 3.2 meters long and its unique physique can be examined safely from up close.
Address

7-20, Uenokouen, Taitou-ku, Tokyo, 110-8718
View Map

Nearest Station

Ueno Station (Hokkaido Shinkansen Line / Tohoku Shinkansen Line / Akita Shinkansen Line / Yamagata Shinkansen Line / Joetsu Shinkansen Line / Hokuriku Shinkansen Line / JR Keihin-Tohoku Line / JR Yamanote Line / JR Tohoku Main Line / JR Utsunomiya Line / JR Takasaki Line / JR Joban Line / JR Ueno Tokyo Line / Tokyo Metro Ginza Line / Tokyo Metro Hibiya Line)
5 minutes on foot


Phone Number

03-5777-8600
Ukiyo-e: A Contest between Six Masters
< August 27th (Sat) to September 29th (Thu) >
The Yamatane Museum first opened its doors to the public in 1966, as a museum focusing on professional Japanese painters. To commemorate its 50th anniversary, the museum is holding a total of seven special exhibitions in 2016. The second exhibition showcases the entire ukiyo-e collection "A Contest between Six Masters: Harunobu, Kiyonaga, Utamaro, Sharaku, Hokusai, Hiroshige". With a total of 90 pieces on display, the exhibition might not be a large one – but the selection of the grand works of these six masters, not only of the famous Hokusai Katsushika but also Utamaro Kitagawa and Harunobu Suzuki, is an authentic mirror of the essence of ukiyo-e through ages and time. Not only ukiyo-e connoisseurs but everyone will be impressed by the different works. The unique opportunity to see The Fifty-three Stations of the Tōkaidō, Hiroshige Utagawa's masterpiece, in its entirety – a total of 56 prints - is not to be missed!
Address

3-12-36, Hiroo, Shibuya-ku, Tokyo, 150-0012
View Map

Nearest Station

Ebisu Station (JR Shonan Shinjuku Line / JR Yamanote Line / JR Saikyo Line / Tokyo Metro Hibiya Line)
10 minutes on foot


Phone Number

03-5777-8600
The Heart's Journey: An Autumn Collection of Masterpieces
< August 27th (Sat) to October 16th (Sun) >
Journey is the theme of this extraordinary collection centered on old Japan and East Asia, showcasing around 40 masterpieces of traditional art, such as paintings and writings – five of them are even designated national treasures. When Emperor Go-Toba (1180 - 1239) was 21 years old, he did a pilgrimage to Kumano and held an utakai, a Japanese poetry party focused on waka – two of the waka were transcribed on paper and are now part of the national treasures on display at the Gotoh Museum. Another highlight is the lacquered writing box "The Sano Crossing" by the painter Ogata Korin, a famous representative of the Edo period between the end of the 17th century and the beginning of the 18th.
Address

3-9-25, Kaminoge, Setagaya-ku, Tokyo, 158-8510
View Map

Nearest Station

Kaminoge Station (Tokyu Oimachi Line)
5 minutes on foot


Phone Number

03-5777-8600
Revisiting Siebold's Japan Museum
< September 13th (Tue) to November 6th (Sun) >
At the end of the Edo period, Philipp Franz von Siebold was appointed as a physician to a Dutch trading house in Dejima, Nagasaki. While introducing modern Western medicine to Japan, he brought an enormous amount of study material on Japanese life, nature, and culture back to Europe as well. Around 300 different exhibits from the Museum Fünf Kontinente (Five Continents Museum) in Munich or his direct descendants make a homecoming to Japan now. This exhibition intends to authentically recreate the "Japan Exhibition" that Siebold himself held in Europe, trying to introduce Japan to the Western world with his own drawings and sketches.
Address

1-4-1, Yokoami, Sumida-ku, Tokyo, 130-0015
View Map

Nearest Station

Ryogoku Station (JR Sobu Main Line / Toei Oedo Line)
1 minute on foot


Phone Number

03-3626-9974
< July 1st (Fri) to September 30th (Fri) >
Enjoy Japan's largest goldfish event under the soft, warm light of surprisingly elegant goldfish lanterns! Tokyo's Sumida Aquarium, located inside Tokyo SkytreeⓇ, offers an almost 100 meter long area to observe and examine over 1,000 individual fish from 23 different goldfish species from up close and in a wonderful atmosphere. The area is decorated with around 150 goldfish and plover paper lanterns from last year's extremely well-received "Wa-no-Akari x Hundred Steps of Stairs Exhibition" that took place in Meguro Gajoen, giving the entire exhibition a wonderful, almost otherworldly atmosphere.
Address

Tokyo Skytree town Solamachi 5F, 6F, 1-1-2, Oshiage, Sumida-ku, Tokyo, 131-0045
View Map

Nearest Station

Tokyo Skytree Station (Tobu Isesaki Line (Tobu Sky Tree Line))
1 minute on foot


Phone Number

03-5619-1821
Address

1-8-1, Shimomeguro, Meguro-ku, Tokyo, 153-0064
View Map

Nearest Station

Meguro Station (JR Yamanote Line / Tokyo Metro Namboku Line / Toei Mita Line / Tokyu Meguro Line)
3 minutes on foot


Phone Number

03-3491-4111
Area

Category

Articles Genre
*This information is from the time of this article's publication.