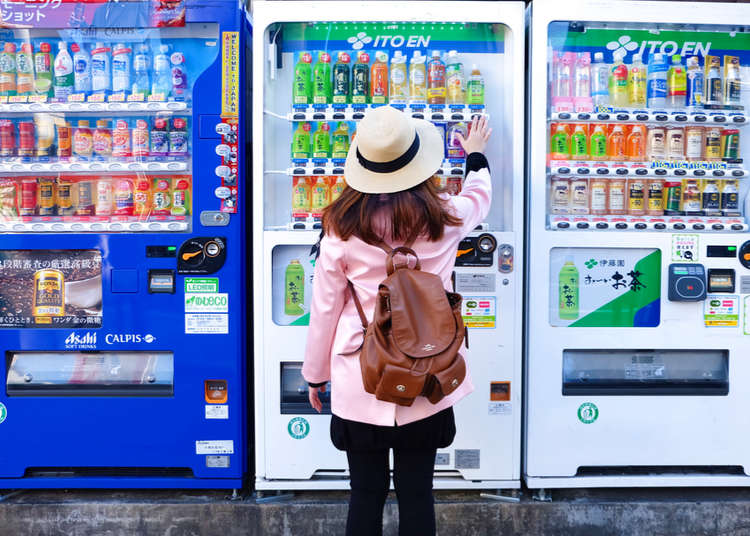 Let's go over the different variety of vending machines thath can be found everywhere throughout Japan.
Japanese Vending Machines
Vending machines selling tea, juice, and soft drinks can be found all around the city. You can find them more easily than convenience stores and at just about every corner. Besides cold drinks, hot coffee and tea are also available and welcomed during the cold winter season. There are also vending machines that sell sweets such as ice cream and bread.
Alcoholic Drink Vending Machines
Vending machines selling alcoholic drinks are not as common as those that sell refreshing drinks. They are often set in front of liquor stores and in the corner of economy hotel's floors. But most of them cannot be used after 11:00 p.m.
Capsule Toy Vending Machines
You can purchase capsule toys called "gachagacha" for several hundred yen at capsule toy vending machines. They are popular among both children and adults and can be found at various places. You can purchase cute Japanese character goods at a reasonable price. They have elaborate designs, so they also make good souvenirs.
Cigarette vending machines
You will need a "Taspo", an IC card that verifies you are over 20, to purchase cigarettes from a vending machine in Japan. Taspo are unfortunately not issued to tourists, so during your visit to Japan you will have to purchase cigarettes at convenience stores and cigarette shops. Recently, designated smoking areas have been popping up around busy city areas, so if you smoke, make sure to find an appropriate place and follow the rules.
Make Sure to Bring Some Loose Change
If you want to use vending machines while sightseeing around Japan, you might want to keep a few ten yen coins and one hundred yen coins in your wallet. Five yen and one yen coins are generally not accepted by vending machines.
*This information is from the time of this article's publication.